Canada, being the second-largest country in the world, is quite a tourist attraction. Among its famous and busiest areas are: Toronto, Vancouver, Montreal, and of course Niagara Falls. There are also other historic landmarks and national parks to visit. Interestingly, it gets the most tourists by country from the neighboring US. If you're one of those planning to visit Canada and do some shopping, here are the watch brands that you may look for.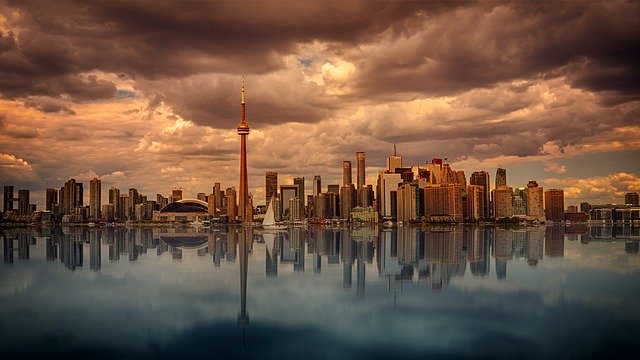 Top Canadian Watch Brands
Solios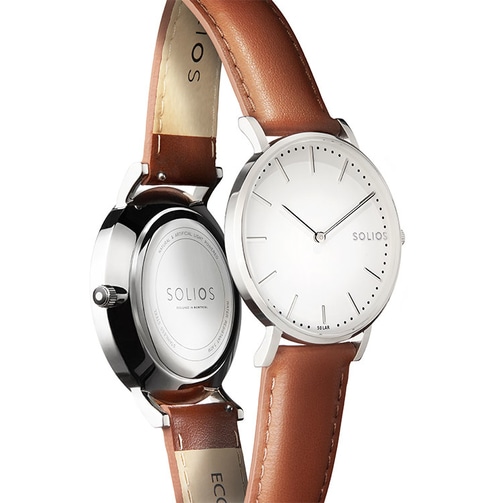 Founded in Montreal, Solios focuses on creating elegant minimalist solar watches. The brand makes its timepieces as sustainable as possible, allowing them to become the first watch company to apply for the B-Corp certification. On top of that, Solios is committed to protecting one acre of rainforest for each watch sold.
The brand's sustainable watches are scratch-resistant, thanks to a sapphire crystal coating, as well as being water-resistant to up to 30 meters. The case, made of 316L stainless steel, is 7.5mm thin which is impressive for a solar watch that offers a 6 months power reserve.
The watches come beautifully packed in a box handmade in Montreal, made from 100% recycled and recyclable cardboard. You can choose among their interchangeable and innovative straps, from magnetic mesh, hemp nato or eco-vegan leather, making this an accessory that will suit your style every single day.
Momentum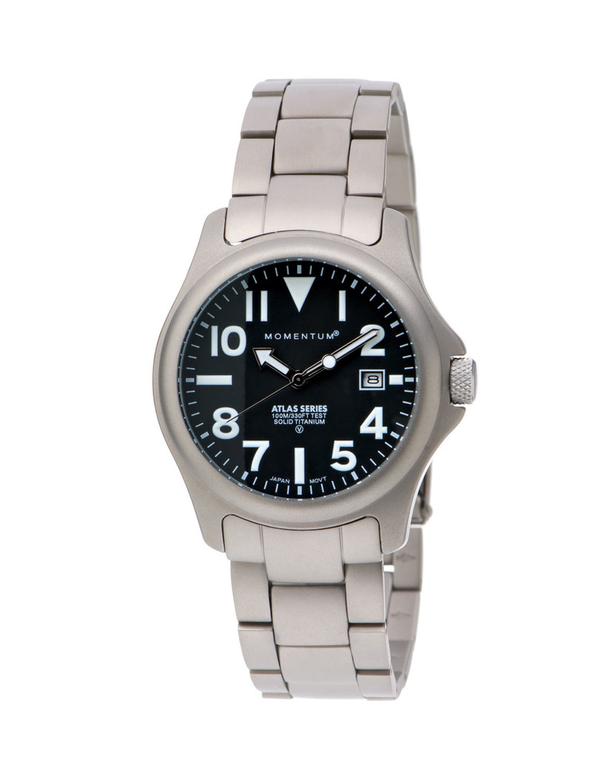 St. Moritz Watch Corp. was established in 1980 and has been producing and distributing high-quality sports watches under the Momentum brand. This Vancouver-based brand specializes in timepieces with pretty simple yet functional designs and exceptional waterproof performance. Such aspects have been the fundamental upside of Momentum watches that make them perfectly suitable for active wearers.
More so, to ensure their premium quality and functionality, each timepiece is handcrafted in the company's workshop in Vancouver. Then actual testings to extreme activities are being performed on the mountains, trails, underwater. You can be assured that Momentum watches can survive the rigors of your adventure, whatever it may be. Even actual wearers and adventurers who purchased Momentum watches mostly offer praises to the brand.
Discover more about the brand and its watches on Momentum's own website or see Momentum Watches on Amazon.
Ferro & Company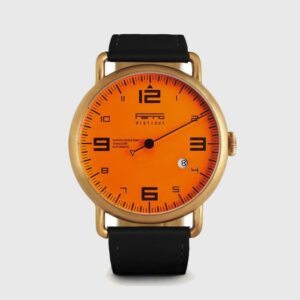 In 2014, brothers Ary and Bob Shahbakhshi founded Ferro & Company in Vancouver, Canada. Their main goal: to make luxury watches that are affordable even to ordinary consumers.
As such, Ferro & Company timepieces are retro-designed, mainly inspired by vintage cars and planes. They are also built with premium quality similar to luxury watches. Even the components are also high-quality. Only Swiss and Japanese movements are used; the glass window is made of sapphire crystal; metals used are of the highest grade and the straps are of fine leather.
Because of the company's commitment to providing high-quality, or rather luxurious, watches at very reasonable price points, the brand quickly grew and expanded. Within five years since its foundation, Ferro & Company has already reached more than 30 countries.
Currently, Ferro & Company features four main collections – Classic, Pilot, One Hand, and Rally. Discover more about these here.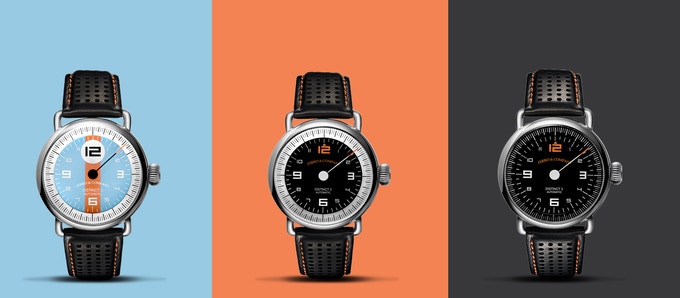 In 2020, after 18 months of planning, the brand launched a crowdfunded series of race-inspired watches. The Distinct 3 series pays tribute to the die-hard racers of the Le Mans 24 hour race.
Distinct 3 will be available in 3 styles (Gulf Series / Grand Prix Series / Petrol Series) and 4 different movements (Swiss ETA 2824 Automatic, Swiss STP1-11 Automatic, Miyota 9015 Japan Automatic, and Swiss Ronda 715 Quartz). Each movement will be limited to 1000 units.
Click here to see their crowdfunding campaign on Kickstarter and get in on early-bird deals and bonuses.
Tense Watches


Tense Watches was established by Ken P. Lau who started as a clock designer in 1957. In his profession, he focused primarily on working with materials that can be found in nature, i.e., wood and stone. By 1968, Ken started creating wristwatches, and finally, in 1971, he founded the Tense Watches.
The brand is well-known for pioneering the production of premium quality wooden watches. Each timepiece is made mainly of recycled or reclaimed wood and is carefully crafted in the company's workshop in Vancouver, Canada. To ensure that the case will not shrink or expand due to temperature variations, the wood being used is being treated. Then, powering the watches is either the Rondo 6004D Swiss Movement or the Japanese Miyota Movement.
Rest assured, having a Tense watch means having a timepiece that's reliable, stylish, and environment-friendly. Tense watches are available on Amazon or you may shop directly through its website. 
Marathon Watch Company

Marathon Watch Company first started as Weinsturm Watch when it was founded in 1904. Later on, the said company was renamed Wein Brothers. Finally, in 1939, Morris Wein gave the company the name Marathon Watch Company (or simply Marathon Watch). Since then, the company has been passed on to the family for generations and is currently being managed by the fourth generation.
Also, since 1941, Marathon Watch has been the timekeeping partner of the Allied Forces. Since then, the brand has been known for producing fine precision timepieces. Its craftsmanship, processes, and principles have been successfully passed on through generations that it remains to be the supplier of Canadian, US, and British militaries. The brand's MIL-SPEC watches (Manufactured in accordance with MIL-PRF-46374G Type III, Class 1 US Government Specification) are popular watches among special forces and navy seals.
However, the company has expanded its range of products that, in addition to timing instruments, also provide temperature and distance instruments as well as optical equipment. Read our review of Marathon watches here.
With such a primary market, Marathon Watch has gained wide respect in the Canadian watch market. The brand is well-recognized for its outstanding quality, design, and functionality. This is brought by the fusion of military durability and Swiss engineering.
Good thing is, Marathon watches are also available commercially – for watch collectors, enthusiasts, and for those seeking military-grade watches. Go ahead and explore the Marathon Watch Collections here.
Marathon Watches are also available on Amazon.
Whytes Watches
Whytes, an independent Canadian watchmaking company, was established by British Steven and Catherine Scanlan.
Initially, these two watch enthusiasts were fascinated by those carefully crafted and designed timepieces. Later on, they decided to study watchmaking – from the technical parts to designing then to actual creation. After studying, they moved to Canada where they materialize their dream of offering high-quality timepieces at reasonable price points.
Whytes watches are not just about aesthetics. They are also made of the finest precision parts and are envisioned to survive through generations. Whytes watches are created with timelessness in mind.
See the Whytes Watches collections here.
Medium
There's really not much talk about this brand, Medium. Even its own website provides very little information about the company.
From the very little data we gathered, we can say that its brand name intends to represent its goal to be a medium that showcases stories and represents the causes of individuals from different fields – business, sports, arts, etc. The company does this by allowing individuals to design their own timepieces. You can choose the watch face, have the case engraved as you desire, and pick the type of strap (choose from leather, nato, and metal mesh). To provide a little versatility to the timepiece you designed, the straps are also interchangeable. All this personalization can be done at a very affordable price.
Should you want a quick pick, there are also stylishly built models available for you. Visit Medium Watches website to see your choices.
Timetree Canada 
Since we're already unto wooden watches, Timetree Canada that's environment-friendly and produces wooden watches (and sunglasses!).
Timetree Canada is a much newer brand compared to the previous one, having been founded only in 2017 primarily with the goal of raising funds to help the victims of the 2016 Canadian Forest Fire. To do this, the company manufactures and markets wooden watches made from bamboo wood that was grown from greenhouses.
Each Timetree timepiece is assembled only when an order is placed. It is handcrafted from high-quality bamboo wood by Timetree craftsmen who have gained at least 12 years of experience in woodworking and watchmaking. So, even if the brand is still new to the industry, you can be assured that your timepiece is of premium quality.
Discover more about Timetree Canada and its watches here.
Konifer Watches
Another company in the business of manufacturing wooden watches is Konifer.
Max Clement established Konifer in 2013. Having a family with parents and grandparents as forest workers, his interest and passion for wood crafts have been developed at an early age. For him, wood is one element that has been of his everyday life.
With such background, it's not surprising that his company, Konifer, specializes in wooden fashion accessories – not only watches but also sunglasses, belts, and even rings.
Konifer uses different kinds of wood such as sandalwood, ebony, maple, etc. Then, the company uses non-toxic oil as finishing so that the products may be in chocolate, black, army, ruby, red, etc.
Konifer watches are equipped with Japanese movements from Citizen (to know more about Citizen, visit our Citizen brand review). All of them also come with a five-year warranty for mechanical problems. The best part, Konifer, in partnership with We Forest, commits to planting a tree for each watch they sold.
Want to have your own wooden watch? Visit Konifer watch collections here.
Novo Watch
Novo Watch is a humble manufacturer that specializes in handmade timepieces. The brand was founded by watch enthusiast Steve Christensen in 2011 with the main goal of telling a story through a timepiece.
Each Novo Watch is carefully and meticulously handcrafted using reclaimed material. The material's history and culture are then reflected through the overall design of the watch.  This process intends to reintroduce a pinch of history into the present through a simple watch.
As such, you would observe that Novo watches have a certain antiquey look and feel. See its handmade collections here.
Interestingly, Novo Watch also accepts made-to-order works. If you have a sentimental piece of material, you may send them to Novo Watch and its watchmakers can turn it into a meaningful accessory that you may wear every day.
Archer Watches
Archer Watches is a microbrand from St. Thomas, Ontario, Canada where it produces and provides a full range of service for almost any type of timepiece – from vintage hand-wound to high-end complications. Its own produced watches, on the other hand, are all made-to-order with a waiting time of about eight weeks. You may choose a model from its collection here.
Other than that, there's really not much information about Archer Watches. So, if you have some knowledge about the brand or its timepieces, feel free to share it with us by dropping a comment below.
2nd Shot
Interestingly, the brand 2nd Shot was not born out of a passion for watchmaking nor of interest in watches. Rather, its founder, John Gibson, is primarily passionate about skateboarding. But, make no mistake, 2nd Shot really is a watch brand.
How does this happen? John is a craftsman. He utilizes used, broken, and unwanted skateboards and gives them a "2nd shot". These recycled skateboards are then turned into watches, guitars, even sunglasses, golf clubs and other more!
Visit this page to see a sample of 2nd Shot watches.
Berg + Betts
Berg + Betts timepieces are minimalist and sophisticated dress watches. Yet, the company is not just about manufacturing timepieces and gaining profits. Berg + Betts also does its part as a responsible company. It is committed to sustainability and as such, it only uses surplus leather that would have been thrown away otherwise.
The parts used for Berg + Betts watches came from Dongguan, China, and are assembled in Canada to produce stylish timepieces.
Currently, Berg + Betts features three collections – The Mindful, The Original, and The Classic. Discover more about the brand here.
Closing Words
As you may have seen, Canada's watch industry is a mixture of old and new brands. Regardless, you may have noticed how most brands from the list are committed to eco-friendly and sustainable production processes. We've seen how they utilize reclaimed woods, surplus leather, and even recycled skateboards! It's refreshing to see that these companies care about nature and not just about profits.  Knowing this can instantly make you feel quite better about the timepiece you purchase.