A paramedic's or EMT's job is extremely demanding and hectic. It's a highly-skilled job that requires some essential pieces of equipment.
While a stethoscope, penlight or trauma shears are obvious pieces of gear for an EMT, a good watch is often overlooked.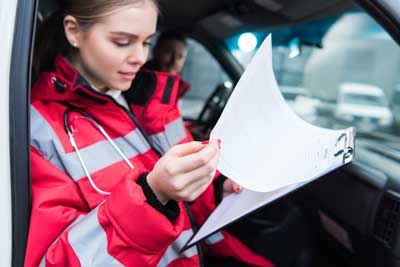 When responding to emergency situations, a good watch can also be a key tool for first responders. In past articles, we've looked at why rugged tactical watches are often the top choice for firefighters and police officers.
Quick Picks:
These watches share many of the same features but there are few unique features we looked for when choosing watches for paramedics and the specific challenges of the job.
This article will focus on some of the best watches for paramedics and EMTs. Below, we'll provide our top picks at all different price points, as well as both digital and analog models.
Best Watches for Paramedics
Armitron Sport Digital Watch: Budget Pick
Armitron has been around for more than five decades, producing digital sport watches that are affordable but durable.
The Armitron Sport Digital Watch is a chronograph with a clear LCD display and a backlight that illuminates with a simple touch of a button.
Other features include an alarm, military time functions, and a water resistance of up to 100m. This one's well-ventilated too because of the perforated band, so wearing it for extended periods of time will not be a problem.
A number of users express one downside: the plastic front window that is prone to scratches. Most would point out, however, that after years of use, they just replace their old one with a newer model because it's very affordable.
Many owners of the Armitron watch have written in reviews that they would buy the same exact watch again after years of usage. If you're looking for a simple and very affordable everyday watch that holds up perfectly even in water, we highly recommend this one.
Casio Men's Solar Sport Combination Watch
Casio is one of the most reliable watch brands that consistently produces affordable and efficient models.
The Casio Solar Sport Combination watch was built for active lifestyles, which is why it's perfect for paramedics. This one has an analog and digital display, as well as a combination of stick and number hour markers and a three-hand analog movement.
Some of the other features are a dual countdown timer, an LED light with Afterglow, and a full auto-calendar. This model is battery-powered that can be recharged by a solar panel that is built on the watch.
The recharging times vary, but the approximate battery life is about 10 months on a full charge. It's also very easy to wash—a simple rinse would do the job, making the watch good as new.
Casio Men's GW9400 Rangeman G-Shock
Durability is one of the most important things to consider for a paramedic-friendly watch, and a brand synonymous to this is the Casio G-Shock. A leading brand that produces some of today's digital and analog watches, Casio is one of your best bets when it comes to watches that can take a beating.
The Casio Men's G-Shock GW9400 Rangeman Solar Atomic Watch is a model that boasts of the "Shock Resistant Triple Sensor" for altitude, barometric pressure, temperature, and direction readings. This one's excellent for paramedics—it's actually mentioned on Casio's website that it's the perfect choice for rescue crews.
We also voted this as one of the top watches to survive a Zombie Apocalypse! Hopefully, that's another indication of how rugged this watch is…
This has a sensor button that, when pressed, will take you to a sensor screen. What's special about this is the unique tones for each sensor, which allows you to know which mode you are using without having to look at the screen. Other features include time recording and time measurement, sunrise and sunset data, and mud-resistant buttons.
One must take note before purchasing that this is a negative display watch, so it is going to look different. A negative LCD display has inverted colors, where the numbers are white/light and the background is black/dark.
If you want a similar G-Shock model that's a bit more affordable but is just as durable, also check out the Casio G-Rescue Solar Atomic watch. This one's lighter than the Rangeman, and has similar features such as a negative LCD display, solar power, shock resistance, and 200m water resistance.
Citizen Men's Eco-Drive Stainless Steel Watch
If you want a watch that's straight to the point (a model that does not have extra features like countdown timer and time zones) check out this Citizen model.
This watch would suit a paramedic who needs to have an analog watch with a seconds hand to take a pulse.
This one's a simple, military-style watch that is functional as it is stylish. The army green Citizen Men's Eco-Drive Stainless Steel Watch has a great design that has the essentials: clear three luminous hands and easy-to-read numbers, round black dial, and a date/day/time window.
The case is made of stainless steel, has a woven green strap that's waterproof, and it's water-resistant up to 100m
One possible disadvantage to this watch is the canvas strap, which could which over time might get pick up a lot of dirt.
While the strap can be easily rinsed/washed eventually you could just swap it out for an affordable silicone band like this one.
This is a classic, one of Luminox's bestselling watches.
The Original Luminox Navy SEAL watch, which came out in the 1990s. The Luminox Men's 3000 Series started when the company worked with the SEALs to develop a watch that suits their job—meaning it needs to perform well during night missions and be extremely durable. Click here to read more about the watches that Navy SEALs wear.
This waterproof watch will be great for paramedics who work at night. The Swiss-made 3001 has Night Vision Tubes illumination. This watch has the famous Luminox Light Technology, which provides the user with a constant bright glow that lasts for up to 25 years, no need for buttons or recharging using a light source.
Priced to give you the essentials but won't break the bank. Click here to learn more about Luminox watches.
Seiko Men's Excelsior
Check out the Seiko Men's Excelsior watch, for something more stylish that can be worn on and off duty.
This chronograph with three subdials, a date window, and luminous hands for easy readability is solar-powered by any type of light, so you don't need to worry about charging the batteries.
This one is for those who are looking for a unique-looking timepiece. If you're looking for a simple and low-key style, this may not be for you, as the thick, snake-type silver bracelet. If you'd like a powerful-looking model, however, this will be an excellent choice.
This one is made of stainless steel and is submersible so it can be washed over and over—a simple rinse would do the job. The crystal is also made of Hardlex, a scratch-resistant material. Take note, however, that the stopwatch can only measure 60 minutes before it stops counting.
If you're looking for a bold, handsome men's watch that you can take to work and out on weekends, this is a great model to consider. The mid-range price tag is reasonable, considering all the features that are packed into it.
Marathon WW194027 Swiss Made
The Marathon WW194027 is one of the most expensive watches on this list, but the features make the price tag worth considering.
Designed for Search and Rescue missions, this Swiss-made watch is also manufactured in accordance with the specification of the US Government and is issued by the troops in Iraq and Afghanistan.
Like the Luminox watch featured above, there is also no need to re-charge this watch, as it can stay illuminated with its tritium gas tubes for more than two decades—a feature that will be very useful for paramedics who work at night. If you are always exposed to water, you'll also be glad to know that this watch is good up to 300m (which means that it can also be used as a dive watch.
Many people who have purchased this watch have pointed out that it looks excellent on those with smaller hands (the diameter is 36mm). The unisex design is made of a very durable scratch-resistant sapphire crystal with a screw-down crown.
If the stainless steel strap is not your thing, you can easily replace it with other material or brands—such as Marathon's rubber strap or a trusty NATO.
Marathon GSAR Swiss Made Military Issue
Capping off the list is the Marathon GSAR Swiss Made Military Issue watch.
This is a high-end model, and we're putting it on the list as an option for anyone looking for something to invest in.
While this is not the most practical price point as an everyday carry for an EMT, it would make a great present—like a retirement gift after years of service or for a special commendation.
This is a popular diver's watch, designed with Search and Rescue (SAR) divers in mind, ergo the GSAR (Government Search and Rescue) label. Like the model featured above, this is also manufactured in accordance with US Government Specification and is water-resistant up to 300 meters. Hand made in La Chaux de Fonds in Switzerland, this watch with automatic movement boasts of extremely accurate timekeeping.
One of Marathon watches' best features includes the self-illuminating tritium tubes which will not run out of brightness (it also doesn't need to be recharged using other light sources), lasting up to 25 years.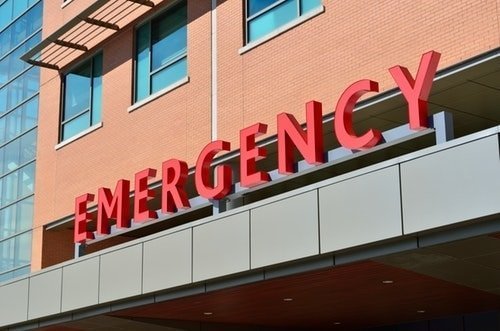 Smith & Wesson Men's EMT Watch: Avoid
You might come across this watch during your search, but we highly advise that you skip this one. This is actually being marketed as an EMT watch (and offers similar features as other watches on the list), but it has received many negative reviews from buyers.
Some of the many complaints include a fogged-up display, loose velcro, and dead battery (even before usage). Some have pointed out the heaviness and bulkiness, and some said the watch simply stopped working after only a few days or weeks of use.
We recommend buying from brands that specialize in watches (such as the ones that we've reviewed in this article) rather than a one-off watch from a brand that is not known for quality watches. They are well-respected for weapons and tactical gear, but the reviews alone show that this is not a watch worth investing in.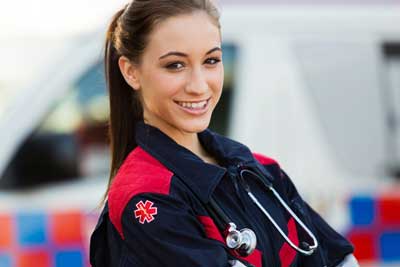 Buyers Guide: Finding a watch that does the job
Here are some of the most important things we considered when purchasing this type of watch:
Silicone or Metal Strap
Look for a watch strap that is durable, washable and hygienic that won't pick up odors. One of the biggest complaints is that leather watch straps start to smell pretty funky on this job. The best options are silicone, stainless steel or titanium that can be washed or wiped down daily with a CaviWipe without damaging the strap.
It is also best that you opt for non-bulky models because paramedics move fast on the jobs and there are lots of things the watch can get caught on, ending up with a broken watch strap.
Easy To Clean
Things are expected to be messy when you're a paramedic and most need to wash and sanitize their watches constantly. Paramedics are always in contact with different types of fluids and things can get quite nasty so it needs to easily rinsed and washed. Things can get to the point where some paramedics actually wash them in the dishwasher (not something we recommend- but many of the picks on this list are waterproof to 100M or more so can definitely be scrubbed and submerged).
Clear Display
An easy-to-read display is a must. Look for a watch with a clean design with a clearly visible second hand or digit. It's critical to be able to read the second hand for taking an accurate pulse. Look for a durable watch face, best if the material is scratch-proof that will remain crystal clear even after wear and tear.
Fuss-Free
Simplicity is key. The watch should be easy to use. When paramedics are on the job, they don't have time to use lots of different buttons to find the features they want to use. They need to be able to quickly access features like a stopwatch function.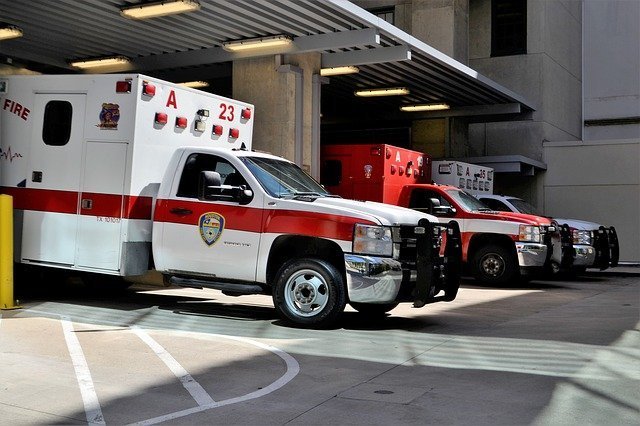 Good luck with your search!
A test run is always a good idea. While it's easy to order online, it's always best that you try them on in order to evaluate how they feel on your wrists.
There are simply so many paramedics/EMT-friendly watches to choose from out there. Hopefully, this list can get you pointed in the right direction.