Mondaine was originally founded in 1951 was originally known for clocks used in train stations.
Since 1986, the Swiss watchmaker has been making watches inspired by the Swiss Railways. Over the years, this design—with the red second hand and the two-second "pause" has become very popular, and it continues to receive praises to this day.
Thinking of buying your first Mondaine? This article will talk about all the essential things you should know about the brand. We will cover the most important things customers need to know, from the brand's origins to current innovations.

History of Mondaine Watches
Mondaine is a Swiss watch company founded in 1951 by former tailor Erwin Benheim. During this period, the brand enjoyed popularity for selling watches of high quality and were affordable to repair.
Bernheim's Mondaine was very successful. He himself contributed to the creation of watches in the company. He designed and invented one of the first few watches that had a digital reading—the first LCD watch, alongside collaborator Howard Hughes. The demand was high, however, so after 15 years, they decided to concentrate on other designs and technologies. What came after was a design that put Mondaine on the map.
The Mondaine Official Swiss Railways Watch
One of the things that Mondaine is most famous for is the brand's influence on Swiss railway clocks. This began as a design created by Swiss Engineer and Designer Hans Hilfiker in 1944.
Hilfiker, who was an employee of the Federal Swiss Railways designed what has become known as the Official Swiss Railways Clock. The idea behind this design is to create a design that synchronizes the departure time for all of the trains that are arriving and leaving the main station.


Mondaine explains on its website: "The clock is driven by an electric motor, which controls the clock allowing it to complete a rotation in 58.5 seconds. The red hand would then pause for 1.5 seconds and jump forward to meet up with the minute hand again, allowing it to stay in sync with the master clock located in the signal box."
With help from Erwin's sons (Andre and Ronnie Bernheim), the brand took inspiration from industrial watchmaking. They wanted to be unique, and strived to make watches that delivered in both design and functionality. They then found opportunity in the Swiss Railway clock. Inspired by its innovation, they got all the necessary licensed and made the first collection of station clock wristwatches.
It was in 1986 that Mondaine took the blueprint of the design and made a watch collection, with an official license from the Federal Swiss Railways.
One would notice that all Mondaine watches have the signature red hand. These were after the red signs held by train conductors to inform the passenger that a train was coming in and out of the station.
Below, we'll talk more about this line, and take a closer look at some of its best models.
Where Are Mondaine Watches Made?
All Mondaine watches are made in Switzerland, where the company's headquarters is located.
In 2006, Mondaine bought a fifty percent stake in American watch company Luminox, which consequently increased their access to America. In turn, Luminox had access to European and Asian markets.
In 2016, it was announced that Andre and Ronnie Bernheim purchased the remaining 50 percent of Luminox. The brothers purchased the shared of Luminox's Barry Cohen. This means that Mondaine now owns the Luminox companies and brand.
Are Mondaine Watches Good Quality?
Mondaine watches aren't luxury watches (one could say that they can fall under the "everyman" watch category) but they're not cheap either. With a price range of $175 to $850, this Swiss watch brand could still be an investment price-wise.
Mondaine timepieces have some of the most important things that most people look for in a watch: accurate, legible, and stylish. At the end of the day, it really depends on your personal preferences and budget, but if you're looking for a brand that's has been around for a long time, and continues to be praised for its accuracy, this brand is worth checking out.
These are far from the price tags of Rolexes or Omegas, but they have received good reviews from watch enthusiasts and connoisseurs.
They are one of the more affordable entry-level Swiss-made brands.
Click here to see some great Swiss watches under $500 to compare options.
If you are comparison shopping you may also want to see our watch brand overview of Hamilton, Tissot, Alpina or Movado to name a few other Swiss brands in a similar price range.
This list, for example, includes the Mondaine Stop2Go Swiss Railway Watch as one of the relatively affordable watches that has received nods from watch snobs (the review mentions the 58-second feature that Stop2Go is known for). This only goes to show that Mondaine is a trusted company that has watches that have excellent quality.


To provide a better understanding of the brand and its timepieces, it's best to take a closer look at its collections. The section below will talk about some of the most important Mondaine models, as well as new technologies and innovations by the company.
The watch receives excellent feedback in online forums (such as this one), with praises for the legibility, accuracy and the iconic design. It was suggested in these forums, however, that it's not easy to find an automatic Mondaine (even in Switzerland), so you might need to do a serious search in order to find one.
If you are looking for an automatic Swiss-Made watch, you may want to take a look at our list of Best Affordable Automatic Watches (we've included 6 Swiss-Made timepieces on that list)
Mondaine Watch Collections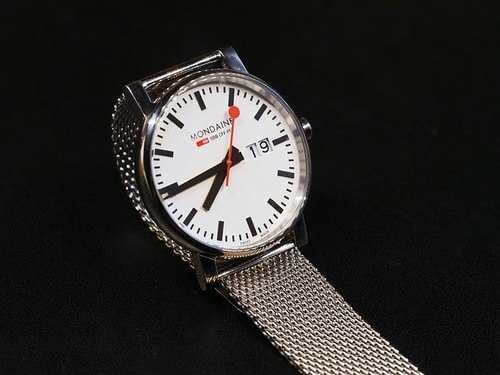 Mondaine watches are equipped with backlight technology that provides good visibility of the hands at night. These provide a continuous charge; a convenient perpetual glow of the hands.
"During the daytime, the white dial reflects the light and charges the luminous foil attached to the back side of the hands. During the night, the luminous foil releases the light again," explained the brand on its website.
Stop2Go collection
The original watch movement stopped production in 2001, but it returned and was redesigned in 2013 under a new name: Stop2Go.
"The fascinating execution of Stop2Go, like on the original clock, features the famous red second hand that turns full circle in 58 seconds and then waits at 12 o'clock for the black minute hand to move on, before jumping one marker forwards, starting its next rotation. Two seconds which sometimes can change our life?" explains Mondaine's site. This gives a fascinating uniqueness showing time "standing still," before the minute hand advances. This, of course, does not mean that the time actually slows down—it eventually catches up and provides an accurate time after the two seconds.
This is something that the Swiss Railway clocks have been doing for decades. If you'd like to learn more about Swiss trains and their clocks, and to better understand the purpose of this delay, this article on Stop2Go provides an excellent explanation.
The Mondaine Official Swiss Railways Stop2Go watch is also known for its backlight technology that allows the time to be visible even in dark settings. This 41mm timepiece is powered by Superluminova and can last up to four hours. Other features include a stainless steel case, a sapphire anti-reflective coated crystal, and a leather strap (colors available are red and black).
Helvetica collection
This Mondaine collection is after the sleek and classic Helvetica® font, which was designed by Swiss graphic artist Max Miedinger.
The goal in creating the font is for it to be "well conceived, discreet enough and tempered, a matter of fact, soft and flowing with harmonious and logically structured forms."
This font, which is a sans serif typeface, is one of the most popular typefaces of the 20th century. Mondaine's watch collection like Helvetica is simple yet powerful, boasting of a design that's elegant and functional.
Available in different sizes (26mm, 33mm, 38mm, 40mm, 43mm, so they will look great in all wrist sizes), the watches have straps such as mesh stainless steel and genuine leather. All models have a text on the case that says "Mondaine Helvetica Swiss Made."
Some of the watches that stand out from this collection include the Mondaine Helvetica No1 Regular, which has a second time zone; the sleek Mondaine Helvetica No1 Light Holiday Edition, which has a white dial and a gold-plated case and a Milanese mesh strap.
This line also has a smartwatch—the Helvetica 1 Regular Hybrid, which runs on Android 4.4 or iOS 8 and newer. With this, you can enjoy smartwatch features such as mobile notifications such as emails and texts, activity tracking, world time, and sleep tracking. It still looks like a regular watch with its leather strap and clean Mondaine design that's easy to read.
See all watches from the Helvetica collection here on their website
Essence Collection
If you're looking for something unique and eco-friendly, this is the collection to check out. Mondaine's Essence collection promotes sustainable materials, such as straps with textile and cork lining, and developed using renewable materials like Rizinus or castor oil. Mondaine promises that the quality of these watches remains the same.
The Essence Petite Black (32mm) or Essence Large Black (41mm), for instance, make use of natural rubber and recycled PET bottles for the pouch, which is also multi-purpose, so it can use it as a smartphone case among other things. =
Check out the entire Essence collection here.
Simply Elegant Collection
Mondaine describes this collection as "understated elegance." These watches were inspired by the Classic collection, so it has the iconic Mondaine dial and red seconds hand.
The watches under this collection are Mondaine's slimmest watch models. Available in 36mm and 41mm sizes, these have black or red leather straps or an elegant stainless steel mesh material. The prices range from $325 to $390 on Mondaine's official US site.
Mondaine markets these watches for pairing with chic evening wear like a suit or a dress, but it will look excellent as a daily watch as well.
See the different models off the Simply Elegant collection here.
Classic Collections
Last but not least is Mondaine's Classic collection, which has the brand's iconic design.
The Mondaine Official Swiss Railways classic watch has a number of different sizes and styles. These are available in from 30mm to 40mm, having strap materials such as leather and changeable colorful bracelets. The prices of these watches on the website range from $195 to $850.
If you're looking for a Mondaine that has been officially licensed by the Federal Swill Railways, check out this page.
Mondaine also has the Evo series, which is basically an evolved original Classic watch that started to gain popularity in 1986. These were updated last year, with better functions and designs. Check out a wide array of Evo2 models here.
Where To Buy Mondaine Watches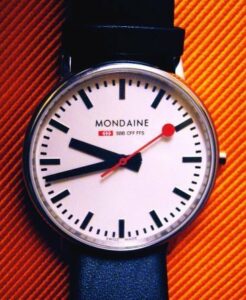 In this section, we'll discuss the brand's collections and take a closer look at the watches under them. If you're looking to buy a Mondaine, this should make your deliberations easier.
The brand's website has a store locator page that allows you to find Mondaine sellers wherever you are in the world. By simply typing in the country, state, or city, you can easily locate the nearest official dealer.
You can buy Mondaine watches on their official website. The searches are filtered by factors such as prices, case diameters, strap materials, and colors. All of these are brand new and have a warranty (more on this below), so it's always best to buy it from here.
You can also find Mondaine watches (both new and used) on third-party websites:
Shop Mondaine watches on Amazon
See Mondaine Watches on eBay
In the UK:
Mondaine on Jurawatches.co.uk or watchshop.com
Mondaine Warranty Policy
Purchasing a Mondaine watch anywhere in the world will entitle the customer to two years of warranty (against manufacturing defects). As long as the retailer you bought the watch from is authorized and is signed, dated, and stamped, you're covered.
What the warranty does not cover, however, are the following: normal type of wear and tear, battery, bracelet, crystal and crown, and scratches (see a more comprehensive list here).
If the defect is covered by the warranty and it needs to be repaired, it needs to be brought to the brand's official MISO® (Mondaine International Service Organization) service center.
Good luck!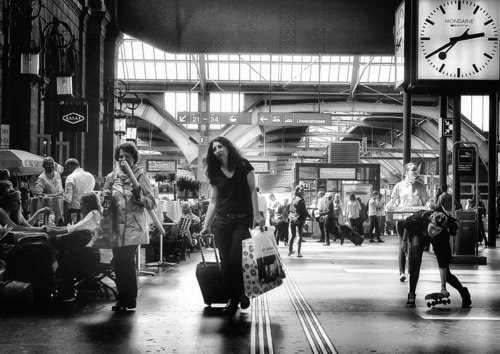 We hope this article made you learn a lot about the brand! Whether you're getting the famous Stop2Go watch collection or trying out some of the newer technologies like its smartwatches, Mondaine will deliver. Concentrating on both classic design and new technologies, this brand will surely continue to create and innovate for a long time.