This watch comparison article will be comparing a watchmaker, Luminox, with a specific series of watches by Casio – G-Shock watches. Although many fans of G-Shock think of it as its own brand, it is a collection of watches under the Casio brand. 
There are good reasons why many readers compare G-Shock and Luminox watches. Both Luminox and G-Shock deliver high-grade and durable tactical and military watches. These watches are designed for rough environments and wear and tear, making them popular with police, military, and first responders.
G-Shock is known for its basic "Triple 10" premise that the original designer intended for all of the watches in the collection: 10-year battery life, 10 bar (100m) water resistance, and shock-resistant from a fall of 10 meters high. Luminox is known for the "Original" Navy Seal watch, excellent luminosity, and collaborations with elite forces and celebrities like Bear Grylls. 
Brands compared: G-shock and Luminox

So, many of our readers ask which one is the better choice for this particular field? Before answering that, we should first look at what both watches bring to the table and how they've managed to reach their current reputations. 
History of Luminox Watches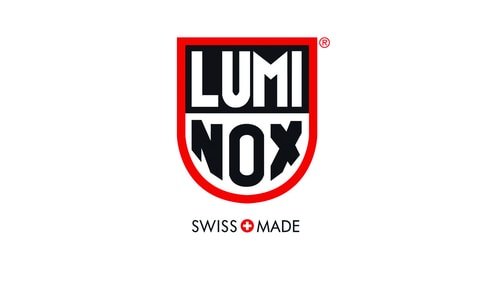 Luminox is one of the relatively new watch brands in the market.
It was founded in 1989 by Barry Cohen. In 2006, Swiss watch manufacturer Mondaine bought a 50% share, and this acquisition helped Luminox expand its market to over 30 countries. 
Right off the bat, Luminox was focused on developing reliable timekeepers for the military as their first series of watches were explicitly designed for U.S. Navy SEALS, Air Force, Coast Guard, military, and law enforcement personnel. Even after being bought by Mondaine, Luminox continued its partnership with the U.S. military. 
Luminox is synonymous with reliability within the watch market. Their watches are designed for the rugged terrain and harsh environments. A Luminox watch will not blend well with a chic three-piece suit. But if you are looking for impressive levels of functionality and reliability, few can compare to Luminox in this area.
Luminox's signature feature is its "Always Visible" technology. As the name implies, this feature allows the watch to be eligible at all times, no matter the environmental light level is.  Tritium (a radioactive hydrogen isotope is a natural luminescent compound with no need for another light source to charge) is used on the watch's hands and markers. The brand's propriety "Always Visible" consistently lands Luminox on our list of Best Tritium Watches.
This also means the wearer won't need to press any button to turn on the illumination. Take this feature into the field and get an idea of how advantageous it can be. Luminox has earned its stripes when it comes to being one of the premier tactical watches in the world used by everyone from weekend warriors to elite special forces.
Click here to see some more recommended luminous watches. 
History of G-Shock Watches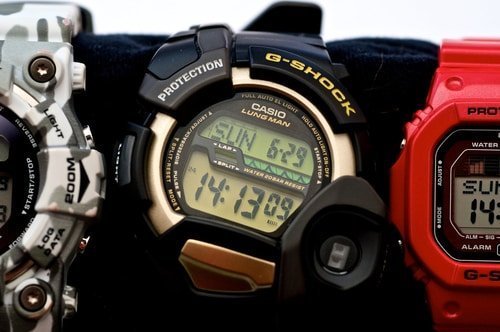 Now, we go to Casio G-Shock.
Similar to Luminox, G-Shock is designed for outdoor use, and it is also one of the most well-known watches that has become synonymous with durability. G-Shock is more consumer-oriented, and as such, it comes in a wide variety of design options. 
The G-Shock is a watch series developed under Casio's umbrella and was already in development back in 1981 and released in 1983 to the public. It made waves in the market by accomplishing a trifecta of impressive feats with a numerical theme, specifically, the number 10.
The first G-Shock provided a battery life of 10 years, water-resistance of 100 meters, and is designed to withstand impacts from falls of up to 10-meters high. G-Shock's popularity hit an all-time high during the 90s, and you have most likely first heard about this watch during that time as well. 
Due to its large and tank-like design, it was primarily worn by men. Casio then released the Baby-G watch series, a sleeker yet equally robust G-Shock watch designed for women. G-Shock is still going strong to this day and is still the most famous watch brand worn by adrenaline junkies, outdoor and sports enthusiasts. 
Luminox and G-Shock Watch Comparisons
Since both Luminox and G-Shock are in the market for a specific watch type (i.e., tactical/military-type watches), we will be pulling two best-sellers from each brand. As both brands aim to provide convenience for the same market, the comparison will be more straightforward this time around. So, let us begin:
Luminox Watches
Luminox 3081 EVO Colormark Chronograph Watch

This is Luminox's most well-rounded watch to date. The 3081 EVO provides optimum convenience and comfort. The watch comes with a 47mm diameter case made from a highly durable plastic material.
The watch utilizes durable rubber bands with a simple buckle closure that makes putting it on and off quick and easy. 
The 3081 also features a rotating bezel and high-precision quartz movement with an analog display. The dial is protected by Flame Fusion window glass. This watch is also designed to be water-resistant for up to 330-feet.
The 3081 EVO also features three sub-dials and is more than a solid choice as a great dive watch. 
As expected, the 3081 EVO sports the signature "Always Visible" feature found in all Luminox watches. The 3081 EVO features blue and green luminescent hands and markers, which look cool in the dark.
Overall, the Luminox 3081 is a solid option for those looking for a sturdy and reliable chronograph watch. It has a simple, no-frills design that helps avoid the usual cluttered appearance typical of watches in this category. 
Luminox Navy SEAL Colormark 3050 Series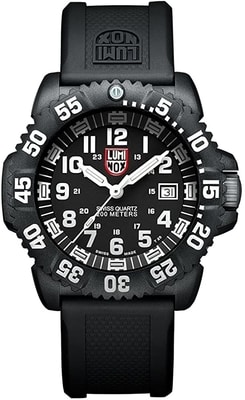 The Luminox Navy SEAL 3050 Series sets to change consumers' perception of plastic-made watches. The 3050 is crafted to provide one of the highest levels of durability and reliability while still maintaining a reasonable price tag. Did it succeed? It did. 
This all-black watch has a carbon-reinforced case with a diameter of 45mm. It may be made from plastic, but this is military-grade plastic and is nothing to balk at. The watch also comes with 660-feet water resistance. 
The extremely durable case also features an equally sturdy unidirectional bezel. The carbon-reinforced plastic for its main body also acts as a natural shock-absorber, something stainless-steel watches cannot achieve on its own. A scratch-resistant mineral crystal window protects the dial. 
Performance-wise, the Luminox Navy SEAL 3050 Series utilizes quartz movement and analog display, and precision is not an issue here. Additional features include a date display located at the 3 o'clock position. The Navy SEAL 3050 Series exudes an air of confidence with its rugged appearance and sleek style. 
G-Shock Watches
Casio GW-9400-1CR Master of G

Also known as the "Rangeman", the GW-9400-1CR is a beast in terms of its durability. As with all G-Shock watches, the Rangeman features Shock Resistant Triple Sensor, enhancing its toughness on all levels. This watch is also jam-packed with features designed to help improve your experience doing outdoor activities. 
The Rangeman features many helpful functionalities such as a built-in altimeter, barometer, compass (ABC) thermometer, sunrise/sunset data, alarms, 1/10 second stopwatch, countdown, and calendar.  See our list of best ABC watches here (including another G-shock)
These are just the basic features you would expect in high-end tactical watches, but Rangeman goes above and beyond as well. Additional uncommon features you will find here are Mb6 atomic timekeeping, auto-LED light, and elapsed time measurements. The features included here are simply mind-blowing. 
The Rangeman is undoubtedly one of the larger G-Shock watches around, which is expected with its number of features.
The clock is also solar-powered, pushing it to the forefront of tactical watches. The aesthetic of this watch also manages to display its rugged qualities with an all-black design with red accents. Click here to see our top solar-powered watch recommendations (spoiler alert: the Rangeman was included on the list!)
This G-Shock watch is also made to have a water resistance of up to an impressive 660-feet. This makes it perfect for various water activities and even scuba diving as well! The Rangeman GW-9400-1CR is an excellent high functionality, high durability, and low-maintenance watch suited for those who enjoy the great outdoors.
Casio G-Shock GA100-1A1 The GA 100 Military Watch Series

This G-Shock watch is designed to withstand military use. It is made to be as tight as possible while providing all necessary functionalities needed in the field. While it is made primarily for the military, the GA100-1A1 G-Shock is also a pretty solid choice for outdoor enthusiasts. Let us see what this watch offers, shall we? 
Features included in this beast of a timepiece are chronograph functions such as stopwatch and countdown timers. An LED light with afterglow effects, world time, up to four daily alarms with snooze alarm, and an automatic calendar pre-programmed until 2099. The watch is also constructed not only to be shock-resistant but magnetic-resistant as well. It also has a two-year battery life and water resistance rating of up to 660-feet. 
The G-Shock GA100-1A1 is one of the most excellent tactical watches in the market to date. While the relatively dim display might be a downside for some customers, note that this is designed for military use. This darker display choice is a consciously made one as it is intended to be used during police and military operations. 
Best Tactical Military Watch – All things considered, G-Shock is offering the widest variety of watches in this category. While both are very similar regarding reliability and durability, G-Shock widens the gap with their wealth of features packed into their watches. 
Conclusion: Luminox and G-Shock – Which Watch is Better?
Both Luminox and G-Shock have their strengths and weaknesses. Both of the brands excel at making durable tactical watches with rugged build quality.  Of course, much comes down to the specific watch model but overall G-Shock is the more affordable choice. 
Although G-shock does have more expensive watches in its product line, many solid models even in the sub-$100 range, and even those budget G-shocks come with a wide range of features, making them a quilty value pick. 
When it comes to Luminosity, this is where Luminox "shines" and surpasses the G-Shock. Its "Always Visible" feature also makes it the number one choice for individuals who work in low-light environments. 
So, which one is better? Luminox or G-Shock?  Both are extremely reliable and are proven in the field. Do you prefer a watch that comes brimming with extra features? Then the G-Shock is an excellent choice at a very affordable price.
On the other hand, Luminox is undoubtedly one of the most robust outdoor and military timepieces you can get your hands on. The fact that elite military forces use Luminox is a testament to their quality as tactical watches. If your priority is a luminous dial and your budget allows it, go for Luminox.