Tactical and military watches are known for their practicality, performance, and reliability, more so than their aesthetics. As a result, these watches are often used by police, military, security, and outdoor and sports enthusiasts. 
In this article, we will be looking at the current best military tactical smartwatches in the market. Understand, though, that there is no way to put one specific tactical watch model as the best generally.
Why? Because the 'best' will depend on the requirements needed so the answer will be subjective. 
Ideally, you'll want to choose a smartwatch that has been certified with MIL-STD-810 (the US military's testing certification for equipment) as this ensures you are getting a smartwatch that can really stand up to heavy wear and tear. Luckily we've included some below that do meet military specs, including the Garmin Instinct Solar Tactical and the Amazfit T-Rex Pro Smartwatch.
That said, even if the watch isn't up to military specifications, there are several features you should look for in a good tactical smartwatch. When picking a military watch, you should never skimp on the quality of the material used in its construction. Here are vital aspects that you should consider when choosing a tactical watch.
What Makes a Smartwatch Tactical?
Build and Material
Materials such as sapphire crystal for the dial window are crucial due to their extreme scratch resistance. As for the case, a stainless-steel watch is always a safe bet. An alternative will be polymer-plastic if you wish something lightweight or ceramic for those with metal allergies.
Timekeeping Precision
Of course, what is a tactical watch that is not a reliable timekeeper? When it comes to these rugged watches, we recommend you go for quartz movement rather than mechanical. The reason is that mechanical watches tend to not be as continuously accurate compared to quartz watches. 
Also, mechanical watches need to be handled with extra care as temperature and shocks can affect their performance. Quartz watches tend to be more rigid in this area, which is why it is the watch movement of choice for outdoor timepieces. 
Luminosity
Considering the police, military, and outdoor activities require you to be ready 24/7, a timepiece that can provide excellent legibility even in pitch-black darkness is crucial. Specifically, we recommend tactical watches that have a constant faint afterglow as there will be occasions wherein both hands are in use. 
Water Resistance
Finally, the watch needs to be reliable in both land and water. High-level shock resistance is essential, but so is a solid water resistance rating. Check the ATM (atmosphere) rating of the watch and go for the timepieces rated 100ATM and above. These tactical watches can be used for swimming, while models with higher ATM ratings are suitable for scuba diving.   
Best Tactical & Military Smartwatches
Garmin Instinct Solar Tactical
With its solar-powered batteries in tow, the Garmin Instinct Solar Tactical certainly takes the lead when it comes to other smartwatches in the market. Seeing as battery life is a constant issue with this modern digital timepiece, having one can charge itself via sunlight is a welcome feature. 
The Gamin Instinct Solar Tactical comes equipped with all the essential features one needs to tackle rough terrains. In addition, this tactical smartwatch is durable as it comes with its U.S. military standard 810G that makes it shock and thermal resistant and solid 100-meter water resistance. 
When it comes to functions, the Garmin Instinct Solar Tactical Smartwatch comes with a built-in GPS (GPS, GLONASS, and Galileo), 3-axis compass, altimeter, barometer, and compatibility with numerous notable apps.
This smartwatch also has a nifty tactical feature that can provide wearers with waypoint projection, dual-position via GPS, and a preloaded tactical activity tracker. The Garmin Instinct does not stop there, though, as it also supports the Pulse Ox application, which can help you monitor your daily health and conditioning. 
Garmin Instinct Tactical (Non-Solar Option)
If you are looking for a cheaper alternative to the Garmin Instinct Solar Tactical Smartwatch, then you can check out the non-solar version of the impressive timepiece. In terms of toughness, the non-solar version features a similar build with its U.S. military standard 810Grating, which means it is shock, thermal, and water (100-meters) resistant. 
This Garmin Instinct tactical smartwatch also comes equipped with built-in GPS, which utilizes GPS, GLONASS, and Galileo satellites. In addition, the digital display also features a night vision compatibility mode that is exceptionally convenient for military and special forces that operate on the cover of the night and nighttime hunters. 
Like its Solar-powered sibling, this version also provides tactical-specific features such as a stealth mode, waypoint projection, dual-position GPS format, preloaded tactical activities, and the Jumpmaster app support. 
Despite the lack of solar-powered capability, this version circumvents battery loss by having its dedicated power bank for use during emergencies. 
Amazfit T-Rex Smartwatch
The Amazfit T-Rex comes in various versions, but one constant throughout each model is its excellent reliability, slew of features, and excellent battery life. This is a tactical smartwatch that certainly delivers on all fronts while also having a reasonable price tag. 
Designed to meet military standards, the Amazfit T-Rex has a certification for military-grade (MIL-STD-810), which means provides solid shock and temperature resistance. In addition, the battery life of the Amazfit T-Rex Smartwatch currently clocks in at 20 days of regular use and up to one day with the GPS turned on. 
This tactical smartwatch also comes equipped with a pretty decent AMOLED screen which measures at 1.3-inches. As for its outdoor capabilities, this military smartwatch incorporates the premium-grade Sony GPS chip, which utilizes a dual-satellite positioning system.
If there is one aspect where the Amazfit T-Rex kind of falls short, it is in the water resistance department. This smartwatch can only provide up to 50-meters of water resistance, which means the case can only withstand brief immersions or splashes of water. 
Amazfit T-Rex Pro Smartwatch 
Incorporating a near-identical aesthetic to the standard Amazfit T-Rex Smartwatch, the Pro version has several unique tricks. One of the most significant upgrades found in the Pro version of the Amazfit T-Rex is the enhanced 100-meter water resistance. Making this smartwatch suitable for swimming and snorkeling as well. 
Every element of the Amazfit T-Rex Pro is similar to the standard edition. For example, its HD 1.3-inches AMOLED display, built-in Sony GPS chip provides a dual-satellite positioning system, and up to 100 sports modes to track critical data such as heart rate, distance traveled, speed, and calories burned. 
The Amazfit T-Rex Pro also comes with all staple outdoor/tactical/sports smartwatch features along with excellent upgrades. You can expect to take advantage of its compass, altimeter, and barometer. This smartwatch offers a blood-oxygen saturation measurement system and weather tracker as well.
Once connected to your smartphone, you also use the Amazfit T-Rex Pro to check notifications on your phone – as is the standard of any smartwatch. All in all, we recommend the Pro version for its well-rounded and complete package design and capabilities. 
Casio G-Shock Move Solar Assisted Smartwatch (GBD-H1000-8CR)

Next up, we have an entry from one of the most robust, multi-functional, and reliable watch series in the Casio G–Shock market. Specifically, we will be taking a look at the G-Shock Move Solar Assisted Smartwatch. 
As with all G-Shock watches, the Move Solar Assisted comes in a tank-like 55mm resin case. However, despite the lightweight nature of the material used in the body's construction, the build incorporates Casio's tested shock-resistant design. 
This tactical smartwatch from the G-Shock series also features a complete set of functionalities that will prove extremely helpful when outdoors. These features include the altimeter, barometer, compass, and thermometer – which is standard. However, the G-Shock Move Solar goes above and beyond by including the Tough Solar technology, Super Illuminator LED backlight, and a 200-meter water resistance rating. Yes, that is 20ATM which means that this tactical smartwatch is suitable for swimming, snorkeling, and scuba diving. 
The G-Shock Move Assist also features GPS navigation and Bluetooth connectivity. Once connected or paired to your smartphone, you can access extra features such as health monitoring and training support. 
Casio G-Shock Move Pro Smartwatch (GSW-H1000-1CR)

Already impressed with the G-Shock Move Solar Assisted Smartwatch? Well, hold your horses as we also included an upgraded version of the model right here. This version also provides that signature G-Shock toughness with the 200-meter water resistance rating, making it a worthy companion in both land and water. 
The main features included here are GPS navigation, heart rate monitor, compass, altimeter, and barometer. Other notable features include the tide graph, sunrise/sunset, and movement trajectory – to name a few. 
The most noticeable difference that this tactical smartwatch has is the case size. The G-Shock Move Pro features a sleek 38.8mm sturdy resin case. Within the more compact and lightweight body frame is a Google OS that provides the Move Pro with excellent versatility for compatible apps. The use of Google OS also enhances the overall customizability of this smartwatch, which is always a welcome feature.
If you are looking for the complete G-Shock tactical smartwatch in the market, you can't go wrong with the Move Pro and Move Solar models. 
SUUNTO Core

The Suunto Core is often featured and connected to the military as it was once the official Navy SEAL watch of choice. That is a good stamp of approval as you can get on this list, and the Suunto Core certainly lives up to expectations. 
This outdoor smartwatch comes packed with unique features that are not common with its competition. For example, the SUUNTO Core has a Storm Alarm feature that will help keep you updated on the weather forecast in your current location. This feature is handy if you are an outdoor enthusiast or a special forces soldier. 
You can also expect to get access to outdoor smartwatch standards such as an altimeter, barometer, and compass. The SUUNTO Core also comes with a date display, alarm, countdown timer, stopwatch, and dual time. 
If you are looking for a tried and tested tactical and military smartwatch, the SUUNTO Core fits the bill to the letter. This smartwatch's durable and stealthy design makes it a shoo-in and the embodiment of what a tactical smartwatch should be both in design and performance. 
SUUNTO Traverse Alpha

The Suunto Traverse Alpha comes with a unique feature designed for hunters, the automatic shot detection. This feature will record where and when you shoot, highlighting it on the GPS map. The GPS also has a 'breadcrumb' feature which places a trail on your path movement. This tactical outdoor smartwatch utilizes GPS and GLONASS navigation. 
As for the build, the SUUNTO Traverse Alpha features a stainless-steel case and knurled bezel. The nylon strap provides comfort, which is crucial in an outdoor timepiece. Along with the sturdy build of the case is a scratch-resistant sapphire crystal glass with an anti-glare finish. 
The SUUNTO Traverse Alpha battery life is also pretty impressive, as it can last up to 14-days. Other notable features include a moon phase calendar which can help hunters pick the best time to go out. 
This SUUNTO smartwatch is also compatible with the Movescount app, which is available on Android and iOS smartphones. 
While the SUUNTO Traverse Alpha is a well-rounded outdoor smartwatch, it will truly excel in the hands of hunters due to its specific functionalities for that activity. 
Garmin D2 Delta PX GPS Pilot Smartwatch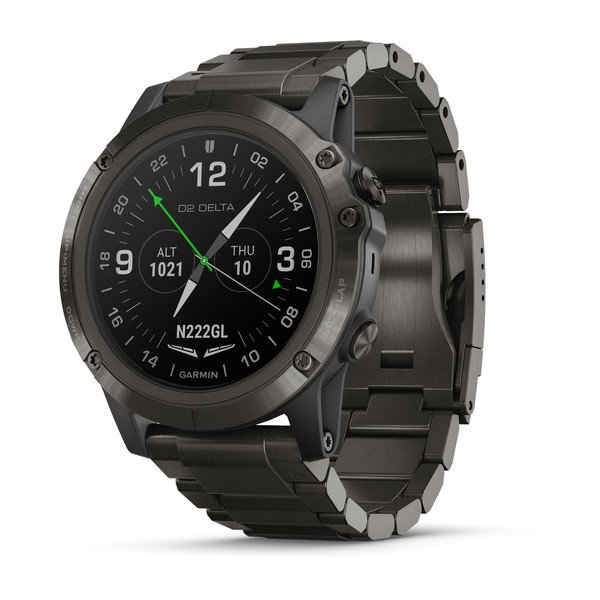 The Garmin D2 Delta PX features a relatively bulky 51mm DLC-coated carbon titanium case. It is also available in both titanium bracelet or silicone strap, your choice. Despite the large and tank-like design and size, the Garmin D2 Delta PX is relatively lightweight, thanks to its complete titanium construction. 
Garmin claims that the D2 Delta PX is their most feature-rich smartwatch specifically designed for aviation. Along with the GPS, functionalities are activity tracking and health monitor features accessible once connected to your smartphone via Bluetooth. 
The aviation-centric capability of the D2 Delta PX can be seen with its flight tracking navigation feature, helping users keep track of their positioning and trajectory. As for battery life, we clocked the D2 Delta PX at 20 days with Bluetooth connectivity turned off and about 18 hours with GPS functionality fully operational. 
For daily workout and fitness activities, the Garmin D2 Delta PX might seem overkill. However, if you are an aviator/pilot looking for a robust and reliable smartwatch that will assist with flights, the Garmin D2 Delta PX is one that we highly recommend.