Wenger, a Swiss watch company, was one of the first companies to produce the famous Swiss Army Knife. This brand has been around for more than a century—first as a cutlery company, then travel accessories, and finally watches.
This article will focus on Wenger watches. We will take a close look at some of its models, discuss its reputation, and ask the question: is it a good brand?



If you'd like to learn more about Wenger and its timepieces, keep reading. We will explore the brand's early days, and feature watch collections available on the market today. We will also be providing some videos and review links for those who would you like to do further reading.
First, let's talk about the company's roots.
Wenger's History
Wenger was established in 1893 as a knife factory in Courtételle, in the Swiss Jura region.
The company started out as a cutlery house of Paul Boechat & Cie, which was asked by the Swiss Army to produce knives. It was in 1897 when the company's entrepreneur owners (who had bought Paul Boechat & Cie) hired Theodore Wenger, a minister who served in the United States. One of the first things that Wenger did for the company was to acquire a spoons and forks manufacturer.
It was around the 1900s what the company grew bigger. A new 1,700 square meter factory, which was built. At this period, the company continued with cutlery production.
In 1908, the Swiss Army split the contract between Wenger and rival Victorinox. Swiss Army knives were produced in two areas: half were produced at the German-speaking part of the country (Schwyz), and the other half on the French-speaking part (Bern). Wenger passed away in 1929.
The company started producing watches in 1988. Fast forward to 2005—when rival Victorinox, which was also a popular maker of Swiss Army Knives, took over the brand. According to the brand's website, this allowed Wenger to further develop its product lines. Then, in 2013, Victorinox integrated Wenger's knives in its own range, allowing Wenger to focus on the development of watches and travel gear.
Today, Wenger is known for its line of watches and travel gear (which included backpacks, wheeled cases, and travel accessories which you can find here). Below, we will focus on the brand's watches—their reputation, price points, and most popular designs.
In 2016, Victorinox did a re-launch of Wenger with a new slogan: "A Swiss Company Since 1893" (the previous slogan was "Maker of the genuine Swiss Army Knife").
Wenger's brand reputation: Are they good watches?
Wenger has only been producing watches for three decades, but the company has enjoyed a good reputation for more than a century. What started out as a company that made the iconic Swiss Army Knives slowly turned into a trusted lifestyle and travel brand.
Wenger has some relatively affordable, value-for-money watches, with prices ranging from around $130 to $400. The watches are generally well-reviewed, with many satisfied with the Swiss precision and accuracy and durability.
Wenger watches continue to be made in Switzerland (Delemont region), as it continues to adhere to the "Swiss Made" standards, which means that it's assembled in Switzerland, and at least 50% of the components are Swiss.
If you're looking for affordable Swiss watches of high quality, Wenger is a trusted company that provides excellent watches. Here are some of them.
Wenger watch collections
Wenger's has a wide array of watch collections available for men and women, from timepieces for different lifestyles: watches for everyday use, for sports, for formal occasions. We will take a closer look at some of the best ones below.


Wenger Urban Classic collection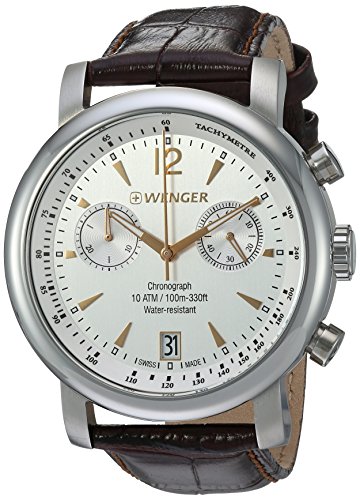 The Wenger Urban Classic collection has over a dozen different models. This line has chronometers as well as classic analog models, and share qualities such as bold, round cases. Available in textile, leather, and stainless steel straps, this is a versatile collection that has sizes for both small and big wrists (men and women). The goal of this collection is to be versatile enough to "appeal as much to Zen men as they do to adrenalin junkies."
One watch off this collection is the 44mm Wenger Classic Chrono, which has an analog quartz movement, a water resistance to 100m, and a sporty fabric strap (stainless steel and leather are available, too), and a date window at 4'oclock. This chronograph has a number of different styles and colors.
Those who are looking for something a bit simpler, this collection also has analog models like the Urban Classic, which is available in 42mm and 35mm sizes, as well as different straps (leather, stainless steel, and mesh).
Wenger Roadster collection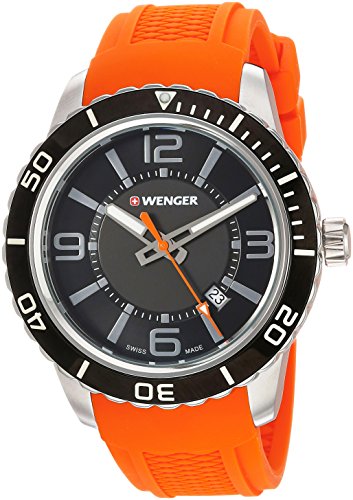 Wenger is also known for producing watches that take after the basic concept of the Swiss Army Knife—multifunctional, versatile, and something that can take a beating. This collection is an example of those watches.
This collection was built for adventurous types. The watches featured are rugged and sporty and have a number of different styles—like stainless steel and PVD cases, as well as stainless steel and leather bracelets. The hands, numerals, and markers have powerful Superluminova, which will allow you to use the watch even in the dark.
The Urban Classic collection is not the only line with chronographs. This collection also has the rugged Wenger Roadster, which has tachymeter or diver's bezels, water-resistance up to 100m, and Superluminova.
For a closer look, here is a review takes a closer look at the Roadster Chronograph.


Wenger Urban Metropolitan collection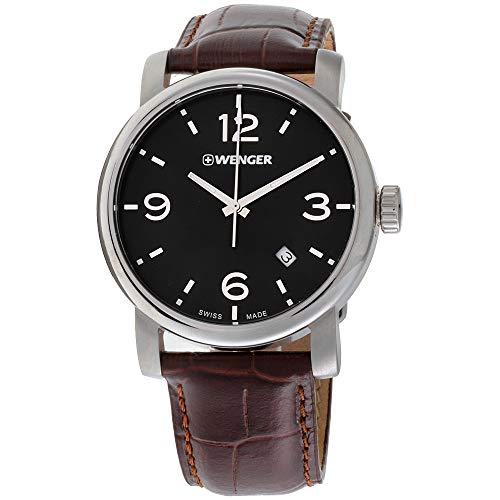 The Wenger Urban Metropolitan line has vintage-inspired designs with numerals that glow in the dark. All of the watches under this collection have a 44mm case, a 100m water resistance, a date display at 4 o'clock, and a quartz movement.
This line also has a Chrono collection, which has beige and black case colors, as well as seconds and minute subdials. These watches are for those looking for a legible, sleek timepiece that can be easily matched with any outfit.
Wenger Seaforce collection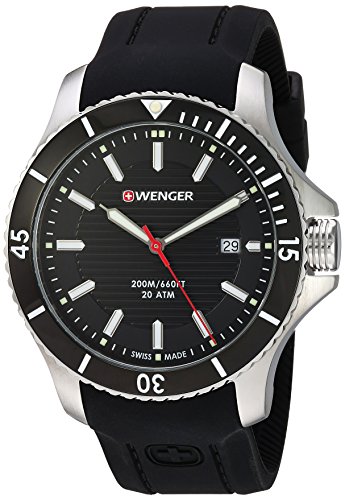 This is Wenger's line for those looking for watches that they can use for water activities. The watches of this collection have water resistance to 200m and a 43mm case. You will have a number of choices: three hands or a chronograph; and stainless steel, leather, or silicone bracelets.
One of the most popular watches from this collection is the Seaforce Chrono, which has a sporty and waterproof silicone strap, a screw-down crown, a screw-in case back, and a unidirectional bezel.
For those looking for a three-hand version, there's also the Wenger Seaforce, which has different straps (stainless steel, silicone, leather) and colors (blue, green, black). A handsome watch that looks excellent for sports, but also striking when worn at the office or on formal occasions.
We featured a Wenger Seaforce watch in our article on Best Swiss Watches Under $500, which you can check out here.
Wenger Donnissima collection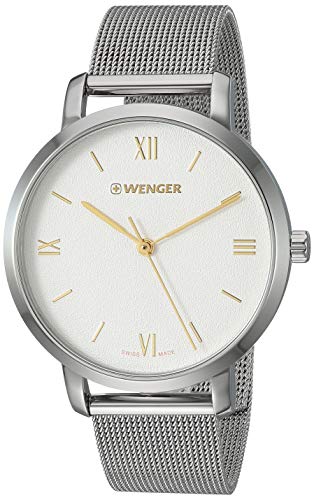 Wenger has a lot of large watches that look great on big wrists, but the company also made sure that it has a wide variety of smaller sizes to choose from.
The Donnissima collection for women or anyone looking for watches for smaller wrists–the simple yet elegant timepieces in this collection are all 35mm.
Like the previous collections we've covered, the watches in this line have different straps: stainless steel, mesh, and satin leather. They're elegant, but can also be used in a more casual setting.
Some of the other notable features include the sunray-brushed "guilloche" dial in black or blue and the leaf-shaped hands that glow in the dark. All of the watches are water-resistant to 100m.
Another collection made for women is the City Very Lady. Available in stainless steel, yellow gold, or rose gold PVD cases, this collection is a bit smaller at 34mm. These watches have Superluminova-coated hands, and water resistance of 30m. See the available watches here.
To see all of Wenger's watches for women, you can also visit this page.
Wenger City Active collection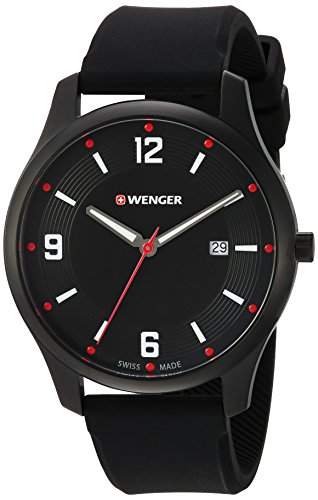 This collection of watches are for those looking for something simple, versatile, and classic. Available in black PVD or stainless steel cases, these are casual watches that stands for "sport elegance," and can complement different styles. Silicone and stainless steel straps are also available.
All of these 43mm watches are water-resistant to 30m so it can take minor splashes of water, have luminous hands, and a date calendar at 3 o'clock.
New releases
Wenger constantly comes up with new watch models. On this page, you will see the brand's latest models for Baselworld 2019, which includes new watches off Attitude, Avenue, and Donnissima.
Wenger vs Victorinox
Because these two companies are related, their products are often compared. Swiss companies Wenger and Victorinox were founded just years apart (with Wenger ahead by a few years).
As mentioned above both of these companies were commissioned by the Swiss government in the 1900s to produce and sell Swiss Army Knives to prevent monopoly.
One of the things that is usually brought up (such as in this forum) when talking about the two brands is the price. Wenger watches are usually more affordable than Victorinox, selling good-quality watches for around $100. When it comes to finding a value-for-money watch, Wenger is usually more favored. Some, on the other hand, favor Victorinox watch movements (such as this forum).
Where to buy Wenger watches
Wenger watches are not directly sold on its website, but it takes you to a Store Finder link where you can find branches anywhere in the world that officially sells Wenger products. This page will give you a list of Wenger stores, as well as authorized retailers and service centers.
If you're in Switzerland, you can also visit the company's manufacturing plant in Delemont, where you can see how Wenger and Victorinox products are produced. Free guided tours are offered to visitors—if you'd like to learn more about schedules and reservations, visit this page.
Wenger is also available on Amazon or See Wenger watches on eBay, where you can get both brand new and second-hand models.
The Wenger website has a page devoted to watch care. This will be very useful to first-time Wenger owners, as well as those who would like to learn more about watches in general. Some of the tips provided on this page include how to use a quartz watch, how to clean your watch, how to use the watch in water (as well as an explanation on what water resistance numbers mean), and how to clean the watch.
Watch owners are also provided with pointers on what to do when the watch is not worn, as well as things that should be avoided (chemicals, perfumes, etc.).
Wenger's warranty policy
All Wenger products have a three-year warranty from the date of purchase. This covers all products—watches, knives, bags, and travel accessories. Damages like wear and tear, misuse, improper handling, and non-authorized repair are not covered.
According to the brand's website, Wenger will repair or replace the watch at their discretion with the same or equivalent model if needed. Those who want to have their Wenger item repaired must present proof of purchase from an authorized seller and must cover shipping costs to the Wenger repair center if necessary.
This downloadable PDF file from Wenger's website has everything you need to know about Wenger warranty. Instructions and repair files are all available for download here, and user manual and warranty information for United States residents is available here.
Thanks for reading!
To answer the question that we asked on the title, yes—Wenger is a good brand that continues to receive positive reviews for not just the price points, but also craftsmanship and technology. While the company is widely known for its cutlery and travel products, they have also shown in the past decades that their timepieces are worth the attention.
If you're looking for a Swiss watch that has excellent quality and a good reputation, Wenger is a brand that you should definitely check out.
We hope you found this article helpful!