Watch metals define the look and essence of the watch. Ever since clocks, pocket watches, and wristwatches have been around, manufacturers have used precious metals like gold as part of the design. Even with gold, we now have a range of different shades from yellow gold, rose gold, and white gold.
If you're considering buying a gold or rose gold watch, you may need to spend extra as opposed to watches without gold in them. Here is a quick review of facts about rose gold and yellow gold in this article, to help you decide what best suits your needs.
What is Rose Gold?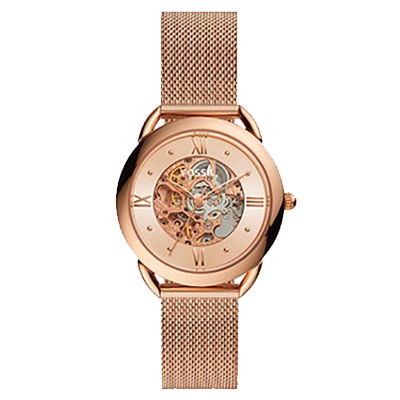 Rose gold in itself is not pure gold. Rather, it's an alloy combination of gold, copper, and in some cases, silver. The red and pink hue of the rose gold depends on the extent of copper and silver mixed with it. While rose gold may look a lot modern and elegant to the eyes, and therefore may feel luxurious, it is in fact not as valuable or expensive as yellow gold. The value of the rose gold is only as much as the percentage of yellow gold mixed in it.
Typically, brands use about 75% yellow gold and 25% copper. However, by adding 3% or more silver into the mix, manufactures have filled the market with different shades of rose gold watches, jewelry, electronics, and more! Rose gold has become the shade of this millennium. Originally introduced in the 19th century in Russia, the use of rose gold spread across the world in no time. The versatility of rose gold makes it perfect for not just a special occasion, but informal and casual ones too.
Most products don't have real gold or rose gold in them. One way to find out the value of your rose gold watch is to check the price and description. The brand manufacturers note 14 or 18-karats as part of their description. This typically means that the watch contains gold in them.
On the other hand, if your rose gold product has a low price range, it's pretty much dipped or plated in rose gold paint. Upon closer inspection over a period of time with regular use, you will also notice a different color under the surface. This proves that your watch or jewelry is not pure metal, but rather coated in pure metal paint or added through electrochemical processes.
What is Yellow Gold?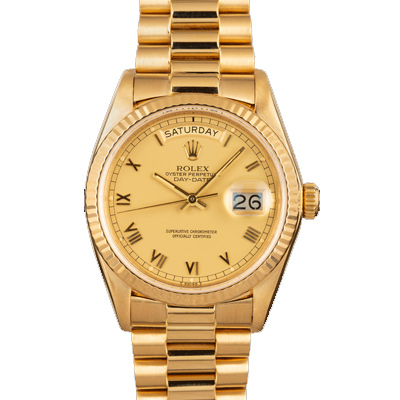 Yellow is the actual shade of pure gold as discovered centuries ago and is still widely considered one of the most precious metals. Over the years, gold continues to be the most sought after for its superior finish and high value across the world. The rarity of the metal makes it desirable not just for watches, but jewelry and electronics too.
It is noteworthy to remember that not all gold products you see are real gold. Check for the description to learn about how many karats the gold is. 22 and 24-karats are the purest forms of gold. However, accessories come with 18 or 14-karat gold and not 22 or 24-karats. This is mainly because of its naturally soft properties, making it prone to easy damage. Consequently, brands mix another metal to give it the rigidity and sturdiness it needs against wear and tear. These are not cheap, and the high value of the gold makes it hard for everyone to get their hands on.
To counter this challenge, manufacturers use gold-plated watches. This simply means a thin layer of gold added to the surface of either copper or silver. In this case, your watch is not a pure gold watch, but merely a gold-plated watch. One way to identify, as mentioned above, is to check for either price or karats.  If the price is low, in all probability you have a gold-plated watch.
Rose Gold Pros & Cons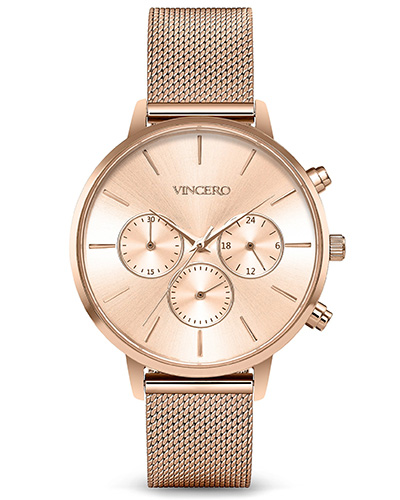 As with every metal, rose gold comes with some pros and cons.
Pros:
Rose gold will never tarnish. Tarnish is the process of oxidization with air or moisture, causing the metal to go darker or develop a different hue on the surface. This does not happen with rose gold and by regularly polishing it, you can retain the same sheen of the rose gold for years.
Moreover, rose gold is the color of this millennium, making it trendy and in fashion right now.
Rose gold also is a versatile metal. You don't have to consider skin tone and being flashy while wearing a rose gold watch. It goes with everything and for all occasions, unlike yellow gold.
Highly durable and can outlast yellow gold. By nature, yellow gold is soft. However, copper, a component of rose gold, is a strong metal. This makes it extremely durable.
Cons:
Rose gold does not hold much value in itself. Given that it is an alloy, the value of the rose gold purely depends on the amount of yellow gold mixed in it.
Copper in rose gold makes it difficult for people with sensitive skin to wear rose gold accessories and watches. Copper is less hypoallergenic, making it less favorable if you can catch allergies.
Yellow Gold Pros & Cons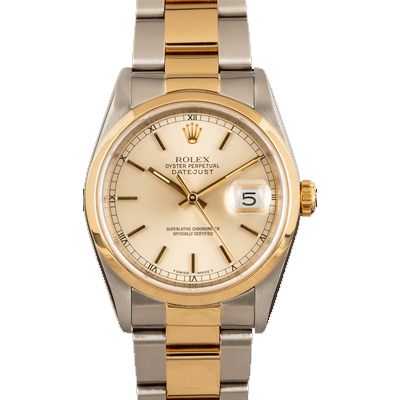 The pros and cons of yellow gold are as follows.
Pros:
Often symbolizing luxury and sophistication, yellow gold remains most popular across all ages globally.
A timeless classic, yellow gold comes with high value as the value does diminish over the year, instead only multiplies. This makes yellow gold an investment as well.
Comparatively, more hypoallergenic than rose gold, if you have sensitive skin. Many gold watches, though an alloy and not pure gold, do not contain copper which is naturally allergy-inducing.
Cons:
Yellow gold can look flashy. Given its bright yellow color, it can easily catch anyone's eye; if not paired with the right clothes or accessories.
Yellow gold doesn't always complement all skin tones, making it stand out from the rest of you. Fashionistas often believe that yellow gold works best with warmer skin tones and not cooler skin tones.
Rose vs Yellow Gold – What to Consider
As we saw above, both yellow gold and rose gold has its own pro and cons. Watches with yellow gold or rose gold come in 18-karats or lesser alloy combinations, making them similar in terms of properties and solidity. So when it comes down to choosing between rose gold or yellow gold watch, consider these factors in making your decision.
Style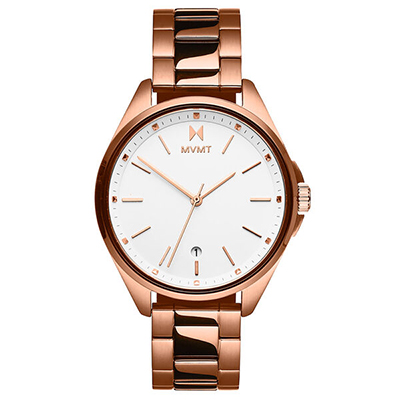 The style of the watch can heavily influence how the rose gold or yellow gold may look on the watch and on you. For instance, if you are looking at a rather busy dial with many features, rose gold gives it an elegant finish, making the whole watch look sober, yet eye-catching. However, if you pair a busy dial with yellow gold, it can not only be disruptive for the eye but also look unpleasant as a design.
The style also includes considering how the rose gold or yellow gold pairs with other materials on the watch. Does the watch have ceramic parts, other gems, carbon fiber, leather strap, etc.? These materials don't always pair well with either rose gold or yellow gold, based on their shade and texture. Looking at what works the best overall helps decide as well.
Trends
The most common factor helping us decide what to buy is largely on what's trending right now. Although yellow gold never goes out of style, not all types of yellow gold watches are trendy and in-fashion. But, rose gold tells another tale. Younger generations prefer rose gold over yellow gold. And, the fact that every product comes in rose gold stands as evidence that right now, rose gold is in trend. This can be seen in the style of watches that millennial brands market.
This is definitely subject to change with the changing times. Yellow gold has held its undefeated position as a classic metal for generations now. Rose metal is gaining its popularity only rather recently, and there is no certainty how long this can continue. Therefore, we recommend checking what's currently in trend before factoring in your preference.
Type of Watch
You may wonder how the type of watch affects which is better. The answer is simple. Yellow gold is classic and timeless, making it ideal for classic watches that are either dress watches or simple clean watches. On the other hand, rose gold personifies modern times, making it suitable for modern watches that are unique and trendy.
Hypoallergenic
If you are prone to skin allergies, you might want to consider yellow gold over rose gold. Rose gold combines gold and copper. Copper makes the alloy less hypoallergenic and over the year can develop a green film called patina. While regular polish can prevent this, it can still lead to skin irritation. Yellow gold on the other hand is more hypoallergenic and can reduce chances of skin allergies.
Cost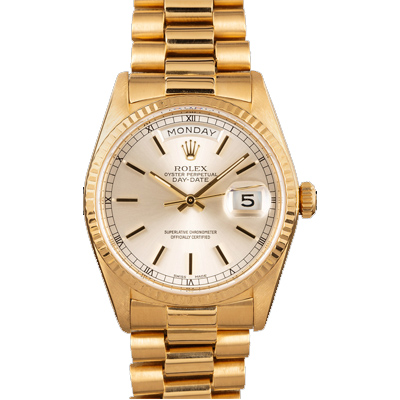 In some settings, rose gold is cheaper than yellow gold. We noted that watches don't have pure gold, but are also an alloy mix to give it durability over its soft nature.
Luxury brands use platinum, zinc, and rhodium with yellow gold, making it slightly more expensive than rose gold with just silver and copper – both relatively cheaper.