Hamilton Watch Company was started in the United States in the 1890s. For over a century, the company had its factory in Pennsylvania, where they produced watches for railroads, aviation watches.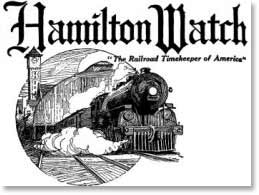 It eventually ended its American manufacturing in 1969 and then moved on to the Swatch Group, the Swiss watch company. Over the years, the company has built a reputation for the unparalleled detail that goes into making their watches.
It was a Hollywood favorite—with their watches appearing in hundreds of films and worn by some of the most famous celebrities. 
Hamilton watches are divided into different categories on their website, so for this article, we've selected an option for each of them. We'll cover a wide range of watch qualities: men's, women's, diver, pilot, rugged, formal, and so on. There is definitely something here for everyone on the list.
If you're curious about the brand and would like to learn more about the brand, we've written a more in-depth story about Hamilton watches.
In no particular order, here are some of today's best Hamilton watches for men and women.


Best Hamilton Watches
Hamilton Men's Khaki Field

Some of the features that stand out most in the Hamilton Khaki Field watch is the 12 and 24-hour timekeeping feature, which allows you to easily tell military time and use the standard 12-hour format; as well as the 38mm case that has a beautiful and refined finish, making it look more expensive than it is.
The numerals are very easy to see, which is good for those who want a watch that that's legible and sharp. It's a good everyday watch that's not flashy but very functional. It comes with a canvas strap, which is more on the casual side, but you can easily replace it with a leather band if you'd want to wear it on dressier occasions.
This is an excellent field watch. We've actually featured this on our Best Field Watches Under $500 article.  
Hamilton Men's Jazzmaster Thinline

This is a big watch, but as the name suggests, it's a thin model. The Hamilton Men's Jazzmaster Thinline is a 42mm watch, but only 7mm thick, making the watch look sleeker—a fine-looking dress watch that's simple and elegant – and justifiable landed it on our list of best ultra-thin watches. 
This watch is made of a stainless steel case, a silver dial, a sapphire crystal window, and an alligator leather band. The date window is at six o'clock, which is refreshing. This is not cheap, but it's not ridiculously priced, either. Many customers who bought this model have expressed that the watch could easily look more expensive than it is.
What this watch doesn't have, however, is a second hand so if you think this feature is necessary for you, you may want to consider another Hamilton watch—which brings us to our next item.
Hamilton Men's Khaki X-Wind – H77616533

The Hamilton Khaki X-Wind has a three-hand analog display, three chronograph subdials, and a date window at 9 o'clock.
Unlike the watches that we've featured so far, the water resistance of this watch is better (100m), which means that you can take it to the shower, swimming, snorkeling, and other minor water activities. It's a bit bigger, too—the 44mm case will look great on big wrists.
If you're looking for a pilot watch, this will deliver in terms of accuracy. The more complicated design is due to the added functions, such as the drift angle calculator (which the company says is the first time that it appears in a watch) and the crosswind speed markings.
This innovative timepiece also has an impressive design. You don't have to be a pilot to enjoy wearing this. From the cow leather strap to the sapphire crystal window, this is as beautiful as it is functional.
Hamilton Khaki King Stainless-Steel Automatic Watch (H64455533)
The Hamilton Khaki King certainly earns that name with its super chiseled aesthetic that instantly elevates itself from other Hamilton Khaki watches. The 40mm stainless-steel case is simple yet can handle rough terrains and conditions. The case also utilizes a sapphire crystal window for its enhanced scratch resistance. 
The watch overs high-quality luminous Arabic numeral 12-hour markers, and inside that is the 24-hour markers set against a black dial. There are also the luminous sword-style analog hands that command attention. 
The very robust 44mm case houses an automatic self-winding Swiss movement with an 80-hour power reserve. On the downside, this watch only comes with a 5 bar (50-meter) water resistance rating. 
Hamilton Men's Jazzmaster Open Heart

If you're looking for a Hamilton watch that stands out in terms of design, this could be something that may pique your interest.
The 40mm Hamilton Jazzmaster Open Heart has a distinct skeletal "cut-out" design. It has four Arabic numerals (3, 6, 9, 12) with minute markers that count hours, minutes, and seconds. It has an attractive leather calfskin band, an anti-reflective sapphire window, and is water-resistant up to 50m.
The design will allow you to see the Swiss automatic movement in action. The intricate details are simply astounding to watch. There are different designs and colors to choose from—lots of great leather and stainless steel designs, and there are smaller versions for women/those who have smaller wrists, too. Check out Hamilton's page to see all of them.
One of the things that may cause concern is the price tag. So far, this is the most expensive watch on the list. If you want a high-quality Swiss watch that's precise and innovative, however, this would be an excellent investment to make.
Hamilton Ventura Elvis80 Black Dial Stainless Steel

This one's another testament to Hamilton's creativity. The Hamilton Ventura Elvis 80 has a unique shape (triangular could possibly be a close description) that's great for those looking for something different.
The company describes the watch as being "originally designed without regard for practicality and created an instant sensation that has so far lasted 60 years".
One of the most interesting details about this watch that has made it so popular in the past decades is the fact that its namesake, Elvis Presley, chose the design. It was also said that he wore this watch when he was in the army.
This 42.5mm watch has a date display at 3 o'clock, a synthetic sapphire window material, a black dial, and a stainless steel band. It's water-resistant up to 50m.
Because of its popularity, this watch is not cheap. The extraordinary design and guaranteed precision, however, make this a favorite among collectors.
Hamilton American Classic Analog Swiss Automatic

If you want a simpler, more classic-looking Hamilton watch, you can also check out the Hamilton American Classic Intra-Matic. Unlike the previous watch, this has a cleaner, vintage-looking design that goes well with an outfit for a night out.
Over the years, Hamilton has produced a number of American Classic styles, so you will have a lot to choose from. This one has a rubber strap and stainless steel case, but there are also other models: stainless steel and leather straps, as well as warm and smoked accents. They also have chronographs such as this one.
If you would like to make this watch look a bit more casual, you can also replace the strap with a canvas or NATO strap.
Hamilton Men's Broadway Day-Date

Some of the most important features of the Hamilton Broadway Day Date Automatic 42mm watch includes a stainless steel case, sapphire crystal, calf leather strap, three-hand analog display, and automatic movement. It's water-resistant up to 50m, so you can use it in the shower and even take it with you when you're doing some light swimming (but you can't take it diving).
This also has a power reserve of 80 hours, which the company says could last three days on your wrist with no additional winding necessary.
The design is simple yet elegant and is relatively affordable compared to other watches with similar functions. This model has a wide array of straps and dial designs, so it's best to check out their website first before you decide.  
The only numerals on the case are the 12 o'clock and the date on the six o'clock window, so if you need a watch that can easily allow you to see numbers, this may not be for you (take note that this is a 42mm timepiece, so visibility should really not be a concern). If you want a Hamilton that has all the numerals on the case, you can check out the next item.
Hamilton Khaki Pilot Watch

Back to aviation watches. This Hamilton Khaki Pilot watch is sharp in more ways than one. It's large and legible and has a beautiful vintage look with modern craftsmanship.
As aviation watches go, this watch has the hour numerals on the inner perimeter and the minutes on the outer part. If you're a pilot and looking for some of Hamilton's best aviation designs, this is definitely something that you should consider getting (this watch also made our list of the Best Pilot Watches Under $500.
This watch is big. At approximately 46mm, this will look good on big wrists. If you need a smaller size, you'd be glad to know that this model is also offered in a 38mm size. Unlike most of the watches featured on the list so far, this one has a water resistance of 200m, so this will also be great for those who often engage in water activities. It also has an extremely durable sapphire crystal, which protects it from scratches.
If you're looking to stay under a budget of $500, we also suggest that you check out the Hamilton Men's Khaki King as a more affordable option.
Hamilton Men Khaki Navy Scuba Auto

If a dive watch look is what you're after, this is one of Hamilton's best.
The Navy Scuba Auto has a classic, handsome dive watch design that you can use in your adventures or at the office.
We say "dive watch look" because the specs show that you really can't take this diving with you. This one's only water-resistant up to 100m, so it's best that you don't take it to tougher water activities.
This watch was made popular by the movie "Interstellar." Check out this video to take a closer look.

This has quite a lot going on—Arabic numerals (with 9 and 3 bigger than the rest), a 24-hour ring, a date window at six o'clock, and the day at 12 o'clock, a black bezel with numerals—but it does not appear to be too cluttered. The numerals and other functions look organized.  
The Navy Scuba looks like its more expensive counterparts (ie. brands like Omega and Rolex), but is way more affordable. Take note that this has a 41mm case with a 14mm thickness, so it will look and feel best in bigger wrists.
Hamilton Watches For Women
Hamilton Unisex Ventura – H24411732

The final part of this article will pay closer attention to watches that will look great on smaller wrists—these are watches for women or the unisex variety that have smaller case and band sizes.
The Hamilton Ventura, which is sold as a "unisex" watch, has a 31mm case. Think of this as the baby sister and a more feminine version of the Elvis watch we featured above, which is way more chunky with its 42.5mm case.
This is excellent for women, or anyone who wants a unique watch that's not too big. The asymmetrical stainless steel case with the black calf leather strap is simply beautiful. You will also be glad to know that purchasing this will also make you a part of history—this Ventura, which was launched in 1957, was the world's first electrical, battery-powered watch.
Hamilton Jazzmaster Women's Automatic Watch

There are a lot of Hamilton Jazzmasters to choose from, but if you're looking for the right size for women, this is something that you should definitely consider.
The 30mm Jazzmaster Lady Auto watch has a stainless steel case, a rose gold PVD, and a date window at 6 o'clock. This one also has an impressive automatic movement. This is a dress watch that makes a bold statement.
Another option for women looking for a dress watch is the Lady Hamilton model, a women's watch that has a snake chain bracelet, a stainless steel tonneau case, and a sapphire crystal window. This cocktail watch is a bit smaller—with only around 22mm for the case size. The art deco style is glamorous without being loud.
Hamilton Ardmore Quartz
The Ardmore Quartz watch (model H11221014) is one of the brand's classic watches. First introduced in 1937, these models were given modern tweaks but retains the classic and timeless look.
A slim model measuring 18.7mm x 27mm, this is a quartz model with a stainless steel case with Roman numeral and index markers, and a green calf leather strap with a pin buckle. The water resistance is up to 30m.
Hamilton Railroad Lady 12P Diamond (H40311691)

This ladies' white Railroad with Mother of Pearl dial is enhanced by silver-tone hands. Swiss Quartz movement. 50 meters / 165 feet water resistance.  Scratch Resistant Sapphire crystal.
Solid caseback. Tang clasp and pull-push crown. Case size 28 mm x 8 mm. Band 14 mm x long.
See more on Hamilton H40311691 Railroad Watch.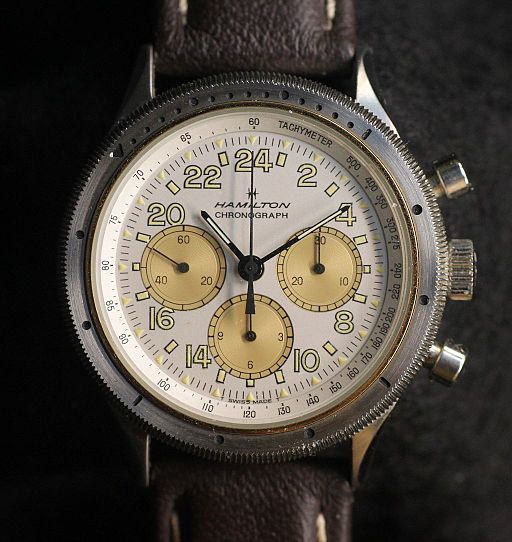 Hamilton, 24-hour chronograph. Image: wikimedia.org
The company has produced so many watches that it could be difficult to keep up, so we hope this article was able to narrow things down. 
We hope this article helped your search for the best Hamilton watch—if you'd like to learn more, we highly recommend that you explore the links mentioned in this article as well. Good luck.