Whenever you buy a watch on retail, you pay more than the watch itself, not even for the precious metal, or the dial, but for bragging rights and all the hype that led you to make this purchase. Fortunately, it's quite an ideal time for watch enthusiasts since the industry is paying more attention to the gradually evolving shift from luxury to more immediately available alternatives in an incredibly wider price range.
In turn, it's heating up the competition and blessing us with some really exciting innovations from brands like Maurice Lacroix that are making luxury watches available at affordable prices.
Maurice Lacroix was established in 1975, and the brand made inroads in a very short span of time with a unique trademark style, the traditional precision and exceptional craftsmanship coupled with creative designs. Today the company's watches are marketed in over 60 countries and over 4000 retail outlets around the world.


History of Maurice Lacroix
Maurice Lacroix is a Swiss luxury watchmaker headquartered in Zurich. It is a subsidiary of Desco von Schulthess, which had been in silk trade since its inception in 1889, and later began manufacturing watches under the brand name Maurice Lacroix in 1975. This was a time when the company did not only manufacture their own watches but also made watch components for other vendors.
In 1980, the success of the brand became so huge that there was no other option but to discontinue producing watch components for other vendors due to the immense demand for their own products. Due to its newfound success, Maurice Lacroix started expansion in the year 1990 and soon joined the exclusive club of luxury yet affordable watchmaker. During this period the company elevated its position as one of the high ranked Swiss watch manufacturers following the launch of their high-end collection Les Mécaniques
By 2006, Maurice Lacroix had successfully launched its first brand of an automatic movement called ML 106. Since then, Maurice Lacroix has been manufacturing watches of high precision and design.
Capitalizing on the influencers market, it is no surprise how the brand is investing right into collaborations, for instance recently the brand collaborated with actor Ray Stevenson, diver Orlando Duque, the British golfer Justin Rose and also became an official watch partner of Red Bull Cliff Diving World Series and FC Barcelona.
The company even produced a special edition watch in the 1990s for its then brand ambassador Tennis star Roger Federer. Since then, Maurice Lacroix has launched several series of nice but fairly anonymous watches. They even managed to produce a 12 in-house movement that included a lively, bewitching skeletonized caliber. Regardless of this understated success, Maurice Lacroix has managed to remain afloat with the introduction of several series like Ponto's chronograph which is targeted to a niche of divers and sports enthusiasts.

Read Amazon Reviews | See on eBay
Maurice Lacroix Watch Collections
Maurice Lacroix has been enjoying its unique place for over 40 years in the international watch market for its contemporary style and state of the art technology in the mid-range price bracket. Maurice Lacroix has three product pillars.
The Masterpiece watch collection features their watchmaking expertise, technology, and innovation and it's a way to express their identity as a watchmaker. Aikon, on the other hand, was launched in a successful automatic type as well as the quartz version which is like a calling card of the brand. The company calls Aikon the heir to the Calypso collection which was a best seller in the 1990s.

Read Amazon Reviews | See on eBay
Finally, the newly launched Eliros is an entry-level quartz collection that is targeted at a younger clientele. This collection echoes fashion, colors, design, interesting straps, and display.
At present, the brand has six collections under its umbrella.
Eliros
Fiaba
Les Classiques
Masterpiece
Pontos
Aikon
Eliros

Read Amazon Reviews | See on eBay
Eliros was showcased for the first time in 1996. Even though being minimally designed this collection is highly sophisticated captivating the very essence of modern classic appearance. Eliros Dates is especially sought after for its affordability and interchangeable bracelets and straps. Also, Eliros Chronograph exudes simplicity, elegance, and quality doing away with gaudy features.
Fiaba

Read Amazon Reviews | See on eBay
In the year 1995 Maurice Lacroix launched Fiaba collection which is characterized by a charming design exclusively manufactured for women. Fiaba is an Italian word for "Fairy Tale", so clearly it was meant to impress women through its feminine aesthetics coupled with a delicate look with a state of the art technology to last as a signature mark. An elongated dial with slight curvature is specially designed for comfortable wear, but the real "wow factor" is the face of the watch studded with diamonds—of course, eye candy for the ladies!
Les Classique

Read Amazon Reviews | See on eBay
Watches like Lacroix Les Classique are the reason why people are fond of collecting luxury timepieces. The watch has a modest yet striking moon phase aperture and an eye-catching calendar day's hand. It's interesting to see how much attention to detail has gone into this sophisticated design that even the font of the printed calendar day appears like it was hand-picked from countless options. As for the mechanics, there is a self-winding caliber ML37 movement based on ETA 2824-2 that beats at 28,800 VpH or 4Hz
Masterpiece

Read Amazon Reviews | See on eBay
Masterpiece signifies the philosophy of Maurice Lacroix of timeless traditional collection. The company describes this collection as the true synthesis of Maurice Lacroix's expertise and rightly so because this is probably one of the collections tucked away along the wallet breaking expensive watches. It's more than just a retail-friendly affordable timepiece because a lot of creativity went into the design as apparent by the features.
For instance, the latest Masterpiece Gravity has a PVD'd steel which is visually impressive given its bold colors; but the highlight of this timepiece is the caliber ML230. For a price close to $1100 it's quite a steep ask for a timepiece but definitely a treat for luxury watch collectors.
Pontos

Read Amazon Reviews | See on eBay
Pantos is currently known in the luxury dive watch category for its technical details, good looks and a customized blazer made with waterproof Schoeller softshell. The watch has modern 41mm dimensions and bulky cases to accommodate for water resistance.
One can call this watch a balance of elegance and sport with its 43-millimeter case which is a perfect sports watch dimension. The internal timing ring gives the appearance of an expensive watch without appearing too big on the wrist.
You will also notice the crown guard integrated subtly and luminous hands and hour markers in the center ring, which means Pontos features a decent texture and dimension in the dial which is not usually seen around at this price point. This watch is a mix of Maurice Lacroix classic and modern features popular among a younger consumer segment.
Aikon

Read Amazon Reviews | See on eBay
The Aikon collection was inspired by Calypso timepieces of the 1990s that eventually went out of production in the early 2000s. The modern Aikon Automatic is definitely more defined as compared to the earlier version and for some, it might look like a timepiece similar to the higher end Royal Oak but 20 times less expensive! Aikon has a sharper appearance of stainless steel strap and water-resistant properties with an automatic wrist and a black and blue dial. It's quite a steal for anyone who wants to dress to impress.
Maurice Lacroix Reputation
Maurice Lacroix enjoys the reputation of an affordable luxury watch manufacturer. Given the fact they the company started with a watch assembly factory and sourcing agents for several other brands, they are known as one of the expert watch assemblers.
The brand intended to move up the Swiss luxury brands hierarchy, but it's still acknowledged for its original purpose i.e making the luxury watches affordable for the masses, hence it won't be justified to directly compare it with brands like Breitling, Omega, or Rolex.
In the beginning, the brand flirted with the likes of Raymond Weil, charging a lot and offering too little, but by making their own watch cases in-house later allowed them to offer innovation and movements. This led the brand to draw parallel to brands like IWC — depicting great potential but still uneven.
Since Maurice Lacroix has been in the industry for only 40 years which is relatively young, they yet have to cultivate a larger following. The main question here is if these watches are competitively prices and incorporate modern designs why has the brand lagged behind in getting visibility?
Well, the brand doesn't get a lot of attention from serious watch collectors because its credibility is perhaps overshadowed by the reputation of "cheap quartz watches manufactures". Despite this, one of the characteristics Maurice Lacroix is most proud of is the appeal to a younger demographic and how the brand is synergizing old and new designs.
Brand value, craftsmanship and classic proportions are coupled with modern technologies and aesthetics which are two most sought after features among the younger lot. Although Maurice Lacroix had been conservative about designs earlier but with the introduction of Aikon Quartz in 2016 and automatic movements in 2018, the brand saw a shift from a more mature to a younger age segment.
Given their price range of 1,000 to 3,000 Swiss francs, the collections became quite affordable for a Swiss-made watch. It appears that Maurice Lacroix is gradually regaining the status it had in the earlier years that is of a Swiss brand that offered a broad appeal and an unparalleled value.
Is Maurice Lacroix a good brand?
As with most watch brands, there are mixed reviews about the quality and performance of Maurice Lacroix watches. It can't be denied that Maurice Lacroix watches are inspired by the design of the likes of the Audemars Piguet Royal Oak which gets some admiration but causes others to snap at the homage of "affordability".
Let's look at a few comparisons here to understand the brand's position. When we make a direct comparison between Maurice Lacroix and Oris watches, Maurice Lacroix does compete on aesthetics but many collectors opt for Oris when it comes to resale potential.
In comparison with Hamilton or Tissot, some prefer Maurice Lacroix in terms of its better quality movements and design, other aficionados counter-argue that for the price they prefer Hamilton. Although that argument may lose some value once you get to higher-end ML collections (such as the Masterpiece Collection).
The brand also directly competes with Baume et Mercier in a couple of aspects. For instance, Maurice Lacroix is seen to have more complex watch movements as compared to Baume et Mercier. On the other hand, Frederique Constant has its own unique features and performance but it uses the Sellita movement, which is considered as a clone of ETA movement which only a handful of Maurice Lacroix timepieces use.
Maurice Lacroix looks better in comparison to the two watches with its unique designs. The brand appears to have put in quite an immense amount of effort to create different looks that are away from the traditional style.
One thing is for sure, though Maurice Lacroix's experience as Swiss watchmakers is just 40 years, their watches offer a great deal of contribution, practicality, and innovation. Maurice Lacroix is a fine watch in its own right but the brand's approach is to put wearability and comfort first while putting credibility the second.
For consumers who put most emphasis on comfort, this feature should suffice as the watches feel luxurious, have exceptional finish, and are well priced. For the more detail-oriented clientele and serious luxury watch collectors, Maurice Lacroix won't entirely meet their expectations.
So if you are in the market for a reliable everyday watch, Maurice Lacroix is a decent pick. But if you are looking for true luxury, and are specific about how a brand makes the most of base movements, these watches might not be congruent with your expectations.
Maurice Lacroix Warranty
Maurice Lacroix offers a 24 months international warranty on each service availed at an official service center. There is a 4-step customer service that the brand exclusively provides to its clients for watch repairs and quality control, you can find more details about this service here.
Where to buy Maurice Lacroix Watch?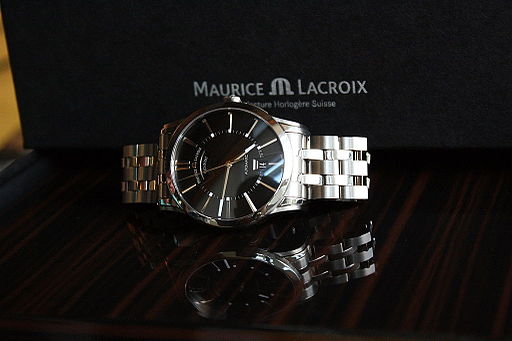 Maurice Lacroix watches are available at the company's website with an offer of free shipping.
You can also find their watches on Amazon, eBay, and Ashford.
UK/EU shoppers can also find Maurice Lacroix on WatchShop.