While Tissot and Hamilton are both under the Swatch banner, comparisons between the two are often discussed in most timepiece aficionado circles. This is quite understandable once you get introduced to both brand's enormous catalog of mid-range watches.
Watch brands Tissot and Hamilton are compared often. Both Swiss brands are under the Swatch Group and compete on style and price range. Hamilton watches have appeared in countless films and collections such as the Mechanical Khaki Field are highly rated. Tissot is known for its in-house movements, including the Powermatic 80, and sells affordable quality watches.
In terms of overall construction quality, Tissot and Hamilton are pretty on par with each other. If you wish to compare these two watch manufacturers, you only need to go skin deep. Tissot offers a more traditional approach to their watches, while models like Ventura prove that Hamilton provides a contemporary and unique twist with their watches.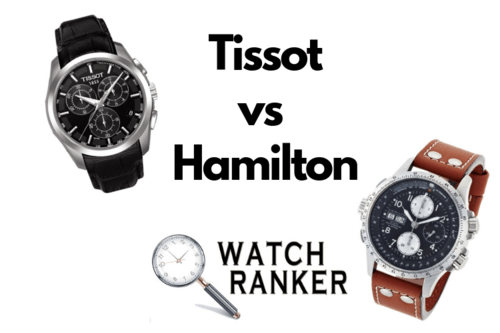 To put this comparison into further analysis, we will be taking a gander at both brands' quality, style, price, and reputation.
History of Tissot


First founded in 1853 by father and son, Charles-Felicien Tissot and Charles-Emile Tissot, the company began in the humblest of ways in Crêt-Vaillant, Le Locle, Switzerland. Business growth of Tissot was particularly impressive as they managed to enter the American market within a year, and the Russian market in five years.
Tissot became widely popular in Russia thanks in part to Charles Tissot marrying and settling down in the country. Their reputation was further elevated when their brand of watches was the timepiece of choice of Tsar Alexander II's court.
Tissot officially became a subsidiary of the Swiss Swatch Group, the largest watch producer in the world, back in 1983. By then, Tissot watches were available in 160 countries and was among the Swatch Group's premiere mid-range market timepieces.
Tissot has also been a staple in sports as the official timekeeper for a variety of sporting events such as several Formula One racing teams.
History of Hamilton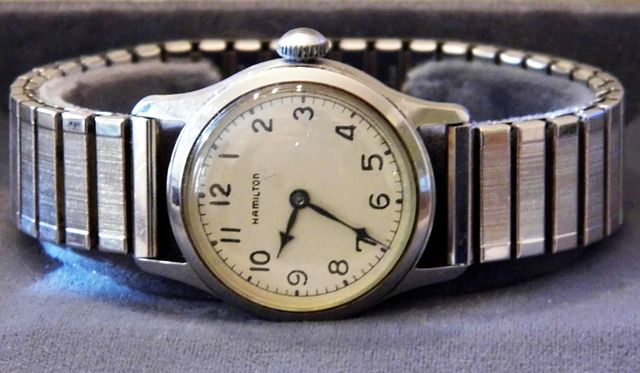 Hamilton is an American based watchmaker that was founded in 1892. However, the core company itself was around earlier than that. Known previously as Keystone Standard Watch Company and then Lancaster Watch Company, it was a while until the Hamilton Watch Company bought it and the rest was history.
Hamilton timepieces became a staple in American history. As the market changed, so did Hamilton. After World War I, with the rise in popularity of field watches among soldiers coming back from the war, wristwatches were the timepiece of choice, knocking the pocket watch off of the top. Hamilton adapted to this change and started manufacturing their series of wristwatches.
It was not until World War II when Hamilton completely changed their business model as they focused on developing military-grade watch and equipment, and exiting, temporarily, from the consumer market.
After the end of World War II, Hamilton once again shifted on manufacturing watches for the public. In 1969, another significant change came when the Hamilton Watch Company moved its manufacturing operations from America to Switzerland, due to their purchase of the Swiss-based Buren factory.
The Hamilton-Buren partnership lasted until 1971 when the deal between the two ended due to decreased market sales and interest in the Hamilton-Buren watches.
On 1974, Hamilton was sold to the Swatch Group.
Tissot and Hamilton Watch Comparisons
What's interesting to note about comparing Tissot watches with Hamilton watches is that when it comes to the inner workings of their timepieces, it is nigh similar to each other. In terms of craftsmanship, material, and movement – Tissot and Hamilton are basically on equal footing. This is a good thing and will help narrow your choices down the line.
Chronograph Watches
Now, then will be taking the best watches from each brand for comparison down below and figure out what nuance factors will be the deciding factor on which one best suits an individual customer.
Hamilton Khaki X-Wind Chronograph Watch
Check Amazon Price | See Hamilton Khaki X-Wind Automatic on eBay
Durable and rugged best describes the Hamilton Khaki X-Wind. With its 100m water resistance in tow, it is a perfect companion for outdoor use as it can withstand water activities such as swimming and snorkeling.
The 44mm diameter case will also fit perfectly with individuals with larger wrists, but not so much for the more diminutive watch enthusiasts. In terms of reliability, Hamilton markets the Khaki X-Wind as being the first watch to utilize the drift angle calculator functionality. This added feature allows it a far greater accuracy in telling time, and an excellent choice for a pilot watch as well.
The watch is made from high-quality material with its stainless-steel case and premium cow leather straps. The dial is protected by scratch-resistant sapphire crystal; it also comes with a three-hand analog display and three chronograph sub-dials. As for the date window, it is located on the nine o'clock position.
The Hamilton Khaki X-Wind is a functional, accurate, durable, and reliable watch that is an excellent choice for its stunningly crafted design and overall practicality.
Tissot Couturier Analog Chronograph Watch
Check Amazon Price | See Tissot Couturier Black Leather On eBay
The Tissot Couturier Watch excels in flexibility as it can fit into every occasion from casual, to business, and formal celebrations. While also designed for rugged environments, the Couturier manages to maintain its durability while having a sleeker frame at only 41mm in diameter and 11mm thickness.
The Couturier is also water-resistant for up to 100m, making it a viable choice of timepiece for outdoor water activities. Underneath the surprisingly sleek case is the patented Swiss Quartz movement, which improves upon accuracy.
As for additional features, there is a date display that is located over at the four o'clock position. All in all, the Tissot Couturier Watch should suit those who prefer a watch that can be worn in all types of events and occasions.
See our list of Best Chronograph Watches Under $500 (spoiler alert: both Tissot and Hamilton made the list)
Dress Watches
Dress watches are designed primarily with aesthetics on the forefront. These watches are elegant and made to highlight style while also being accurate and reliable.
Hamilton Ventura Elvis 80 Black Dial Stainless Steel
Check Amazon Price | See Hamilton Ventura Elvis80 on eBay
The Ventura series has been the flagship watch models of Hamilton for decades. You will quickly notice what separates this timepiece from the first glance. The triangular case is undoubtedly unique, but that is not all it has to offer.
The Hamilton Ventura Elvis 80 features the signature quality movement and construction of Hamilton watches. In terms of accuracy, it is right up there among the upper echelon of watches. The 42.5mm triangular case, as well as the band, is made from high-grade stainless steel.
The dial is protected by a durable and scratch-resistant synthetic sapphire crystal. You also get a date display that is located in the three o'clock position. Elvis 80 is water-resistant for up to 50m, it's quite low but let's be honest here, nobody is wearing this stylish dress watch to the beach.
Tissot Heritage Visodate Automatic Watch
Check Amazon Price | See Tissot Men's Heritage on eBay
The Tissot Heritage is an excellent choice for those who prefer a traditional and elegant watch to accompany them on all special occasions. With a classic, timeless design, the Heritage certainly earns its moniker.
It is made from a durable stainless-steel case with a diameter of 40mm attached to high-grade calfskin leather with the traditional buckle closure. The analog display uses the patented Swiss automatic movement to guarantee your clock will always be on time.
The watch also has about 30m water resistance, so expect it to withstand splashes but it is not suited for complete water immersion. One of its unique design features is that transparent back case that shows off the ingenuity and care put into the development of these watches.
See our list of Best Dress Watches Under $500 (spoiler alert: both Tissot and Hamilton made the list)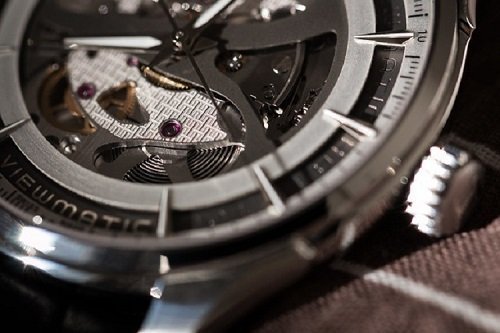 Conclusion – Tissot Vs Hamilton: Which Watch is Better?
Let's break down critical factors in both these brands. As you can see from the products above, Tissot has a more affordable price range. You can find Tissot watches that are priced as low as $100 while still maintaining their signature flair.
On the other hand, it is almost impossible to find a Hamilton watch within that price bracket. Overall, Hamilton offers a more high-end selection for watch enthusiasts, while Tissot provides more flexibility in regard to the buyer's budget.
The aesthetics of both Tissot and Hamilton can be considered where we can effectively draw the line. Most of the watches follow the standard timepiece designs, but you can expect several models that break entirely from the norm.
When it comes to the design, Hamilton certainly delivers a more eye-catching and uniquely artistic appearance. You can even say that some of Hamilton's watches are quite odd-looking.
However, this quality of going against the flow is Hamilton's greatest strength. For example, their Ventura watch series is one of the most visually striking timepieces in the market, as you can see from our review above.
Tissot is "sportier" when it comes to its design. The sleek design of their top watches will fit perfectly for cyclists and race car drivers. This is to be expected as Tissot has been an official partner of sporting events for decades now.
Not only does Tissot excel in creating sleek sports watches, but they are also known for their beautifully crafted dress watches. Here are more dress watches that could fit your budget to consider.
So, to answer the question of which mid-range watch brand is better? I guess the answer will be entirely up to you. Do you want a watch that is not afraid to take a chance in crafting wild and outlandish designs? That's Hamilton. Still trying to decide? Check out our list of top Hamilton watches here.
Do you prefer something a bit more traditional? Tissot is the brand for you. See our recommendations for the best Tissot watches here.
Final Thoughts
Choosing which is better between Tissot and Hamilton will boil down to your personal preferences. When it comes to quality, reliability, and price, both brands are near identical with the main difference being Tissot watches having an edge in terms of affordability.
Design-wise, both produce some truly attention-grabbing timepieces. However, Hamilton appears to be more open to experimentation in design, as proof of their Ventura series. While Tissot delivers some of the most elegant dress and sports watch in the industry.
Header Photo by Daniel Zimmermann