With continuous technological innovations, incorporating digital clocks in most of the gadgets and various devices being launched is pretty basic. In fact, it is now more common to see digital clocks than analog clocks everywhere.
Since analog clocks are becoming obsolete, there are already some arguments that it is unimportant for kids to learn how to read analog clocks anymore since digital watches are easier and faster to read.
In fact, it was found that the basic skill of telling the time through analog clocks is becoming more obsolete as well.
In a study, it was even found that one of seven Britons can't read an analog clock.
Our Quick Picks:

In the US, TV host Jimmy Kimmel conducted an unscientific experiment to see if American kids can do better. Here's a video of that experiment.

Despite this new, terrifying trend among the younger ones, many still believe that it is important and actually is a life skill to learn how to tell time. In most public places such as classrooms or train stations, analog clocks are still installed since from a distance, it is easier to read them and they're practically more affordable than digital clocks.
So, for example, if you're taking an exam, it would help you a lot if you know how to interpret the hands on the clock especially if you don't have an approved silent wristwatch with you.
Another advantage of analog clocks is that it is visual. By just looking at the clock, you can easily see that you still have 30 minutes between 9:45 and 10:15. You do not even have to do the math. You'll just look at the watch face and see that it makes half a circle arrive at 10:15.
Nonetheless, learning how to tell time can also help develop the kids' motor, cognitive, and mathematical skills. Here are some children-friendly watches that can help them along the way.
Best Watches For Teaching Time
For Boys: Timex Boys Time Machines

Coming from the same line from Timex, Time Machines for Boys, its specifications are almost the same as that model for the girls.
It comes with very appealing designs and colors for boys including one in camo colors and an adjustable, elastic and washable strap and water resistance up to 30m.
Most of the designs also have hands with 'hour' and 'minute' indicators while there are also some that don't. Its face still also illuminates when the dial is pushed.
With the same specifications, most parents find the price of this watch very reasonable. In general, parents love it!
For Girls: Timex My First Easy Reader

This stylish-looking analog watch with pink seconds indicator is a great choice for a girl once she has moved on from the basis learner watches below that have the teaching hands (marked "Minute and "Hour"). This watch is a good pick for a child that already knows the basics, is mature enough to learn without the indicators.
The main benefit of this watch is that it looks like a "real" adult watch. The main difference about this watch is the easy and simplified dial, there's no distracting pattern watch face design or digital display making the hands stand out clearly against s white dial. And once your child knows how to read the time they can continue wearing this one for years to come as it doesn't have the more childish look of many of the watches on the market that are specifically marketed to teach time.
Time Teacher from Red Balloon Kids

First, it meets all US Government requirements and regulations for children's watches; therefore, parents can be assured that it is safe for kids in all aspects.
The "Time Teacher Watch by Red Ballon Kids" is a plastic watch with the Red Balloon Shaped seconds hand. It also indicates 'hour' on the shorthand and 'minute' on the long hand that makes time reading a lot easier for kids. The watch face also shows the hour numbers and even the minute numbers on the outer circle.
Also, it should be noted that its watch has a red dinosaur design which makes it a great watch for boys.
It uses Japanese quartz for accurate movement and scratch resistance suitable for kids' active lifestyle. It is also water-resistant to withstand rain and splashes of water but is not suitable for swimming and showering.
The strap, on the other hand, features hooks and a loop nylon Velcro band for adjustability. However, some mothers are worried that the Velcro might wear out and easily lose the watch.
Although at a cheap price, some parents who bought this watch complain of its durability. Some reviews stated that the pin tends to suddenly fall out or that the hand suddenly stopped working after only a few days of using it.
"Time Teacher" from Red Balloon Kids

This watch by Red Balloon Kids is the version for girls, being mostly pink.
Similar to the other model above from Red Balloon Kids, it is a water-resistant, round plastic watch, with the hands indicating 'hour' and 'minute' accordingly.
It also shows the hour number and the minutes by 5 on the outer circle. Nonetheless, on the watch face, it also has minute indicators.
It is also Japanese quartz, with scratch-resistant mineral crystal. Its strap is also a nylon strap with a hook and loop.
Lastly, it keeps the affordable price; yet some reviews show that the watch suddenly stops working or that it does not keep time accurately.
Children's Watch from EasyRead Time Teacher

With a multi-colored face and purple fabric strap and metal buckle, this watch is more suitable for girls. The back, however, is made of stainless steel with durable IPS plating to make it non-allergenic.
One reason it stands out from other children's watches is that it can help children learn not just the 12-hour time but also the 24-hour time.
So aside from the large number to indicate the hour, it also has smaller digits on the side to indicate the 24-hour time.
Along the circles, it also has minute markers from 1 to 60.
Undoubtedly, the watch face is designed to have everything that a child will need to read the time. However, because of this, there are way too many numbers on it that may also confuse the child.
Also, based on reviews, some said that it is not durable enough for the kids and that the hands tend to stuck at some point.
Kids' Watches from Venhoo

Venhoo offers a wide variety of designs both for boys and girls and the kids particularly love the 3D cartoon design on the strap.
It has a big round watch face with big hour numbers and minute indicators along the side that makes it easy to read for the kids. It is also designed to be tough and durable, with extremely hard glass that makes it shock resistant so it won't easily break while the kids are playing. It can also withstand rain and splashes since it is water-resistant up to 99 feet.
The strap is made of quality silicone that makes it soft and comfortable for kids and is adjustable for 14-16cm wrists, perfect for kids ages 3-6.
Boy's Quartz Metal and Rubber Watch from DC Comics

If you have a son who is a superhero fan, particularly Batman, then he will surely love this Batman Watch.
The large yellow Batman logo on the dial is easily recognizable by every kid.
It will also help him to learn how to tell time with the 'hour' and 'minute' labels on the watch hands.
It also has large hour numbers around while the outer circle marks the minutes by 5, showing the 15, 30, 45, and 60 in numbers. It also has minute indicators around the display for easy reading.
The strap is made of rubber for comfort and adjustable with a buckle to fit most wrist sizes.
Lastly, even the box itself is already loved by the customers and is perfect for gifting.
Timex Girls My First Easy Reader
The first thing you might notice about the  "Timex Girls My First Easy Reader" is that the hands have indicators – that the shorthand indicates the hour and the long hand indicates the minute. With this, girls are easily reminded of the function of each hand every time they glance at their watch.
However, there are also some variations that no longer has the 'hour' and 'minute' indicator designed for those who are already familiar enough with how each hand works.
The strap, on the other hand, is adjustable and elastic so it can easily be adjusted to fit the wrist of the wearer comfortably. It is also washable so parents do not have to worry too much about the dirt that may accumulate on it while their children are playing.
For sudden splashes of water or drops of rain, the watch will also do just fine since it is water resistant up to 30m. However, it is not suitable for swimming.
It also comes in various designs and colors that are all very appealing for the girls. At such young ages, their usual favorite feature about the watch is that the face lights up when the dial is pushed.
How to Teach Your Children to Tell the Time
Teaching your children how to tell the time would require a lot of patience and may even test your creativity and strategy. This is why you have to start helping them familiarize with the concept of time as early as they're newborns.
If they learn the basic life skill of telling the time when they are still young, it is most probable that they will surely value time as they age and it would surely go a long way.
Punctuality and time management, which most people have a hard time dealing with, will not be a problem for them since it has been part of their daily life from the start.
Introduce the Concept of Time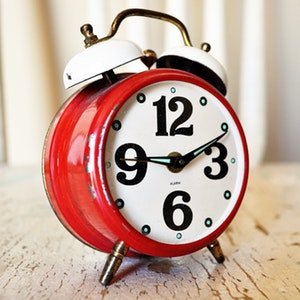 Prior to formally teaching your children how to read the clock, they must first understand the concept of time. Since this is the first step, this can be one of the most difficult phases, especially if not started at an early age.
As early as possible, familiarize your children with the concept of morning, afternoon, and evening.
You can start even when they're still newborns. Practice setting a dim, silent, and relaxed atmosphere at night so they know that it's time to sleep.
Later on, you can block more sections in a day for lunchtime or playtime, or bath time.
Familiarize them with Time Duration
In their toddler years, you can already help them understand the passage and tracking of time. During this phase, an alarm or stopwatch will be your buddy.
Make a habit of explaining to your children how long things in everyday life usually take such as eating breakfast and taking a bath.
You could even show them while doing some activities together! You can do some baking with your kids, explain that it will take around 10 minutes to bake a cookie then set the oven timer.
You may also say that it takes 30 minutes to travel from your house to granny's house. With these habits, although they still can't read time, they already have a sense of 'how long' it takes.
Read the Clock Face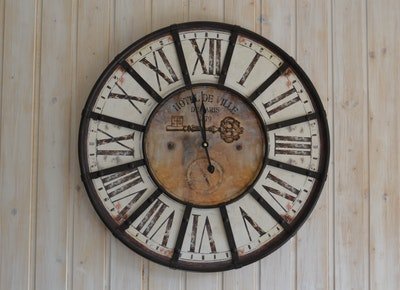 Since you have already introduced to them the time duration and incorporated time into daily activities, you may then make it a habit to point out the time on a clock when events happen.
Such as "when both hands of the clock are on 12, then we will eat", or "when the shorthand is on 3 and the long hand is on 6, then it's time to play".
Later on, they will pick this habit of looking at the clock and remind you especially if the activity is something they're looking forward to.
After this, you can make a paper plate clock with movable hands to easily and closely teach your children how to read them.
Here's an interesting video that shows how to make a level-up paper plate clock.
[youtube https://www.youtube.com/watch?v=50aqSdFBPcU]
You can start by teaching how to read the shorter hand since they only have to read the number the hands point to. The longer hand may be trickier for most kids since it is essential that they are able to count from 1 to 60 in the correct order.
Once they can already count 1 to 60, then you have to practice them counting in groups of 5 (tip: point out that when they count in 5's, every number ends in a 5 or 0). Here's a video that may help practice counting 1 to 60 by 5's.
[youtube https://www.youtube.com/watch?v=zVpqZSzoe5I]
Once the child is already comfortable with counting to 60, you may start teaching how to read the two hands together.
Here's another video that may help you teach your children how to tell time.
[youtube https://www.youtube.com/watch?v=HrxZWNu72WI]
Now that your children are learning to read an analog clock, it is best that they have their own wristwatch so you can practice them every now and then.