Telling time is one of the life skills we all have to learn and practice at a young age. If you're still trying to teach your child how to tell time, see this post for watches that will teach kids how to tell time.
For boys who already know how to tell time and are ready for their first "real" watch, we've curated this list of some of the best watches for boys.
We made sure that you have different styles – from simple and minimalist for a boy's first dress watch to bright and playful sports watches.
We've also included some cool theme watches for movie fans and even a kids' smartwatch. So hopefully, you'll find something on our list that fits your boy's personality and style.
These are for young boys who can already read time. We have a separate list of great teen G-shock watches if you're looking for something for older kids and teenagers.
Or, if you're looking for a more dressy and sophisticated watch, particularly for high school graduates, we've also prepared such a list for you here.
So, here are the best watches for your young son, brother, godson, nephew, or young man on your gift list.
Best Watches for Boys
Casio Kids Classic Digital Watch

Casio Kids W-214HC-1AVCF is a black sporty-looking watch with a digital display powered by an accurate quartz movement.
Despite its simple look, it has a daily alarm, a 1/100-second stopwatch, and a countdown timer. Its battery is designed to last for up to seven years, and this watch is water-resistant for 50m.
Given that its design is not playful and its band is quite long, this watch is mainly designed for older boys, say around eight years or older.
LEGO Watches and Clocks Boy's

Star Wars Kylo Ren from LEGO Watches and Clocks features a buildable bracelet that shows a Kylo Ren mini-figure. It comes with multi-colored, red, white, and black, interchangeable watch links, and 12 additional to create an expandable watch band.
It has an analog display with Kylo Ren, Arabic numerals, and the hour, minute, and second hands on the watch face. It uses a Japanese Seiko Quartz movement and is rated 5 ATM in water resistance. More so, it is covered by a two-year warranty.
This particular watch encourages your kid to read the time and stimulates creative learning as well. It's a perfect gift for those 6-year-olds and up!
Timex Expedition Mid-Size Watch

This next one comes from a popular collection from one of the most affordable and reliable watch brands – Timex.
The Timex Expedition Mid-Size Watch is a unisex watch specifically designed for kids. This particular piece is in black and red, appealing, especially for boys. It features a gray dial with a large digital display, a black and red 32mm case, and black 18mm nylon with the velcro strap. It's also equipped with the Indiglo Backlight so your child can still read the time even in the dark.
More so, it has the chronograph function, so you have the stopwatch, countdown, and alarm. And, just like other Timex Expedition timepieces, it's designed to withstand various elements in the outdoors, and it is also water-resistant up to 100m.
Nike Kids' Triax Blaze Watch

The Nike Kids' Triax Blaze Watch is a rather unique-looking watch because of its oval watch face and S-shaped polyurethane strap. This watch was designed in such a way to accommodate a large and easy-to-read dial and to fit the watch comfortably on the wrist.
More so, the materials used and its build can take the wear and tear that watch may receive due to the kids' playful nature, such as an aluminum bezel, scratch-resistant mineral crystal, and stainless steel buckle and case back. It is also water-resistant for 50 meters. 
The watch face comes with Arabic numerals with larger font size at quarter hours and small minute indices make it easier to read than many adult watches. There are also  luminous baton-style hour and minute hands.
Casio Men's G-Shock Blue

Casio G-Shock is one of the popular choices among teenagers.  This Casio G-Shock DW9052-2 is specifically designed for the young ones. It is a blue watch with a digital display, and in the size that's just right for your kid. The case measures 45.5mm while the band measures 10mm; both are made of rubber, so it's comfortable, durable and lightweight.
It is also shock-resistant and water-resistant to 660 feet, perfect for your kid's activities. It also has a date display and a glow-in-the-dark backlight feature.
Timex Boys Time Machines

For younger boys, this Timex Boys Time Machines is one good option. The petite case size, measuring only 29mm,  is a good fit for smaller wrists. There are plenty of options to choose from for the band to match your boy's favorite color.
Also, to match the kids' needs, the case is durable resin, while the fabric strap is easily adjustable and washable. The watch can also withstand splashes and minor immersion in water, but it's not intended for swimming.
The dial is also easy to read – with large Arabic numerals and their minute equivalent on the side at smaller font size. There are also minute indices, thick hour and minute hands, and thin second hand.
Marvel The Avengers Kids' Watch

If your kid is more of a superhero fan, especially the Avengers, then this watch would be a wonderful gift for him.
Both the dial and watch band feature The Avengers making. The dial also has Arabic numerals at quarter hours and three hands powered by a quartz movement.
Also, the bezel is coin-edged with numbered top ring. At the 2 o'clock position, you would see a flash dial button, and this button triggers the flashing of assorted colors on the dial.
However, this may not be as tough as the other watches since the case, and dial window are plastic. It is also not resistant to water but does come with Marvel's one-year warranty covers it.
Swatch Originals Back to School Watch

The Swatch Originals Back to School watch, on the other hand, is another simple-looking watch accentuated by bright colors. It comes with a 34mm transparent blue plastic case and a black with an orange rubber band.
Its dial is milky white with Arabic numeral hour markers. The hour and minute hands are bold orange color while the second hand is blue. The watch has a slightly retro 80s vibe from the Swiss brand Swatch – but don't let the plastic exterior fool you – the brand is well-respected for making affordable quality watches
The watch is water-resistant only to 30m, so it's suitable only for brief splashes, not for swimming, bathing, and other water activities.
VTech Kidizoom Smartwatch DX

If your boy, as young as he is, is already techy and wants a smartwatch of his own, then the VTech Kidizoom Smartwatch DX is an excellent find for you.
It's equipped with fun activities for kids, games, and challenges and even has a motion sensor. It is also has a built-in camera with photo effects, video camera, voice recorder with voice-changing effects. More so, it features an alarm, timer, stopwatch, calendar, and a calculator.
To tell time, it gives the kids a choice to select among more than 50 clock faces – including both analog and digital displays.
Just like most smartwatches, this one is powered by a rechargeable lithium-ion battery and comes with a micro USB cable that kids may use to charge the battery and upload photos/videos to a computer.
It's not great with water and can only withstand sweat and splashes. It is not suitable for bathing, swimming, and others.
Star Wars Darth Vader Collector's Watch

This last watch is for the ultimate Star Wars fan. The Star Wars Darth Vader Collector's watch is made with a black genuine leather strap, black stainless steel case, and a dark red watch face featuring Darth Vader's helmet, Arabic numeral hour markers and luminous hands.
Its water resistance is rated 5 ATM, meaning it's suitable for 50 meters deep. The watch weighs a mere 4.9 ounces, making it a nice light watch for a child's smaller wrist. The watch comes packaged in a padded black and silver box and a collector's certificate with a serial number.  Overall, it's an excellent gift for any Star Wars fanboy – your son, brother, godson, or nephew.
---
If you're taking your boy to a formal event or for some other reason that you want a fancy timepiece for your kid, here are two wonderful watches for you.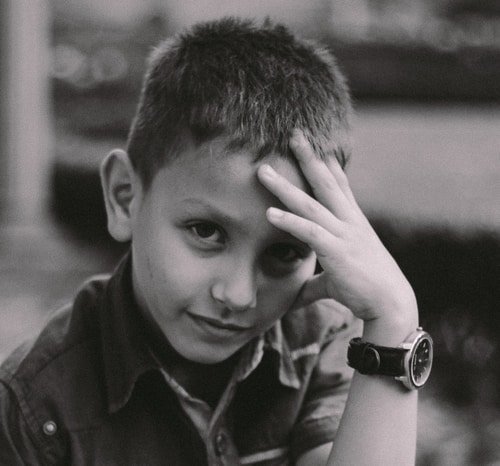 Timex Men Easy Reader Day-Date – First Dress Watch

If you're looking for something more sophisticated and mature, here's another option from Timex. This would be a good fit for a first dress watch. It's affordable and stylish – its classic look won't go out of fashion and it's easy to read.
The Timex Easy Reader Day-Date Watch, as the name implies, delivers excellent legibility with its bold Arabic numeral hour markers and broad baton-style hands. 
Besides the readable dial without any unnecessary visual bells and whistles here. The Indiglo backlight technology for optimum visibility even in pitch darkness. 
The watch is compact with its 35mm stainless-steel case and the stretchable band makes it easy to put on and easy to adjust to growing wrists. 
While the mineral crystal window adds scratch resistance and protection level, keep in mind that the Easy Reader only comes with a 30-meter water resistance rating so the wearer would need to be relatively careful with this one compared to some of the more rugged options listed above. Overall a great beginner dress watch. 
Festina Junior Collection –  Dress Watch for boys

The Festina Junior Collection Watch For Boys is a stainless steel watch with a blue dial. Because of the primary material used, it looks formal and elegant from afar. It could easily be mistaken as a man's dress watch, just a miniature version.
It features an analog display with Arabic numerals and luminous hands on the blue dial. The bezel is also blue and shows five-minute markers still in Arabic numerals.  The reduced watch diameter of 34mm and 16mm stainless steel bracelet make it an ideal size for smaller wrists and the deployment buckle clasp makes it easy to put on and off.
It weighs only 1.12 ounces and is water-resistant to 50 meters.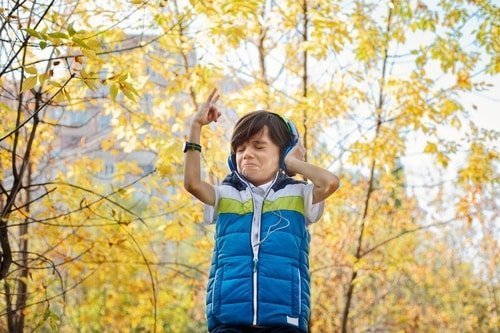 ---
For a kid, time reading may not seem as significant and exciting. As we have felt in our childhood years, kids think that they have all the time in the world and that they can do anything they want, whenever they want to. So, to capture the attention and interest of your child to develop in him the habit of reading the time, you might want to get him his own watch.
With these great, beautiful watches readily available on your boy's wrist, he would indeed develop the habit of reading and telling the time. These watches are the type that your boy wouldn't want to take off his wrist.
Because of the beauty and benefits of having his watch, it is undoubtedly one of the useful and practical non-toy gifts you could give to your boy that he will also surely love!