The 80s was a significant decade in pop culture and fashion. This period was well-known for a lot of things—music (new wave, hip-hop) and music devices like The Walkman, companies like Nintendo, which produced classic video games, and blockbuster movies like Star Wars, The Goonies, and Back to the Future, and so on.
When talking about 80s fashion, colorful and often oversized clothing come to mind, acid wash jeans and big hair. Bright neon colors decorated not only outfits but also accessories like jewelry and watches. From the colorful Swatch designs by Keith Haring to the Timex Pac-Man watch or the Seiko A826 Training Timer worn by Doc Brown in the 1985 movie, this list will make you nostalgic about the decade.
In this article, we'll talk about some of the most popular and most iconic watches of the 80s—a staple in 80s fashion. Some of these models are considered rare, some are still available in stores, and some are making a comeback.
Iconic 80s Watches
Swatch Keith Haring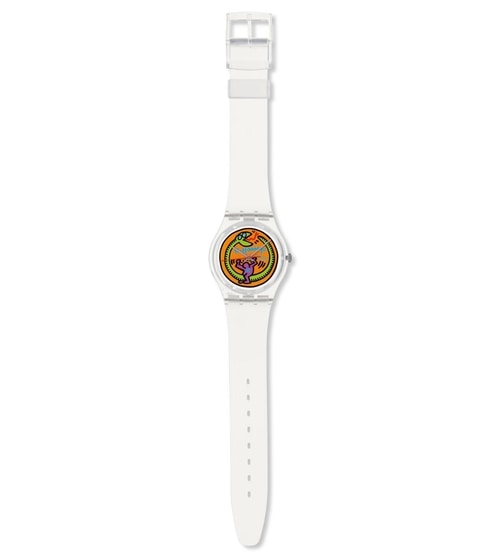 One of the most popular watch brands of the 80s is the Swiss company Swatch, which popularized playful and colorful designs. These watches are fun, low maintenance, and are made of durable materials.
Founded in 1983, the brand wanted to help fix the damage caused by the quartz crisis, which allowed Japanese companies like Seiko and Citizen, to gain more sales than its Swiss counterparts. Swatch also wanted to promote analog watches during a time when digital watches were becoming increasingly popular.
There are too many popular watches during this period to mention them all, but there are several iconic models that gained popularity even in the decades that followed. One of these is the watches designed by New York artist Keith Haring.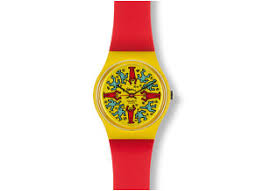 Haring designed many watches for the brand, but one of his most iconic creations is the Serpent watch (GZ102), which has vintage versions for sale on eBay. There's also the equally popular Modele Avec Personnages (GZ100), which is also now considered rare.
Flik Flak


Flik Flak, which is under Swatch, was introduced in 1987 as a line of children's watches for children. The goal of this line, which remains the only collection of Swiss-made watches for children to this day, is to help children read the time. According to the Swatch website, the mission of Flik Flak is to "tell the time in an effective and fun way," with watches made in collaboration with teachers.
Flik Flak watches have colorful designs, plastic glass, and quartz movement and are shock-resistant. The ones with textile straps are also machine washable up to 40C.
You can see the new Flik Flak models on its website, but there are also many vintage models available on eBay, like this rare "Bear Party" watch, which was released in the 80s.
Casio G-Shock

Another brand that enjoyed immense popularity during the 80s is Casio. Casio released the first G-Shock watch in 1983. The first model ever launched, after years of conception and over 200 prototypes, was the G-Shock DW-5000C, which was designed to resist shock, mechanical stress, and vibration.
Aside from the tough features, the DW-5000C is also water-resistant to 200m. It's a chronograph with a square shape, with features like an alarm, backlight, and stopwatch.
It did not take long for this model to become a hit. In the United States, the watch became widely known around 1984 as the tough watch that kept accurate time. This was followed by the G-Shock DW-5900C, which was released in 1990. The watches have evolved since with many different models, but these two continue to be popular among Casio fans.
You can still find some vintage models on eBay, such as the G-Shock DW-5200C or this Japanese model nicknamed "The Hero".
Casio F-91W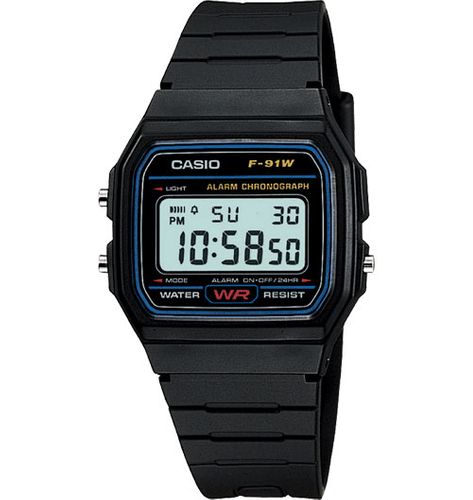 This watch was introduced in the late 80s, replacing the popular Casio F-15 which was a hit in the early 80s. This is one of the brand's classic watches and continues to be sold today. The annual production of this model is 3 million units per year.
The Casio F-91W is more affordable than the G-Shock model above, as it does not have the same shock-proof features. It is, however, still known for durability. Some of the features include chronograph functions, an alarm, a 1/100-second digital stopwatch, an hourly time signal, and an auto-calendar. The watch has a resin band and a stainless steel case back.
Casio Data Bank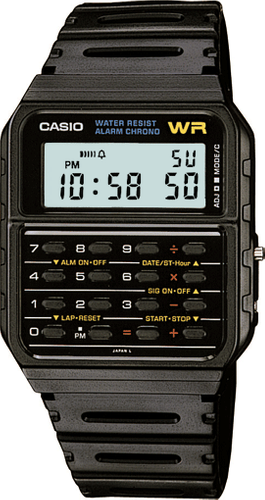 Our last Casio for this list is the Casio Data Bank, a calculator watch that was introduced in 1983. These digital watches, which have had different editions in the years that followed, had the standard features of a Casio digital watch, but with a calculator and data storage (phone numbers, memos, and names).
This watch was released after another Japanese brand—Pulsar, now a part of Seiko Watch Corporation of America—released a model in 1982. The first watch was the Casio Databank CD-40, -which some now call "The Original Smart Watch."
The CD-40 is no longer available, but Casio has a wide range of new calculator models, such as the DBC32-1A, which has a 25-page databank and multi-function alarms.
You can check out other Databank watches currently being sold by Casio here.
This and other Casio watches are featured in our article on watches worn on the 80s-themed series Stranger Things.
Timex T80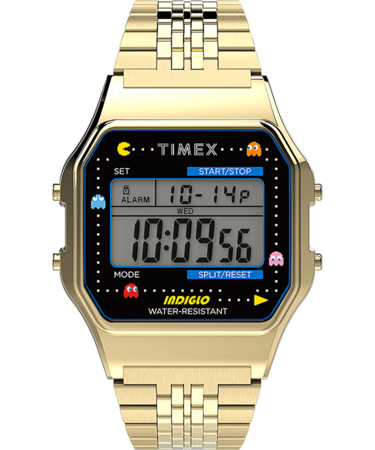 Timex is another Japanese watch brand that became very popular during the decade. The Timex T80 was first released in the 1980s, around the time the brand released its first digital watches.
The brand recently re-introduced the T80 for a new generation. Now referred to as having a "retro" design, the new T80 has improved technology but with the charming old school look): a digital chronograph watch with an alarm, month/day/date display, and a daily alarm.
The new T80 has several versions (you can check them all out here), with the Pac-Man model being one of the most popular.
This watch, which is a T80 model but with a Pac-Man design on the watch face, celebrates the iconic 80s game and Timex's first digital watches.
If you were a fan of Pac-Man, check out our feature on Pac-Man watches here.
Nelsonic Pac-Man game watch
Nelsonic is an American company based in New York City which produces different toy and game-themed watches for kids. The rand, which was founded in 1981, was the first-ever to create what was called game watches, which are electronic devices that function as a watch and an electronic video game.
Nelsonic featured pop culture watch models and was able to get licenses from big companies like Nintendo and Sega, as well as franchises like Barbie, Mario, G.I. Joe. and Ghostbusters.
One Nelsonic watch (the Q*Bert by Mylstar Electronics) is featured in our Stranger Things article.
Cartier Santos Galbee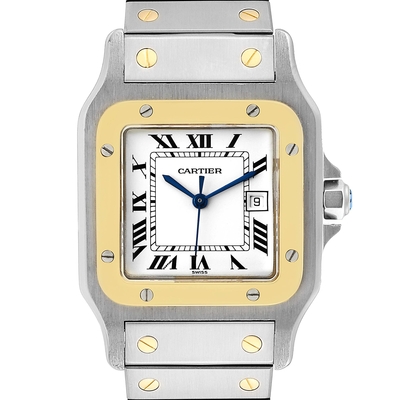 The Cartier Santos was first introduced in 1911, making it the first men's wristwatch. Available in both gold and platinum models, the simple yet luxurious watch has a square case and Roman numeral markers.
There were a number of Cartier models that followed (such as the Santos Dumont and the sports wats Santos de Cartier), and in 1987, the Santos Galbee was introduced. This is a quartz watch that has evolved looks, including the case which became more curved on the lugs, making the watch look less boxy like its predecessors.
The Galbee's last update was in 2005, but pre-owned models can still be found online on eBay.
Rolex Explorer II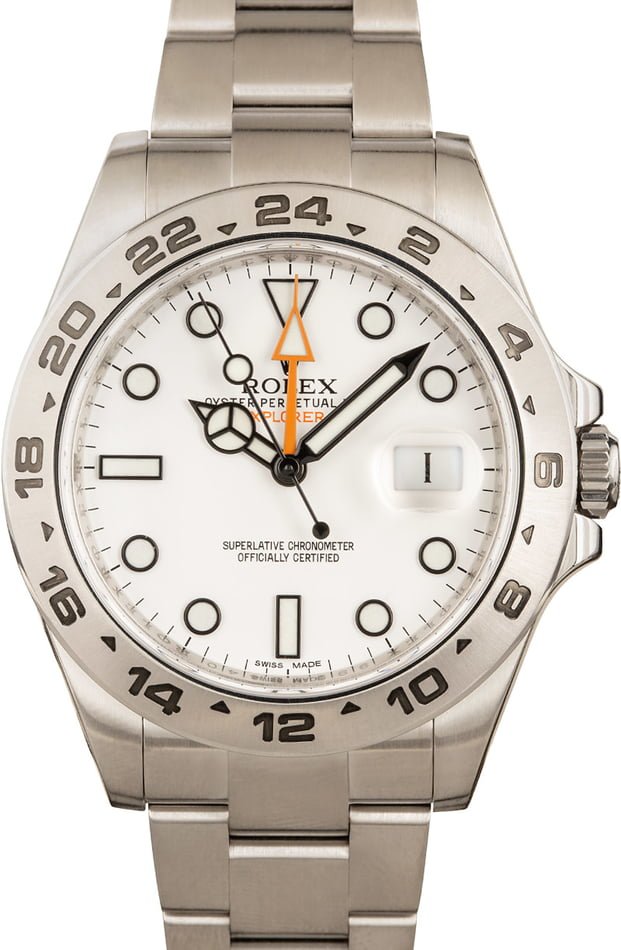 An article on Bob's Watches says that many Rolex watches from the 80s are not considered vintage yet, and could be more attainable than older models.
One of the models from the decade that stands out is the Rolex GMT Master II (ref. 16760), which was nicknamed as having a "Coke" bezel (colors of the Coca-Cola logo). This watch was launched in 1983, and had a new Rolex caliber at the time, the 3085.
Ref. 16760 is also known as the "Fat Lady" by watch enthusiasts because of the thicker case needed to house the caliber. Production of this model stopped in 1988.
This model followed the Rolex GMT-Master pilot's watch, which was released in 1953. The GMT Master II is a stainless steel model with a red and black bezel, the first time that Rolex used the color combination. Read more about the watch here.
Seiko Prospex Arnie SNJ025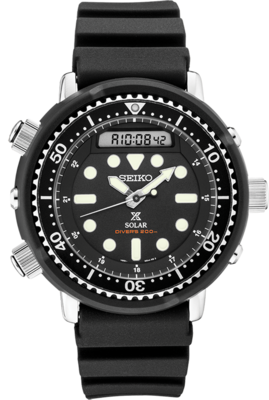 This Seiko Prospex model was introduced in the 80s and got nicknamed "Arnie," as it was made more popular by Arnold Schwarzenegger, who wore them in two in Commando (1985) and Predator (1987).
This watch, the Seiko H558-5009 is a dive watch with a digital alarm chronograph with a combination analog display—a first of its kind. This is no longer in production, but can still be found on sites like eBay.
Seiko released a new version of the watch in 2019. This is the Prospex SNJ025 (caliber H851), a modern interpretation of the Hybrid Diver, a solar-powered watch with an analog-digital display and features such as power reserve display, stopwatch, alarm, luminous hands and markers, and local time indicator. This model is also water-resistant to 200m and meets ISO standards, which means it can be used for scuba diving.
See the SNJ025 and its different versions here. You can also learn more about the Prospex line in this article on the Seiko website.
Seiko A826
This is another Seiko watch that became widely popular because of the iconic character who wore it. In Back to the Future, another popular 80s movie, Doc Brown (Christopher Lloyd) wears the Seiko A826 Training Timer. This watch has a rotating bezel that allows the wearer to activate the different modes, as well as an adjustable velcro strap.
The Seiko Time Trainer is now considered rare, even collectible for some people, but you can still occasionally find the A826 on eBay.
Another watch that was made popular by Back to the Future is the Casio calculator watch that we featured above. We mentioned in our Stranger Things article that this could be the same watch that Mike/Eleven word in the show.