Popular in the 1980s, calculator watches were popular among teenagers and adults alike—not only is it affordable, but it's also a stylish and trendy accessory that easily made outfits look extra cool.
Japanese brand Casio, which popularized calculator watches, has many different calculator watch models. On this list, you'll get to know some of the brand's best ones.
We already talked about calculator watches on the site, in articles such as the Best Watches of Engineers and Popular 1980s Watches, and for this article, we'll focus on both old and new calculator watch models.
Best Calculator Watches
Before we begin, we'll give you a bit of history about calculator watches and the brands that made them popular.
A calculator watch is a digital timepiece with built-in calculator buttons on the dial/watch face, with usually at least 8 digits.
The first calculator watch was introduced by the now-defunct Pulsar in 1975. One of the brands that followed (and continue to produce these types of watches today) is Japanese brand Casio, which popularized calculator watches, has many different calculator watch models. On this list, you'll get to know a number of the brand's best ones.
These timepieces came out before mobile phones and handheld PCs like PDAs. Today, these are mostly used for fashion—vintage-style watches with mostly the same functions as the 1980 models.
Casio CA56-1
Inspired by 90s design, the Casio CA56-1 is an 8-digit calculator and stopwatch with a dual time feature. Casio has a wide range of calculator watches, and this is one of the more affordable models.
This model has a 1/100 second stopwatch, hourly time signal, and a daily alarm. The auto-calendar is pre-programmed until 2039, and the water resistance is up to 50m.
Made with resin and plastic materials, the CA56-1 runs on a CR2016 battery.
Casio Vintage CA53W-1
The Casio Vintage CA53W-1 has an 8-digit calculator watch that can perform addition, subtraction, multiplication, and division. This water-resistant resin watch also has dual time and a 12/24 hour format.
Measuring 35mm, this model also has a 1/100-second stopwatch, elapsed split time, and 1st/2nd place time features. It also has a daily alarm, a full auto-calendar up to the year 2000, and an hourly time signal.
Digitech Vintage Retro Black Data Bank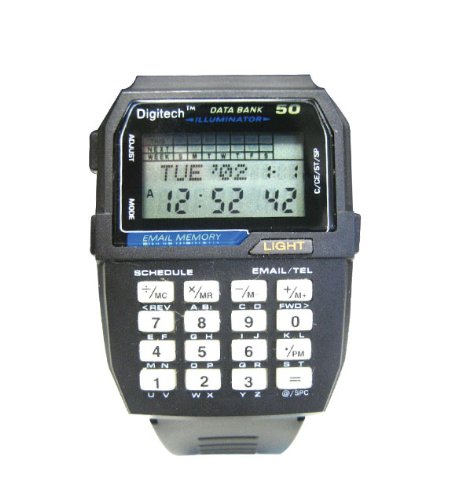 This is an affordable watch by Digitech. Like Casio calculator watches, this is a 30-memory Databank illuminator watch with a digital display.
The watch is made of plastic and rubber and has features such as a calculator, daily alarm, 12/24 hour clock, stopwatch, schedule model, and currency converter. It also allows the wearer to store phone numbers and email addresses.
Timex Calculator Watch T2N236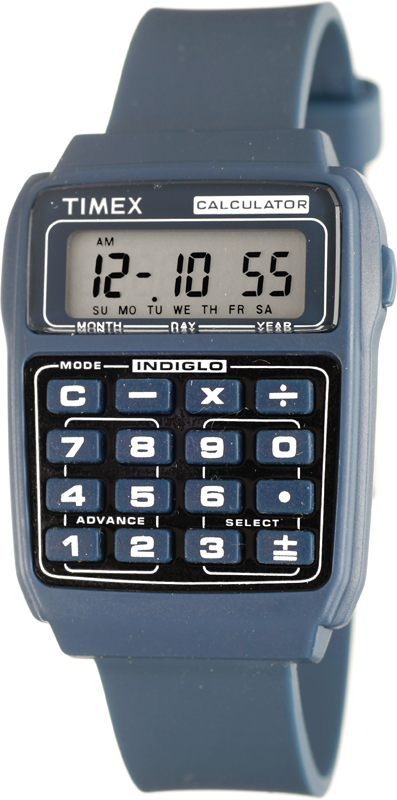 Timex also released a series of calculator watches, some of which are now collector's items. This retro black watch, for instance, is this unisex quartz model with a digital screen on top and a 10-digit calculator below. This has basic math functions, alarm, and water resistance.
Another Timex calculator watch model is the T2N187, a rubber watch with a gray dial and band. This one's a 34mm watch with functions such as day/date, stopwatch, and an alarm.
Casio Databank DBC-32-1A
The Casio DBC32-1A is another model with a 25-page databank and an 8-digit calculator. This black model with a resin band also allows for storage of information such as appointments and has 10-year battery life. It has a total of five alarms with text—four multifunction alarms, and one with snooze.
The watch, with an LED backlight auto light switch and afterglow, is a 41mm with a day, date, month, and year display. The water resistance is up to 50m. This is multilingual too, with a day of the week display available in13 languages.
The Casio Databank series was introduced in 1983 after Pulsar (we talked about the brand in our Iconic 80s Watches article) released its model in 1982. Since the 80s, Casio upgraded its Data Bank line with different original features like World Time, voice recorder, and electroluminescent backlight.
Casio DBC611G-1D Databank
This is a calculator watch by Casio that has added features, thus the higher price tag. It has a databank, which is a memory capacity that can store names and numbers. This one has a gold-tone stainless steel case and strap, which gives it a more sophisticated look.
The Casio DBC611G-1D Databank watch has a capacity for up to 25 sets of data (eight characters and up to 15 digits of numbers), a good watch for those who'd like to experience how phone numbers were stored pre-cellphones.
The gold-tone resin case has a stainless steel band, a resin glass, and an LED light. Like the rest of the Casio models featured above, this has a dual time feature (with daylight savings time), an 8-digit calculator, and a 1/100-second stopwatch.
Other features include a 12/24 hour format, multi-function alarms, a full auto-calendar to the year 2099, and an hourly time signal. This model makes use of a CR1616 battery.
Nixon Dork Too
According to a HighSnobiety article, Nixon explored creating calculator watches, but decided to create something that's uniquely theirs—something that's "dorkier than a calculator." This is when the idea for the Dork watch came about. This one does not have calculator features, but we're including it to this list because it looks like one, and like calculator watches, has a retro vibe.
The Dork Too watch, according to Nixon, is a timepiece that "doesn't take itself too seriously." It's a unique "eye-free model by the American watchmaker that can be charged using USB. One simply needs to press a button, and the watch will speak the time (it can only support English for now).
This retro-modern watch has functions such as time, date, alarm, and EL backlight on a 34mm stainless steel case. The watch has small dots on the dial—the perforated stainless steel speaker cover which allows the wearer to hear the watch when it dictates the time.
The case is dust-proof and is splash-resistant, and the band is a 21mm folded stainless steel link bracelet. The watch is also available in black and silver.
Bulova Computron 97C110
This, too, does not have calculator features, but it was developed during a time when watch companies were making calculator watches.
The Bulova Computron was first released in 1976. This was the brand's first LED watch, a digital device that needed a push of a button to display the time. This was a period of technological advancements in watches, with companies producing models with calculator and devices using a push-button switch, a feature highlighted in this model.
It was in 2019 when the company released a new version of the Computron. The new model still uses the original red LED display, but it now has a blue variation (for the chrome version). Check out this Hodinkee article to take a closer look at Computron and its history.
This 31mm stainless steel watch has three versions (black, gold, and chrome), with a mineral crystal. The water resistance is up to 30m.
Casio 197 CFX-200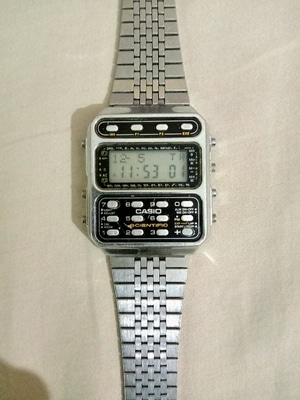 Casio has already discontinued by Casio, but second-hand models are still available online, on websites such as eBay.
The Casio 197 CFX-200 is a calculator watch released in the early 1980s and is considered a collector's item by enthusiasts. What makes this watch special is the math function–aside from the basic features, it also functions as a scientific calculator (we'll talk more about this feature below).
Manufactured in Japan, this has a stainless steel silver case and band, calendar, and a black dial. The watch also has an alarm, day/date display, and backlight.
Calculator Watch Features
Most people won't need calculator watch features anymore, as all data and functions can be done with a cellphone. Companies such as Casio, however, continue to sell these watches as they continue to be fashionable, and vintage watches and accessories continue to enjoy popularity.
If you're thinking of buying a calculator watch, here are some of the key features, aside from a calculator, that you should look for.
Data bank – this feature allows the wearer to store phone numbers, alarms, addresses, names, and appointments.
Countdown Timer – a common feature of digital watches, this comes in handy for those who constantly need to count the time backward.
World Time – a good feature for travelers, this is for those who need to have easy access to a time zone in a place other than home.
Illumination – this is a feature to look for if you will be using your watch at night or in dark environments.
Other calculator functions – the basic calculator watch has eight-digit numbers and the basic math functions (addition, subtraction, multiplication, division, and percentages), but a number of calculator watches have more advanced features such as scientific and financial functions, both of which would come in hands for those who need to compute more advanced functions.