Pulsar watches have been around for a few decades. They entered the world market back in the early 70s, when they introduced the first-ever LED watch. Since then, the brand has maintained its reputation for being a risk-taker and innovative brand in terms of design and technology. To this day, the brand remains an industry leader with its traditional watchmaking techniques.
The idea behind the brand started with the entire 70s vibe of optimism. That era created a feeling that anything can be achieved as long as you kept up with technological advancements. For instance, the decade saw computer science, space flight, and other electronic inventions come to fruition. Pulsar was a great addition to this age: its boldness and novelty was a perfect symbol for the seventies.
In fact, it created the very first electronic digital watch in the world. When the watch was unveiled in New York, it created a brand new way of perceiving time. Soon, it was relaunched under the Seiko parent company, which narrowed Pulsar's path to success. It put together Seiko's universal appeal with its trademark innovative design.
To this day, Pulsar's tagline is Tell it Your Way, which stems from the insight of each individual who seeks to express his personality via a watch, whether subtly or loudly. Clearly, this is a brand that takes stock in understanding dynamic and remains to be a watch enthusiast's favorite.
Pulsar Brand History

The original owner of Pulsar was the American Hamilton Watch Company. They announced in 1970 that they would be creating the very first LED watch and bringing it to market. It was a collaboration between Hamilton and (the now-defunct) Electro/Data, Inc.
2 years later, in 1972, the first-ever Pulsar watch was advertised by Hamilton Watch. It had an 18-carat gold case. Not only was the first all-electronic digital timepiece. It was also the first watch to use a digital display. This was created by using LEDs. By pressing a button, you are able to display the time. At the time, the original Pulsar was sold for $2100. By October of the same year, Playboy mentioned the first Pulsar in its Potpourri segment.
In 1975, a digital Pulsar was released with a built-in calculator, which you can use with tiny buttons. The brand was acquired by Seiko Corporation in 1978. Pulsar also serves as the mid-grade offering of Seiko.
Pulsar Watch Collections
Pulsar Kinetic
Read Amazon Reviews | See on eBay
In addition to chronograph tech, Seiko also possessed impressive patented Kinetic innovations. Today, Pulsar offers some of the most affordable Kinetic watches in the market. These are available in various styles, features, and designs. A Kinetic watch is basically one with a hybrid movement. It has features that both mechanical and quartz technologies afford. This gives it the advantages of both technologies: amazing accuracy requiring no battery changes, and a power reserve that lasts for as long as 4 years.
It's not easy to design a Kinetic watch. You need to create electricity from kinetic energy. You have to use a rotor that's capable of spinning five times faster than the engine of a Formula One racecar: 100,000 rpm. Seiko invented a way to suspend the rotor using magnetic levitation, creating a rotating motion that's free of friction.
Pulsar PAR147
Read Amazon Reviews | See on eBay
Let's talk about the PAR147. This timepiece accents that give it uniqueness and heighten its style. The gold-tone hands are enclosed in a 43mm stainless steel case. It's easily the topic of conversation wherever you go. The contrasting colors of gold and silver give it a sleek look. But more than the exterior, this watch uses inner mechanisms that provide accurate timekeeping.
Admittedly, it has limited bracelet adjustment. However, you can take consolation with its massive power and beautiful dial face. The bezel is made of stainless steel. It is equipped with a Hardlex lens and kinetic self-winding movement.
Pulsar Solar
Read Amazon Reviews | See on eBay
As the name suggests, this collection offers watches that are highly energy-efficient while remaining reliable. These values have been part of the Pulsar core philosophy for a long time. The newest additions to their solar-powered timepieces are evidence.
The Pulsar Solar chronograph gives the precision of quartz movement and the power without requiring batteries. It's a very eco-friendly watch that lets us tell the time while being a friend to the environment.
Pulsar Digital
Read Amazon Reviews | See on eBay
5 decades ago, Pulsar entered the watch market with the first LED watch. To this day, its name is synonymous with innovation and advanced designs. Their latest collection shows the most advanced digital technology that Seiko has to offer. Together with sustainable, eco-friendly practices, we find ourselves in the presence of an environmentally friendly way to keep track of time.
Pulsar Chronograph
Read Amazon Reviews | See on eBay
Pulsar chronographs can measure split seconds with the touch of a button. Since 1964, the Seiko Watch Corporation has been introducing innovative timing mechanisms that have been used in Commonwealth and Olympic games, including the IAAF Athletic Championships. After being acquired by Seiko, Pulsar became an inheritor of the massive amount of experience, expertise, and technology that belongs to the company. As a result, Pulsar chronographs feature all the functionalities that you'd want from a market leader.
The Pulsar Chronograph range includes affordable watches in various functions, features, and styles. Whatever you prefer and need, you'll find it. Their advanced features include 1/20th of a second accuracy, tachymeter, 100-meter water resistance, alarm, and a pilot's flight computer.
Let's take a closer look at some of the chronograph models that make the brand at the top of its game.
Pulsar PX5031 Chronograph
Read Amazon Reviews | See on eBay
The PX5031 is designed in great detail. It's a very meticulous piece. On the outside, it's easy to get a very laidback vibe, but the level of design that went into it is worthy of respect. You can expect nothing from Pulsar and Seiko, and you can see from the high quality of material, components, and technology that is seen in this unit.
Despite the intricate details, it's very user-friendly. Plus, it can last you for a long time without requiring maintenance and servicing. Many users who buy this end up using it regularly as their go-to timepiece. It is solar-powered, allowing you with a long power reserve. It also boasts of water resistance that's ideal for diving and other water sports.
It has a Hardlex lens, an analog display, a tachymeter bezel, and a Japanese quartz movement all encased in a 45mm stainless steel round case.
Pulsar Sports Chronograph Watch PU2007
Read Amazon Reviews | See on eBay
This one is a sports watch that's designed for active users. Despite its primary purpose, this watch still looks stylish and elegant to wear wherever you go – even in the office or during events.
It's powered by a quartz movement. The analog display is housed in a stainless steel case. The yellow and black colors give it a unique look, together with the calfskin band. Although it can feel quite tight and stiff in the first few times wearing it, it will be more loose and comfy after a while.
Probably the biggest feature of this one is its pushers and subdials. The minute and hour dials are semi-circles, while the second dial is a full circle. The pushers are made quite large and with rectangle angles. The huge crown sits between them. You can see that Formula One was an inspiration for its design.
The bottom line: it's a sports watch that has plenty of functions. This is why many consider this one of, if not the best Pulsar model. It's a worthy purchase.
Pulsar Gents Solar Chronograph
Read Amazon Reviews | See on eBay
This chronograph blends style with functionality, further proving its uniqueness and quality. It comes with triple dials placed along with the luminous hands. The Gents Solar uses a beautiful combination of elegance and stylish ruggedness. But perhaps a bigger feat of this watch is the fact that it's powered by solar energy and quartz movement. It also absorbs energy from indoor light – a great feature for those often inside homes or offices. This guarantees you'll never run out of power. Its power reserve is good for a total of 6 months!
Its black ionized bezel, luminous hands, and indicators are encased in a 45mm stainless steel case. The watch uses a curved mineral and scratch-proof glass lens. It uses a screw-down case back. It is water-resistant up to 330 feet.
Pulsar Women's Dress Watch PY5003
Read Amazon Reviews | See on eBay
Pulsar has an entire collection dedicated to women. This one is among the best ones. It is a very sexy and sleek dress watch for females. It is two-tone, and really capitalizes on the "less is more" genre. We bet that the first observation you'll have about this watch is its golden dauphine hands that appear to be jumping off the silver dial. The golden tone really pops from the silver when it counts. And that's not enough luxury and style — the crystals on some of the hour markers give you an added layer of texture.
While it's more stylish than practical, this is a famous model for many years and counting. It doesn't use a lot of bells and whistles, but its straightforward design and high-quality craftsmanship are a great choice for dressing up. See all Women's Pulsar watches on Amazon.
Pulsar Brand Reputation
Since Pulsar entered the watch market in 1972 with the first-ever LED watch, its name has been cemented in history. Today, the brand is seen as classy, downright elegant, and tech-savvy. Its pieces are still dazzling the market today. They present a nice blend of feeling "local" while still being globally competitive. This is because they've absorbed a lot of the culture of New Jersey, where it is headquartered, as well as various cities across the world where it is being distributed.
It is heralded for blending technology with innovation, bringing out the best in their watches. They are also considered very stylish – particularly with their cases, colors, and other offers such as pocket watches. These watches are for everyone. The attention-grabbing designs are not only pretty but also durable and reliable.
With the brand's origin as part of Hamilton and later being bought by Seiko, it has a strong watchmaking heritage and is considered a reliable brand with a good reputation.
Is Pulsar A Good Watch Brand?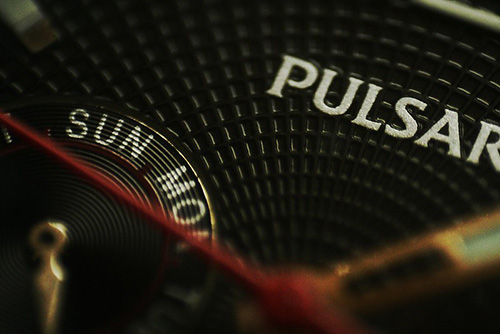 There are many ways to look at the quality of Pulsar watches, but the common opinion is that they are a good brand.
They are so good, even before the Seiko takeover, that their LED watches were integral props used in the famous James Bond movie, Live and Let Die. And after Seiko bought the brand, it made Pulsar an accessible and affordable brand that opened it up to even more markets. Their watches are well-made, geared with quality quartz movements, beautiful, and quite innovative.
As part of the Seiko watch corp, the brand may get overshadowed by the parent brand- Seiko itself although Pulsar still does have a following.
If you are a sucker for solar-powered timepieces, Pulsar watches definitely shine. Comparison shoppers often also look at Lorus (also part of Seiko). Because of the solar technology Pulsar is often also compared to Citizen eco-drive and to some extent also Casio Pro Trek
Where To Buy Pulsar Watches?
It's important to check where you're buying Pulsar watches online. There are many fake versions of the brand today, and not only are you risking poor quality, but you also won't get the official warranty coverage and servicing that you deserve. To eliminate risk, only go for legit and authorized vendors and resellers.
For instance, buy from brick-and-mortar store partners. To check which stores are near you, go to this page.
Click here to see Pulsar watches on Amazon.
To bid on auctions, see rarer models, or find pre-loved and brand new Pulsar watches, eBay can be a great place to start looking, too.
Where Are Pulsar Watches Made?
To this day, New Jersey is the house of the Pulsar headquarters. However, since the brand's expansion, Pulsar has been distributing to more cities and countries such as France, UK, Spain, and the Netherlands.
Pulsar Watch Warranty
The SEIKO Service Center provides warranty coverage and repair services for Pulsar (as well as Seiko, Grand Seiko, and Lassale) watches. This is the only facility that is officially authorized to service the said products. All service work will include a six or 12-month guarantee. That's why it's important to purchase your watches from authorized vendors only.
Be sure to mention where you bought the watch, and present proof of purchase or a receipt when filing a claim. Wait for your warranty claim to be approved, and further instructions from Seiko or Pulsar.