Unlike many of our articles where we compare two very different brands, this comparison of G-shock and ProTrek makes for an interesting watch comparison article as we won't be comparing watches from two separate brands but two popular watch series from one company – Casio. As you may already know, Casio is a manufacturer of a wide variety of devices. Their bestselling affordable watches are well-respected for their feature-rich design and functionality.
Both of Casio's brands in this category are G-Shock and Protrek – both well-known for being some of the best digital watches on the market. Both G-shock and ProTrek come with rugged build quality and practical features. G-Shock is clearly one of the best collections of tactical watches on the market with excellent shock and water resistance and battery life. Pro-Trek makes affordable ABC watches and is the clear choice for serious outdoor activities.
We will be taking an in-depth look at both the Casio watch series and figure out where each digital timepiece's strength lies. By the end of this article, you would already have a clear idea of which one is best suited for your style and needs.
Casio G-Shock Overview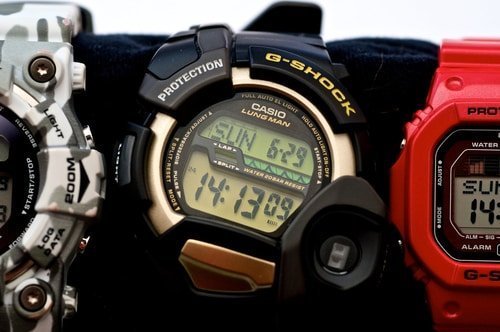 Casio first introduced the world to its G-Shock series in the 80s. Designed by Kikuo Ibe, the G-Shock focused on providing extremely durable digital watches at a consumer-grade price. During a time when most watches feature a traditional and sleek design, the bulky and sporty looking G-Shock was a breath of fresh air to the watch market. Hence, its instant popularity to both the young customers and outdoor enthusiasts.
G-Shock built its reputation around its toughness. It featured elements such as vibration resistance, electric shock resistance, gravity, resistance, water resistance, and low-temp resistance. All of this combined delivered the foundation of what the Casio G-Shock was known for – optimum reliability.
Design-wise, G-Shocks are on a league of their own. Known for its vibrant and sporty appearance, the G-Shock is not known for having the finesse luxury watches. However, it does highlight the thrill-seeking and adventurous spirit of its wearer. Plus, almost every G-Shock series features a unique element that separates it from the rest. G-shock watches are used by everyone from police and military to teenagers.
The G-Shock also has five primary features that are always present with all models. G-Shock watches will have a bright LCD, solar-powered batteries, a tilt sensor, an auto-illuminator, and a power-saving mode. Combined, all five will provide excellent functionality for the wearer. Top it off with its impressive level of durability, and you have one unique outdoor digital watch.
Casio Protrek Overview

The Casio Pro Trek was unveiled nearly a decade after the G-Shock. The Protrek is designed mainly for outdoor use as can be seen with its standard features such as the barometer, altimeter, and thermometer.
As the Casio ProTrek is marketed for outdoor enthusiasts like hikers and campers, you can also expect it to be quite robust and reliable under most environmental conditions. In regards to its main difference with the G-Shock, ProTrek watches come with a more sophisticated design and features designed specifically for assisting during outdoor trips.
It does have several similarities with the G-Shock such as solar-powered batteries, and several G-Shock models come with features synonymous with Protrek like the Triple Sensor functionality. This is not surprising as both watches are from the same company; it does make choosing between the two slightly more confusing.
G-Shock and Protrek Watch Comparisons
Since both Casio watch series target a specific market, it is easier to choose which models to include. All we need to do is bring out both G-Shock and Protrek's big guns. Well, then let's bring them out.
Casio G-Shock
Let's start things off with the original tough-as-nails digital watch, G-Shock. Below are two of the best-selling series/models from G-Shock's catalog.
Casio G-Shock Quartz Resin Sport Watch DW9052-IV
Read Amazon Reviews | See on eBay
You can't beat a classic. The G-Shock DW9052-IV is a staple of this series and is one of the go-to watches for military personnel. This digital watch comes in five color variations, which further expands its appeal. Featuring the classic G-Shock aesthetic, think of the DW9052-IV as a back to basics digital watch that showcases what makes G-Shock unique.
This watch is also not as bulky-looking as other G-Shock watches without sacrificing any of its durability. It utilizes mineral crystal, which is considerably more robust than your standard acrylic watch. As for features, you can expect all the standard G-Shock functionalities to be present here. It comes with a countdown timer, daily alarm, 1/100th-second stopwatch, 12/24-time format, and auto calendar.
The DW9052-IV is also constructed to provide water-resistance of up to 200m, making it an ideal companion for water activities such as scuba diving as well. All in all, the G-Shock DW9052-IV is an excellent choice for those looking at a highly reliable sports watch. As a bonus, this G-Shock watch is also quite affordable.
Casio G-Shock the GA 100-1A1 Military Series
Read Amazon Reviews | See on eBay
As you would expect from a G-Shock military-type watch, the GA 100-1A1 is exceptional in its durability. Not only that, its rugged all-black design exudes an air of confidence and toughness that complements its functions correctly. What is more surprising is its weight. The GA 100-1A1 may look like a hulking piece of hardware, but the fact is it is quite lightweight and comfortable to wear.
The GA 100-1A1 also comes loaded to the brim with features that will surely be welcomed by outdoor enthusiasts. This G-Shock military watch comes with a standard countdown timer, stopwatch, and auto-calendar features. But it goes above and beyond that with the ability to display up to 29 time zones and G-Shock Triple 10 development concept. It also sports an electroluminescent backlight for optimum visibility, even in the dark.
Internally, it uses atomic timekeeping technology and solar-powered batteries for maximum longevity. The stainless steel 37mm case is surprisingly compact for such a feature-packed watch. Not that we are complaining. It also offers up to 200m of water resistance, making it perfect for all sorts of water activities.
Casio Protrek
While the G-Shock offers a large selection of sturdy, feature-rich, and affordable digital watches, the Casio ProTrek series takes it a level above. If you have extra cash to spend, you definitely might want to take a peek at what ProTrek has to offer.
Casio Protrek 7000X
Read Amazon Reviews | See on eBay
The Protrek 7000X is considered the flagship model of this series, and it is easy to see why. With top-quality construction and material, combined with an impressive array of features, the 7000X is the best outdoor digital watch money can buy.
Construction is top-notch with a durable carbon bezel and an equally tight field composite band. The watch features the Triple Sensor Version 3, which is of great assistance for outdoor enthusiasts who enjoy going through a nature trail.
The 7000X also comes with a water resistance of 200m, making it a good companion for various water activities. Additional features include a solar-powered battery and radio-controlled functionality. As for its base features, the Protrek 7000X comes with a built-in barometer, altimeter, and thermometer.
Besides being water-resistant, this watch is also designed for use in low-temperature environments for down to -10C. The Casio Protrek 7000X is jam-packed with features that will surely cover everything you need during your outdoor trip. The only downside is that this is quite an expensive watch and will be a serious investment, if not impractical for some.
Casio Protrek PRG-600YB-3JF
Read Amazon Reviews | See on eBay
Protrek PRG-600YB-3JF is significantly more affordable than our first Protrek entry, but it is still quite an investment. That being said, Protrek is designed mainly for the outdoor enthusiast crowd. This one also brings all the features that make ProTrek the "go-to'" wristwatch for adventurers, at a more budget-friendly price.
The PRG-600YB comes with all the standard features you would expect from Protrek. It comes with a built-in barometer, altimeter, and thermometer. The watch also features a digital compass and a radio signal receiver. The watch also features a more lightweight design, a welcome aspect for any device designed for use outdoors.
One particular element of the PRG-600YB is its Smart Access system. This allows for complete and quick control of all necessary functions via its electronic crown. This is an excellent feature as it is both convenient and straightforward to operate, a quality that is crucial in any equipment used during hikes and camping trips. Also, the watch is solar-powered, which improves battery life significantly. Overall, Protrek is undoubtedly in a league of its own with the functionalities it offers.
Conclusion: G-Shock and Protrek – Which is the Better Watch?
When choosing between ProTrek and G-Shock much of it comes down to your intended use.
If you're looking for a tough watch for everyday use, the G-Shock is always an excellent choice. If you occasionally participate in sporting events, the G-Shock will suffice. It is designed for everyday use while also providing some superior outdoor functionality. Casio G-Shock offers a wide range of models from affordable budget watched to high-end tactical military watches.
As for Casio Protrek, this is a device designed for outdoor survival and serious hikers and campers. The triple sensor (Altimeter, Barometer and Compass) make it one of the top outdoor watches on the market.
When it comes to price, ProTrek overall is affordable with most models in the sub-$300 range. While G-Shock also offers lots of great affordable watches, the collection is quite varied and some of the models are much more expensive than even the top Pro-Trek models, especially if you look at the G-Shock Masters of G collection or some of the G-shock Limited Edition models some of which go for well over $1,000.
While G-shock does have high-end expensive models, even the most affordable G-Shock models are incredibly robust and reliable. ProTrek truly shines when used exclusively for outdoor expeditions. For simple everyday use and reliability, you can never go wrong with the G-Shock.