Netflix hit series Stranger Things did not only enjoy popularity for its exciting storyline and brilliant cast. It was also praised for a spot-on depiction of the 80s, with a well-researched soundtrack and costume choices. Set in the fictional town of Hawkins Indiana, this is a sci-fi show that has garnered many awards and nominations in its first three seasons.
Created by the Duffer Brothers, the show premiered in 2016 and is currently one of the most-watched shows on the history of the streaming service. Season 3, in particular, broke records, with a total of an estimated 64 million households within its first month.
Below, we're going to talk about some of the watches that have appeared on the show, and the characters who wore them. Some of these are no longer in production, but we'll also provide links on where you can get pre-owned models.
Spoiler: there will be a lot of Casio watches, which comes as no surprise, as the brand was extremely popular in the 80s.
Stranger Things Watches
Dustin Henderson – Casio F-91W

Dustin Henderson (Gaten Matarazzo), one of the main characters on the show, wears a classic watch that many kids wore in the 80s—the Casio F-91W.
This simple digital watch by the Japanese brand was introduced in 1989. It quickly became popular due to its affordability, long battery life, and unique design. This Casio model never really went out of style, as it continues to enjoy popularity today.
According to this article, Dustin's character was wearing the watch in a publicity photo, but it appeared as if the Casio logo was removed.
This is a water-resistant chronograph with a 1/100 second stopwatch, hourly time signal, and an auto-calendar. It has an LED backlight, a single daily alarm that lasts 20 seconds, and a stainless steel case back.
According to this 2019 article, this watch is accurate to within one second a day, which is something that even luxury watches cannot do. The battery also lasts up to seven years.
You can read more about Casio in our Watch Review article, where we take a closer look at the brand, its story, and some of its most popular collections.
El (Eleven) and Mike Wheeler – Casio Calculator Watch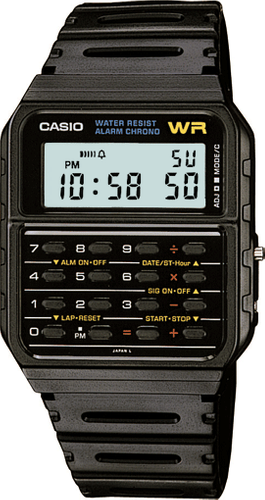 Having telepathic powers doesn't mean you shouldn't wear cool watches. El, or Eleven was also seen with a digital Casio—a calculator watch in Season 3.
This article suggests that the watch El was wearing was a Casio Calculator watch, possibly a model CA53W-1. This model, like the watches we talked about above, is still available today and continues to be affordable. You can still find them online for around $30.
This watch, however, did not belong to Eleven originally. It was given to her by Mike. According to an article by Times Ticking, this calculator watch was the same watch used by Marty McFly in the 1985 film Back to the Future, which is the same year that the third season of Stranger Things was set.
According to this Ad News article, Casio watches are one of the top products that made an appearance on the show's Season 3 alone. The product placement advertising value is an estimated $883,000, with more than eight minutes of screen time. These, however, were not easy to spot, as most appearances of these watches were very discreet.
Jonathan Byers – Timex Weekender

Jonathan Byers (Charlie Heaton), the older brother of Will has had discussions online about his watch choices too.
This Reddit discussion takes a closer look at a watch he wore on one scene, and one comment mentions that it could be a Timex model.
The watch is not clear on-screen, but it's suggested that it could possibly be a Timex Weekender watch or at least something that closely resembles it.
The Timex Weekender is a classic collection by the brand. This is a popular line that has evolved and has had many different versions (see the current ones here).
A good alternative to the Weekender watch is this unisex 38mm version, which comes in a wide array of dial colors and strap designs. A similar watch to what Jonathan (which looks like it has a green dial and a leather strap) was wearing is this one with a blue dial and a gray nylon strap, or this one, which is suggested on the Reddit discussion.
Will Byers – Q*Bert watch
Another of the popular 1980s watches featured in the show was worn by Will Byers (Noah Schnapp)—the Q*Bert gaming watch by Nelsonic, a now-defunct electronics manufacturing company based in New York City.
Nelsonic created popular game watches in the 1980s, having licensed for classic arcade games including watch collaborations with Pac-Man, Donkey Kong,and Q*Bert. The watch allows the wearer to play the game using the small buttons on the dial, and of course, it also tells time (positioned on the right side of the display).
This watch is now considered a collectible retro timepiece, and are available on eBay. This 1982 version, for example, is being sold on eBay. To learn more about how the watch works, you can check out this article, which talks about an eBay purchase of the watch.
If you're interested in reading more about pop culture watches, you can check out our articles on the subject, such as this one on Star Wars-inspired watches.
Max Mayfield – Swatch Yellow Racer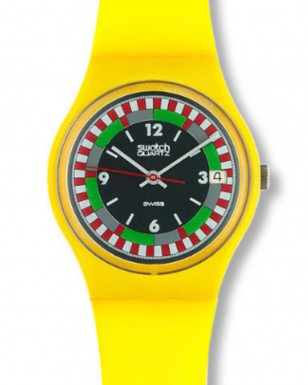 Maxine, or Max, Mayfield (Sadie Sink) wears a colorful Swatch watch in Season 2, where her character was introduced.
According to Watch-ID.com, Max was wearing a Swatch Yellow Racer, which has a yellow case and strap and a black checkered dial. This is believed to be a Gents model Swatch GJ400, which was released in 1984.
The Yellow Racer is from the Originals line under the Gent product family. On the dial is a color combination of red, green, and white, with a date window at 3 o'clock. This model is water-resistant to 30m.
You can also find some vintage versions of this watch on eBay. This model, for instance, has a similar dial, but has a two-tone strap with a brown case. This version is rare—dated 1985, this is being sold for around $360.
You can learn more about Swatch—its history, collections, and reputation—in this Swatch Watch Review article on our site. We also have one on the Best Swatch Watches for Men and Women, as well as a brand comparison with Timex, which has the same price range.
Jim Hopper – Tudor Submariner and Casio

Hawkins Chief of Police Jim Hopper (David Harbour) was spotted on the show wearing what is believed to be a Tudor Submariner—according to an article by Watchionista.com, which posted a photo of a scene from the show.
Discussions on this forum, however, suggest that the watch could also possibly be a Rolex Submariner. Another one suggested that he also could be wearing a Casio in the scene in question, and the photo of Hopper wearing the Tudor could be photoshopped—he was living a simple life, after all, and it would be rather strange for him to be wearing fancy watches.
This Reddit thread discussed another watch that Hopper was seen wearing—a humble Casio digital watch, with a similar style as Dustin's, but in stainless steel. Someone commented that it could be the Casio with Electro Luminescence—an A168W-1 model, with features such as a 30m water resistance, a 1/100 second stopwatch, a daily alarm, and an LED backlight.–
Alexei – Kirovskie Crab

Another Russian character who fans have spotted wearing an interesting timepiece is Alexei, a scientist working beneath Starcourt Mall.
In this Reddit discussion, a fan said that he could be wearing a Raketa watch, also a Russian brand. Another comment suggested that he could be wearing a Kirovskie Crab watch, which is also a Soviet brand.
These watches, along with the Kirovskie Crab, are no longer in production, but vintage versions are still available online, like this old Kirovskie Crab model,
You can read more about Russian in our Russian watches Watch Brands article, which also talks about Raketa, as well as the watch below.
Russian Character – Vostok Amphibia

In a Watchuseek discussion, sharp-eyed fans spotted a scene in Season 3 that looks like a watch made by Vostok, a Russian watch brand founded in 1942. The brand became very popular in the years that followed, becoming the supplier of Soviet Union's Defense Department, as well as producing exclusive military watches.
Worn by an unnamed Russian soldier who was part of a group building an underground facility at the show's Starcourt Mall, the watch is believed to be a Vostok Amphibia model, with a stainless steel case, black dial, and a leather strap.
This garnered praise from watch enthusiasts, saying that the costume and prop designers did an excellent job in picking out even the most minute costume details.
To learn more about Vostok click here.
It was announced in 2019 that Stranger Things Season 4 is in the works, with production beginning in February 2020. Due to the COVID-19 pandemic, however, the final release date has not yet been announced.