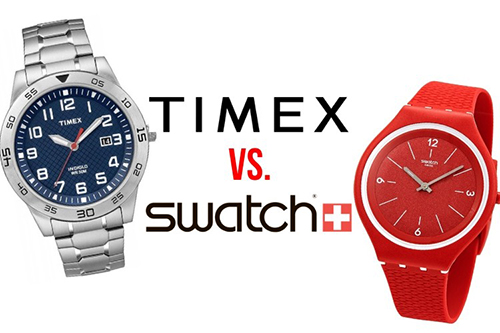 Timex and Swatch dominate a particular category when it comes to timepieces; that is, in the affordable entry-level watch market. Both brands are well-established globally and are known to be the most accessible quality watch brands today. In this article, we will be comparing Timex and Swatch to figure out which brand truly holds the crown in the entry-level watch arena. These two are often spoken in the same breath as they do have quite a bunch of similarities. Can Timex's level of versatility push them through the finish line first, or does Swatch's Swiss-made reputation be enough for them to hit the proverbial bullseye in this very close match up?
Timex Brand Overview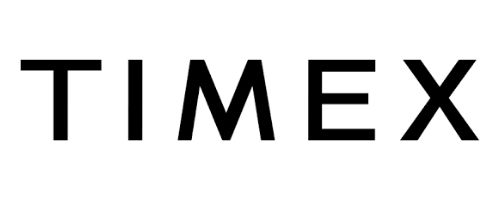 Timex is a well-known U.S. watch company that thrives within the affordable entry-level category. Founded back in 1854, Timex focused on providing the public with a highly affordable timepiece alternative to the more expensive brands at the time. You have to understand that back in the 1800s, pocket watches were seen mostly as a luxury rather than an essential everyday accessory. What Timex brought to the market was a level of accessibility to timepieces that was unheard of at the time.
Of course, even at a more affordable cost Timex still managed to deliver good quality watches, which is why their popularity soared impressively fast soon after they opened up shop. Timex watches also broadened their inventory with observations that varied in the price range. They didn't just offer affordable timepieces; they offered affordable timepieces with a luxurious appeal. If you are looking for a stylish watch within a specific budget range, Timex most likely has what you are looking for in their shop.
Timex also developed signature watch lines that helped in giving their brand a distinct personality. Some of these well-known Timex watch series includes the rugged Ironman sports watch and the stylish V-conic timepieces. They also partnered with Disney and had a Mickey Mouse watch series that can fetch for a reasonable price. Timex is one of the most popular U.S. watch brands not only in its home country but also worldwide as well.
To this day, Timex is still the go-to brand for those looking for a cost-friendly yet high-quality timepiece. Their watches may not exude the same high-end aura as a premium brand. Nevertheless, their reliability and functionality are unquestionable, and you only pay a fraction of what you would compare to other famous watch brands.
Swatch Brand Overview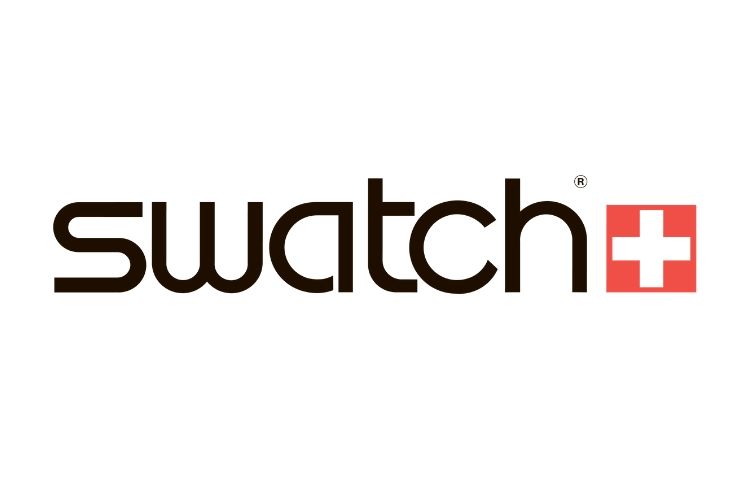 Swatch is a Swiss-based watch company that was founded in 1983. The company was a response to the quartz revolution of the 70s; wherein Japanese watchmakers overtook the market with their affordable and innovative quartz watch movement. Most Swiss watchmakers at the time exclusively manufactured mechanical movement timepieces, and as the industry shifted to the quartz movement, Swiss watch industry limped with several companies forced to close down due to bankruptcy.
This was when Nicolas Hayek, entrepreneur and the CEO and Chairman of the Board of the highly respected Swatch Group Ltd, decided to step up and tackle the crisis that is affecting the Swiss watchmaking industry. Hayek founded Swatch and merged with other heavily-affected Swiss watchmakers to form a group of companies that would use their specialized watch craftsmanship knowledge to weather the storm brought upon by the revolutionary quartz watch movement. This paid in spades as Swatch is now one of the most recognizable watch brands not only in Europe but around the world.
The Swatch moniker is taken from the contraction of the words "second" and "watch". It focused on manufacturing stylish, modern, and affordable Swiss-made watches to the public. This strategy, in turn, helped inject new life to the struggling Swiss watch market during the 70s and 80s. Swatch also manufactures and develops all the important watch components needed when building their timepieces along with the other 18 brands under their umbrella.
Today, Swatch is a famous entry-level Swiss watch brand that focuses mostly on developing plastic case timepieces, but they do produce the classic stainless-steel build as well. Swatch watches are synonymous with energy and vibrance, and they are one of the most respected watch companies in the industry today.
Timex and Swatch Watch Comparisons
Casual Watches:
Timex Easy Reader 35mm Review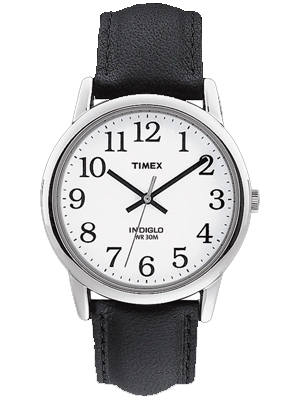 With a blend of laidback style and class, the Timex Easy Rider 35mm is a fancy-looking timepiece without taking its aesthetics overboard. This element has been a recurring thread throughout all Easy Rider watches, which is fortunately not lost in the Easy Reader 35mm Leather Strap Watch. This timepiece comes with all the features you anticipate from the Timex brand, making it quite a sweet deal considering the highly affordable price tag.
First off, the case is made from brass and measures in at 35mm. The strap used is from genuine leather, and the build of the Easy Reader 35mm gives it 30-meter water resistance. This aspect ensures that the watch can survive getting caught in the rain or the occasional splash of water. However, do refrain from wearing it when swimming or taking a bath.
The dial takes a conservative and traditional approach when it comes to its design. The bold Arabic numeral hour markers and extended hour and minute hands do the job nicely. Also, since this is a Timex watch, it comes with the Indiglo night-light technology which helps significantly improves visibility and making it readable even in pitch-black darkness.
As for what makes it tick, the Timex Easy Reader 35mm utilizes quartz movement with its analog display. The dial is also well-protected within the durable mineral glass window. The Easy Reader 35mm is a beautiful traditional timepiece with some modern features thrown in. See our top Timex watch picks for Men here
Swatch Irony Trueville Black Dial YWX400 Review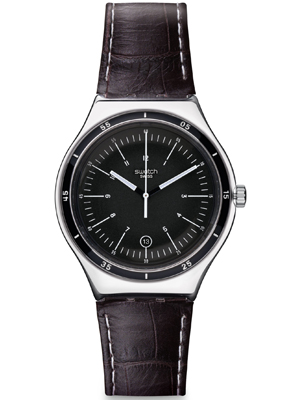 Most, if not all, Swatch watches feature a modern and straightforward aesthetic while maintaining a chic charm. The Swatch Irony series offers a more traditional flair to Swatch's standard plastic build as this series incorporates stainless-steel cases. The Trueville blends an up-to-date design with a pinch of vintage charm. What we get is a dandy looking timepiece that will complement both casual and formal attire.
The Trueville, true to its name, features all the elements that make Swatch watches appealing. The polished stainless-steel case is quite sleek at 42mm. The black leather balances out the silver-tone case and delivers a professional and relatively more masculine look. Also, the build of the Irony Trueville is designed for longevity with its use of an anti-corrosion finish. Inside the Trueville is a quartz movement with analog dial display. There is also a date display located at the 6 o'clock position.
Chronograph Watches:
Timex Fairfield Supernova Chronograph Review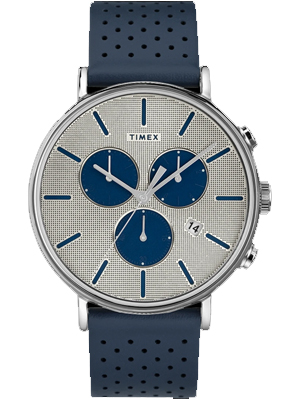 For a chronograph watch, the Timex Fairfield Supernova certainly comes at a surprisingly sleek design. It comes in a variety of colors, but we prefer the simplicity and mysterious appeal of the gray silhouette version. The attention to detail incorporated in the construction of the Fairfield Supernova helps separate it from the pack with its laser-cut dial treatment. As with all Timex watches, the Fairfield Supernova also utilizes the Indiglo night-light technology.
The Fairfield Supernova uses quartz movement with analog display. It also has a chronograph feature that can be used to measure 1/20th of a second. There is also a date feature located at along the 4 o'clock position. As for the watch's protective build, the case itself is well-made and sturdy. The watch also uses mineral glass window and water resistance for up to 30-meters.
The Fairfield Chronograph watch comes with all the bells and whistles that Timex watches are known for, and it utilizes them with an impressive level of finesse. With the varied selection of versions that the Fairfield Supernova is available in, it is a guarantee that you will find one that will fit your style.
Swatch Irony The Magnificent Black Dial YOS456G Review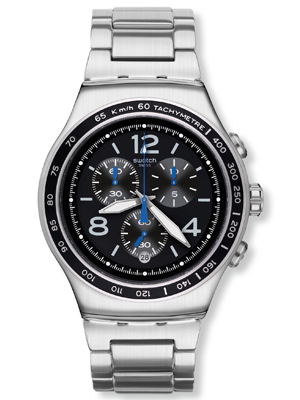 One element about Swatch Irony watches that I like how they tend to deviate from Swatch's typical plastic candy pop design. Instead, the Irony watch line is a more sophisticated and smartly designed timepiece with a professional charm. The Magnificent Chronograph most certainly lives up to its moniker. Measuring at 47mm, this is a rather hefty timepiece and is designed specifically for men. With its all stainless-steel build, the watch also exudes an air of luxury which is not exactly what you would think of when you think about Swatch watches.
This urbane aesthetic is The Magnificent's strong suit. It also packs the necessary functionalities to elevate it from its peers further. A quartz movement with analog dial powers the chronograph feature. The watch incorporates three sub-dials that measure seconds (60), minutes (60), and 1/10th of a second. The construction of this Swatch chronograph watch also gives it decent 30-meter water resistance. For a watch that comes with an entry-level price tag, The Magnificent Chronograph is undoubtedly a good deal.
Conclusion: Timex and Swatch – Which is Better?
Comparing two watch brands and declaring a winner is very difficult and subjective.
Try to give a balanced overview of the strengths and weaknesses of either brand compared to the other.