Vostok Watch Makers is a Russian watchmaker based in Tatarstan. They create mechanical watches with rugged military aesthetics, movements, and clocks. It produces its own mechanical movements, and supplies movements for other brands (Vostok Europe, Volmax, Poljot International, and Moscow Classic) as well. The company owns Briolet, which is a producer of ruby jewels for technical use. Keep on reading to learn more about this brand's history, reputation, and its best product lines.
Vostok Brand History

Vostok was founded in 1942. It got its start when one of the First Moscow Watch Factory's watchmaking plants got evacuated to Chistopol. This was a small town found in Tatarstan, near its Kama River. During the years of war, only defense equipment was manufactured in the facility. However, as the wars ended, the company began creating mechanical watches.
It wasn't until the 1960s that the Vostok brand name was born. This is presumably named after the space program of the same name – similar to Raketa and Poljot, other soviet watch brands. In fact, Vostok was the official watch supplier for the Soviet Union's Ministry of Defense in 1965. In this same year, the famous Komandirskie watch was also created.

Soon enough, the company has garnered enough experience and credibility, leading to its next hit: the Amphibia, a dive watch made of stainless steel that can withstand 200 meters underwater. Vostok Watch Makers was churning out 4.5 watches per year by 1980.
Vostok launched a collection of 1940s-inspired watches as the 21st century came in. they called them the Kirovskie K-43 collection. The brand also started manufacturing luxury watches, called Kremlevskie. Both of these product lines were made in limited quantities, made of stainless steel, and were targeted for the high-end market.
The company filed for bankruptcy in early 2010. The official website was shut down. However, the factory still resumed watch and movement manufacturing – after going through a restructure.
Vostok Watch Collections
Amphibia
Read Amazon Reviews | See on eBay
This dive watch was produced continuously for almost half a century. It didn't go through a lot of changes, except for a few styling upgrades. The word Amphibia is often regarded as an engineering and integrated design solution and is the basis for many of the brand's family of watches.
The main idea behind this dive watch is to – as all dive watches do – avoid water ingress during submersion to water. It is also designed to maintain the watch's ability to function and operate underwater with the introduction of increasing pressure. Over the decades, the creation of dive watches has gone through several redesigns. Of course, many brands claim the fame of producing the very first dive watch. Today, it is generally accepted that it was the Omega Marine, created in 1932, that is in fact the first – or at least among the earliest – diver watches.
Check out all the Vostok Amphibian dive watch collection (on Amazon).
Energia
Read Amazon Reviews | See on eBay
Energia is another model that takes inspiration from space systems. The namesake is the most powerful space launcher in history, created between 1976-1987. It has a 100-ton payload capacity, which allowed for the advancement of space research in ways unheard of before. The space program of the Soviet Union allowed for the creation of several heavy and super-heavy rocket carriers based on the same model. It followed the Energia configuration, with only some modifications with the side and central blocks.
Check out all the Vostok Energia watch collection (on Amazon) inspired by this Space Launcher.
Lunokhod 2
Read Amazon Reviews | See on eBay
The last of the two unmanned lunar rovers, Lunokhod 2 was an advanced craft that landed on the moon in January 1973. It is part of the Lunokhod program of the Soviet Union. It operated for 4 months, with a total of 37 km of terrain covered, including rilles and upland hills. It sent 80,000 TV pictures and 86 panoramic images back to earth. Its journey is deemed as the longest one by any robotic rover on a celestial body.
Check out all the Vostok Lunokhod watch collection (on Amazon) inspired by this lunar rover.
Almaz Space Station
Read Amazon Reviews | See on eBay
This space station is the basic Soviet space station project founded during the early 60s. This served as the inspiration for the Saliut, Mir, and all modern Russian Internation Space Station blocks.
Check out all the Vostok Almaz Space Station watch collection (on Amazon)inspired by this Russian space station.
Anchar
Read Amazon Reviews | See on eBay
Anchar is considered as the fastest submarine in history, holding the record of 82.8 km/h. Fully named the Soviet K-162 Anchar, it was built in the 1970s and was designed to be an ultra-fast attack submarine. It is made of titanium hulls, and carried the Papa class as classified by the NATO. The Anchar is the predecessor of the Alpha class, which is the more popularly known submarine class. This submarine served the Soviet navy during the Cold War and still holds records to this day.
Check out all the Vostok Anchar watch collection (on Amazon) inspired by this submarine.
GAZ-14 Limousine
Read Amazon Reviews | See on eBay
Referring to the government luxury car, the GAZ-14 is one of the Soviet's biggest achievements in terms of its automotive history. It was designed solely for the use of its high-ranking politicians and officials from 1977 to 1989. These cars were seven-seaters and featured advanced technological functions. They were also more comfortable than any American vehicles at the time. During this time, the GAZ-14 became the foundation for several designs, innovations, and technologies, that would soon become used in mass-producing Soviet-era car models.
Check out all the Vostok Gaz-14 Limousine watch collection (on Amazon) inspired by this government vehicle.
Rocket N-1
Read Amazon Reviews | See on eBay
The Rocket N-1 is a super-heavy rocket designed to carry cosmonauts of the Soviet Union to Mars, Venus, and the Moon. It was also made to place space stations into orbit. It was the Russian's answer to the USA's Saturn-V. This was a big feat of engineering, which took five total stages. The first stage alone used 30 high-powered rocket engines which utilized liquid oxygen and kerosene as fuel.
Check out all the Vostok N1 Rocket watch collection (on Amazon) inspired by this rocket.
Expedition
Read Amazon Reviews | See on eBay
The Expedition was the first manned drifting station of the Soviet Union aimed for scientific geographical and hydrological research in the polar area. They launched the North Pole-1 station in 1937, located 20 km from the North Pole. It functioned for nine months, with 2850 kilometers of total distance traveled. In 1938, the expedition ended.
Check out all the Vostok Expedition watch collection (on Amazon) inspired by this polar expedition.
Mriya
Read Amazon Reviews | See on eBay
The Mriya (which means "Dream") was first flown on December 1988. It was created by Antonov Design Bureau, which was based in Kiev, a team that's popular for their amazing achievements in creating heavy transport aircraft. After the first flight, the Mriya set a whopping 106 records – all in one flight. It was made to carry piggy-back loads that are otherwise too big to fit into the fuselage (such as the Buran Space Shuttle). It also served as the first stage of the space launch system.
In 2001, it has been updated to serve as a commercial transport aircraft for oversized and heavy freight. It is jointly operated by Antonov and Air Foyle, a British firm.
Check out all the Vostok Mriya watch collection (on Amazon) inspired by this heavy transport aircraft.
Ekranoplan
Read Amazon Reviews | See on eBay
Finally, we have the Ekranoplan. Full name: Caspian Sea Monster Ekranoplan KM is the largest model for this type of vehicle. Today, it still holds the record for carrying the heaviest load from the ground. This ground effect vehicle is able to lift offload more than the Mriya, which is the largest modern cargo plane. The Ekranoplan was kept a secret for a long time. It was undergoing testing from 1966 to 1980 covertly.
Check out all the Vostok Ekranoplan watch collection (on Amazon)inspired by this ground effect vehicle.
Vostok Brand Reputation
Vostok watches hold their own spot in the international watch market. They represent the quiet alliance of Russian and Eastern European watchmaking practices, dating back to centuries. By putting together a team from Russia and Lithuania, the brand is able to create watches that blend tradition, cost-effective style, and innovation.
In 2009, Vostok collaborated with Swiss companies, putting down a foundation for modern watches using tritium tubes. As a result, we saw the birth of Ekranoplan models – the very first Vostok models using the said material.
Is Vostok A Good Watch Brand?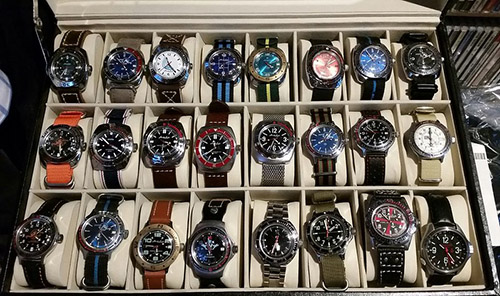 We've listened to watch enthusiasts and Vostok users and have come up with a few points.
Vostok models such as the Amphibia and Komandirskie are good military-grade timepieces. They are very tough, plus, they use 19800 BPH 31 and 32 mechanisms, which are jewel self-winding and shock-resistant. They can operate without requiring maintenance for as long as 10 years – or longer if you use them carefully.
Amphibia watches are great dive watches because they can go up to 200 meters and withstand underwater pressure. They're suitable for scuba diving. They don't fight water pressure using brute force, as most other dive watches do. Instead, they get "tighter" as the pressure increases. This comes from the watch's dome crystal design (complete with a 2-piece back cover, screw-on winding crown, and flexible gasket).
You don't need about components, too. All Vostok watches are assembled using parts and movements that are made, designed, and built in-house. Not all watchmakers can say they do this.
Some users even claim that Vostok watches are more dependable than Seiko and Orient timepieces – they claim that this is because of the high-quality guarantee that comes from Vostok being commissioned by the USSR Ministry of Defense to create timepieces for their army, navy, air force, special forces, and even space flights.
Others claim the exact opposite and prefer the two Japanese watch brands especially when it comes to their dive watches – but that's a never-ending debate. We've taken a closer look at Orient vs Vostok here if you're interested in a close look at the two.
There are a few users call Vostok as the "G-shock of automatic watches". Their construction is quite different from most other brands. The crown needs some getting used to, but it's very sturdy. The vintage feel and look is another aspect that adds to the overall experience. Plus, Vostok isn't as expensive as other brands – but the fact that it has such a deep heritage with wartime and history makes it quite a collector's item.
You'll also find a loyal base of Vostok fans that are into collecting Russian watches in which case it's hard to ignore the brand.
If you prefer vintage looks but modern functionality, then go for the Special Edition of the Amphibia or Komandirskie instead.
Where To Buy Vostok Watches?
Check out the store locator for Vostok Europe models here.
You can buy both brand new or pre-loved Vostok watches on eBay, where you can bid against other buyers.
Alternatively, find your Vostok watches on the official Vostok Amazon store page.
Where Are Vostok Made?
All Vostok watches, including parts, movements, and accessories are made in Russia. They also create clocks, clock movements, and watch movements for other brands. For more information about their production, click here.
Vostok Watch Warranty
Repair of watches, replacement or refund, as covered by the warranty agreement of Vostok is carried out in accordance with the Law of the Russian Federation "On Protection of Consumer Rights".
The warranty guarantee for Vostok watches is 12 months from the date of its sale through the retail network. To learn more about the warranty coverage and eligibility requirements, check out their Warranty Page.