Orient and Vostok are two watch brands that took a vastly different route from each other when it comes to how they craft their timepieces. Orient leaned over towards creating timepieces that exude a considerable amount of style, while Vostok is all about durability with its rugged selection of watches. However, there is one category where Orient and Vostok meet 'eye to eye' – dive watches.
In this watch comparison article, we will be pitting two watch brands that typically don't end up in the same conversation – that is, unless we are talking about dive watches. Besides that, particular watch type category is there another area where Orient and Vostok tend to go head to head? Read on to learn the answer.
Orient Brand Overview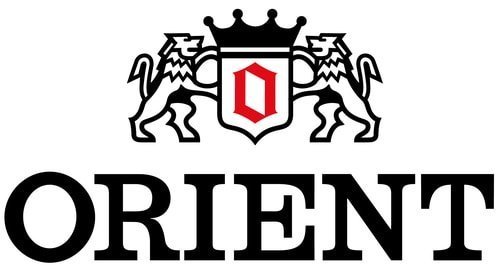 Orient is a Japanese-based watchmaker and is a well-known name in the mid-range watch market. One defining characteristic of Orient timepieces is that all of their watches are made in-house. Every element of their clocks is designed and developed by Orient. The advantage of not having to rely on third-party help is that Orient watches can maintain their signature quality that is ever-present in all of their watch models.
Orient is also well-known for its automatic mechanical watch movements which are also developed in-house. These movements range from entry-levels to premium-grade quality ones that are exclusively used in their higher-end timepiece selection. All Orient watches also go through a strict quality control procedure which ensures every single timepiece produced maintains that signature Orient precision and reliability.
Orient's most popular in-house watch movement is the caliber 46 line which is generally incorporated into their more affordable watches. While the Orient caliber 46 movement series is considered as an 'entry-level' automatic movement, it is one tough cookie. It is as reliable and is considered as one of the best watch movements in the industry today.
Another well-known Orient watch movement is the caliber F6 which is an upgraded variation of the 46 series with its hand-winding and hacking functionalities. Orient has been around for over a century, and to this day, they are still always trying to reinvent themselves and improving their timepieces both in design and functionality.
Vostok Brand Overview

The Vostok Watch Makers, Inc. is a watch Russian-based watch brand that excels in developing some of the most robust and reliable timepieces around. The watchmaker took their name from the historic Russian space program of the same name.
The company was founded back in 1942 but did not start using the Vostok moniker until the 1960s. It is also around this decade that Vostok landed a contract with the Soviet Union's Defense Department. Due to this contract, Vostok's line of watches primarily revolved around a particular watch category, namely military timepieces.
Vostok primarily focused on this side of watch categories. Some of their most popular is the Komandirskie K-34, the Vostok Amphibia, and the Vostok Retro. Interestingly enough, Vostok is known to collaborate with other watch brands, and they are known to be third-party watch developers as well.
Orient vs Vostok Watch Comparisons
Dive Watch – Orient Triton VS Vostok Neptune Amphibian
Orient Triton Review
Read Amazon Reviews | See on eBay
The Orient Triton is one of the brand's more recent offerings in this watch category. Think of the Triton as an upgraded version of the Ray, much like the discontinued Saturation Diver. It took several features from its other famous dive watch series and combined them into one highly functional timepiece.
Place the Triton alongside other Orient dive watches, and you will notice specific similarities in terms of features. However, one significant addition is the inclusion of a power reserve gauge which is a feature also found in the Pro Saturation.
It also has the JIS or Japanese Industrial Standard stamp of approval as the timepiece is compliant to the standards of a Class 1 diver watch. The crown is not located on the 3 o'clock position and is instead placed on the 4 o'clock position. This is a matter of comfort as the crown is less likely to press against your wrists when moving.
The Triton certainly has that nautical charm to it with the smooth design of its 43.3mm diameter polished stainless-steel case. Within the Triton's robust case is the Orient Caliber 40N5A, the same watch movement used by the Orient Pro Saturation Diver watch. Its automatic hand-winding and hacking movement also come with a 40-hour power reserve.
Vostok Neptune Amphibian Review
Read Amazon Reviews | See on eBay
The Neptune Amphibian is as tough as they come, which is to no surprise seeing that it is a dive watch designed for use by the Defense Department of the Soviet Union. The Vostok Neptune is an incredibly robust dive watch with several essential functionalities in tow.
Both the 42mm case and bracelet are made from polished stainless steel material, and the dial is protected using acrylic glass. The case does have a traditional watch design with the crown located beside the 3 o'clock position. Within the sturdy case is the Vostok 2416B automatic 31 rubies self-winding movement with analog display.
As a diver watch, this timepiece comes with a 200-meter water resistance rating making it suitable for swimming and snorkeling. I don't advise that you wear it for deep scuba diving though.
Winner: Orient Triton
The Vostok Neptune Amphibian is a solid dive watch in its own right and is quite affordable as well. But overall functionality and reliability go to the Orient Triton. The Triton is an amalgamation of the best dive watch features in Orient's arsenal, infused into a sleek and stylish looking timepiece that can also double as a dress watch with its stunning style.
Automatic Watch – Orient Star Seeker Automatic GMT Watch VS Vostok Europe GAZ 14 Limousine NH25 Watch
Orient Star Seeker GMT Review
Read Amazon Reviews | See on eBay
The Orient Star Seeker GMT is part of the company's mid-range watches, and it is one of their most exceptional entries into GMT watches category. The Star Seeker GMT utilizes the caliber 40P51 automatic hand-winding and hacking movement. This is the same movement used by the well-received Orient Polaris GMT which gives the Star Seeker a head-start with its already proven track record.
One of the Orient Star Seeker GMT's defining features is its two crowns that are located on the 2 and 4 o'clock positions. These two crowns are not just for show as each has its distinct functionalities. The 2 o'clock is used to winding function, GMT hand, and date display. The 4 o'clock crown is used to adjust the 24-hour bezel. Added aesthetic features include a transparent back case that showcases the Star Seeker GMT's impeccable mechanical movement.
All in all, the Orient Star Seeker GMT is an excellent example of the brand's in-house movement prowess. While this one has a particularly sportier vibe, it is still a part of the Orient Star series and delivers an exceptionally classy flair.
Vostok Europe GAZ 14 Limousine NH25 Review
Read Amazon Reviews | See on eBay
The Vostok Europe Limousine is a highly stylish offering from the Russian-based watchmaker. Quite a surprising release from Vostok as the brand is primarily known for its military and dive watches. The Vostok GAZ 14 Limousine is a far cry from their regular watches as it exudes with a refined sense of style.
The Vostok Limousine certainly encapsulates its moniker. When you think about limousines, you think luxury. This Vostok timepiece exudes that quality with its sleek and modern charm. This watch features a 43mm diameter stainless steel case. The dial is pure black which complements the silver hands and markers.
Inside the smart and refined appearance is a high-precision automatic self-winding movement with analog display. This one also features two crowns located on the 2 and 4 o'clock position. The functionalities of these two are pretty much the same as the Orient Star Seeker GMT with the top one controlling the winding, and the bottom one rotates the bezel.
Winner: Orient Star Seeker GMT
This is a tough one to decide. Both the Orient Star Seeker and Vostok Europe GAZ 15 Limousine provide almost similar functionalities. Both also have an impeccable automatic movement that offers top-notch precision in timekeeping. The tiebreaker aspect went to its design. I always enjoyed the full stainless-steel watch approach. This is the main reason why a went with Orient on this one. However, I can also see the charm of the Vostok Europe GAZ 14. So, this one is a purely subjective decision.
Conclusion: Orient vs Vostok – Which is Better?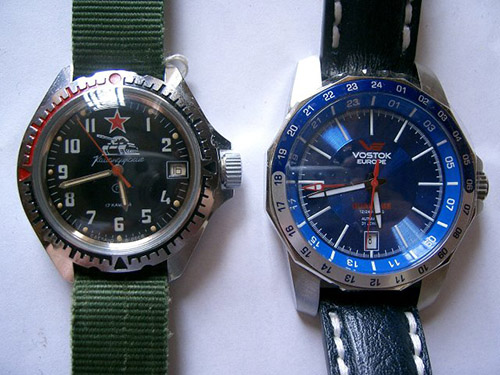 Vostok is considered to be a rather niche brand (read more about the brand here). Don't overlook its timepieces though, especially its military and dive watches. The Russian watchmaker delivers some of the most robust timepieces around. Their watches also have that vintage appeal which makes it a sought-after brand for those who enjoy going back to the classics.
Overall though, Orient delivers a far more substantial option of watches and versatility. Orient's dive watches are also a far better choice than Vostok's offering. Vostok does excel with their military-style watches and durability, but in terms of watch type options – Vostok can't compete with Orient's treasure trove of watches.