Swatch is a Swiss watchmaker that was introduced in the 1980s. The brand, which was founded by Swiss businessman Nicolas Hayek, shortly gained popularity due to its creative watch design and affordable price tags.
We've already written an article about Swatch that discussed the brand's history, its reputation, and some of its best collections. If you'd like to learn more about the brand's watches, read on. This article will talk about some of Swatch's best watches for both men and women.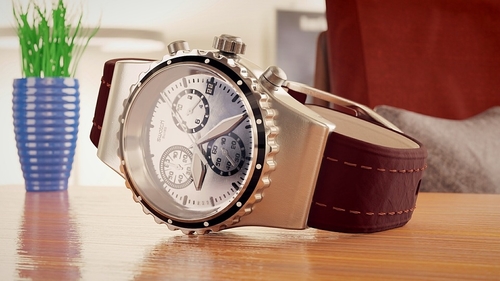 If this is your first time to buy a Swatch, this article can give you ideas on the brand's aesthetics, as well as a peek into its best collections. If you're simply looking for another Swatch model to buy, this article will update you on some of the best models available this year.
Best Swatch Watches for Men
Swatch Black Rebel SUOB702
Read Amazon Reviews | See on eBay
This is a dark and sleek 41mm watch that's excellent for those looking for something simple. The Black Rebel SUOB702, which is off the New Gent collection, has a black dial and silicone strap, a day/date function, and a large case. Swatch recommends this watch for casually elegant or formal occasions—a matt black timepiece with black hour and minute hands and slim black seconds hands.
Take note, however, that this model does not have illumination, so if you're looking for a watch that's easily readable you may want to consider another model, such as the one we're featuring below.
Swatch Elementary SUOB728
Read Amazon Reviews | See on eBay
If a clean and legible design is what you're after, the Swatch Elementary SUOB728 watch is an excellent model to consider. This 41mm watch with a plastic case and a silicone strap showcases primary colors on the dial: the hour hand is blue, the minute's hand is red, and the second's hand is yellow. There is also a small but legible day and a date window at 3 o'clock.
This watch is from the Bau Swatch collection, which is inspired by the Bauhaus movement. These watches have clean, minimalist designs that can easily go well with different outfits.
Swatch Blue Maximus YOS455G
Read Amazon Reviews | See on eBay
Swatch is known for its plastic watches, which are the first models that came out when the brand was first introduced in the 1980s. In the years that followed, however, the brand started to incorporate new materials.
The Blue Maximus YOS455G is off Swatch Irony, a collection of Swatch watches made of stainless steel. Relatively more expensive because of the material, this watch is packed with features that show that Swatch has succeeded in making steel watches: chronograph, date window at 6 o'clock, Superluminova printed hands and black tachymeter. The bracelet and case are made of durable stainless steel.
Another model that we recommend from the Irony collection is the This model is a handsome chronometer made from a brushed stainless steel case and bracelet—a robust 43mm watch that will look great in both formal and casual outfits.
Swatch Bricagris SUOM708
Read Amazon Reviews | See on eBay
Another bestseller from Swatch is the Bricagric SUOM708, a classic Swatch with a plastic case and silicone strap. This 41mm model has a sun-brushed dial and an attractive faux-knit strap structure. This is also off the Bau Swatch collection, another simple yet strong timepiece that can be worn daily. The water resistance is 30m, and there is a day/date window at 3 o'clock.
Swatch Sistem Boreal YIS401G
Read Amazon Reviews | See on eBay
The Swatch Sistem51 line was first introduced in 2013, and it has been one of the much-awaited models by the brand since. This line has had generally excellent reviews, with many experts praising the 51-part movement that is held together by a single screw.
One of the latest and well-reviewed models is the Sistem51 Irony collection, which is stainless steel versions (the former models have the classic Swatch plastic material), which makes the watches look more sophisticated. One of the models off this collection is the Sistem Boreal YIS401G, which has a maritime-compass design. This automatic watch is a 42mm watch (same as the other Irony models) and has a stainless steel strap and clasp material. This model has also many outstanding reviews on Amazon. You can read a review by A Blog to Watch highlights the improved Sistem51 models here.
Here is the Sistem51 technology in a nutshell: as mentioned, it has only a total of 51 components, and all of them are mounted to one central screw. It's a mechanical watch Most importantly, this is the world's first watch that is assembled by robots. You can read more about this watch and technology in this review by Hodinkee.
If you're not into the blue dial and want a lighter color, another Sistem51 watch that has a similar nautical-inspired design is the Swatch YIS402 Irony Soul, which has a delicate and stylish cream dial, an automatic movement, and a black leather strap.
Swatch Lisa Masquee SUOZ318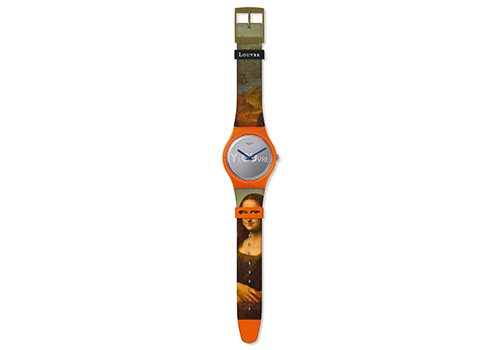 Let's start the best of men's watch list with a successful collaboration of Swatch and the Louvre. The brand is known for its collaborations in fields like art, architecture, and sports, and this is one of the pieces that has become a crowd favorite.
The Lisa Masquee SUOZ313 model's strap has one of the world's most iconic works of art: the Mona Lisa by Leonardo da Vinci. This 41mm watch has a silicone strap, a plastic case, and a gray dial with a play on the words "Louvre" and "You" in the center. This was only released in 2019, and an excellent gift to give to someone who likes art.
Best Swatch Watches for Women
Swatch Fleche D'Amour GZ414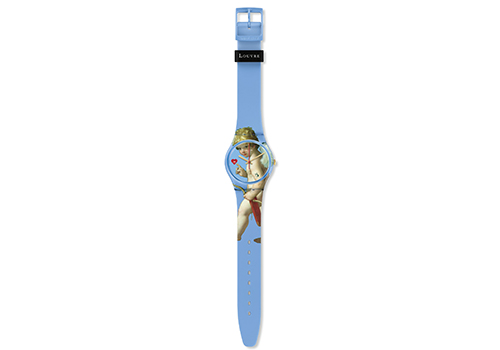 This one's another art-inspired bestseller. Fleche D'Amour GZ414 is also from the Louvre Special collection. This watch has an image of Guido Reni's "The Abduction of Helen." This 34mm watch showcases a part of the artwork (Cupid on the lower-left portion of the painting) and has a blue case and dial, and a light blue silicone strap. This one has the classic Swatch plastic case, as well as a 30m water resistance.
Swatch So Pink GP161
Read Amazon Reviews | See on eBay
The Swatch So Pink GP161 is a fun, casual plastic watch perfect for those looking for a shiny, feminine design. This 34mm watch has a bubbly pink silicone strap that has a metallic effect and legible Arabic numerals. The round case and sun-brushed pink dial give the watch that classy, feminine look.
Swatch Sobleau GS703
Read Amazon Reviews | See on eBay
This is a simple analog watch that you can wear daily, having a playful design that Swatch is known for.
If you want a pop of color in your outfit, this is a good Swatch to wear. This is the smaller version of the Bau Swatch watch we featured above. The Sobleau GS703 is a smaller version, a 34mm watch that has a silicone blue strap, plastic case, and a white dial. This one also has colorful hands (red, yellow, and blue), and has a day/date window at 3 o'clock. This technically belongs to the gent's Swatch watches, but we're including it here because the 34mm size is just right for all types of wrists.
Swatch Once Again GB743
Read Amazon Reviews | See on eBay
If you're not into colorful watches and just looking for a simple, black watch, this one's for you. The Once Again GB743 is a 34mm watch that has a black strap and case against a white dial. The hour and minute markers have a sleek combination of black and white, and there is also a day/date window at 3 o'clock. What's great about this model is it has a glowing function, which is perfect for those who will need to use the watch in dark settings.
This watch continues to receive many good reviews on sites like Amazon, with many customers expressing satisfaction on factors such as size, simplicity, and lightness.
Swatch Metal Knit SFM118M
Read Amazon Reviews | See on eBay
The Swatch Metal Knot SFM118M is for those looking for something a bit dressier. This model has an adjustable stainless steel Milanese or mesh bracelet, a grey dial, and a plastic case. Elegant and easy to match with different outfits, this watch is one of the brand's elegant and casual looks.
A similar model worth considering is the Skinelegance SYXG101GG model, which is a bit more expensive. As the name suggests, this model is an elegant and sleek watch that can be worn on special occasions. Slightly bigger at 38mm, this one has a gold-colored, sun-brushed dial, a PVD case, and a stainless steel adjustable bracelet. This is for those who love pink/gold shades—the watch these shades on the case and dial.
Swatch Jardin Fleuri SFE102
Read Amazon Reviews | See on eBay
If you love floral designs, there's the Swatch Jardin Fleuri watch. This 34mm. This one has a silver-color sun-brushed dial and pink hands. What's unique about this model is the transparent silicone strap with a striking floral design (the buckle is transparent too).
Swatch has a number of floral designs–you can check them out here. Another similar design with a transparent strap is the Climber Flowery model, which has an adjustable stainless steel strap, a plastic case material, and a sun-brushed dial. The layout is interesting as well—there are Arabic numerals, from 12 to 7, and there are floral designs from 8 to 11.
Swatch History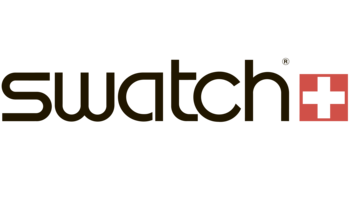 One could say that Swatch was born out of a crisis. During the 1970s, the quartz crisis took place. The brand was launched as an effort to revive the good reputation and sales of Swiss watches; a response to their Japanese competitors producing affordable watches with new technologies.
Hayek eventually helped the country, as well as the country's watchmaking industry, by using new developments and technologies on watches and working with young and bright minds.
Today, Swatch is one of the biggest Swiss watchmakers in the world. The Swatch Group Ltd. produces materials needed for the manufacturing of watches of 18 brands, which include luxury names like Longines, Omega, and Tissot. The company, which is still run by members of Hayek's family, continues to innovate and create, continually expanding knowledge and expertise in watch manufacturing.
If you've explored Swatch watches before, you would know that the brand has a wide range of collections and has hundreds of models to choose from. For this list, we're picking the brand's current best sellers as well as some of the most well-reviewed models. In between, we'll introduce some of the most unique and fashionable timepieces that we think stand out from the rest.
You would notice that most of these watches are made of plastic, the material that quickly made the company a household name in the '80s. This means that the watches are relatively affordable and durable. They're flexible, too—these are the type of watches that you can wear to work daily, and also use on dressy occasions.
Swatch has a good and trusted reputation. The link we provided above also discusses the company's reputation, as well as details on where the watches are made. A discussion like this one will also give you an idea of how some watch enthusiasts and aficionados see the brand.
Customize a Swatch: Swatch x You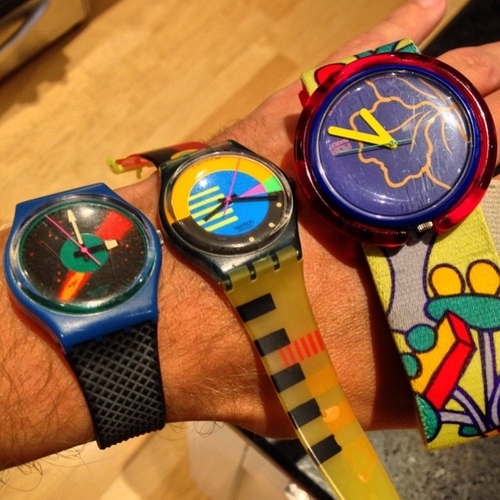 Aside from having creative designs and different art collaborations, one of the great things about Swatch is it allows customers to get creative themselves.
If you did not find anything you like from this list, you can check out the brand's website and customize a Swatch you can call your own—a watch that the customer designed.
For example, under the Customization tab on the Swatch website, you can pick from a number of design bases for your watch (the themes include the Louvre, artist Jared K. Nickerson, surfer Courtney Conlogue, and ready to wear designs). The process involves picking your favorite design for the dial and strap and choosing from a silver or gold mechanism. You also have the option to include your name/text.
There is still so much to explore with Swatch watches. If you would like to explore the brand further, you can visit their website to take a closer look at hundreds of other models. Also, make sure to return to our site to explore more articles about the brand and other similar watch companies. Thanks for reading!