As one of the three primary colors, blue is fundamental to the color spectrum, and for that reason, it has taken on many meanings across cultures. It is the color of both the sky and the sea, which is why blue is often associated with life, healing, and nature, as well as religious ideas of gods and spirits. Indeed, like many concepts of the divine, the color blue is all around us.
In psychology, blue is often considered to have a soothing effect. In fact, research has found that blue lighting can help people relax after they have been in a fight or if they're feeling stressed. It has been proposed that using blue light in public spaces – like busy train stations – could help keep people calm in situations where anxiety is common.
In fashion, the color blue was historically a sign of wealth and status. These days, the color is more commonplace but just as meaningful. After all, who doesn't have a favorite pair of blue jeans? No wardrobe is complete without at least a couple of pieces in different shades of blue.
That includes blue watches for men. Whether it's something simple and sleek or a timepiece with a bit more pizzazz, a splash of blue is an excellent way to ensure your watch stands out. Here are some of our personal picks for blue dial watches that any man would look good wearing.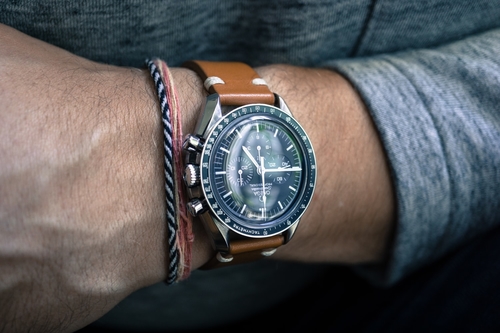 Blue Dial Watches For Men – Our Favorites
Q Timex Reissue Falcon Eye Blue Dial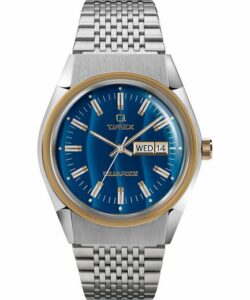 The Q Timex Falcon Eye is a striking timepiece for the chic gentleman. The stunning electric-blue dial further accentuates its two-tone gold and silver-tone design. The ocean wave design of the blue dial is a marvelous choice that radiates a soothing overall aesthetic to the already elegant charm of the Q Timex Falcon Eye.
The dial features handsomely accented markers and hands. It also has a date and day display that is prominently placed over on the 3 o'clock position. Additionally, the markers and hands utilize a radiant finish for enhanced visibility in low-light environments.
This Timex timepiece oozes personality with refined charm. The watch itself is not too bulky with its 38 mm stainless steel diameter case and comes with a decent 50-meter water resistance rating.
Citizen Men's BN2038-01L Aqualand Watch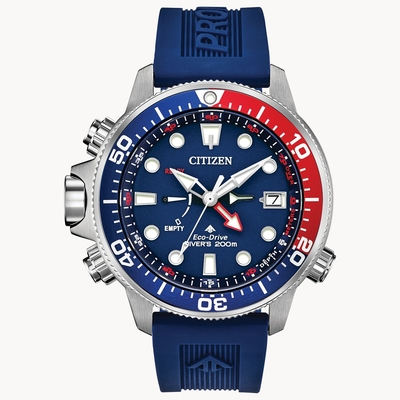 Let us head on over to another excellent sport blue dial watch from Citizen with their Aqualand timepiece. This is a dive watch through and through as it comes with a handful of attractive features specific to swimming and diving.
The features included with the Citizen Aqualand consist of an auto-start dive mode, rapid ascent alarm, and night light. The Aqualand utilizes Japanese-quartz movement with its analog display and features a blue polyurethane strap with the standard buckle closure.
The Aqualand also comes with a date display and a depth-in-ring meter tracker. The red and blue-accented bezel gives it a classic look that landed it on the top of our list of best pepsi bezel watches.
Of course, for you to fully appreciate these features, the Aqualand needs to deliver substantial water resistance. Well, the Aqualand does so with its 200-meter water resistance rating.
Skagen Signatur Black-Steel Mesh Watch
Read Amazon Reviews | See on Skagen.com
The Skagen Signatur watch features a modern minimalist design. The beautiful midnight blue sandblasted dial adds an enigmatic charm to the timepiece which is enhanced by its black stainless-steel case and handsome mesh bracelet design.
The black stainless-steel case measures in at a solid 45 mm diameter. Its slim 8 mm thickness adequately offsets the larger size of the case. The dial features a contemporary design with a combination of dots and linear markers and also uses a three-hand movement display.
The Skagen Signatur forgoes the usual bells and whistles with its timepiece design, but it still manages to be quite an eye-catching watch. Also, the mesh bracelet is interchangeable with Skagen's broad catalog of bracelets. This enhances Sigantur's overall aesthetic offerings to its customers.
Nordgreen Pioneer Navy Dial

The Nordgreen Pioneer is the epitome of a modern timepiece. Simple, sleek, comfortable, and incorporates a contemporary aesthetic; it is merely a magnificent timepiece that doesn't require excessive amounts of design trimmings.
The Nordgreen Pioneer watch designed by Jakob Wagner uses a polished 42 mm stainless steel watch. The beautiful blue dial utilizes linear silver-toned hour markers and a two-hands display. You might not notice it at first, but the dial also features minute markers that are subtly engrained into the dial.
The Nordgreen Native also comes in four different case variations: polished silver, rose gold, gunmetal, and gold. You can also pick from other dial color variants such as black and white.
See on Nordgreen.com
Seiko Men's Blue Dial Automatic Watch
Read Amazon Reviews | See on eBay
Next up we have a staple in 'best of' watches list, Seiko. This particular Seiko timepiece features an elegant stainless-steel case with a beautiful blue sunray dial to complete its professional aesthetic charm. The dial features bold Arabic numeral hour markers and incorporates an inner rim minute marker.
The case comes in with a measurement of 43.5 mm in diameter. It also uses brown leather bands which provide flexibility, comfort, and durability. Inside this impressive-looking timepiece lies an automatic self-winding movement for its analog display. You will also find a date display over on the 3 o'clock position.
Citizen Eco-Drive Movement Blue Dial Men's Watch
Read Amazon Reviews | See on Citizenwatch.com
The Citizen Eco-Drive watch series is always known for its robust design and reliable functionalities. The Citizen Eco-Drive Movement continues the manufacturer's excellent track record. This timepiece uses Citizen's Eco-Drive technology which allows the watch to recharge its batteries using both natural sunlight and artificial light.
The well-made stainless-steel case measures 42 mm in diameter. The dial itself is brimming with personality with its accented dial design that features numerous indentions. A hardened mineral crystal glass window protects the dial. The watch also comes with an additional two sub-dial features that provide a day display and a minute tracker.
Seiko Prospex SSC701 Special Edition Blue Dive Watch
Read Amazon Reviews | See on eBay
The Seiko Prospex Special Edition Blue Dive watch certainly takes its moniker seriously. This all-blue timepiece not only incorporates a stunning blue dial into its design, but it also uses sturdy deep blue silicone straps with a buckle clasp to complete its aquatic aesthetic.
This timepiece uses the Solar Japanese-quartz caliber V157 movement that comes with an impressive 10-month power reserve with a full charge battery. The stainless-steel case measures in at a hefty 43.5 mm diameter and uses Hardlex mineral crystal glass window. The watch also comes with a rotating elapsed timing bezel.
As for the dial, it features hands and markers that use LumBrite coating for improved visibility, even in low-light environments. Also, since this is a dive watch, the Seiko Prospex clocks in an impressive 200-meter water resistance which makes it suitable for most water activities except for deep-sea scuba diving.
Bulova Men's 43mm Marine Star Stainless Steel Watch
Read Amazon Reviews | See on eBay
Bulova enters the fray with its Marine Star watch, and it certainly knows how to make an entrance. With its striking design as well as the tried and tested polished silver case and glossy blue dial combination, the Marine Star starts things off on the right foot.
This stunningly crafted timepiece comes with a polished stainless-steel case that measures 43 mm in diameter. The case comes with an inner bezel that rotates via the crown in the 10 o'clock position. As for the window, the Marine Star utilizes a durable and scratch-resistant mineral crystal glass.
Within is a quartz movement that provides the timepiece with excellent precision. The structure of the Marine Star watches also gives it a decent water resistance of up to 100-meters.
Seiko Men's Silver-Tone Stainless Steel Solar Watch
Read Amazon Reviews | See on eBay
The Seiko Silver-Tone Solar Watch takes a more conservative approach with its pure silver and blue dial design. The watch certainly exudes confidence and will surely attract professionals with its executive appeal.
The Seiko Solar watch, as the name indicates, is a solar-powered watch. This timepiece even provides a full year of battery reserve with a single fully charged battery. That's quite a feat and ensures you won't be stuck with a drained battery in the foreseeable future.
The Seiko Silver-Toned Solar Watch also features Japanese-quartz movement with an analog display. It also has a date display that is neatly presented over on the 3 o'clock position. This timepiece comes with impressive 100-meter water resistance as well.
Tissot PRS 516 Automatic Blue Dial Men's Watch
Read Amazon Reviews | See on eBay
The Tissot PRS 516 Automatic watch is a sleek, rugged, and contemporary timepiece for the modern gentleman. It's 42 mm diameter stainless steel case with black ceramic bezel indeed imposes an overbearing presence. The brown leather strap completes this appeal as well and gives it that added manly charm.
The Tissot PRS 516 incorporates a Caliber 80.121 automatic movement with an analog display. The movement also has an outstanding 80-hour power reserve with a fully charged battery. The dial is encased within a durable and scratch-resistant sapphire crystal glass.
Flip it around, and you will discover that it uses a transparent back case that lets you get a good view of how the Cal 80.121 automatic movement works. Other features of note are the day and date display at the 3 o'clock position, luminescent hands and markers, and a water resistance rating of 100-meters.
Hamilton Jazzmaster Automatic Open-Heart Blue Dial Watch
Read Amazon Reviews | See on eBay
If you are not generally a fan of the 'open-heart' dial design, the Hamilton Jazzmaster might be the one to change your mind. This silver-tone timepiece features a blue dial that incorporates the open-heart design without leaving the dial into a, for some, cluttered mess.
Yes, while the open-heart design watches are visually stunning, it can be quite overwhelming at times seeing all the tiny movements which can easily distract you from actually checking the time.
The Hamilton Jazzmaster features an H-10 automatic movement with analog display, and can also clock a fantastic 80-hour power reserve on a single full charge.
Its primary feature is most certainly the open-heart Skeleton watch design and it takes that style with some welcome tweaks. With the Jazzmaster, the open-heart window does not take up a significant part of the dial while still allowing the wearer to get a good view of the watch's inner workings. This is a dress watch that will surely entrance anyone who gets a glimpse of it.
Tag Heuer Aquaracer Blue Dial Men's Watch
Read Amazon Reviews | See on eBay
The Tag Heuer Aquaracer does away with the standard round case and instead uses a dodecagon shaped stainless steel case. The case itself is not as cumbersome as you would initially think as it only measures in at 41 mm in diameter.
Now, for the features. The Aquaracer comes with a unidirectional bezel. The dial also uses luminous silver-tone markers and hands. Take note that the minute marker is located on the outer rim of the timepiece — the features white hands and markers with a silver accent for that added level of elegance.
The Aquaracer also has a date display which can be found at the 3 o'clock position. With its aquatic-based name as a hint, the Aquaracer offers an impressive level of water resistance at 300-meters.
Longines Master 40mm Automatic Stainless-Steel Watch
Read Amazon Reviews | See on eBay
Longines always deliver that sophisticated and sense of discipline with all its watches. The 40mm Automatic Watch captures that signature look of Longines in nigh-perfect form. The Longines Master incorporates a polished silver-tone stainless-steel case and bracelet.
The stunning blue dial is accentuated by the prominent silver-tone hands and index hour markers. As for the minute markers, it is visible over on the outer rim.
This timepiece uses the patented Longines caliber 619/888 automatic movement. This watch movement provides the Longines Master with a veritable 42-hour power reserve. This is an exquisite luxury style watch for formal occasions or if you want to dress to impress.
Breitling Superocean Heritage II Watch
Read Amazon Reviews | See on eBay
Another impressive luxury watch entry into this list comes from Breitling. The Breitling Superocean Heritage II is a beautifully crafted timepiece designed to turn heads. However, this watch is not all sizzle as the quality of construction fills the plate with a hearty steak.
The Superocean Heritage II features a highly polished stainless-steel case that measures around 44 mm. The bracelet also uses polished stainless-steel to deliver its full sheen. Within the case lies the Breitling Caliber B20 self-winding automatic movement with analog display.
This stunning timepiece is a dive watch as well and comes with substantial 200-meter water resistance. The blue dial perfectly complements its ocean-themed aesthetics while the silver-toned hands and markers provide a good contrast from the bluish hue of the background.
Omega Seamaster Diver Chronograph Blue Dial Steel Men's Watch
Read Amazon Reviews | See on eBay
Omega never disappoints whenever a watch of theirs cracks our list. The Omega Seamaster merely is epic in all aspects. From its durable design that exudes confidence and an almost intimidating presence to its impeccable precision and functionality. The Omega Seamaster is the bar when it comes to premium dive watches in the market.
The Omega Seamaster may be built like a tank, but it provides a surpassingly sleek and compact fit. It is not cumbersome at all. One of its main draws is its chronograph three sub-dial functionalities. The sub-dials help track hours (12), minutes (30), and seconds (60) with extremely high accuracy.
The Omega Seamaster uses automatic movement with its analog display. The watch also uses sapphire crystal window glass which is not only durable but also highly resistant to scratches. Of course, since this is a dive watch, it should be able to provide excellent water resistance. Well, how does a 300-meter water resistance rating sound?
Rolex Oyster Perpetual Blue Stainless-Steel Automatic Watch
Read Amazon Reviews | See on eBay
The Rolex Oyster Perpetual Blue Watch is a traditional style timepiece that presents the premium quality craftsmanship that you would expect from a brand like Rolex. The beautiful blue dial is contained within a stainless-steel case and bracelet.
You will also notice luminous green dots alongside the silver-toned index hour markers which help provide improved legibility under low-light environments. The primary hour index markers use glowing silver-tone lines while the minute markers can be found on the outer rim.
Inside the 39 mm diameter stainless steel case is a Rolex Caliber 3132 automatic movement with analog display. The automatic movement can also provide up to 48-hours of power reserve with one full charge. The structure of this timepiece is top-notch with the inclusion of scratch-resistant sapphire crystal window glass and water resistance of up to 100-meters. See 100% Authentic Pre-Owned Blue Dial Rolex Oyster Perpetual watches HERE
Hublot Classic Fusion Automatic Titanium Chronograph Blue Sunburst Dial Watch
Read Amazon Reviews | See on eBay
This is without a doubt one of the most visually striking blue dial timepieces in this list.
The Hublot Classic Fusion watch blends extremely robust titanium for its case and superbly flexible rubber and alligator for its strap. The result is a timepiece that is not only aesthetically pleasing but practical and functional as well.
In terms of design, the polished 45 mm titanium case excels thanks to its satin finish. The blue sunray dial also uses this satin-finish to give it that added level of refinement.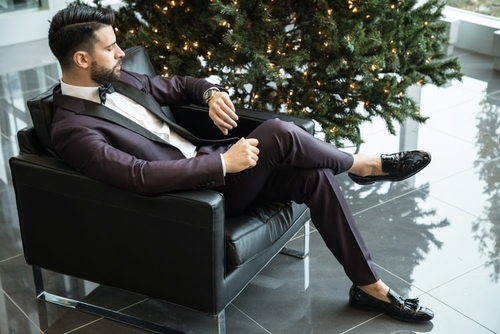 Photo by Shamim Nakhaei
Other features of note include the two sub-dial chronograph features and its automatic movement with an analog display with a 42-hour power reserve.
The Hublot Classic also features a scratch-resistant sapphire glass crystal window and a decent water resistance of up to 50-meters.
Featured Image by John Torcasio