For most women, fashion is an integral aspect when it comes to expressing themselves. Watches can fully complete one's overall attire. This is why designer brand timepieces are sought after in the market. These watches exude an air of confidence and sophistication that pushes them into a league of their own.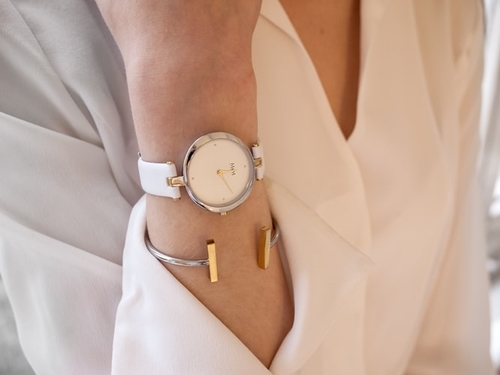 Photo by Jutta Wilms
Such timepieces will be quite expensive. However, there are
well-known fashion watch brands
out there that provide budget-friendly timepieces that can rival premium models on an aesthetic level. On that note, these are the top 17 women's watches that deliver the sizzle which won't burn a hole in your pocket.
Affordable Women's Watches That Look Spendy
Anne Klein Women's Genuine Diamond Dial Bracelet Watch
Read Amazon Reviews | See on eBay
The Anne Klein Genuine Diamond Watch exemplifies the traditional ladies' watch charm. It is sleek and petite with its 32 mm diameter stainless steel case. It incorporates a visually stimulating polished rose gold-tone with both its case and bracelet, and it provides a level of elegance that accentuates the wearer's feminine traits.
The icing on the cake is the genuine diamond that is placed as the 12 o'clock marker in the pristine dial. It also utilizes a Japanese quartz movement for its analog display, ensuring excellent precision in regard to timekeeping.
Fossil Women's Riley Stainless Steel Multifunction Glitz Quartz Watch
Read Amazon Reviews | See on Fossil.com
For ladies looking for a budget-friendly yet elegant designer-type timepiece with enhanced functionality to boot, you might want to check out what Fossil offers with this particular watch of theirs.
First off, the overall design of the Glitz Quartz Watch is without question. As is expected from a brand such as Fossil. The gold-tone 38 mm stainless steel case makes for a perfect watch for a modern, sophisticated woman.
The inclusion of crystal embedded bezel and a champagne satin dial further pushes the envelope in style. This Fossil watch certainly earns its moniker of "Glitz", no doubt about that. It also sports additional functionality with its three sub-dials that track hours, minutes, and seconds.
Also, the Glitz Quartz Watch features a stopwatch functionality and 100-meter water resistance.
Timex Women's Dress Analog Bracelet Watch
Read Amazon Reviews | See on Timex.com
This gorgeously crafted bracelet watch from Timex delivers that stunning charm with its crystal-like case and faceted mineral crystal glass window. The all-silver tone of this watch helps enhance its diamond aesthetic as well.
The bracelet features a sleek and smooth infinity design which helps balances out the jagged appearance of the 26 mm case. This simple and elegant timepiece is a perfect companion during gala events.
Citizen Women's Stainless-Steel Black Dial Watch
Read Amazon Reviews | See on Citizen.com
For those looking for a classic rectangular watch, Citizen watches have a whole catalog for you to choose from. One of their finest quality watches that come at an affordable price range is the Citizen Women's Stainless-Steel Black Dial Watch.
Simple, traditional, and elegant best describes this timepiece. It does not feature a whole lot of eye-catching aesthetics as it already achieves that goal with just its modest appeal. It comes with a sleek and petite 18 mm rectangular case. Except for the black dial, the entirety of the watch utilizes polished silver design.
It also comes with a Japanese quartz movement with an analog display with the dial protected by a sturdy mineral crystal window.
Skagen Women's Anita Stainless Steel Mesh Casual Watch
Read Amazon Reviews | See on Skagen.com
Skagen Anita features a contemporary, sleek, and minimalistic approach with its design and hits all the right marks along the way. With a 30 mm diameter stainless steel case containing a beautifully polished blue sunburst dial and three silver-toned hands, the Anita flourishes with a simple design.
The use of a stainless-steel mesh band further enhances its modern charm and appeal. Inside this sleek timepiece is the always reliable quartz movement to provide its analog display with excellent levels of precision.
Invicta Women's 15252 Pro Diver Gold-Plated Watch
Read Amazon Reviews | See on Invicta.com
For a diving watch, the Invicta 15252 Pro Diver indeed went above and beyond with its design. It features 18K yellow gold ion-plated finish on its 38 mm stainless steel case. It goes a step beyond with its luxurious aesthetics by adding 30 white crystal around the bezel with an additional 20 smaller ones within the Roman numeral 12 and 6 markers.
It truly goes all-in with its luxury design with the gold finish and crystals, but it also incorporates excellent functionality and construction as well.
Within its glitzy exterior is the Invicta Caliber PC32A movement which provides superb precision in telling time. As this is a diving watch, the Invicta 1525 Pro Diver delivers a superb 200 meters water resistance making it suitable for most water-based activities except scuba diving.
Michael Kors Women's Runway Quartz Watch
Read Amazon Reviews | See on MichaelKors.com
The Michael Kors Runway watch is a petite lady's timepiece that carries itself with absolute grace in terms of its design. With a demure 22 mm gold-toned stainless-steel case and bracelet, this MK watch knows precisely who it is catering to.
Its traditional design is accentuated with a tinge of sophistication and intricacy. Within is a quartz movement that ensures the analog display is always on time. The MK Runway watch delivers a level of first-class aesthetics at a pleasant budget range price tag.
Armani Exchange Women's AX5216 Gold Watch
Read Amazon Reviews | See on eBay
If you are familiar with the designer brand, Armani Exchange, then you will already have an inkling of what to expect with their products. The AX5216 Gold Watch went full-steam ahead with its stunningly beautiful aesthetics.
This watch was designed to turn heads, and it achieves that with its intricately designed and crystal-studded 36 mm stainless steel case. The gold-tone of the case and bracelet is further visually enhanced with crystals on the bezel and within the dial itself. The dial features an elaborate "chain link fence" design that is connected via crystals.
Not only does it provide superb and unique aesthetics, but it also incorporates analog quartz movement to guarantee precise timekeeping. Armani Exchange AX5216 is an outstanding example of how much creativity can bolster a watch's charm without needing to pump up the price tag.
Kenneth Cole New York Women's Auto Quartz Dress Watch
Read Amazon Reviews | See on eBay
For watch enthusiasts who want something that delivers an out of the ordinary timepiece, an "open-heart" timepiece might say something more up your alley.
The most prominent feature and the selling point of the Kenneth Cole New York are with its "open-heart" or skeletal dial design. You will get an excellent glimpse into the inner working of this watch.
This window inside is linked up with the complex machinations of a quartz movement. It is quite mesmerizing to watch as each gear within moves steadfastly and purposefully.
This unique and striking design is also further emphasized by its rose gold-toned 36 mm stainless steel case and the beautiful white leather strap.
Akribos XXIV Women's Multifunction Crystal Watch
Read Amazon Reviews | See on eBay
Akribos XXIV once again delivers a watch worthy of royalty at a highly affordable price range. This particular model comes in a variety of versions: gold, silver, rose-gold, two-toned (silver and gold), and two-toned (black dial).
This Akribos XXIV timepiece incorporates a traditional design and construction but enhances its overall flair with dozens of Swarovski crystals embedded around the bezel as well as the dial. The dial itself is the biggest highlight of this budget-friendly wristwatch thanks to the guilloche center dial.
The dial comes with an engraved circular marking that gives it an exclusive charm. As for its functionality, it uses Swiss quartz movement with analog display and features two additional sub-dials (day and date).
Fossil Women's Jesse Stainless Steel Glitz Dress Watch
Read Amazon Reviews | See on Fossil.com
This is another entry from Fossil, specifically from their Glitz watch series. Compared to the previous Fossil Glitz watch entry, the Jesse Glitz is a more conservative and traditional ladies' timepiece. You will notice that this timepiece is far more compact with its 34 mm stainless steel case.
The Jesse still follows the signature design of Fossil Glitz watches with its affinity to using crystal embeddings as flourishes to its design.
One of the Jesse Glitz primary features is with its "Adjust-O-Matic" bracelet design. This allows for a more convenient process when adjusting the band to fit your wrist size without the need of introducing a tool for the job.
The Fossil Jesse Glitz delivers a more straightforward approach but still infuses enough "razzle-dazzle" to give it that eye-catching ladies' watch charm.
Caravelle New York Women's Quartz Watch 44L180
Read Amazon Reviews | See on eBay
This Caravelle women's timepiece stands apart with its rose-gold tone and beautifully hand-set crystals along with the bezel and its 36 mm stainless steel case. In addition to its attractive aesthetics, this ladies' watch also comes with excellent functionality thanks to its chronograph features.
Its main attraction though is with its 88 individually hand-set crystals that surround the dial along with the bezel. It also has crystals embedded in the case clasp. This Caravelle women's watch is not only a looker, but it also comes with extra functionalities thanks to the chronograph feature.
The three sub-dials track hours, minutes, and seconds. It is also made to provide the watch with 30 meters of water resistance, giving it the ability to withstand the occasional splash of water without any issues.
Anne Klein Swarovski Crystal Accented Gold-Tone and Black Bangle Watch
Read Amazon Reviews | See on eBay
Elegant, sexy, and confident are the three words the pops to mind when seeing this Anne Klein timepiece. The two-tone combination of polished gold and silky black gives this particular watch an edge in regards to its aesthetic elegance.
The lugs on the top and bottom of this timepiece incorporate 14 Swarovski crystal while the black dial utilizes similar crystals as its marker. The gold and the black bangle is its most defining trait, using an X-shape design that further highlights that femme fatale charm.
The stainless-steel case measures in at 26 mm and uses Japanese quartz movement to provide that reliable precision in timekeeping. If you're specifically looking for a bangle watch-click here for other recommendations.
Fossil Women's Riley Stainless Steel Multifunction Glitz Quartz Watch
Read Amazon Reviews | See on Fossil.com
The Fossil Glitz watch line once again cracks our list, this time it is the Riley model that is on the catwalk. This particular Fossil timepiece also comes in several variations: gold, silver, rose gold, rose gold blue, and black.
It integrates the multifunctionality of a chronograph into its structure which gives this timepiece a definite edge. This is because it not only looks visually striking; it is also quite reliable as well in being more than just a timekeeping accessory.
Design-wise, it meets all the checklist requirements for a stunning ladies' watch. The main connecting thread is with its beautifully and elegantly layered crystal that surrounds the bezel and are also used as markers for the dial.
The dial sports three sub-dials that track hours, minutes, and seconds as well as a 24-hour timer. Another noteworthy feature is its 100-meter water resistance which makes it suitable for taking a quick bath or a dip in the swimming pool.
Anne Klein Women's Diamond-Accented Ceramic Watch Bracelet
Read Amazon Reviews | See on eBay
If you prefer something luxurious yet takes on a modern minimalistic aesthetic, this Anne Klein watch might satiate your sense of style. This is also surprisingly affordable for a watch that has this level of premium design and appeal.
This is even more impressive when you include the black ceramic center links into the picture. The black and gold design always exude a level of luxury with whatever it is partnered up with. The Anne Klein takes that a step further with its inclusion of a ceramic dial.
The 30 mm in diameter case features a traditional analog display with Japanese quartz movement. Also, of note is that this particular Anne Klein timepiece comes in different versions: black and gold, white, gunmetal taupe, and gunmetal white.
Fossil Women's Virginia Three-Hand Pink-Tone Stainless Steel Watch
Read Amazon Reviews | See on Fossil.com
Fossil Virginia is another lady's timepiece that takes advantage of the visual feast of adding crystals into the overall design of a watch. Fossil does so in fantastic fashion, time and time again.
This particular watch model features a polished pink-tone finish for both the case and bracelet. The stainless-steel case measures around 30 mm in diameter and uses a mineral crystal glass window. Within is a quartz movement that operates the three-hand analog display.
This feminine timepiece also comes with a 50 meters water resistance.
Michael Kors Women's Portia Watch
Read Amazon Reviews | See on MichaelKors.com
Expect Michael Kors to deliver another distinctive design designer timepiece at an affordable price tag. The most prominent feature here is the crystal-studded inner dial. This is an all-gold tone watch that perfectly delivers that exceptionally premium appeal at a highly budget-friendly cost.
This timepiece uses analog quartz movement within its sleek 37 mm diameter case. This is a traditional watch except for the eye-catching dial. Also, it provides 50 meters of water resistance.
Conclusion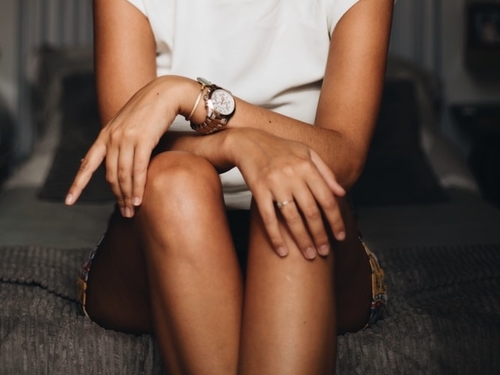 Photo by Concha Rodrigo
As you can see, there are plenty of
world-renowned watch brands
that provide their customers with a broad selection of excellent timepieces. Not only attractive but also comes with a surprisingly budget-friendly price tag. You can also rest easy knowing that these watches still deliver that signature level of quality that makes it reliable and precise while also having a pleasing aesthetic.
Featured image by PxHere