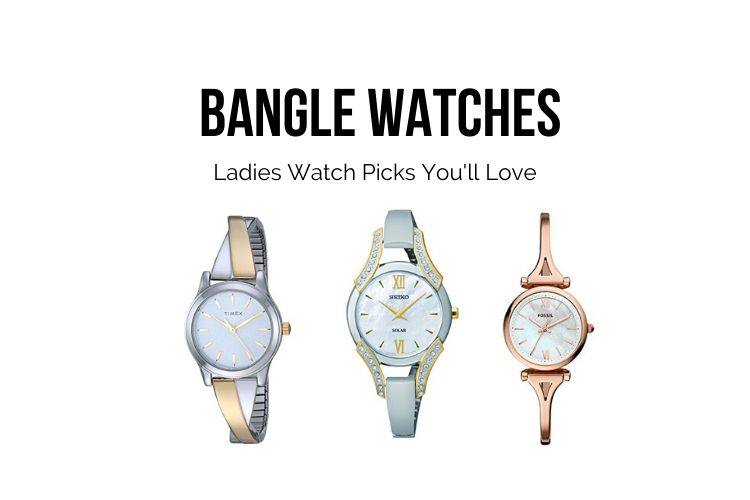 Bangle watches blends together the style of a fashion bracelet with the functionality of a timepiece. Now, before you say that the description is a wristwatch, yes, it is. However, a bangle watch incorporates a different approach with how it is worn. Instead of the typical bracelet or band with clasp closure or buckle design, bangle watches use, well, bangles.
Bangles are solid rings that wearers will pass their hands through to wear. Most bangle watches utilize a coil construction which the wearer can unclasp to expand the size of the ring temporarily. Bangle watches are also not restricted to being ring-shaped, which gives it an added layer of versatility in terms of its design.
If you are interested in this type of watch, then you are in for quite a treat. We have compiled a list of the best ladies' bangle watches in the market today. We included budget-friendly picks to premium ones in this article to provide you with the broadest selection to choose from. Now, let's begin our countdown.
Timex Women's Stretch Bangle Crisscross Two-Tone Expansion Band Watch
Read Amazon Reviews | See on Timex.com
The Timex Crisscross Bangle watch features the always aesthetically pleasing two-tone gold and silver design. The single bangle features gold accents with the small stainless steel 25 mm case utilizing gold toned markers and hands.
Upon closer inspection, you will notice that the dial uses a subtle sun-ray finish design. The dial is enclosed within a mineral crystal window which provides adequate protection, but not in the level of sapphire glass material.
The bangle has a maximum 7.5-inch ring circumference which is wide enough to be fit all wrist sizes. Within this bangle watch is a quartz movement which assures wearers of accurate timekeeping. Also, the Timex Crisscross is constructed to have a water resistance of up to 30 m. Overall, the Crisscross is undoubtedly one of the more stylish watch bangles out there, and it comes at quite an affordable price tag as well. When it comes to quality, Timex is known as a reliable watch brand.
Seiko Women's SUP214 Stainless Steel Bangle Watch
Read Amazon Reviews | See on eBay
Exuding an air of femininity, the Seiko SUP214 may appear fragile, but it comes with Seiko's signature quality and sturdy craftsmanship. This bangle watch also uses a mother of pearl dial for that added elegance. The stainless-steel case is slightly larger at 30 mm in diameter compared to other bangle watches. The case features gold-accented ridges with embedded crystals to add to that elegant flair.
The SUP214 utilizes Japanese quartz movement with analog display. The mother of pearl dial is also protected using a durable Hardlex material window. This bangle timepiece also has a decent 30 m water resistance, just enough for it to withstand splashes of water from the rain. The bangle uses a push-button closure, and the case is 30MM. For smaller wrists, you could have links removed on the adjustable strap to get the perfect fit.
Citizen Eco-Drive Silhouette Bangle Watch
Read Amazon Reviews | See on Citizen.com
The "infinity" design on the bangle gives the Silhouette added visual pizzazz. This is undoubtedly one of the smallest timepieces available with a case diameter of only 18 mm. Fortunately, the dial is still quite readable.
Within its petite frame is the highly accurate Japanese quartz movement with analog display. It also packs Citizen's patented Eco-Drive solar technology. This means that the Citizen Silhouette can be charged using natural or even artificial light.
Citizen Silhouette Bangle is delivered in such a delicate looking case that you will be forgiven to think that it is a fragile timepiece. Well, that perception can't be farther from the truth. As this bangle watch is made by Citizen, you can expect it to deliver excellent quality in durability, functionality, and design.
Fossil Women's Mini Carlie Stainless Steel Dress Quartz Watch
Read Amazon Reviews | See on Fossil.com
When you see a Fossil timepiece, you can expect it to deliver a trendy design. This goes with the Fossil Mini Carlie as well. This elegant and dainty bangle watch will go well with your gown attire. It's 28 mm stainless steel case and 12mm band size will be able to provide everyone with a comfortable fit.
The bangle features clasp closure making it incredibly easy to wear and remove. The timepiece uses quartz movement with analog display and features a mother of pearl dial with gold-coated markers and hands.
Fossil is more of a fashion brand, but they do incorporate excellent watchmaking craftsmanship into their timepieces. It uses mineral crystal windows that provide decent protection. It also comes with a 50 m water resistance rating which allows it to withstand splashes.
Bulova Women's 96L138 Stainless Steel Bangle Watch
Read Amazon Reviews | See on eBay
The simplicity and minimalist approach to the Bulova 96L138's design is most certainly its strong suit. The silver and black motif plus the linear aesthetic will most likely appeal to modern watch enthusiasts. Bulova did not stop there though, as the watch packs some excellent top of the line features inside its hood.
Within its rectangular stainless steel 18.2 mm diameter case lies a Japanese quartz movement with analog display. The silver markers accentuate the pure black dial and sword-shaped hands, giving it added character in terms of appearance.
The bangle features links with clasp closure allowing for better adjustment with its size. The impressively slender timepiece also has a 30 m water resistance, while it is not ideal for swimming it will withstand any accidental splashes from time to time.
With its contemporary and executive aesthetics, it will go nicely in both business and formal attires. If you like the look of this watch, be sure to check out other beautiful rectangular ladies' watches here.
Anne Klein Women' Bangle Watch and Swarovski Crystal Set
Read Amazon Reviews | See on eBay
If you are looking for a fashion-centric bangle watch, you'll want to check out this Anne Klein set. It comes with a Japanese quartz movement timepiece and Swarovski embedded bracelets. The bangle watch comes with a rose gold-toned look which gives it a touch of sophistication and grace.
This bangle watch strikes all the relevant notes when it comes to delivering a quality dress watch. It features a curved mineral crystal window that protects the mother of pearl dial. The markers and hands use a gold-toned finish that further emphasizes its glamorous roots. The Anne Klein also features 36 Swarovski crystals embedded onto its bangle that further enhances its luxurious appearance. In terms of style, the Anne Klein Bangle Watch set brought their A-game to the table.
Movado Women's Bela Stainless Steel Bangle Watch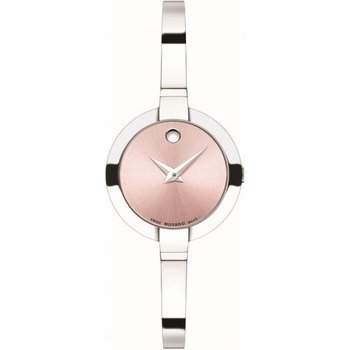 If you are familiar with Movado's signature style then you know they are quite keen on delivering excellent quality minimalist timepieces. The Bela Bangle watch follows this Movado formula with a further lean towards a feminine look with its pink and silver design.
The Movado Bela comes in at a sleek and sexy 25 mm diameter case. The glossy pink dial features two silver hands and the trademark Movado dot.
The bangle uses the standard clasp-closure design, and the watch itself is designed to provide around water resistance of up to 30 m. Movado watches utilize Swiss quartz movement which the Bela uses as well, giving it on-point precision in time-keeping.
Seiko SUP217 Japanese Quartz Silver Watch
Read Amazon Reviews | See on eBay
The black dial features an analog display with silver two hands and four linear markers. As stated earlier, this is an excellent and sleek minimalist bangle watch. The links can also be adjusted to fit a broad range of wrist sizes.
This Seiko is quite similar to the Bulova 96L138 in terms of design as both utilize a minimalistic black and silver aesthetic. Commonly referred to as the Baguette bangle, the Seiko SUP217 earns that moniker with a glance at its shape.
The dial takes advantage of a visually pleasing curved Hardlex crystal window. This perfectly fits in with its overall aesthetics. Additionally, this bangle watch also comes with a 30 m water resistance rating and utilizes solar charging batteries.
Citizen Eco-Drive Bangle Watch with Crystal Accents
Read Amazon Reviews | See on Citizen.com
This is another minimalist timepiece which is undoubtedly quite popular with the younger generation of watch enthusiasts. This is a 23 mm diameter stainless steel timepiece with Japanese quartz movement and analog display.
One of its striking design features is the faux black gemstones that are placed on the inset above and below the case. The dial uses a black sun-ray design and one silver marker located on the 12 o'clock position. It also features think silver-tone hands that work perfectly with the matte black backdrop.
As with most top ladies Citizen watches, this one also takes advantage of the brand's Eco-drive solar-powered technology. This allows the Eco-Drive Bangle to absorb and recharge its battery using both sunlight and artificial light.
Movado Women's 604759 Amorosa Stainless Steel Bangle Watch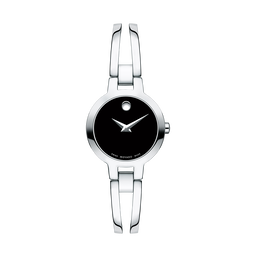 See on Amazon | See on Movado.com
Looking for a Movado watch bangle for women that is somewhat less feminine in terms of appearance? You should take a look at the Movado Amorosa. The Amorosa, despite the slightly female name, uses the black and silver aesthetic. This bangle exudes a more enigmatic vibe compared to the typical perky or elegant aesthetic of women's accessories.
Again, Movado delivers a superb minimalist watch with the Amorosa. The black dial only features the brand name at the bottom and the Movado dot at the top. The silver hands took a compass pointer-like design which is a subtle way of imposing its focus on functionality and reliability.
The Amorosa is also constructed to provide water-resistance of up to 30 m. This is an elegant and sleek bangle for women who desire to make a confident first impression among their peers.
Invicta Women's Gabrielle Union Quartz Watch
Read Amazon Reviews | See on eBay
With its crystal-studded silver 27 mm case and bangle, the Gabrielle Union radiates with both feminine confidences as well as elegance. This bangle watch comes with two additional silver bracelets with crystal studs to complete its overall appearance. You can also wear the watch bangle itself if you feel a more professional look for the day.
The crystal-studded bezel compliments the metallic silver dial. The hands also feature a silver finish with the markers taking on a more straightforward black line approach with its design. The Invicta Gabrielle Union focuses on an even balance between design and functionality. Its reliable quartz movement indeed enforces that mission.
Conclusion
Bangle watches are considered to be more of a fashion accessory, but it doesn't mean that functionality should be pushed to the back of the line. As you can see from the list above, well-known watch brands also produce some noteworthy watch bangle for the ladies. Each with particular traits that separate them from one another and covering a broad base of styles. If you are looking for watches that fit nicely with your formal attire, bangle watches are an excellent option to take.