As you might have observed already, around 80-90% of the watches being sold in the market are round. It's no wonder why they are more popular and more obvious choice in all styles and for various occasions.
Historically, the round shape was simply for practicality and efficiency. Round watches were found to be easier to make than rectangular ones. And although the technology and the materials being used have changed and improved significantly, manufacturers and users alike have already become too familiar with the round shape of watches.
However, for this very reason, the rectangular watches truly stand out and catch attention especially of watch enthusiasts.
When it comes to rectangular watches, the Cartier Tank Watch is unarguably the "most iconic watch on the planet". Cartier Tank Watch's design has the perfect combination of uniqueness, simplicity, and elegance.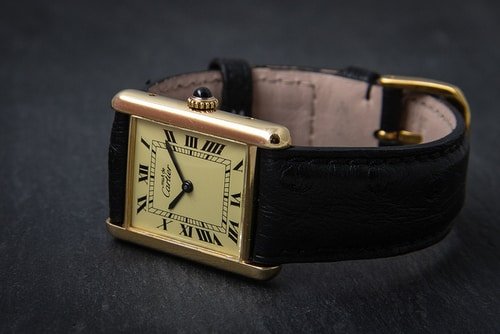 Mainly because of its design, such a watch has landed on the wrists of some well-known women around the globe. Among its famous wearers are Jennifer Aniston, Angelina Jolie, Meghan Markle, and of course, Princess Diana.
If you're particularly interested in rectangular watches but you're looking for other options aside from the Cartier Tank Watch, here are other great rectangular watches for women that you might want to consider.
Women's Rectangular Watches
Timex Women's Meriden

This Timex Women's Meriden watch is one of your practical options. At a very affordable price, you can have a rectangular 25mm analog watch in brass casing. It features a silver-tone dial with Arabic numerals covered by a mineral glass crystal. It also comes with an adjustable black genuine leather strap.
Around water, the Timex Women's Meriden is resistant up to 30m (100ft) deep. It can withstand splashes or be immersed in water briefly. But it's not advisable that you take it for swimming or taking a bath.
SEIKO Solar 2-Tone Watch

As you would expect from quite a well-known brand, Seiko also offers a rectangular watch for women.
The Seiko Solar Two-Tone Watch, as the name implies, is a solar-powered rectangular watch with white dial and gold-tone hour indices. It is encased in a 15mm stainless steel, single-locking fold-over closure, and with a hardlex dial window.
It uses quartz movement and is water-resistant up to 30m.
Citizen Women's Two-Tone Stainless Steel Watch

Next is from another well-known brand, Citizen. (If you want to know more about Citizen, read here).
This two-tone analog rectangular watch by Citizen comes with a white dial covered with mineral glass crystal. It comes with a two-tone stainless steel band with a fold-over clasp. This timepiece also uses Japanese quartz movement and is resistant to water up to 99ft deep.
Bulova Women's 96L138

Aside from its rectangular dial, another unique aspect about this watch is its bracelet. It features an adjustable-link thin bangle bracelet made of stainless steel with a jewelry clasp attached to a black dial with a protective mineral crystal window.
The Bulova 96L138 is also equipped with Japanese quartz movement and is water-resistant up to 99ft.
If you're not familiar with this US watch brand, read here.
Michael Kors Ladies Hayden Rose Gold Watch

Michael Kors is, of course, another popular brand especially for women. It is no wonder that it also offers a remarkable rectangular watch.
The Michael Kors Ladies Hayden (MK3307) watch is a sparkling rose gold timepiece that will surely make you stand out in a party. Why? Because the watch face, including its dial, is studded with diamonds. With one look, you can instantly say that it's made for fashion.
The band, on the other hand, is rose gold-plated stainless steel that's 9mm thick and 16mm in width.
It is also an analog watch that uses Japanese quartz movement. It's water-resistant up to 50 meters and is covered by 2-year Michael Kors Warranty.
Emporio Armani Women's AR1905

Emporio Armani is another established name in the fashion world.
The Emporio Armani's Classic Two-Tone Watch (AR1905) is another timepiece that easily deserves to be mentioned here as well.
This rectangular watch features a mother-of-pearl dial coupled with eleven crystal hour markers and the brand logo at the 12 o'clock. All these are encased in a 30mm stainless steel with a mineral dial window. Also, this analog watch uses Japanese quartz movement.
It comes with a five-link stainless steel band with deployment buckle closure. Women usually love this silver and rose gold-tone.
Overall, it can withstand being immersed in water for brief instants, or maybe splashes as it is water-resistant for 30m depth.
Tissot T-Trend Generosi

Tissot is another brand that offers a wide range of choices, including this simple yet elegant-looking rectangular watch for women.
The Tissot Generosi from the brand's T-Trend Collection features an analog display on black mother of pearl dial, and with anti-reflective sapphire window. It is also equipped with a date display at 3 o'clock. Encasing these elements is a fixed stainless steel bezel.
It is powered by a Japanese quartz movement. Also, its band is also made of 24mm stainless steel with a deployment clasp. All in all, it weighs 5.28 ounces and water-resistant up to 30 meters deep.
Kate Spade New York Women's Kenmare Watch

Although Kate Spade is more generally known for women's handbags and clothing, this designed brand has also widened its collection to also include accessories and jewelry. Among those are some cute yet stylish women's watches.
The Kate Spade Kenmare watch, in particular, made it to this list. Even from afar, you would recognize a Kenmare watch because of its uniquely large bow design around the rectangular dial.
To better suit any woman's personality or attire or occasion, the Kenmare watch is available in various colors – white, black, silver, pink, and fuchsia. The bow and band go in the same color and they are both made with a leather material with a buckle clasp on the band.
The Kenmare watch's dial features an analog display powered by a Japanese quartz movement, and with the Kate Spade logo at 12 o'clock. It is covered by a mineral crystal and is encased in unidirectional stainless steel. Similar to most watches, it is water-resistant up to 99 feet deep.
Citizen Eco-Drive Women's Normandie

Here's another watch from the well-respected watch brand Citizen, particularly from its widely popular, Eco-Drive collection – the Citizen Eco-Drive Women's Normandie (EG2950-51A). This silver-tone watch would easily stand out because of its sparkling Swarovski crystal accents.
It uses Japanese quartz movement for its analog display that is covered by a mineral crystal dial window. The white band, on the other hand, is made of stainless steel equipped with a jewelry clasp with push-button.
It is also water-resistant up to 99 feet – can withstand rain, splashes, but is not suitable for swimming and bathing.
Movado Women's Eliro

If you are more of a simple and sophisticated type, then the Movado Eliro just might be the watch for you.
Primarily, this analog watch uses swiss-quartz movement. It comes with a minimalist dial, featuring only two-hands and the brand's logo on the black rectangular dial. It is covered by a scratch-resistant sapphire window and is encased with stainless steel.
The silver band is also made of stainless steel and uses a deployment clasp. As to water resistance, this watch will be fine up to 99 feet deep in water.
Unfamiliar with Movado watches? Click here for a very informative watch brand review.
Hamilton Boulton

Next watch is from another established American watch brand, Hamilton. If you want to learn more about the brand first, read here.
The Hamilton Boulton boasts of a rich analog display – powered by a Japanese quartz movement, with large Roman numerals patterned from the Cartier Tank Watch and a small seconds subdial just above the 6 o'clock.
It is attached to a black leather band that's 18mm in width and with a buckle clasp. All these weigh only 2.08 ounces.
Philip Stein Unisex "Signature" Stainless Steel Watch

Next on the list may not specifically be designed for women by the unisex design looks great on either men's or women's wrists.
This Philip Stein "signature" watch is a rectangular watch with TWO dials for 24-hour analog display.
It uses quartz movement, and the dial is encased in 32mm stainless steel. Covering it is a mineral dial window. These materials make the timepiece water-resistant for 30m.
For the bracelet, it is made with calfskin red leather with contrast stitching on both sides and buckle clasp.
More so, this Philip Stein timepiece boasts of being equipped with Natural Frequency Technology that promises to help you sleep and wake up better because it is said to use the natural frequencies of the Earth and pass them along your body.
Rado Integral Jubile

Next on the list is one from Swiss watch brand – Rado. Despite the brand not being widely known, the Rado Integral Jubile sure looks very promising and eye-catching. The black and gold combination looks highly sophisticated and elegant.
The black analog dial is quite simple and minimalist- with the only hour and minute hands, diamonds at the 3, 6, 9, and 12 o'clock positions, and the brand's logo. It is powered by Swiss-quartz movement.
Then, it uses unique material as case – ceramic, which is also in black, with gold-tone accents. The dial window, on the other hand, is made of scratch-resistant flame fusion crystal.
For the bracelet, black ceramic with gold accents was also used with deployment clasp. The timepiece is water-resistant up to 50 meters.
Oris Rectangular

From the very rare black and gold, Oris offers this silver rectangular watch. From the dial to the bracelet, this timepiece is swimming with silver.
More so, it features blue Roman numeral hour markers, the text "ORIS Automatic" at 12 o'clock position, a date window at 6 o'clock, blue luminescent hands, and a sweeping seconds hand. Covering this dial is a scratch-resistant domed sapphire crystal with anti-reflective coating from the inside.
The Swiss automatic movement also contains a power reserve for the watch for 38 hours. It is also water-resistant for 50meters deep.
For the bracelet, it uses brushed and polished stainless steel and with push-button deployment clasp. This band will fit wrists that measure up to 7 ¼ inches. Overall, it weighs 2.3lbs.
Baume & Mercier Hampton Rectangular

Next on the list is a luxury watch, specifically from Baume & Mercier.
The Hampton Rectangular watch features a black dial and a stainless steel bracelet with deployment buckle.
The black dial is surrounded by 20 diamonds and a date window at 3o'lock. The case, similar to the bracelet, is made of stainless steel; while the dial window is made of scratch-resistant sapphire crystal.
This luxurious timepiece uses a battery-operated quartz movement. It also comes with a certificate of authenticity so you can be assured that you did not accidentally purchase a knockoff. Each timepiece also comes with a unique serial number from the manufacturer.
Longines Ladies Watches DolceVita

Longines is another luxury brand, yet some consider it more of an entry-level and not particularly comparable with Rolex or Omega. To know more about this Longines brand watches, read here.
This DolceVita timepiece from Longines is mostly similar to Baume & Mercier's Hampton rectangular watch. It comes with a silver stainless steel bracelet and white dial. At 12 o'clock position is the brand's logo, a seconds sub-dial at 6 o'clock, hour indices and diamonds on each side of the dial. Covering it all is a curved sapphire crystal window.
The bracelet is a dynamic link with invisible double-locking clasp. DolceVita is water resistant for 30meters deep and uses quartz movement. All in all, it weighs only 2.3lbs.
Cartier Tank Americaine

Last but certainly not least is one from the modern Cartier Tank watch's line – the Tank Americaine.
Coming from the brand that started the iconic rectangular watch, the Tank Americaine was able to retain and showcase some of the tank watch's key features – specifically, the Roman numeral hours, the tank tread lines, the blue steel hands, and a convex stone on the winding crown. In addition, is a date window at 6 o'clock.
It features a silver dial, an 18k white gold case, and an 18k white gold bracelet with folding buckle. It uses a Swiss automatic movement and is resistant to water for 30meters deep. Also, it is covered by a 15-month warranty.
Women's Rectangular Watch
Among all these watch options, if you still can't decide which rectangular watch to purchase, you can always go back to the iconic tank watch. Its design has transcended the fashion trends through generations and still appears very elegant and sophisticated, matching any outfit and will fit for any occasion.
Also, you get to join the group of these iconic women who love their Cartier tank watch.