French watchmaker and jeweler Cartier is one of the most popular jewelry brands in the world. Founded by Louis-Francois Cartier, the brand has been around since 1847, and continues to be one of the most relevant and prestigious names in the watch and jewelry world.
King Edward VII referred to the brand as "the jeweller of kings and the king of jewellers."
To this day, Cartier remains a popular accessory choice among the rich and the famous—from creating Alberto Santos-Dumont's Santos de Cartier, the first men's wristwatch and sports watch; to Princess Diana's famous Tank.  With the brand's iconic and timeless designs, exceptional quality, and it is no surprise that it continues to be relevant today.
Below are some of the brand's most iconic watches and celebrities who have been spotted wearing them. We'll give a brief background of each watch—the Santos, Tank, Ballon Bleu, Roadster, and Panthere—and talk about their history and evolution as well.
Iconic Cartier Watches & Celebrities Who Wear Them
Cartier Santos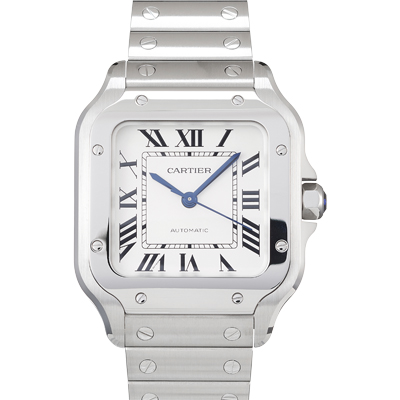 The story of the Cartier Santos (or Santos de Cartier) watch began in 1904 when Brazilian aviator Alberto Santos-Dumont asked Louis Cartier to make a watch. Stories say that Santos complained to Cartier about the unreliability of pocket watches when flying. Santos-Dumont was the first person to be ever filmed in an airplane wearing a Cartier watch when he flew for 21 seconds in 1906.
The name "Santos," named after Dumont, was officially launched to the public in 1911, bearing a similar style as the pilot's request. The look has evolved throughout the years with different materials, styles, and colors.
The more recent Cartier Santos models have a sportier look than the original. The designs were inspired by the Santos Sport watch that was first released in the 1970s, as well as the Santos 100, released in 2004.
These are bigger and have a more "masculine" look, but Cartier has created many smaller, more "feminine" versions as well.
Some of the celebrities who have been seen wearing the Santos watch include Jake Gyllenhaal and Monica Bellucci (who both endorse the brand and the latest Santos watches), Chris Pratt, and Tom Holland.
Football superstar Cristiano Ronaldo has also been seen wearing a Cartier Santos XL Chronograph 17CT. You can read more about his watch collection here.
See more of Jake Gyllenhaal's watches, both on and off-screen.
Cartier Santos-Dumont 100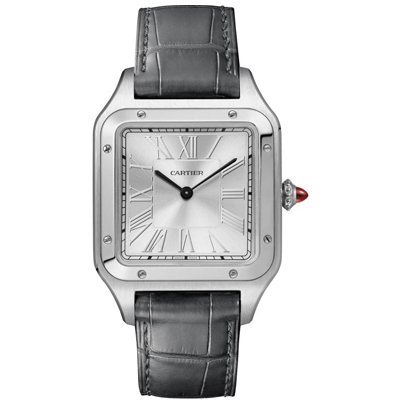 Cartier Santos-Dumont is the Santos model that has a closer resemblance to the 1904 original. This model has the iconic square case and eight exposed screws. It also has a blue cabochon and a beaded crown. Because it shares similarities with the original, this is thinner and less robust than the Santos models.
The watch was released in 2004, to commemorate the 100th year of Louis Cartier's making of Dumont's request. The watch came in large and medium sizes and was available in stainless and titanium cases, and a few chronograph models as well.
One of the celebrities who has been seen wearing a Dumont model is actor Rami Malek, who is known for portraying the leading role in the acclaimed TV series Mr. Robot, as well as movies like Papillon and Bohemian Rhapsody.
English actor Rege-Jean Page, known for his roles in shows like For the People and more recently, Netflix period drama Bridgerton.
You can read more about the history and evolution of the Cartier Santos in this article on Rescapement.
Cartier Tank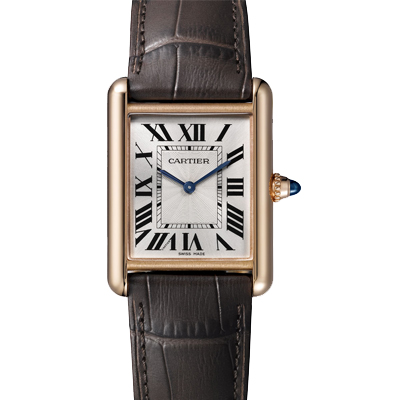 The Santos is considered by many as one of the most famous men's watches. The Cartier Tank, on the other hand, is perhaps the brand's most popular model for women.
One of the most popular personalities known for owning a Cartier Tank watch is the late Princess Diana. Some stories say that at some point in her marriage, she stopped wearing the gold Patek Philippe watch given to her by Prince Charles, and started using the Cartier Tank Louis, a gift from her father, Earl Edward John Spencer. She also owned a Cartier Tank Francaise, which was later inherited by her son Prince Harry.
Prince Harry gave the watch to his wife Meghan Markle, who wore the watch in a portrait for Time100 Talks. Meghan has been a Cartier fan even before she did this—she has a Tank watch that she purchased in 2015, as a gift to herself and a symbol of her independence and success.
Other celebrities who have a Cartier Tank are Jacqueline Kennedy, John F. Kennedy, Truman Capote, Michelle Obama, and Andy Warhol. Boxing icon Muhammad Ali is also a known fan of the watch (check out the GQ article which explores the watch and the famous personalities who wore it). Jennifer Aniston, a watch collector, word a yellow gold Tank Louis in the movie The Break-Up.
See "Tank-like" affordable watches that mimic this iconic Cartier design.
Cartier Ballon Bleu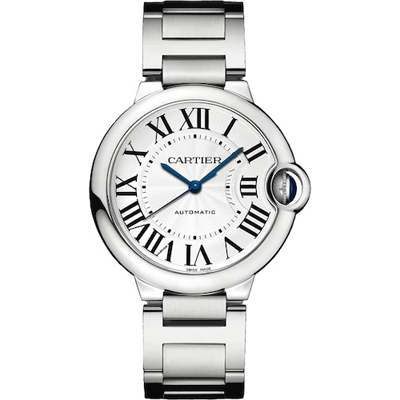 The Cartier Ballon Bleu is another standout model, with its round case and iconic blue domes sapphire cabochon. Unlike the other famous square/rectangular models mentioned above, this model has a more conventional look because of its round case.
First released in 2007, the Ballon Bleu has sizes for men and women and has a variety of styles: Roman numerals or diamond markers, quartz or automatic movements, stainless steel or gold, and complications like a tourbillon and a moon phase.
One of the most famous celebrities who wear the Ballon Blue is Kate Middleton. The Duchess of Cambridge wears a stainless steel version, the 33mm model. This website has pictures of her wearing the watch on different occasions.
Hodinkee wrote about the 40mm version of the Ballon Bleu and mentions that it is the top-selling model in Cartier's category. This latest model is a 40mm with an automatic movement (a size that was not on Cartier's line prior to the release). Read more about it here.
Cartier Roadster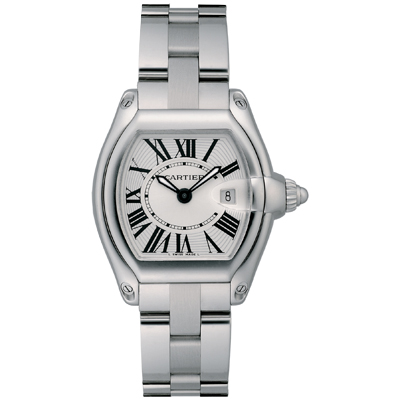 Last but not least is the Cartier Roadster, a watch inspired by sports cars from the 1960s. The watch, which has a distinct tonneau-shaped case, was released in 2001 and was discontinued in 2012. Today, it's only available in the pre-owned watch market.
To learn more about the Roadster, you can read about it in our Roadster FAQ article on the site, where we talk about its history, movement, and resale value.
Jennifer Aniston is one of the many celebrities who has been seen wearing a Cartier Roadster. She has been photographed wearing a 30mm Roadster in stainless steel, with a silver dial and Roman numeral markers.
Other celebrities seen wearing a Roadster are football icon Cristiano Ronaldo, DJ Paul Van Dyk, and writer/actress Kristen Wiig.
See our complete guide to the Cartier Roadster here.
Panthere de Cartier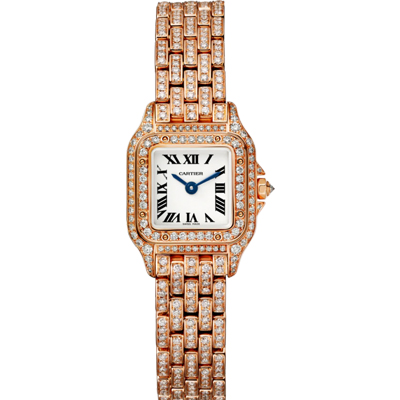 The watches under the Panthere de Cartier collection are considered as timepieces that can also double as pieces of jewelry (Cartier calls it "a quintessential jewelry watch") and continues to become a popular watch choice among celebrities, both men and women.
There are many different versions of this model: gold and steel (or a combination of both) cases, plain or dotted with diamonds, small or medium sizes. The watch gets its name from the style of the bracelet, which has a flexible structure that looks the same as the movement of a panther, the symbol of the brand.
In an article on Bazaar, which calls the Panthere "effortless, classy, and cool," it is mentioned that some of the celebrities who made it an "it" watch are actually men—found on the wrists of stars like Pierce Brosnan and Charlie Sheen, as well as rockstars like Keith Richards. In the years that followed, however, it became a favorite among female celebrities as well.
In the 90s, it became popular with celebrities—worn by stars like Madonna and Gwyneth Paltrow. Today, it continues to be a staple in celebrities' outfits, spotted on model Bella Hadid, musician Dua Lipa, and actress Zendaya.
It also makes an appearance in HBO series Succession, worn by Shiv Roy (played by Sarah Snook). Read about our article on Watches Worn in Succession article.