"I still have your pocket watch, my dear father. Like me, it is broken, but stubborn, and still keeps going." – Arno Hintjens
You simply can not deny the charming, vintage aesthetic that a pocket watch provides.  Pocket watches were the first timepieces to be worn by humans. This trend began in the 16th century in Europe. After World War I, wristwatches became more popular. In general, most pocket watches have some chain attached to them to secure it to whatever article of clothing the user is wearing.  Pocket watches were often connected to a man's waistcoat and the chain was use to hang other accessories such as cigar cutters and watch winding keys.
Pocket watches have regained some of their popularity in recent years, especially among those that appreciate the vintage look of old-school design. Whether you're looking for a classy dress watch to add to your formal attire or a touch of steampunk we think there's something on this list to match your personal style.
Quick Picks

Here is our updated list of some of the top pocket watches we recommend that are also all currently available to buy online.
Best Pocket Watches
Invicta Automatic Black Dial Vintage Pocket Watch
The Invicta Automatic Vintage Pocket Watch is sleek and infuses the classy watch style with a modern streak. The black 50mm stainless steel case and the band adds a level of flair to the classic design. The black dial accentuates the silver-tone analog hands and Arabic numeral hour markers which completes the overall refined modern gentleman look. 
The case comes with a scratch-resistant mineral crystal, and inside is an automatic movement. Pretty straightforward as you can get with a pocket watch build. Still, the elegant and contemporary black and silver aesthetic certainly brings a new layer of charm to this Invicta Vintage Pocket Watch. 
Charles-Hubert Paris Classic Mechanical Pocket Watch (3866-S )
Charles-Hubert is considered a pioneer in the pocket watch industry because it deals with retro timepieces that are considered antique or even rare in some cases.  This particular silver-toned pocket watch is from the Charles-Hubert classic collection. It has an antiqued finish and a face that can be considered open. Inside the case is a 17-jewel shock-protected mechanical hand wind movement. At the back, there is a mineral crystal front. The numerals are roman, which adds a touch of luxury to the watch. The timepiece has a silver-tone watch chain and comes in a beautiful gift box.
The best part is that all Charles-Hubert watches are available with a lifetime warranty and this timepiece follows the same rules and parameters.
Gotham Ultra-Thin Railroad Open Face Quartz Pocket Watch
The Gotham Railroad Pocket Watch comes with a highly traditional aesthetic. The silver-tone brass case measures 42mm in diameter and is nicely highlighted by a white dial. There is also a 15-inch stainless steel chain that fits well into the overall presentation. 
The dial features Arabic numeral hour markers with a red-tone 24-hour format found in the inner rims. The Breguet style hands are the icing on the cake to the classy appeal of the Gotham Pocket Watch. Within likes a highly accurate Japanese quartz movement which will keep this pocket watch always on time. With its stunning timeless aesthetics, the Gotham Pocket Watch would be a nice little gift to give. 
Speidel Classic Brushed Satin Engravable Pocket Watch 
If you are in the market for a more modern pocket watch, then this Speidel pocket watch might be what you are looking for. The silver-tone 47mm stainless steel case comes with the classic front cover feature. However, the cover also has a guilloche pattern on the inside, which gives it a refined appearance. In addition, the case is engravable with any word or name of your choosing. 
There are two different dials to choose from: black and blue. The polished hour markers blend silver-tone ultra-slim indices and Arabic numeral formats— two sub-dials display day and date.
The Speidel Classic's heart is a Japanese quartz movement that should provide excellent precision and reliability. 
Bulova Pocket Watch (96B270)
Bulova is an American watch brand that is known for its innovation and superior craftsmanship, and they have stayed true to their reputation with their take on the retro pocket watch. They have added their own unique "hunter" style that is not found on other pocket watches. Bulova 96B270 pocket watch is from the classic collection and has a stainless steel case. It features a three-hand movement and even has a calendar feature that sets it apart from other pocket watches in the category. Like some other watches, it is also water-resistant up to thirty meters.
Tissot Lepine Swiss Quartz Unisex Pocket Watch (T8634099906700)
Tissot's unisex pocket watch stands out for the unique black look that sets it apart. Being a Tissot watch, it already has an edge that other timepieces do not have. The black leather band adds a sort of ruggedness to the overall look that the watch provides although for the price some users would prefer a metal chain, although that could easily be replaced  These watches are water-resistant too, up to a depth of one hundred feet.
Charles-Hubert, Paris Gold-Plated Mechanical Pocket Watch

With a 14k gold-plated brass case and chain, the Charles-Hubert Mechanical Pocket Watch certainly looks the part of a vintage timepiece. With its 47mm measurement, it will fit snugly within your pocket as well. In addition, the case front cover can be engraved and, similar to the Speidel, has an interior guilloche pattern. 
The dial took the elegant aspect of the case and brought it into the dial as well. The outer dial features the Roman numeral hour markers, while the inner dial incorporates a skeletal design. This design choice is taken advantage of by using a 17-jewel mechanical movement which you can see clearly in all its complex glory.
Vintage Pick – Hamilton 992b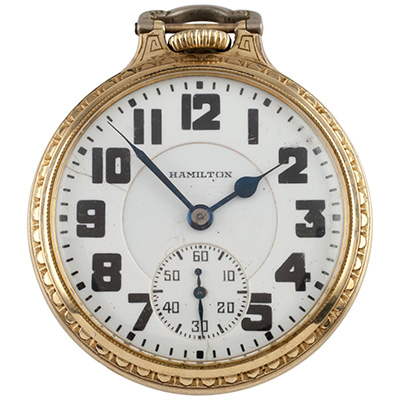 A veritable classic pocket watch is the Hamilton 992b, which is not surprising considering that Hamilton was the first to sell pocket watches in America. The brand is also connected to the railroad industry back in the day which pretty much guarantees the quality of this pocket watch. 
Considering that this is a vintage pocket watch, the movement is a mechanical hand-winding with 21 jewels. The dial itself is pretty straightforward in its design, as this pocket watch was for its precision and practicality.
The connection of Hamilton and the Hamilton 922b specifically to the early days of the railroad industry gives this pocket watch a wealth of history. That alone makes the 992b a notable collector's item. You can know more about the rich history of the Hamilton watch brand right here. 
Tissot Bridgeport Lepine Mechanical Pocket Watch 

Tissot has always been a reliable name in the watch industry, and their pocket watches are equally as good.
The Tissot Bridgeport Lepine Mechanical pocket watch is an absolute beauty to behold and watch fans seek this particular timepiece just for the aesthetically pleasing looks. The allure of having a mechanical watch never dies and this watch keeps it alive with the winding mechanism to wind the watch.  The sophisticated silver color and round shape make it even more appealing.
Charles-Hubert, Paris Double Hunter Case Mechanical Pocket Watch (3866-S)
Charles-Hubert is a brand that is famous for its retro looks and known in the watch industry as the king of pocket watches, a statement that many avid watch fans vehemently contest. However, nobody can dispute the sheer class and elegance that Charles-Hubery timepieces offer and they hold true to the expectations drawn from their products with this Paris 3866-S Double Hunter Case Mechanical Pocket Watch.
This Charles-Hubert watch has chrome finished brass and a lifetime warranty reaffirming the brand's dedication to quality watches. It has a skeleton-type exhibition case that shows all the movements of the watch. This watch has seventeen jewels of mechanical movement and comes in a deluxe gift box.
Tissot Unisex Savonnette Pocket Watch
If genuine swiss craftsmanship could be represented by one single watch, then it would probably be the Tissot Unisex Savonnette. Looks-wise it is just another pocket watch, but has the build of solid stainless steel all over, from the case to the chain, and you also get the option of the chain in brass. The watch face consists of roman numerals that add another touch of class and elegance. It's a dress watch style designed for fancy occasions and the watch is water-resistant up to thirty meters.
Frederique Constant Tradition Pocket Watch

The Frederique Constant Tradition pocket watch is a timepiece of a remarkable accord, and even though it is not very popular, its features ensure that it will still be sold even a century later because the quality is just that good.  The case is made of pure silver and the movements are mechanical. It features an FC 700 MW movement that makes this timepiece absolutely top of the line. At this price point, you definitely cannot go wrong with a Frederique Constant watch.
Stuhrling  Vintage Pocket Watch (6053.33113) – Budget Pick
Read Amazon Reviews | See on Stuhrling
Watch buffs are divided into two extreme camps. One camp supports automatic watches, hailing them to be proof of technological advancement. The other camp is decidedly old-school and believes that mechanical watches are the way to go.
While there are things to be said for each, it can't be denied that mechanical watches have a certain amount of class about them, and this is exactly what you get with Stuhrling's special reserve vintage pocket watch. The Stuhrling has a beautiful exhibition case that allows the user a complete look into the workings of the watch. As a mechanical watch, it has to be hand-wound and has a power reserve of up to thirty hours.
Perhaps the most appealing part of this pocket watch is how it is so unabashedly retro and vintage. Instead of hiding away from the vintage tag, it embraces it, and that too with style. This appeals to the tastes of watch enthusiasts all over the world and that is why the Stuhrling pocket watch is popular in the watch community and highly revered by experts too. This timepiece also has a desk stand that allows it to double as a beautiful desk watch.
Stuhrling Orignal Automatic Skeleton Pocket Watch (Modena 991) – Budget Pick
Read Amazon Reviews | See on Stuhrling
Most pocket watches listed on this list and in the market, in general, are manual mechanical watches that need to be wound up every day before use. However, this Stuhrling Men's Pocket watch is different because it is an automatic watch that uses a rotor to spin. Stuhrling pocket watch automatic watch skeleton is referred to as The Modena 991. It features an engraved, see-through skeletonized dial that allows the user to see through the watch structure, including the mechanisms inside.
This type of automatic pocket watch requires no batteries and works for up to 36 hours without the need to be wound up. Another new kind of feature that this watch has is the dual time feature. It allows you to keep time in AM and PM.  Also, it has a sun/moon dial that keeps track of day and night and separate time zones as well.
A convenient feature is a desk stand that allows it to stand upright over a desk, so you do not always have to keep it in your pocket or on the chain.
All Stuhrling timepieces have a warranty of two years, which is an international warranty that can be claimed all over the world, and it applies to this timepiece as well.
Longines Equestrian 18K Gold Pocket Watch (L7.029.6.44.1)

Longines's relationship with equestrian sports and watches goes back to the 18th century, which is why it makes sense that their pocket watch is engraved with an equestrian trio of horses. The eighteen-carat pocket watch has a rose gold color and features manual winding. Also, there is a small second dial at the 6 o'clock position
Baume and Mercier Clifton Pocket Watch (10253) – Luxury
This Baume et Mercier watch is the literal embodiment of luxury. However, the hefty price tag it's likely to put this watch out of the reach of most shoppers.  It has an eighteen-carat pure rose gold case and a black lambskin pure leather strap. The bezel is fixed and the dial is opaline silver with a rose gold accent and Arabic numerals for the hour mark. The back case is a see-through exhibition case that allows the user to look at the watch mechanisms, it is also water-resistant up to 50 mm.
Patek Philippe Pocket Watch (973J) –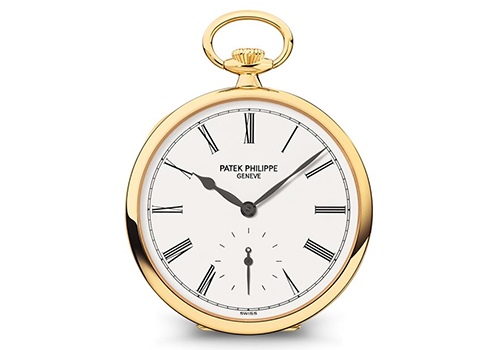 Although wristwatches have dominated the watch industry, pocket watches still appeal to a niche market and this market consists of individuals that are either die-hard watch enthusiasts or individuals that believe that pocket watches add an element of elegance and grace to the wardrobe. Patek Philippe also believes in this, and that is why they have been demonstrating their manufacturing prowess with Pocket Watches for decades
The Patek Philippe pocket watch has a gold case and a yellow-gold chain as well. The face of the watch has a second dial as well and has a very aesthetically pleasing design.
With all these exciting options available, there is no doubt the pocket watches are still in demand among a niche of watch users. The ones that are keeping the tradition of wearing this timeless timepiece alive. For a serious pocket watch collector, this would be la crème de la crème.
See details on Patek.com
A Short History of Pocket Watches
There are references to pocket watches or a "pocket clock" going back as far as the 1400s and were the main type of watches used until the introduction of the wristwatch in the 1800s.
During World War I, wristwatches became commonplace among soldiers who used field watches. After the war, they became more popular among the general public. In general, most pocket watches have some chain attached to them to secure it to whatever article of clothing the user is wearing. In most cases, this article of clothing is a waistcoat.
The chains are often ornamented with silver or jewels, and usually held the logo or arms of some club. The watch chains also had some practical and useful instruments attached to them, such as cigar cutters, watch winding keys, and much more. Women's pocket watches are generally more decorative with a protective flap over the face of the watch.
Initially, for more than a century, watches were considered luxury items, and only the aristocratic class had access to them. Often if a watch was stolen or lost, then rewards of up to five guineas were offered, which was a large sum at the time. As time progressed and watch parts became cheaper, manufacturers decided to create affordable watches that would appeal to an entirely different market.  The first American pocket watch with machine-crafted parts was created in the 1830s by Henry Pitkin and his brother.
Featured Image: HOerwin56