When one mentions French brand Cartier, one of the oldest and most popular watchmakers and jewelers in the world, some of the first models that would come to mind are probably the Santos, the first modern wristwatch, and the Tank, one of the most iconic and successful watches of all time.
In this article, we'll talk about a Cartier model that may not be as popular as the two, but is equally creative and revolutionary. The Cartier Roadster, though discontinued after a little over a decade, continues to enjoy popularity among watch collectors and aficionados.
Following the distinct styles of other Cartier models (such as the classic tank and the square-shaped Santos), the Cartier Roadster has an iconic look of a tonneau-shaped case (tonneau means "barrel" in French), a shape that was used by Cartier around 1906.
The Cartier Roadster watch was inspired by sports cars from the 1960s (think Mercedes Benz and Aston Martin), thus the name. It became a popular sports and dress watch, available in men's (43mm x 38mm) and women's (36mm x 30mm) sizes, as well as in automatic and quartz movements.
The watch has models with both Roman and Arabic numerals and both with chronograph and GMT functions. Throughout the years, when Cartier was still selling them, the Roadster also had releases with features that are more luxurious (dotted with diamonds, for instance).
One of the most famous features of a Cartier Roadster model is the dial that takes its inspiration from the Porsche 356 speedometer from the 1950s. This is the model with Arabic numeral markers, known to fans as the "Las Vegas" dial.
It is also likely that the crown was inspired by cars too—some agree that it looks like rally wheels of a Corvette, while others say that it looks like a car radiator. This is one of the brand's first models to have the quick-release lug system, which allows easy strap or bracelet replacement.
When & Why Was The Cartier Roadster Discontinued?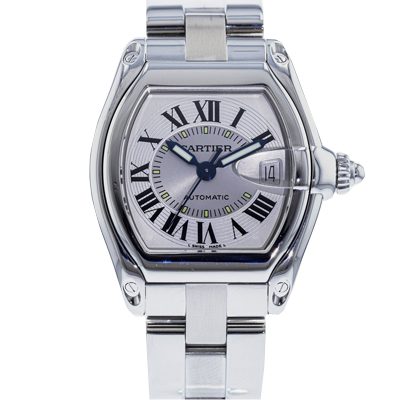 The Cartier Roadster was released by Cartier in 2001. The French watchmaker discontinued production of the watch around 2012. Since then, the Cartier Roadster only became available in the pre-owned watch market.
Around the late 2000s, Cartier released the Roaster S model. This model had a relatively friendlier price tag, and the same classic tonneau case. It, however, got rid of some elements like the screws on the lugs.
The watch may have had a relatively short run, but it continues to be regarded as one of the most iconic sports watches ever produced. From the unique case and distinct design to the high-quality watchmaking, Roadster models continue to be popular, available in second-hand stores.
The Cartier has both automatic and quartz movements. The Cartier Roadster Automatic models are powered by the Cartier 2894 caliber which is based on the ETA 2894 but assembled and finished to Cartier's own standards.
Quartz Roadster models are powered by the Cartier Calibre 688 Quartz Movement with 7 Jewels.
Celebrities That Wear The Cartier Roadster
Luxurious and timeless, Cartier is one of the most popular watches worn by celebrities.
The Cartier Tank has been spotted on iconic like Yves Saint Laurent, Princess Diana, and Andy Warhol (who once said: "I don't wear a Tank watch to tell the time. In fact, I never wind it. I wear a Tank because it's the watch to wear"). Anne Hathaway has been seen wearing a Panthere de Cartier, and Meghan Markle reportedly owns a gold Cartier Tank Francaise that used to belong to Princess Diana.
One A-list celebrity who owns a Roadster is Jennifer Aniston. She has been spotted wearing a 30mm Roadster in stainless steel. The watch has Roman numeral markers and has a silver dial.
Aniston is a known collector of luxury watches—learn more about her collection.
Other celebrities that have been seen wearing the Cartier Roadster include DJ Paul Van Dyk, NBA basketball played Christ Paul and football superstar Christiano Ronaldo.
Comedian Kristen Wiig has reportedly mentioned in an interview that she owns a Roadster that means a lot to her.
Does The Cartier Roadster Retain Value?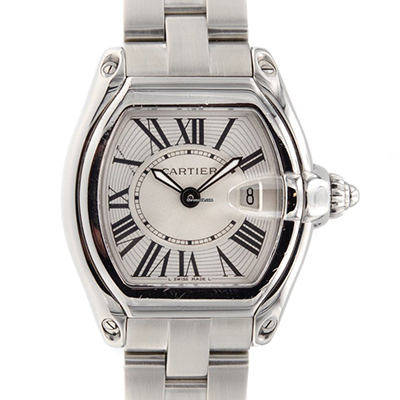 Cartier watches have good resale value, but many experts say that they may not hold their value as well as other luxury watch brands like Rolex and Patek Philippe.
In a thread on Watchuseek, however, owners of Cartier watches, including the Roadster, vouched for the brand, saying that it remains excellent after years of use.
Another user also pointed out that when one buys a watch, it's not just the movement or materials they're buying, but its history. A Cartier may not have the top resale value, but its timeless design is reason enough to be a part of one's luxury watch collection. The design is undoubtedly unique—the Tank is one of the most iconic watches ever made, and the Santos is the first modern wristwatch.
The resale value may not be the same as its luxury watch counterparts, but second-hand models are still pretty pricey. See the next section to know where to find them.
Where To Buy Cartier Roadster Watches
Though discontinued by the brand for nearly a decade now, there are still plenty of Cartier Roadster models available for sale online.
One of the sites that has excellent options is
Bob's Watches
, a trusted reseller of luxury watches. It has a number of Roadster models available, such as a pre-owned Roadster 2617 model with an automatic movement, Roman numeral markers, and a stainless steel bracelet.
There's also
Jomashop
, which has several Roadster models.
eBay is also another option. Check out
this page
to see all available Roadster models on the site, like this classic
Roadster ref. 2510
, with a stainless steel case, silver dial, and Roman numeral markers.