Michael Kors, as introduced in its official website, boasts of being "a world-renowned, award-winning designer of luxury accessories and ready-to-wear."
It was incorporated in the British Virgin Islands, with principal executive offices in London and operational headquarters in New York.
This namesake company was started in 1981 and now sells clothes, shoes, watches, handbags and other accessories.
In 2015, Michael Kors already had more than 550 stores and more than 1,500 in-store boutiques in countries worldwide.
History of Michael Kors Watches
Who is Michael Kors?
Michael Kors, as you may already know (if you're into fashion), is a name of an actual person. However, his name was originally Karl Anderson Jr.
Karl Anderson Jr. was born in New York on August 9, 1959. His mother, who is a former model, remarried when he was five years old. That was also when he did his first project: his mother's dress for the wedding with Bill Kors.
He grabbed this marriage as an opportunity to 'baptize' himself with a new name. He adopted his stepfather's surname and changed his first name as well. And that's how Michael Kors was (re)born.
When he was a teenager, he transformed his parents' house in Long Island, New York and made it his boutique where he displayed and sold the clothing and items he designed. He called it the Iron Butterfly.
In 1977, Michael Kors enrolled at the Fashion Institute of Technology in New York City. However, nine months after, he dropped out to take the job as a salesperson at a boutique called Lothar's. Later on, he became the designer and the visual display head of the said boutique.
The Beginnings of Michael Kors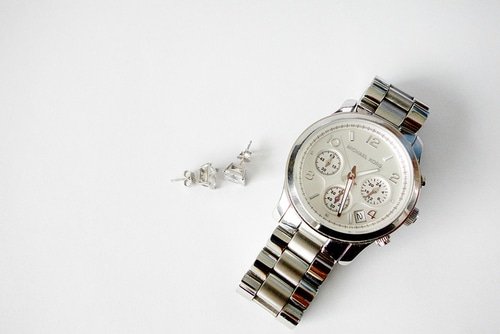 A fashion director from Bergdorf, Dawn Mello, first noticed the displays and garments. As such, in 1981, he opened Bergdorf Goodman for Michael Kors to launch his first woman's label.
He then asked Michael Kors to show his collection to Bergdorf Goodman. With this, he first launched his Michael Kors women's label in 1981 at Bergdorf Goodman.
The womenswear collection became a hit and three years later, the Kors collection has already been made available in Neiman Marcus, and Bloomingdale'a and Saks Fifth Avenue (click here to check for MK watches on clearance at Saksoff5th),
In 1990, KORS Michael Kors was officially launched as a licensee. However, things turned upside down pretty quickly and the company had to file for bankruptcy by 1993.
Just then, by 1993, the company was forced to file for bankruptcy. During the next years, it has undergone a transformation. Michael Kors busied himself by designing for other labels and was even able to produce a dress worn by former First Lady Michelle Obama for her first official portrait.
The Comeback
In 1997, Michael Kors became the first women's ready-to-wear designer of the LVMH-owned French fashion house Celine. Under his direction, Celine thrived. As a result, the following year, 1998, Kors is made the creative director at Celine. His next milestone happened when he launched his first collection for men in 2002.
By October of 2003, Michael Kors left Celine and focused on building up his own brand. This was made possible through the Michael Kors Holdings Ltd (MKH Ltd). This holding company that received great support from Lawrence Stroll and his partner, Silas Chou (who also purchased Tommy Hilfiger in 1989) made the company's relaunch possible. Later on, John D. Idol was appointed CEO of the company, with a shareholding interest.
The MICHAEL Michael Kors line of accessories and apparel collection is then launched in 2004. Said line was released across stores in the United States and then expands the range across accessories, ready-to-wear, swimwear, jeans, and footwear.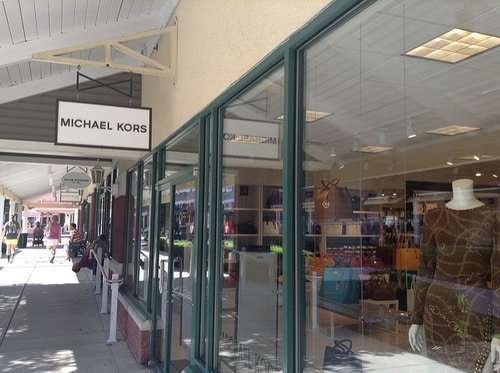 By 2011, Stroll and Chou led the initial public offering of MKH Ltd to the New York Stock Exchange. This made the two investors and Michael Kors billionaires. By June 2018, Chou sold the last of his investment in Kors.
MKH Ltd now has around 555 stores around the world, including concessions. Michael Kors remains the honorary chairman and the chief creative officer.
License with the Fossil Group
Michael Kors first partnered with Fossil in the Fall of 2004. Such a partnership licensed the Fossil Group to design, develop and distribute Michael Kors watches. As such, MK was added to the already long list of sub-brands of the Fossil Group that already includes Fossil, Relic, Michele, Zodiac, Skagen, Adidas, Burberry, Diesel, DKNY, Tory Burch, Marc Jacobs, Emporio Armani, Emporio Armani Swiss Made, Armani Exchange, and Karl Lagerfeld.
In 2014, the Fossil Group signed another 10-year licensing agreement with MKH Ltd to continue to produce its watches and even adding jewelry collections, until 2024. Said two companies are also collaborating to further expand their men's watch offerings.
Where Are Michael Kors Watches Made?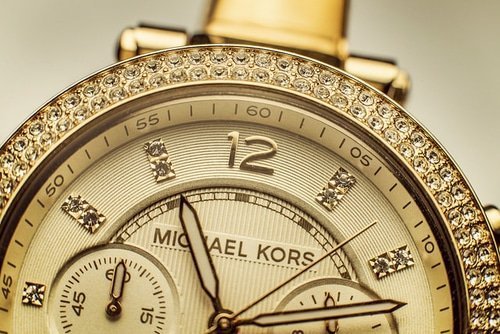 Michael Kors watches have a licensing agreement with Fossil. Meaning, the Fossil Group primarily manufactures and distributes the Michael Kors watches.
As such, Michael Kors watches are made in manufacturing plants of the Fossil Group along with other brands that they also manufacture.
As mentioned in our review of Fossil:
The Fossil Group has a wide-range of sub-companies, each having its own product lines. As a result, Fossil is already designing, manufacturing, and distributing Mechanical watches and Quartz watches.
The high-end watches with mechanical movements are usually made in Switzerland, Germany, United Kingdom, and Japan. This type of watches is usually more expensive, at $750 for the cheapest ones and could go high to up to more than $25,000.
Compared to other watch brands, Fossil is relatively affordable, considering that many high-end quartz watches with the price range of $250 to $750 are also manufactured in the countries mentioned, and possibly, China. Most quartz watches that are priced lower than $250 are manufactured in Asia, mainly in China.
Michael Kors Watch Reputation
In terms of fashion, Michael Kors is, without a doubt, considered as one of the top brands. This high-end brand offers various fashion items such as ready-to-wear (RTW), bags, accessories, and more. Its products are luxurious and look extraordinary. As such, Michael Kors usually compete with Tory Burch, Burberry, and Kering.


When it comes to their watches, they have been remarkably successful at selling watches. Part of that success is their social media strategy, they have excelled where traditional watch companies have lagged behind. With 14 million Instagram followers last time we checked- and watches being featured in their feed almost daily. Some watch experts wonder if the brand would have even survived in a pre-internet environment since so much of their branding success is online.
While the brand has been very successful with the general public, many watch critics have contrasting views.
One of the biggest complaints about Michael Kors, as with most fashion watch brands (think Daniel Wellington, Guess or Armani Exchange) it that the company lacks watchmaking heritage. There are several other brands in the same price range that have a long horological history. Another common complaint is their use of low-end Japanese quartz movements in their watches (usually the Miyota 1L22 which is worth about $5-$10). Another criticism is that these watches are mostly mass assembled in Chinese factories.
In watch forums, there are some who immediately dismiss the brand along with other designer labels. They believe that since Michael Kors is a fashion brand, its watches are sub-standard and lacking in engineering. And that the high price tag is mainly for the great looks.
Usually, they would recommend, other watch brands such as Bulova, Seiko, and Citizen.
On the other side, there are plenty of consumers that look for affordable and attractive designs who believe that the prices of Michael Kors watches are just fair. As a fashion accessory, MK does know how to make attractive designs that appeal to the masses. There also seems to be a trend with minimalist watch styles that make these and other brands – such as MVMT very popular, especially among millennials.
One common argument we hear from people in favor of fashion watches is that they don't like the outdated, classical look from older, established watch brands. To counter that argument, I would look at a watch like the Tissot Everytime, this clean looking elegant watch rivals the modern look of a Michael Kors at a similar price – but you are getting a Swiss-made watch from a company that has been in the watch business since 1853!
Are Michael Kors watches good quality?

In terms of fashion, it is no doubt that Michael Kors is one of those on top of the hierarchy. From a style perspective, their timepieces can surely match all other fashionable items that you wear.
Although Michael Kors watches are more elegant than precise. The brand has also developed smartwatches that are equally fashionable as the traditional wristwatches.
Michael Kors watches may not be as exceedingly great in terms of craftsmanship, their biggest selling point is the look and the name (this is true for almost all fashion watch brands).
Serious watch aficionados generally would not even consider MK. As far as alternatives, there are several other brands on the market including Citizen, Seiko and Orient which all have watches in the same price range but also have long-standing reputations as quality watchmakers or "real watch brands" as some say.
Much of it comes down to priorities- how important is the brand perception for you? Do you really want to wear that fashion brand's logo on your wrist or are you looking for a quality watch that will last the test of time?
As far as finding a quality timepiece, you could get a Seiko 5 or an Orient Bambino, two classic watches that from a watchmaking perspective far outperform Micheal Kors watches and price-wise they are in the same range and even less expensive than some comparable MK models.
Another example, women could buy a two-tone eco-drive Citizen with such elegant style that will most likely outlast most trendy fashion watches. Plus the watch specifications include the solar Eco-Drive technology and never needs a battery, a feature you're unlikely to find on any fashion watch.
Michael Kors watches are manufactured by Fossil so you can expect that same quality to come with your fashion watch. If you've had good experiences with a Fossil watch, then you can expect the same with a Michael Kors. That, in addition to exceptional elegance.
Michael Kors Watch Warranty Policy
Michael Kors watches that are purchased in Europe are covered by a two-year (or longer as required by applicable law) warranty. However, to avail such warranty, proof of purchase must be presented.
If the watch is found to be not in conformity with the agreement, it will be repaired or replaced free of charge. Should the company unable to do so, you may return the product and get a refund for the price paid.
If you purchased a watch from their website, it is advised that you contact them through this link. Then, the company will shoulder any cost relating to the shipping of the defective product that needs to be repaired or replaced.
Should you want to read more about the warranty of your watches from Michael Kors, or of any of their products, visit their Warranty And Repair Policy here.

Where to Buy Michael Kors Watches
The brand is already well-known globally so you really shouldn't have any problem with finding an authorized Michael Kors dealer. However, if you still want to make sure, you can always go to the Store Locator to help you out.
If you want to buy a Michael Kors watch without leaving your house, the best way, of course, is through their official website. You have lots of watches to choose from therein – from traditional wristwatches with the analog display to their new smartwatches.
You can also choose from over a thousand of Michael Kors watches in Amazon.
Closing Words

If you want your fashion game to stand out, a Michael Kors watch can surely help you with that. There are various designs that the brand offers (especially for women), including new techie and stylish smartwatches. You can surely find one that will match your outfit for the day.
However, since Michael Kors has already become a big name in the fashion industry, the black market has caught its wind. As a result, there are also many counterfeit or Michael Kors replicas that lurk the market.
Some fashion wannabes took advantage of this so they can have stylish accessories at an extremely low price. They don't care much about the watchmaking or the quality of the watch, what's important for them is that they have an item that bears the huge MK logo. Such is one reason why the black market still blooms even though the public knows it's illegal.
On the other hand, there are also some who just want an elegant watch and they are offered one at a very low price. Who wouldn't be tempted to buy one especially when it's way more affordable than those you can find in malls and boutiques. They would just be disappointed to find out later on once the hands stopped or the battery just died down after just a few months.
We hope that you find this helpful as you shop for your next (Michael Kors or other) watch. Happy shopping! Ang go be fabulous and amazing!