Fossil is known for designing, manufacturing, and distributing quality and trendy watches worldwide. However, Fossil is not just an American fashion designer but also a manufacturer for various watch brands through licensing agreements.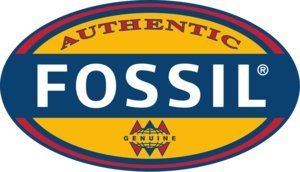 When it comes to watches, you may not be aware but the Fossil Group, Inc has a portfolio of brands include Fossil, BMW, Relic, Michele Watch, Misfit, Skagen Denmark, WSI, and Zodiac Watches.
Fossil also makes licensed accessories for brands such as Adidas, Armani Exchange, Burberry, Chaps, Diesel, DKNY, Emporio Armani, Karl Lagerfeld, Kate Spade New York, Marc Jacobs, Michael Kors, Puma, and Tory Burch.
The list of brands continues to grow as the company has bought out some independent watch brands such as Danish watch brand Skagen and Swiss brand Zodiac.
Most of the brand's watches have Japanese quartz movements. However, the brand also recently made forays into the Swiss-made watch market, including the introduction of Fossil Swiss – a line of Fossil watches with quartz and mechanical movements produced by its subsidiaries in Switzerland's Canton Ticino. The inclusion of Emporio Armani and Tory Burch among its sub-brands further strengthens its stand on the Swiss market.
Additionally, the brand also designs, produces and distributes other products such as accessories, leathers, and jewelry. However, the profits from these are still incomparable with those of watches.
So, read more to learn more about Fossil brand watches.
History of Fossil watches

The 1980s
In 1984, Tom Kartosis, then a Texan ticket brokerage operator, founded Fossil as Overseas Products International.
It was the time when fashion watches are emerging to become an important department store accessory. Tom's older brother, Kosta Kartosis, told his brother about the potentially large profits that can be obtained from importing retail goods in the Far East. They particularly targetted moderately-priced fashion watches.
Since Tom was already fed up with his business, he withdrew his savings and flew to Hong Kong. He came back with around 1,500 watches, most of which do have a retro look, and sold them in the US.
The following year, 1985, the Company introduced its first Fossil-branded watches. By this time, fashion watches just started to invade the market and Swatch was taking the lead. When Fossil joined the trend, fashion watches certainly became a hit.
In 1989, Fossil introduced its iconic tin box packaging designed with graphics based on the 50s era of the US. This packaging strategy gained wide support from the consumers market so since then, all Fossil watches are placed in tin boxes.
The 1990s
In 1990, Fossil introduced leather goods along with the Relic line of watches. In the same year, Fossil participated in its first Basel World watch and jewelry tradeshow in Basel, Switzerland.
By 1992, Fossil moves to expand its market by translating its accessories expertise and launching a range of small leather goods and belts for women.
The brand also started to expand geographically by establishing the Fossil Europe GmbH (Germany). It handles the distribution and marketing of Fossil products across Europe.
In 1993, Fossil had its initial public offering on the Nasdaq stock exchange as FOSL.
Additionally, the brand launched its men's line of small leather goods, including key chains, personal organizers, and wallets.
By 1995, Fossil opened its first outlet store followed by its first accessory stores in Chicago and Dallas in 1996.
In that same year, 1996, Fossil.com was launched, making it one of the pioneers of watch and accessories e-commerce.
The company started producing and distributing watches worldwide for other brand names in 1997 with Emporio Armani as its first brand licensee. Diesel and DKNY then followed suit by signing their respective licensing agreements with Fossil in 1999.
Before the 90s decade ended, the brand also launched its first line of optical frames in 1999 by partnering with one of the world's leading eyewear manufacturers, Safilo.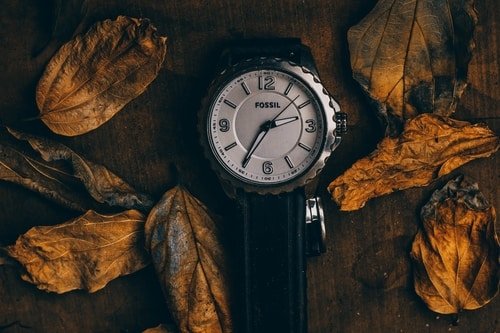 The 2000s
By 2000, Fossil launched its extensive collection of clothing and denim in its clothing stores and on its website, fossil.com. The brand also opened its stores in the UK, Germany, and Singapore. That same year, Fossil also introduced jewelry in its line in Germany.
In 2001, Fossil acquired a Swiss brand, Zodiac Watches, from Genender International for $4.7 million.
That same year, Fossil also entered licensing agreements with Burberry and a world-renowned designer Philippe Starck.
Not only that, but Fossil also developed a color-changing technology for watch dials called Kaleido, now under the brand's Big Tic line.
By 2002, Fossil consolidated its North America distribution in Dallas, TX where it has a 500,000 square foot distribution center.
Fossil also reached an agreement with Emporio Armani, to exclusively design, manufacture, market, and distribute a line of its jewelry.
Internationally, Fossil acquired Swiss distribution and retail companies in Basel, Switzerland. It also opened its first retail store in Australia.
This was followed by partnerships with Michael Kors and Marc Jacobs men and women's timepieces in 2004. The same year, the brand acquired Michele watches and entered into a worldwide licensing agreement with Adidas.
The following year, 2005, Fossil entered a new worldwide licensing agreement with Diesel for jewelry.
By 2007, Fossil launches jewelry in the US and launched its first e-commerce site outside the US – in Germany.
The brand launched e-commerce sites in Australia, Singapore, and the UK the following year, 2008.
In 2008, the brand announced a licensing agreement with DKNY jewelry for selected international markets.
Fossil was also granted a worldwide watch license for the A/X brand.
Fossil celebrated its 25th Anniversary in 2009 with the re-issue of its most iconic watches.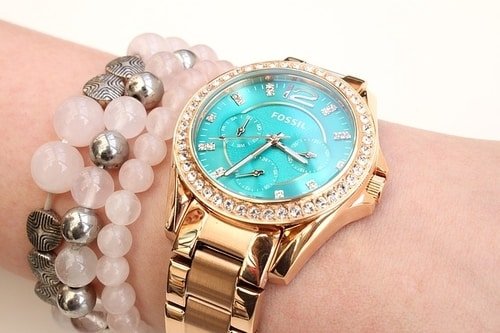 The 2010s
In 2010, the brand opened its first clothing store outside the US – in Germany and the UK.
By 2011, Fossil consolidated its headquarters into one campus, Fossil Central Station, in Richardson, Texas. It also changed its official brand tagline to "Long Live Vintage".
In the same year, it announced its licensing agreement with Michael Kors jewelry and signed a global licensing agreement with Karl Lagerfeld.
By 2012, Fossil purchased Skagen Designs, Ltd. along with its partner companies for a total value of almost $237 million.
The following year, 2013, Fossil introduced a new line of watches made in Switzerland called the "Fossil Swiss". It is comprised of high-end watches that are also more expensive.
By November 2015, Fossil continued its purchases and this time bought the Misfit for $260 million. The company's intent is to integrate the technology being utilized by Misfit into traditional-looking watches.
Why Is It Called Fossil?
So you've read through that long history and it did not mention where the brand got its name. Are Fossil watches made up of fossils? Certainly not!
If you would recall, the founders of the brand are brothers – Tom and Kosta. They used to call their father Fossil as a nickname. As such, the name of the company and the brand got its name from the nickname of its founders' father.
That's it! There's not much drama or scientific background about the brand name. If you're still wondering why the brothers chose their father's nickname as the company name, well, we still haven't got the answer for that. But if you found out, feel free to let us know by leaving a comment below.
Where Are Fossil Watches Made?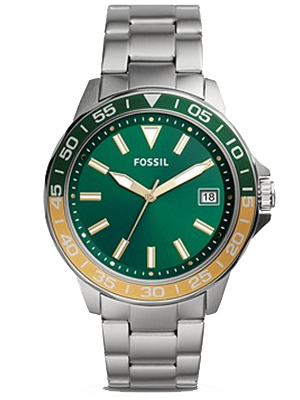 As mentioned above, the very first Fossil watches were from Hong Kong. However, since the brand grew into a billion-dollar company, it now has its own manufacturing companies around the world. This allows the brand to cater to various brands and various market segments.
The Fossil Group has a wide range of sub-companies, each having its own product lines. As a result, Fossil is already designing, manufacturing, and distributing Mechanical watches and quartz watches.
The high-end watches with mechanical movements are usually made in Switzerland, Germany, the United Kingdom, and Japan.
Compared to other watch brands, Fossil is relatively affordable, considering that many high-end quartz watches with the price range of $250 to $750 are also manufactured in the countries mentioned, and possibly, China. Most quartz watches that are priced lower than $250 are manufactured in Asia, mainly in China.
Of course, affordable vs. expensive is relative to your budget.
If you are still thinking Fossil watches are quite expensive, read this post.
Fossil Watch Reputation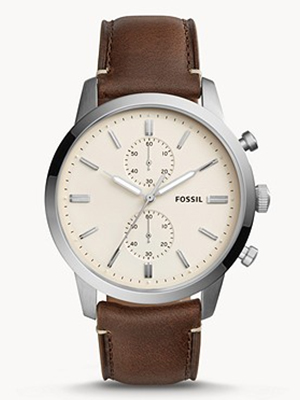 Looking at the portfolio of Fossil will pretty much give you a clue about its reputation. They are fashion watches, known for design and decent value considering the price point. However, they should not be compared to luxury watches. If your expectations are realistic and you compare them to similar brands in the same price range they have decent build quality.
They usually have inexpensive Chinese quartz movements but this is true of most fashion watch brands such as MVMT or Guess watches.
Regardless, Fossil stands out because of its modern styles and trends, and its top designers. The brands included in the Fossil Group portfolio include Burberry, Emporio Armani, Michael Kors, DKNY, Marc by Marc Jacobs and Karl Lagerfeld.
Many serious watch enthusiasts dismiss Fossil watches and would much rather buy a similarly priced Citizen, Seiko or Timex because of the watchmaking history that those brands and t. Others point out that if you are looking for fashion, a brand like Swatch has made very trendy watches over the years with the added benefit of being Swiss-made.
Reliable Construction
Many customers testify that their Fossil watch lasts for years. The watches carry a two-year warranty.
In more than two decades in the watchmaking industry, Fossil designed and produced watches with reliable craftsmanship and impeccable quality.
The majority of Fossil's watches are made from stainless steel, which is highly durable and easy to repair. Unlike other materials, its scratches are easy to buff away.
You would also find classic genuine leather watches and silicone.
Modern Styles and Trends
On the outside, Fossil watches are also a hit. The brand has a modern and fresh approach to watchmaking while maintaining its quality.
It also has a wide range of collections for you to choose from. From modern to classic, sporty or sophisticated, Fossil sure has a model for you.
If you want quartz or a Swiss one, Fossil also made sure to have some models for you.
Top Designers
Since Fossil partners with well-known fashion brands, it should not be a surprise that some biggest names in fashion and design have also lent their skills in designing Fossil watches.
One of them is Frank Gehry, a legendary architect who helped create a watch for Fossil. While it's no longer made, you can still occasionally find one on eBay.
See our list of other cool watches inspired by architects.
Another one who is also mentioned earlier is Philippe Starck. A world-renowned designer who launched a series of watches that features his distinctive style.
The Downside
Considering a large number of watches being produced and distributed by Fossil, there are some that slip quality control from various production facilities and other fashion retailers.
There are some feedbacks from some customers in various forums saying that they receive faulty watches. However, to make up to this, Fossil offers excellent after-sales service.
Are Fossil Watches Good Quality?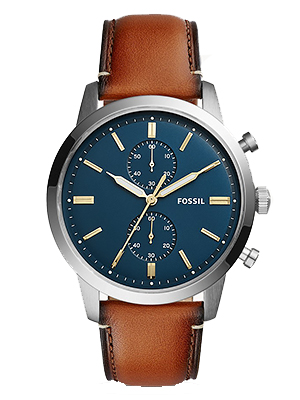 Fossil watches are accepted as of good quality for fashion watches in their price range.
Prior to the brand's launch in 1984, there was a hole in the clock and watch industry. Consumers only had two choices: cheap but unattractive watches and stunning but expensive ones. There was really no in-between.
When Fossil entered the market, it introduced good quality, fashionable yet affordable watches. It is no surprise that Fossil watches instantly become a hit. Added to its popularity are its trademark tin boxes.
Because of this great packaging strategy, Fossil watches usually serve as gifts to loved ones and friends.
Is Fossil a Luxury Watch Brand?
No, Fossil watches are not luxury by any stretch of the imagination. Although there's no exact definition, luxury watch brands are known for using premium materials, often making in-house movements, and would normally be a brand that has some historical significance in the watch-making industry with an established history of making mechanical watches prior to the introduction of quartz movements.
Fossil would be better described as a fashion watch brand – they focus on affordable, mostly quartz models that are stylish and marketed to the general public but lack the craftsmanship and materials associated with luxury watches.
Fossil Warranty Policy
All Fossil watches are warranted by the brand for a period of two (2) years from the date of purchase. It covers material and manufacturing defects.
The said warranty only covers the watch movement, hands, and dial of the watch. These components will be repaired as necessary or the watch will be replaced, free of charges if it proves to be defective in material or workmanship under normal use.
On the other hand, it does not cover any defect in materials and workmanship of battery, crystal, case, strap, or bracelet. The warranty is also void if the watch has been damaged due to accident, negligence, unauthorized service, or other factors not due to defects in material or workmanship.
Should the watch needs to be replaced, Fossil does not guarantee that you will receive the same model. If your model is not available, a watch of equal value or a similar style will be provided. Also, the replacement watch warranty ends two years from the date you received your replacement watch.
Visit this link if you need further details or need additional assistance.
Where To Buy Fossil Watches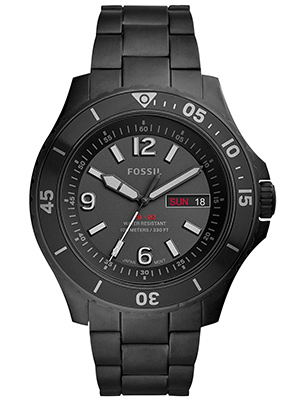 Fossil watches are available worldwide. It has 59 offices around the globe and operates in around 150 countries.
Should you want to buy a watch in person, you can visit one of the 500+ company-owned stores globally.
You may also shop online through the fossil website.
Fossil watches can be found everywhere from affordable box stores such as Walmart to department stores including Macy's or clearance sites such as Overstock.
There is also a huge selection of Fossil watches to choose from on Amazon.
Fossil Smartwatches
Before we end, do you also know that aside from its traditional quartz and Swiss watches, Fossil has also managed to establish itself as a competitor among smartwatches?
Unpopular to many, Fossil entered the market of smartwatches in the Fall of 2015. As Steve Evans, executive vice president of the Fossil brand, stated:
As an innovator in the fashion watch space, we knew that had the ability to launch a new category of watches that would be extremely relevant to a new generation of watch wearers. We pride ourselves as being 'watch geeks' and became obsessed with transforming the watch category as it stands.
Since then, the company has brought more than 150 touchscreen smartwatches, hybrid smartwatches, and activity trackers throughout 40 countries and in 20 languages for its sub-brands.
You can see a variety of the smartwatches they offer on the Fossil website.
Fossil Gen 6 Smartwatch
Fossil smartwatches continue to be one of the main competitors in the market, especially for more dressy fashion-minded smartwatch buyers.
The most recent edition is their Gen 6 Smartwatch

So whether you opt for a traditional watch or a techy timepiece, you can be assured that a Fossil product will meet your expectations – in style, price, and functionality. And don't forget the stylish tin boxes that add to the overall appeal of the brand.
Main featured image by Matthew Fournier