Zodiac, a Swiss watch company, was founded more than a century ago, but it remains relatively less popular than other Swiss watch brands (such as Omega and Tag Heuer) that have been around for about the same period.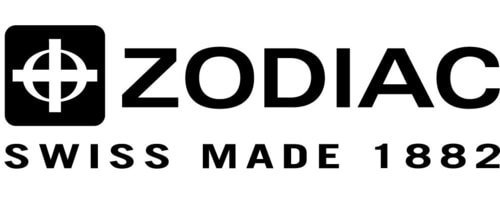 The brand, however, continues to be popular among watch collectors and enthusiasts even after its peak in the 1960s to 1970s. After some number of acquisitions and a bout with bankruptcy, the company continued to produce excellent Swiss watches that have gained its fans all over the world.
This article will let you in on the history of the company and the backgrounds of some of its best watches. Those who are planning to purchase a Zodiac watch will also get information on how and where to make a purchase.
Zodiac's History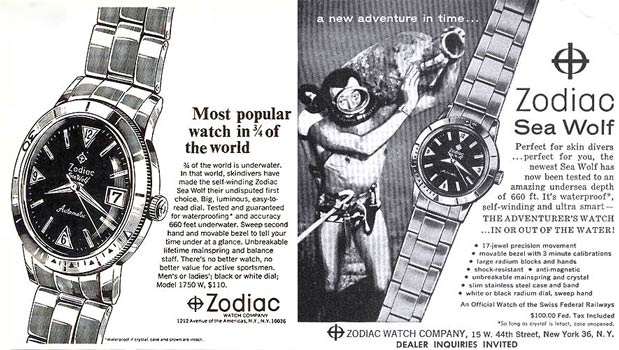 Zodiac watch was founded in 1882 in Le Locle, Switzerland. The original company name was Ariste Calame, the name of its founder. The name Zodiac was officially registered in 1908. Calame's son, Louis Aritse Calame, was sent to watchmaking school and took over the business in 1895.
The brand's philosophy is to design high-quality, Swiss-made watches that are precise, stylish, and innovative. They take inspiration from vintage models from the 1950s to 1970s and incorporate modern and improved functions while staying true to the classic designs. According to the brand's website, these contemporary updates include the Superluminova watch hands and Swiss-made STP mechanical movements.
In 1990, Zodiac was acquired by Willy Gad Monnier of TAG Heuer, but the company went bankrupt seven years after. In 1998, was bought by Genender International Inc., and discontinued making many watch collections such as the Point Series and Swiss Formulas.
In 2001, the company was acquired by Fossil Inc. The following year, the brand participated in Basel World. This was the first time in about 50 years that Zodiac did not include a Sea Wolf model. The collection, however, made a comeback in 2015, when the brand released re-issues of the vintage models—the Diver and Skin Diver—which we will discuss further below.
The company is now located at the Antima Headquarters in Biel/Bienne.
Zodiac and pop culture
One of the things that made the brand well-known in pop culture is the movie "Zodiac," (an adaptation of a Robert Graysmith story of the same name) directed by David Fincher. This movie follows the story of a serial killer in California in the 1960s-1970s who called himself Zodiac, after a watch that he wore.
Click here to see many of other watches that have been featured in movies.
The movie featured the Zodiac Sea Wolf model by a character who played the suspect. If you'd like to learn more about this film, you can visit this site, which provides a lot of interesting information. It has a lot of information on the Sea Wolf model as well.
Zodiac watch collections
One of the things that Zodiac is widely known for is its dive watches. The Sea Wolf collection, which was first introduced in 1953, was one of the first commercial dive watches. According to this article, the SeaWolf and Blancpain's Fifty Fathoms were both released in the same year—a year ahead of the popular Rolex Submariner.
According to an article in Hodinkee, the Sea Wolf pioneer watch was practically unchanged through the 1950s and 1960s—having just a few changes like a date function. To learn more about the interesting story behind this watch, you can continue reading the story here.
Below we'll talk about Zodiac watch collections and some of its best watches, which include the Super Sea Wolf, which has a re-imagined heritage style.

Zodiac Super Sea Wolf

The Super Sea Wolf collection was relaunched starting in 2014. This line has a wide array of dive watches, all of which you can find here.
One Super Sea Wolf line that has received praises in reviews is the ZO9266 model. This 40mm dive watch has a matte blue dial, a stainless steel 5-link bracelet, and is water-resistant to 200m.
This review praised qualities like comfort and sizing and also provides readers and potential buyers some caveats on some features such as the size and fit of the links.
For those who are looking for some limited-edition Zodiac designs, there's the Super Sea Wolf 68, a commemoration of the 50th anniversary of the original dive watch. This model, which has a retail price of $1,995, is sold with a leather roll case with different straps (textile strap, mesh band, and a rubber strap).
This is a big timepiece, having a 44mm x 49mm case size, and has a COSC-certified (The Contrôle Officiel Suisse des Chronomètres or the Official Swiss Chronometer Testing Institute which is responsible for certifying the accuracy of Swiss watches) STP 3-13 movement, and a rotating bezel. The water resistance is also noteworthy—a whopping 1000m.

Zodiac Grandrally

For those who are looking for something more affordable, there's the Grandrally collection.
Described as "an extremely wearable timepiece for the modern man," the watches from this collection, such as the Zodiac Grandrally leather watch with a quartz chronograph movement is excellent for big wrists (the case size is 41.5mm x 48mm). If you'd like to read an account of how well this watch works, this article talks about how a watch from this collection brings back the "mechanically biased" to quartz watches.
See all the Grandrally models here.
Zodiac Astrographic
One of the most unique looks of Zodiac's collection is the Astrographic, a small line of watches that have a distinct look, having a retro aesthetic with contemporary features.
The Astrographic line was first introduced in 1969. The feature that makes it unique is the floating hour and minute hands and a small red dot (the moon) that orbits the dial while counting the seconds. The new versions that can be bought today still stay true to these features, but have a few updates such as Fossil's automatic STP 1-11 caliber, and a 44-hour power reserve.
Most of the models on the website are sold out as of writing time, but you can try your luck on third-party sites like Amazon and eBay (more on these later).
The model that's currently available on the Zodiac website is the Astrographic Limited edition watch, which is similar to the one vintage model. Limited to only 82 pieces, this 45mm x 39mm watch has features such as STP 1-11 automatic movement, sapphire crystal with anti-reflective coating, and a matte black "Diamond-Like Carbon" coated case.
Unlike the vintage model, this one has a leather strap and has been upgraded with Superluminova hands and indexes. You can read more about this watch (as well as its vintage version) here.
Zodiac Sea Dragon collection

One of the watch collections that came out between the 60s and 70, the period of rich innovations by Zodiac, is the Sea Dragon. The company relaunched the collection decades later.
The watches from this collection have a vintage dive watch style that's elegant and sporty at the same time. Also powered by the STP 1-11 movement, these watches have a stainless steel case and an exhibition caseback with sapphire glass. There are different sizes available: 39mm, 46.5mm (Sea Dragon Deployant), and 50mm (Sea Dragon Chronograph – Limited Edition). All watches have water resistance to 100m.

You can check out the Sea Dragon collection here. All models, including the limited editions, are currently sold out on the brand's official website, but you can check other stores and sellers, which we will discuss more below.
Where to buy Zodiac watches
You can buy Zodiac watches on its website. Simply Add to Cart, and you can pay online via websites like Paypal. If you'd like to visit a Zodiac store or an authorized reseller, you can also visit the site's Store Locator.
You can also find Zodiac watches on other online retailers, but this may affect the brand's promised two-year warranty, which we will discuss below.
See Zodiac Watches on Amazon
Check eBay for prices on Zodiac Watches
Zodiac warranty
Zodiac provides a two-year international warranty from the original date of purchase. This warranty covers materials and manufacturing defects.
The owner of the watch to be repaired needs to present a copy of the receipt and a completed warranty card as proof of purchase. According to Zodiac's website, the warranty period covers three things: the watch movement, hands, and dial: "A covered component will be repaired or the watch will be replaced free of component and labor charges if it proves to be defective in material or workmanship under normal use," the rules read, adding that if the watch needs to be replaced, the owner will receive the same model or a model of equal value and similar style.
For the specifics, you can read more about Zodiac's warranty policy here.
Thanks for reading!


Zodiac is a brand that pays homage to classic vintage models while making sure that their contemporary counterparts constantly undergo upgrades. It may not be the most widely-advertised Swiss watch brand out there, but it has proven time and again that a brand does not need to be loud in order to be reliable. It continues to get good reviews and recommendations, such as this article.
We hope you enjoyed learning about Zodiac in this article! If you'd like to learn more about the brand and its watches, we suggest that you also explore the links and videos that we provided in this article.