While Switzerland is the most obvious country that comes to mind when we think of watches, there are many other European countries that make quality watches and Denmark is no exception.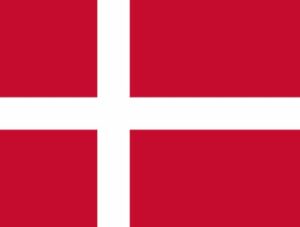 While Scandinavian watches are not known for high-end luxury watches like Swiss-made ones, Danish watches are very highly regarded in the world of design and this is also where they have built a reputation in the watch world for stylish watches. Danish design is generally known for its simplicity and functionalism.
The elegant lines of a Hans Wegner or Arne Jacobsen piece of furniture are signature examples of clean and iconic Nordic design. In the 50s, the movement towards the industrial design of office furniture and domestic appliances has also left its mark on Danish timepieces.
When it comes to watches, Danish brands generally stand out for their minimalist design and they mostly compete with other fashion watch brands such as millennial brands: MVMT, Fossil or Michael Kors.
Here are some of the top brands coming out of Denmark that you should know about: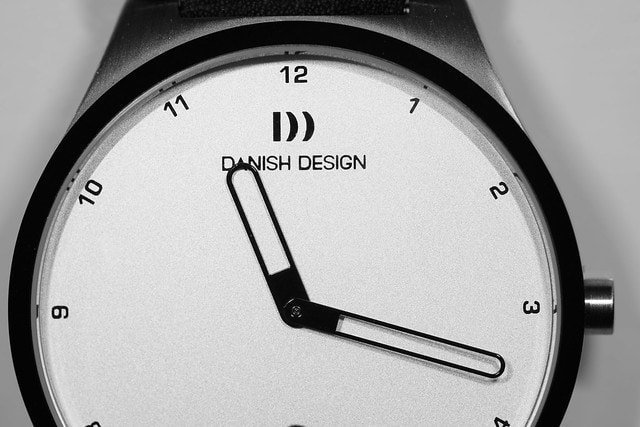 Top Danish Watch Brands
Nordgreen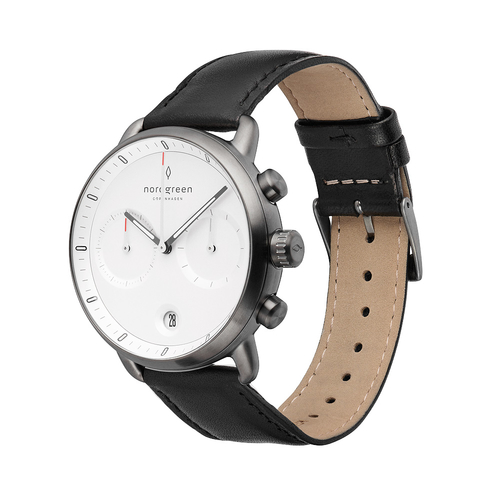 Read Amazon Reviews | See on Nordgreen
Nordgreen started as a Kickstarter campaign in 2017 and quickly reached full funding. The company is Copenhagen-based designer Jakob Wagner who is well known for his designs at Bang & Olufsen and other Nordic brands. He has won many awards including Red Dot Awards and has a permanent collection at MoMA, New York.
Danes are well known for giving back to society, and Nordgreen is no exception. Part of Nordgreen's profits goes to 3 causes with the funds going to Health, Environment and Education: Water for Good, CoolEarth and Pratham UK.
The brand's minimalist watches come in designs for Men and Women with a variety of watch band options. Shop Nordgreen.com or See Nordgreen Watches on Amazon.
Skagen
Read Amazon Reviews | See on Skagen.com
Skagen watch company was founded in 1989 and is named after a town on the northernmost tip of the Jutland peninsula. The brand was started by Henrik and Charlotte Jorst who had moved to the US from Denmark. While the brand's origins and designs were Danish, the watches were originally manufactured in Hong Kong.
In 2012, the brand was bought by the Fossil group and now also produces leather goods and other accessories, while it is a subsidiary company, the watches are still branded as Skagen Denmark.
The brand leading principle is "Good design for better living" and simplicity. The watch designs definitely match up with that mission. Skagen watches feature a very clean design with uncomplicated features. Skagen watches are made in China and primarily use Japanese Miyota (Citizen) quartz movement.
Click here to see our detailed brand overview of Skagen Watches.
They are a fashion watch brand and are relatively affordable with many of the models selling in the $100-$200 range. See more on Skagen.com
Bering Time
Read Amazon Reviews | See on BeringTime.com
This watch brand was created by Danish businessman and René Kaerskov. The story has it that he was inspired to start the watch company in 2008 after jumping from a helicopter into the ice-cold of the Arctic near the North Pole.
He later teamed up with Michael Witt Johansen and Lars Gram-Skjønnemann to design timepieces with designs that were as crisp and clean as the pure arctic water. The company's tag line is "Inspired by Artic Beauty". The name of the brand itself is dedicated to the Danish sailor Vitus Bering, first European to see Alaska and the Arctic Ocean and also responsible for navigating the waterway that now bears his name: the Bering Strait.
The watch designs are strikingly elegant and minimalist. Some of their collections include titanium watches as well as solar-powered watch movements.
The Bering Time Solar Collection Watch made it on our shortlist of top solar watches here.
You can see all the watches here on the Bering Time website. They are also available on Amazon.
Bulbul
Bulbul Watches is a modern, Danish watch brand that was founded in 2013 by designer Jacob Juul. The first watch launched was the Pebble (pictured above), named after the pebbles that can be found along much of the coastline of Denmark.
The watch is made with German steel, the watch bands come in several options including steel or Italian leather. The watch is water-resistant to 3 ATM (30 meters) so while it can get wet it is not submersible and is covered in a Sapphire crystal for scratch resistance.
The asymmetric watch face design of the Pebble was a success that was later followed with other models including the round-face Ore and Facette models. All of these watches feature Swiss movements and minimalistic design. The watch faces are lacking numerals for the hours and much beyond just the minute and hour hands.
The latest model is the Oblong with its elongated "tank style" look. See all Bulbul models here on Amazon.
https://www.instagram.com/p/BuBxKZjnywM/
Georg Jensen
Georg Jensen is best known as a silversmith with a company heritage dating back to its beginnings in Copenhagen in 1904. The company started producing watches in 1969 with the now-iconic design of the women's Vivianna Bangle watch. The company later produced its first men's wristwatch that was designed by Danish artist Henning Koppel.
The company continues to be a renowned Danish designer concentrating on housewares, silver cutlery and home decor.
Georg Jensen watches generally retail in the $1,000 range and above.
See Georg Jensen watches at Jurawatches
Larsen & Eriksen
This young, Danish watchmaker is the brainchild of two guys that have been friends (thus the brand name) since the 3rd grade. Inspired by Danish Mid-Century Modern and wanted to make their mark in the watch industry, the two designers left their jobs to launch the brand in 2016. The watches feature clean minimalist lines and metallic finishes.
They are designed in Denmark and use Swiss movements. The brand has also collaborated with the Louisiana Museum of Modern Art with a collection of watches celebrating the 1950s era Danish design. See more on larseneriksen.com
https://www.instagram.com/p/Bt6ArWlHVQo/
Ole Mathiesen
While Ole Mathiesen does produce its own watches, its also a small watch shop in Copenhagen that has been in the Mathiesen family for 3 generations.
In 1919, Axel Mathiesen took over Alvilv Dahl, which was a well-respected watch shop selling Swiss-made timepieces.
In 1957, Alex Mathiesen passed the store on to his son Ole, a watchmaker who had previously worked at the Swiss company Jaeger-LeCoultre. Ole designed the first watch under the family name and took the family company from a watch shop to also being an independent watchmaker. Now in its third generation, run by Ole's son Christian, the company continues to sell high-end watches in the Danish capital.
Keeping in line with the company's history of selling quality Swiss timepieces, their watches are made by their own watchmakers in Switzerland and carry the "Swiss Made" mark. See more on olemathiesen.dk
Lars Larsen
Lars Larsen or Llarsen started in Svendborg, Denmark in 1919.
A century later, they are still sourcing local materials and handcrafting their watches in Denmark including the genuine calf leather on the watch straps or the sapphire crystal glass used on the watch faces.
Lars Larsen markets to young, urban consumers with modern designs. The watch models are named using common Danish men's and women's first names (for example Nikolaj Oliver, and Christopher or Regitze, Caroline and Lykke).
Most Lars Larsen watches retail in the 150-200 euro range. You can shop directly on their website llarsen.com.
You can also find Lars Larsen on Amazon and some discounted on watchshop.com here.
Obaku Denmark
This brand's slogan is "Where Nordic Meets Zen" which should give you an idea of the watchmaker's approach. As we see with most of the Danish watch brands on this list, they really seem to value the minimalist aesthetic.
Obaku takes the theory to another level by blending Asian Philosophy with watch design. The Obaku branch of Zen philosophy was started near1661 a mountain with the same name and was chosen by the founders of the watch brand to represent their company. Even the logo represents the circle of life. If you want to read more in-depth you can see their full story here.
The company has stores in 67 countries around the world (see their store locator here) and markets their watches as "affordable luxury", however the watches themselves are made with Japanese quartz movements comparable to what you would find in most fashion watches, any serious watch aficionados would not consider this anywhere near-luxury status.
Most Obaku watches retail in the 100-200 euro range so compete with other watches in the fashion or affordable consumer range.
See Obaku watches on Amazon, Shop Obaku watches on eBay or buy direct from Obaku.com
Arne Jacobsen
Arne Emil Jacobsen (1902-1971) was a Danish designer and architect known for his contributions to the design movement of architectural Functionalism. After studying at the Royal Danish Academy of Fine Arts in the 1920s he spent his early career designing everything from seaside resorts, lifeguard lookout towers, and public buildings. After going into exile during WWII due to his Jewish heritage he fleed to Sweden for two years where he designed fabrics.
After the war, he returned to Denmark and continued to design buildings although later in life he was more known for his furniture and iconic chair designs. One of his large building projects was the SAS Royal Hotel which some people dubbed "the world's first designer hotel". For that project, he designed several chairs (including the Egg, Swan and Drop chairs).
While watches were not the primary design medium of his portfolio you can still buy watches based on his designs at arnejacobsenwatches.com, each one of the watches honor specific designs that he did during his career. For example, the "Station" model is in honor of the Rødovre City Hall that he designed in1956. This watch is also sold at the Museum of Modern Art gift shop.
There is also an Arne Jacobsen Swiss Made line, only 200 units of each of these limited edition watches were made. Arne Jacobsen watches can also be found here on Amazon.

Mermaid Stories
The young watch brand out of Copenhagen has been making women's watches since 2016. The brand expanded beyond watches and now also sells jewelry. Celebrating Scandinavian chic, the watches.
The watches use Seiko movements and German vegetable tanned leather for the watch straps. The watches retail for ~250 euros. The watches are all given woman's first names (Caroline, Maria, etc) but are essentially the same watch design just the color tones of the watch faces and watch straps vary between metal and leather.
---
As we've seen here, there are several Danish watch brands that stand out from the competition, especially when it comes to clean, minimalist design. From affordable watches such as Skagen to the high-end Swiss-made Ole Mathiesen timepieces, they all excel at representing Denmark's long and distinguished history of world-renowned design.