German watch brands are best known for their attention to detail and engineering. Germa "Flieger" style pilot watches with roots in the WWII period have had an important impact on watchmaking and are still in high demand. German watches are often minimalistic, many brands embraced the Bauhaus style of design, and that influence can still be seen in the overall Aesthetic of German timepieces. 
While some brands on the list are widely known, such as Montblanc and Sinn, you may be surprised by some brands on the list as the names are not necessarily obviously German-sounding.
Note: You'll notice several of the brands below contain the word "Glashütte" which may cause some confusion.
Glashütte [ˈɡlaːsˌhʏtə]  is a town in Sächsische Schweiz-Osterzgebirge, in the state of Saxony, Germany, which was the birthplace of the German watchmaking industry.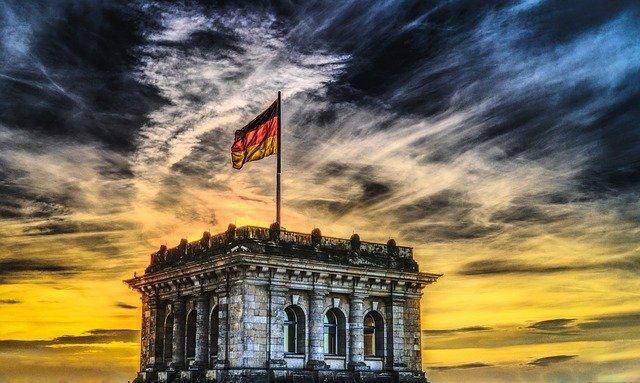 Best German Watch Brands
Junghans Uhren GmbH

This watch brand, Junghans for short, was initially named Junghans and Tobler when it was established in Schramberg, Germany back in 1861. It was started by Erhard Junghans and Jakob Zeller-Tobler, his brother in law. The company's first products are watch components. It was not until 1866 when Junghans' watchmakers were able to produce watches that bore the Junghans brand name.
In 1870, Erhard Junghans died and the company was transferred to his wife and then to his sons Erhard jun and Arthur. With the leadership of the Junghans brothers, the company was able to mass-produce quality watches and offer them at reasonable prices.
By 1903, Junghans already produces around three million watches yearly and has more than 3,000 employees. For this reason, it became the world's largest watch factory back then. Junghans continued to lead innovations in the watchmaking industry since then.
Among its remarkable products are pocket watches and alarm clocks equipped with radioactive luminescent hands in 1912. Then in 1946, Junghans was able to develop its first wristwatch chronograph.
Through the years, the company was able to integrate more innovations in its watch production and introduce more remarkable timepieces. In 2000, EganaGoldpfeil Holding took over the company that reoriented the brand in a new direction, focusing on tradition, innovation, and continuity.
Montblanc

Founded in 1906, Montblanc is a German manufacturer not just of watches, but also jewelry, eyewear, luxury writing instruments, and leather goods.
It was started by a banker and an engineer, Alfred Nehemias and August Eberstein, respectively.  Initially, they produced pens and it is for these products that Montblanc became known in the international market.
In 1985, Dunhill Holding took over Montblanc. Then, Vendôme that later on became Richemont. With this, Montblanc became one of the brands of one of the world's largest luxury conglomerates, along with Cartier, Van Cleef & Arpels, Jaeger-LeCoultre, and IWC.
With the Richemont influence, Montblanc Montre SA was established in Switzerland in 1997. During the same year, Montblanc introduced its first handcrafted timepiece – the Meisterstück Watch.
Although quite young in the watchmaking industry, Richemont was able to produce watches that are masterfully innovated and designed, and equipped with revolutionary functions.
You may explore its watch collections on its website or read our brand overview to find out more about Montblanc Watches.
A. Lange & Söhne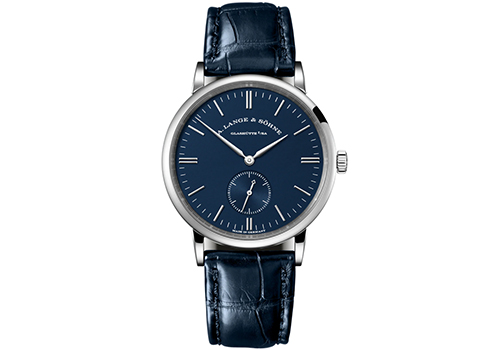 This next brand is another subsidiary of Richemont. The brand name A. Lange & Söhne that we have now traced its roots back to Glashütte, Germany when it was first founded by Ferdinand Adolph Lange in 1945. However, its operations stopped in 1948, after World War II.
It was re-instituted in 1990 when Ferdinand's grandson, Walter Lange, launched the Lange Uhren GmbH. The following year, IWC – International Watch Co. Schaffhausen acquired the majority of Lange Uhren GmbH.
The brand was then re-launched with the trademark A. Lange & Söhne and as a top-of-the-line luxury watch manufacturer. It introduced its first wristwatches in 1994 – the Lange 1, Arcade, Saxonia, and Tourbillon Pour le Mérite. Its timepieces have a recognizable stark and crisp design, and quality German movements. It also boasts high-quality and accurate luxury watches.
Over time, its ownership has been transferred several times to Jaeger-LeCoultre, Vacheron Constantin, Carter, Piaget, Baume and Mercier, and of course to Richemont, being the latest.
Explore more about this brand through its website.
Meistersinger

Meistersinger is one of the young watch brands that started in Germany. It was founded only in 2001 by self-taught jeweler Weller Manfred Brassler.
Weller actually first established the Watch People back in 1989 mainly showcased quartz watches. However, 10 years after, Weller sold the said company in order to pursue his passion for mechanical watches.
The name Meistersinger was thoughtfully derived from the term used to refer to singers in the Middle Ages who experimented and discovered new melodic elements. In the same way, the brand intends to incorporate itself to innovation and originality.
As such, Meistersinger watches are distinguishable with their one-handed watch dial that points to the hour. With such an overarching design, creativity is used and applied to tell the minutes. Some collections feature a minute window while others have sub-dials.
See Meistersinger unique watch collections on the brand's website.
Sinn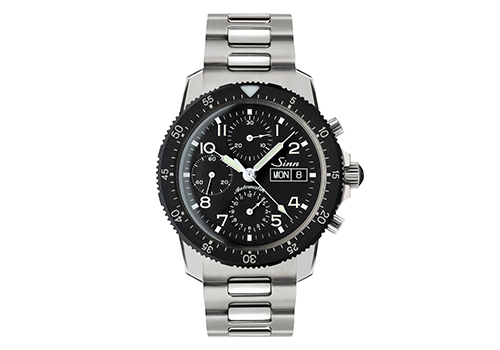 Helmut Sinn Spezialuhren was founded in 1961 by Helmut Sinn, a flight instructor, and World War II pilot. Its main products then were navigation clocks and pilot chronographs. Strategically, Sinn timepieces were sold directly to customers, bypassing the retailers so they were bought at very low prices.
By 1994,  Helmut Sinn sold the company to Lothar Schmidt, a former IWC staff and engineer. With Lothar's leadership, new technologies and innovations were introduced to the watch company that caused various improvements in Sinn's timepieces.
Sinn manufactures high-quality, durable and accurate timepieces such that its customers include the police maritime unit and the fire department.
Explore the Sinn website to see these outstanding German timepieces or read our brand overview of Sinn watches here.
Archimede Watches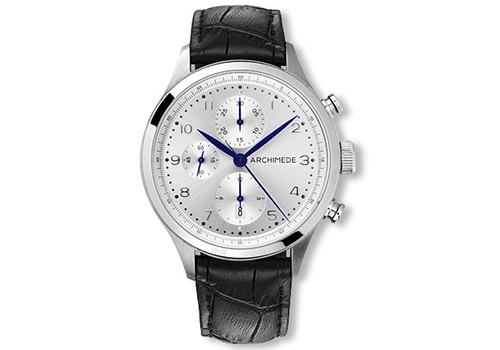 Another young German watch brand is Archimede which was just founded in 2003 by Karl Ickler. He also established the Ickler family business way back in 1924 that also manufactures the Lime Watches, Autran & Viala, and Defacto.
Since Ickler has been a case manufacturer for decades, even the first line Archimede watches that were introduced in 2003 was already well received by the market. Archimede watches are all manufactured in-house, specifically in Pforzheim, Germany.
The brand offers automatic and hand-wound watches, marine and dive watches, and dress watches. To see its entire collections, might as well visit the Archimede Watches website. To find out more about the brand's history see our full review of Archimede here.
Damasko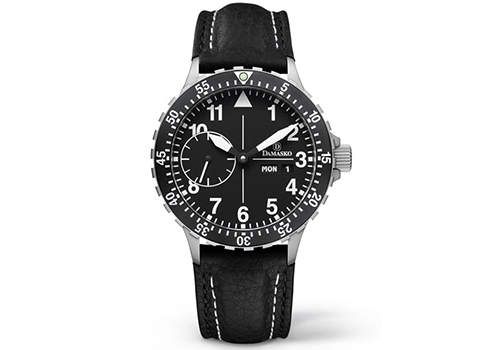 Damasko is a namesake company started by Konrad Damasko in 1994 in Barbing, Germany. With the background knowledge in the aeronautics applications of high-end materials, the Damasko company started with watch case production.
In particular, Damasko stood out of producing a highly durable nitrogen-enriched and nickel-free watch case. As such, it was the case supplier of Sinn until 2002.
Yet, it also produces its own timepieces that are equally outstanding. Damasko watches specifically focus on precision, although without compromising the quality. As such the brand has already won a number of awards and it serves as the official timepiece of Eurofighter test pilots. You may see its collections on the Damasko website.
Nomos Glashütte

This watch brand was established by Roland Schwertner in 1990, just after the reunification of Germany. NOMOS Glashütte is headquartered in Glashütte, Saxony, producing both manual-wound and automatic-mechanical watches.
Their products adopt the Bauhaus design and are found to be of high quality. By 2005, NOMOS was already using its in-house movements. And, in that same year, it launched its first automatic watch: the Tangomat.
NOMOS continues on producing remarkable timepieces and offers them at very affordable prices such as the "Autobahn" automobile-inspired watch pictured above.
Visit the NOMOS Glashütte website to see its entire watch collection.
Stowa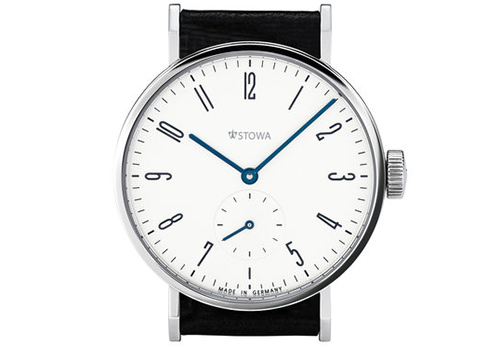 Stowa was founded by Walter Storz in 1927. For years, it has transferred from one place to the other until it established its new factory in Rheinfelden, Germany and its head office in Pforzheim.
Stowa is currently owned by Jörg Schauer. This watch brand is known for producing high-quality wristwatches. The majority of which is being sold directly to the customers that's why their prices are relatively lower. You may also shop for a Stowa watch online by visiting the brand's website.
Glashütte Original

Glashütte Original is one of the most popular German watch brands. It was established in 1994 when the conglomerate watchmaker named VEB Glashütter Uhrenbetriebe (GUB) was privatized.
Glashütte Original boasts of timepieces that are equipped with its in-house movements. More so, the quality of their products is said to be on par with some remarkable Swiss watchmakers when it comes to artistry and craftsmanship.
The brand's name, Glashütte is a town in Germany where its main factory is located. However, other watch companies started adding the term Glashütte as well in their name as a sales booster (even if they are Swiss-made). As a response, the company started adding the word Original to indicate that it's really from Glashütte. From then on, the company took on the name Glashütte Original.
It currently features five collections: Senator, Pano, Spezialist, Vintage, and Ladies. You may find this it the brand's website.
Laco

Lacher & Co. was founded in 1925. Over time, it rose at the forefront of the watch factories in Pforzheim. Together with Durowe, it kept business running even during the Second World War. In fact, it was one of five companies that supplied reliable watches for the pilots and men of the German Luftwaffe. Today, their pilot watches are the biggest symbols of their success story.
Laco was relaunched in the 1980s. There was a span of time where Lacher has been surviving with a small company – trying to keep the business running. But in September 1988, Horst Gunther, its executive manager, bought the brand's logo and name rights.
As a result, the company was able to remain afloat, selling a contemporary collection of high-quality Laco watches. Today, many of these models are still mechanical but function using Japanese and Swiss movements. In the sixth generation, Andreas Gunther managed the company.
At the 75th anniversary of Laco, they issued 75 of its iconic pilot watch models from the 1940s.
You can learn more about the Laco brand and its history here.
We've also featured the Laco bronze watch here and voted it a good affordable pilot watch here.
---
Situated between the cities of Stuttgart and Karlsruhe, Pforzheim (German pronunciation: [ˈpfɔʁtshaɪm] is a city of over 125,000 inhabitants in the federal state of Baden-Württemberg, in the southwest of Germany. It is known for its jewelry and watch-making industry, and as such has gained  the nickname "Goldstadt" ("Golden City") Souce: Wikipedia.
---
Union Glashütte
Another German watch brand that originated from Glashütte is the Glashütter Uhrenfabrik Union also known as the Union Glashütte. It was founded by Johannes Dürrstein in 1893 with the main mission to produce precise and high-quality Glashütte timepieces at very affordable prices. 
Johannes Dürrstein has worked with Ludwig & Fries watchmaking suppliers in Frankfurt am Main. It was therein that he obtained some commercial knowledge. More so, he was able to establish contact with other manufacturers and customers of watches in Switzerland and around Germany.
With this background Union Glashütte timepieces quite vary in style and design. There are elegant and sporty; some are distinctive while others are traditional. There are also modern and vintage styles.
You may check out its collections on the Union Glashütte website.
Mühle Glashütte
Mühle Glashütte was established by Robert Mühle to supply high-precision measurement instruments to the German School of Watchmaking.
By the 1990s, the company then move to produce marine chronometers. Then, it launched its first wristwatch in 1996. Up to the present, Mühle Glashütte is still committed to producing premium quality timepieces. Prioritizing quality over quantity, the company manufactures only about 1000 pieces.
On its website, you will see and be able to shop for these high-quality watches.
Chronoswiss

This last brand may raise some eyebrows from the name itself – Chronoswiss. In fact, it is almost always that Chronoswiss is identified as a Swiss brand although it is also listed among German watch brands.
Although its headquarters is currently located in Lucerne, Switzerland, Chronoswiss was first founded in Munchen, Germany back in 1983 by Gerd Rüdiger Lang.
Should you want a Chronoswiss watch, you may visit its website.
Junkers (Iron Annie)

The history of Junkers goes back even before the conception of POINTtec. In 1895, a German named Hugo Junkers decided to begin his own company. He named it Junkers and collaborated with military and aviation businesses. The company was known for several record-breaking innovations in aircraft and was a trusted supplier for the German military. They also worked with several aviation companies in the commercial sector. It didn't take long before Junkers became among the most powerful and influential people in German design and engineering. His work, to this day, is respected all around the globe.
Recently, the brand has been purchased and rebranded as Iron Annie. But don't worry – if you are a fan of the original brand, you can rest assured that Junkers watches are still being manufactured in Germany with the original name. It is managed by Hugo Junkers' family. Read more about Junkers watches here.
Bruno Söhnle

Located in Saxony, Germany, Bruno Söhnle GmbH Watch Studio Glashütte (in short, Bruno Söhnle) produces and sells quartz and mechanical watches with automatic and manual self winders. With a little over 60 years of successful enterprise in the watchmaking industry, Bruno Söhnle currently sells across 40 countries.
While Glashütte watchmakers are historically known for quality mechanical watches, much of the current Bruno Söhnle product line use quartz movements. The company also modifies its automatic Satellite movement with its own winding motors.
Although, the brand does not enjoy a worldwide reputation like some other famed watchmakers from the area, watch enthusiasts commend the technical perfections, attention to minute detailing, and sophisticated styling.
Bruno Söhnle currently sells hundreds of different timepieces on its official website.
Zeppelin Watches

This is a sister brand to Junkers mention above and their parent company POINTtec came to be in 1987 by Wilhelm Birk and soon took off as a well-recognized brand. After initial success with brands like Maximilian Munchen and Junkers, POINTtec launched Zeppelin watches in 2002. The company is headquartered in Ismaning, Germany on the outskirts of Munich.
The brand primarily markets pilot watches and minimalist dress watches. Their branding and even the name of the watch intertwines with the aeronautical history in Germany including models named after the Glashuette Observatory, Zeppelin Nordstern, the historic journey to the North Pole in 1931, and Zeppelins crossing the majestic Atlantic Ocean.
Tufina
Founded in 1828 in Albania, Tufina later moved to Munich, Germany.  with a focus on design and quality. With a long-standing history of a family of skillful watchmakers working on tower clocks and longcase clocks, they later developed pocket watches and wristwatches as well.
Attention to detailing with a captivating design forms the cornerstone of Tufina.  The brand sells two collections, under the brand names of  Theorama and Pionier