Archimede is a German watch brand founded by Mr. Karl Ickler in 1924. In this article, we'll take a close look at the brand's history and reputation and also zero in on a few of its watch models to take a closer look at the design, features and build quality.
Timepieces are a curious item. They are a fashion statement, an instrument, an accessory, and the embodiment of a passion. Every true watch fan knows that the diversity in the watch world is a double-edged sword. It is the greatest asset that it possesses, and perhaps the biggest flaw as well. Watch enthusiasts constantly bicker and debate over what type of timepiece is better, battling it out with facts and figures that support each type, but at the end of the day, there's one fact that stands tall; the choice of a timepiece is non-exclusive.
"What interests me about clocks is that everything is hand-made, and yet to the person looking at the clock, something magical is happening that cannot be explained unless you are the clockmaker." – Brian Selznick
Quality watch brands are difficult to find, and every time a watch fan hears about a new brand, they have to fall back onto the reviews and opinions of other watch enthusiasts. Archimede is just one of these brands.
Archimede Brand History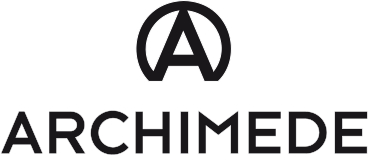 Precision can be defined as the quality or state of being precise, and this is an attribute that is essential in the making of a quality timepiece. Fortunately, German precision is a widely accepted standard in the world of watches.
Mr. Karl Ickler was the head of the manufacturing department for a wide number of multinational companies, and it is with this knowledge that he founded his family business in 1924. Mr. Karl Ickler amassed a huge arsenal of experience and used this experience to set up the basis of his watch case factory.
Fast forward to 1947, and his two sons attempted to resurrect the company that had become benign during the war. Today, his hard work is managed by Mr. Thomas Ickler, who belongs to the third generation of Ickler's. The fundamental product of Ickler manufacturers is premium, luxury watches. However, Ickler manufacturers produce premier quality timepieces, watch cases, and accessories of the highest standards. These products are made for a very picky and demanding international clientele and have the German precision tag with them.
Archimede exclusively manufactures products in Germany, and this is a defining attribute of the Archimede. Currently, only a few watch brands in the world have this unique attribute and can offer such a high-quality standard.
When the new millennium began, the management began planning about making Archimede a leading name in the watch industry, and finally, after three years of intense hard work, the first Archimede models were brought to the market. These models offered unparalleled quality and an unbeatable price point, so much so that it became apparent that the Archimede Pilot Model, which was their entry-level watch, would become immensely popular. The reason that these pilot models are so successful is the level of customization that they offer. Customers can choose the case size, dial version, and movement type (chronograph or automatic).
Ever since the introduction of the Pilot watch, Archimede has released numerous other models, including the Klassik, DeckWatch, SportTaucher, and much more. Archimede offers tours of their factory, so if you're ever in Pforzheim, you can get a chance to see the gorgeous timepieces onsite.
Archimede Watch Collections
Archimede has several watch collections that are sure to appeal to every watch enthusiast out there, as they are quite well rounded and contain most of the characteristics that a hardcore watch fan looks for when they're in the market for a new watch.
The main Archimede collections can be divided into the following categories:
Pilot
OutDoor
Klassik
The 1950's
Deck Watch
Sporttaucher
Here is a break down of each collection to understand how they differ from the other.
Pilot
Read Amazon Reviews | Find on eBay
Archimede Pilot Watches are the classic German watches that everyone adores and cherishes. This model takes its inspiration from the early German Aviator, and observation watches to create a timeless, classic design that will never get old.
The Archimede Pilot has large, clear dials that allow the user to view the time clearly in any setting. Some models even have luminous numerics so that you can see the time in the dark as well. The movements inside the watch are swiss-made and are extremely reliable. The Chronograph Pilot has Eta 7750, and the hand-wound and automatic pilots have Eta 6498 and Eta 2824, respectively.
All of these movements can be seen through the open back of these timepieces, and the Archimede Pilot watches are available in 36mm, 39mm, 42mm, and 45mm, respectively.
The models that the Archimede Pilot collection houses are:
Pilot Chronograph
Pilot 42 GMT
Pilot 42 GMT Bronze
Pilot 45
Pilot 42
Pilot 42 Bronze
Pilot 42 B/R/W
Pilot 42 HW
Pilot 39
Pilot 39 Bronze
Pilot 36
OutDoor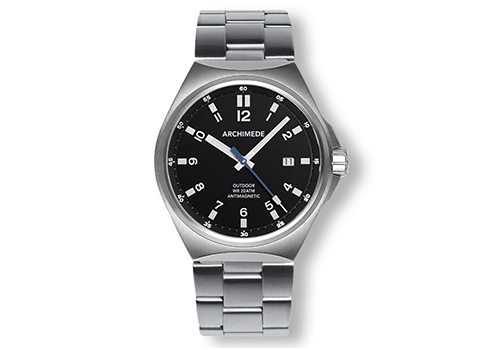 Are you someone who likes to take life by the horns and enjoy every single moment? Do you have a love for adventure? Can you not imagine your life without some physical activity? If your head inadvertently nodded after reading one of these questions, and you're smiling to yourself right now, then the Archimede Outdoor Collection might be exactly what you're looking for.
Archimede knows that a specific subset of its customers likes to rough it out with various adventures that are not for the faint-hearted, and that is why these people need a reliable timepiece that they can wear without the fear of breaking. That is why the Archimede outdoor collection was created.
Right now, the Archimede Outdoor Collection has two specific models; the OutDoor 41 AntiMag and OutDoor 39 Protect.
The Archimede Outdoor 41 AntiMag has Magnetic Field Protection, which works as a Faraday cage, meaning that the inner case guides the magnetic field lines around the watch movement.
The Archimede Outdoor 39 Protect, on the other hand, has a hardened, scratch-proof case and a size of 39mm. This ICKLER hardened stainless steel case is top of the line, and it protects the automatic movement of the watch. Moreover, all the watches in the Archimede Outdoor Collection are water-resistant up to 20 atm.
Klassik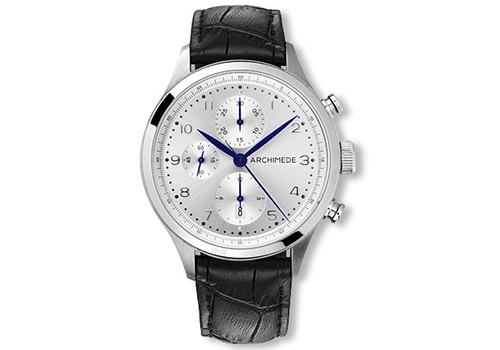 There's something to be argued about the relevance of classics in today's world. While they may be aesthetically pleasing and offer a certain nostalgic factor, they are heavily criticized by certain post-modern individuals who believe that all the classics do are suppress technological advancement. With that being said, the Klassik collection by Archimede is the perfect testament to the fact that classics will always have value in this world of ours, and especially in the watch industry.
The watch dials of the Klassik models are currently available in three colors; silver, black, and brown. All the dials have Arabic numerals that are applied by hand individually, providing a certain special touch. The watch hands are specially designed for the Klassik collection and have rounded surfaces in addition to being a bit curved. These watch hands highlight the aesthetics of this collection very well.
All the timepieces in this collection are fitted with only the highest quality ICKLER cases that are made of brushed and polished stainless steel and are also coated with pure sapphire crystal on top for an extra layer of beauty and hardness. As with all Archimede watches, the watch movements are visible through a transparent display back. You can get the straps in a variety of styles and colors, including black, brown, blue calf leather or stainless steel.
The Klassik collection is available in a variety of styles, including a 42mm Chronograph, and 42mm, 38mm, and 36mm Automatics.
Currently, the Archimede Klassik collection has the following models:
Klassik Chronograph
Klassik 42
Klassik 39
Klassik 36
1950's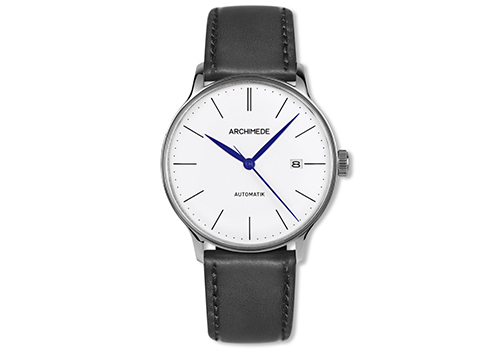 The 1950s was a time of recovery and happiness. The war had ended, and the world was looking forward to moving towards prosperity and harmony. The Archimede 1950's collection is a tribute to those times.
The watches in the 1950s had curved dials and curved watch hands for an overall curved appearance. They used Plexi crystals, which were easy to maintain.
The Archimede 1950s collection has two current models; the 1950-1 and the 1950-2.
The 1950-1 model has an aesthetically pleasing dial that has Feuille watch hands and twelve printed indexes. The ICKER case is made of stainless steel, and it is topped with Plexi crystals. The newer 1950-2 has elegant Dauphin watch hands that set it apart from the crowd. It has a water-resistant case that is manufactured with sapphire crystal and Plexi crystal as well.
DeckWatch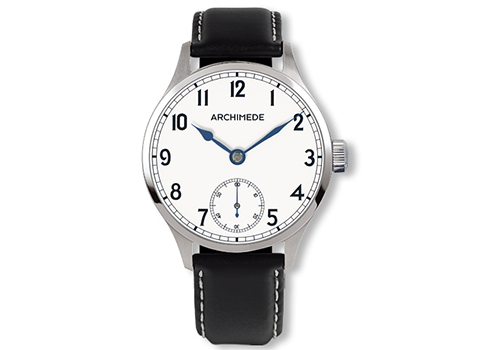 The DeckWatch collection by Archimede is for the marine lovers amongst us as it is inspired by the early watches used by Navy officers and sailors.
It has a large crown that is embedded with the "A" for Archimede, and the ICKLER stainless steel case is perfect as usual. The dial has a classic look and has Arabic numerals that have a sapphire crystal on top. The watch hands are custom made and have a distinctive steel-blue look.
The DeckWatch collection is represented by the Swiss-made ETA 6498 movement, which is wound by hand and is visible through the clear back. Customers get an option of either black or brown calf leather straps.
SportTaucher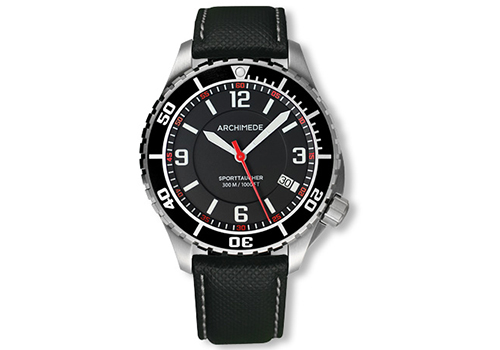 Divers Watches all over the world are preferred by very specific people; however, the SportTaucher Collection by Archimede will look good on most people.
The SportTaucher is a serious diving watch that is rated at 30 ATM for water resistance. It has stainless steel 41.5mm thick ICKLER case that provides protection as well.
The dial is very clean and offers amazing readability. There is a luminous dot at the 12 o'clock position, and there are four models available:
'60' with 60 minutes as classic divers watch
'GMT' with 12 hours for 2. time zone
'K' for a compass with a display of the cardinal directions
Bronze' 60', 'GMT' and 'K' in the Bronze case
The Archimede SportTaucher uses the SW 200-1 Swiss movement that is reliable.
Archimede Brand Reputation
Brand Reputation is essential to take into consideration when deciding to buy a new timepiece and watch enthusiasts are always super sensitive when it comes to this factor with many of them being fiercely loyal to their favorite brands. The first thing to mention about Archimede is that it's one of 4 brands owned by the Ickler company that includes Autran & Viala, Defakto, Limes, Defakto and Archimede.
With its roots going back almost a century an it quality is perhaps the biggest factor that decides a brand's reputation, and in this particular case, Archimede gets full marks. The consensus is that Archimede does not compromise on quality, as this Reddit thread confirms. One of the main features that regularly gets praise is the brands' in-house production, most notably the watch cases that are made of solid blocks of metal (stainless steel, bronze, titanium or 18-carat gold) depending on the watch in question.
Every single timepiece produced by ICKLER watches, including Archimede, is monitored constantly from start to finish, ensuring a quality product and with that, ultimate customer satisfaction. Each step, from the turning to the assembling and polishing, to the mounting of dials and hands, is carefully monitored and assessed for quality before it leaves the factory in Germany.
Archimede enjoys a healthy reputation online as a brand that can't quite compete as one of the top guns in the watch industry, but a brand that knows what it's doing and sticks to doing that well, which in Archimede's case is producing amazing ICKLER cases at a competitive price point.
Is Archimede A Good Watch Brand?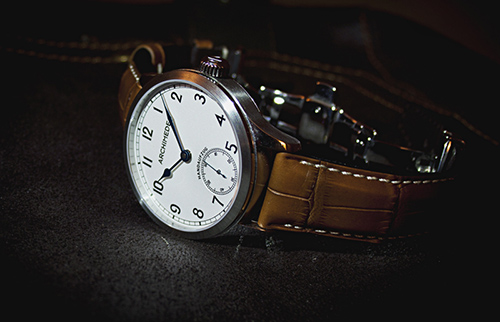 Watch forums are usually the first place that watches enthusiasts frequently when they're looking to determine if a brand is "worth it" or not. Archimede, being a brand that is not as well known in the world as many big name watch brands, shares this fate, and there are hundreds of posts regarding the worth of Archimede Timepieces, and the brand in general.
The consensus among the users as per the Watchuseek forum is that Archimede excels in craftsmanship, and the ICKLER cases, in particular, are too good to be ignored.
The fact that Archimede timepieces use Swiss-made ETA movements works in their favor as well. Watch fans love timepieces that use the tried and tested Swiss movements, for chronographs, and automatic watches.
Like we always say, what is "good" totally depends on the definition that the customer has and their priorities while deciding on a new timepiece. If there has to be a conclusive answer to this question with regards to Archimede, then it would probably be a simple "Yes" because of the superior materials that are used to manufacture Archimede watches. This sets them apart from so many other watch brands in the market right now.
If your looking to compare Archimede to other watch brands, some of the logical comparisons would be to other German brands, especially those that also complete in the pilot or "Flieger" watch space such as Laco, Stowa, Sinn, Damasko, Steinhart. Brands such as IWC and Zenith also often come up in conversations about Archimede as it would be a logical comparison based on style, built and types of watches.
Where To Buy Archimede Watches?
Archimede watches are available on the brand's website. You can order directly from here and receive your brand-new timepiece within a week.
However, some specific timepieces are available on Amazon and eBay as well.
Also, you can pick up an Archimede watches from some major stores of their authorized dealer as well.
Where Are Archimede Made?
To date, Archimede watches are only made in Pforzheim, Germany.
Archimede Watch Warranty
As mentioned on their frequently asked questions page, all Archimede Watches come with a basic two-year warranty. However, that doesn't mean you will be refused help after the warranty has expired, and Archimede does their level best to ensure that the watch is repaired at the minimum cost.
In a nutshell, if you're in the market for a brand new timepiece and can not compromise on the quality of the cases, but also have a budget, then Archimede watches might be the thing you're looking for.