Zenith watches are Swiss luxury timepieces that have been around since 1865. Founded by Georges Favre-Jacot when he was only 22 years old, the company grew to be one of the leading luxury names in watchmaking. It got its start in Le Locle, in Neuchatel. In 1999, the company was purchased by LVMH, further pushing it into the market as a luxury brand. It is one of the many brands – including Hublot and TAG Heuer – in the jewelry and watches division of the company. Zenith is one of the few Swiss brands that still continue to manufacture their own movements in-house today.
Originally called The Manufacture Zenith, it carries one of the richest and proudest legacies and histories in watchmaking. This legacy is without a doubt going to be seen in the future, especially since this brand has a habit of infusing innovation with its timeless watchmaking techniques. The driving force of the brand and its investors is the motivation to move ahead differently, better, faster, and more precisely than the competition.
Zenith built on such positive momentum, and as a result, created some of the most important chapters in the history of watchmaking. Its El Primero caliber, for instance, beats at 36,000 vibrations per hour and is the first-ever integrated automatic chronograph movement — and as such has become an icon in the industry.
Zenith Brand History
Zenith was born in 1865. It was founded by Georges Favre-Jacot, leading to the revolutionizing of watch manufacturing by putting together all watchmaking professions under one house. In the process, it led to the very concept of a Manufacture.
The Manufacture launched its first pocket chronograph in 1899. From 1910 through 1960, the brand started to create and use onboard instruments.
It was in 1911 when the Manufacture adopts the brand name Zenith, taking inspiration from the highest point that can be reached by a heavenly body in the sky. This name also symbolizes the infinite heights of performance and excellence that the brand bases its operations on – then and now.
The Caliber 5011K was launched in 1960, which broke records in its specific category. This was later going to be used in several pocket watches, table clocks, marine chronometers, and the limited edition Pilot Montre d'Aéronef Type 20.
The brand's first ultra-thin automatic Elite movement was launched in 1994. It was also then when the first caliber from Zenith used Computer Assisted Design technology during development. It was so excellent that it was awarded Movement of the Year by the trade press. The movement possessed immense slenderness and extreme reliability.
Fast forward to 2009, when the town of Le Locle was heralded as a UNESCO World Heritage site because of its contributions to urbanism, industrial architecture, and culture. Zenith contributed to this when it built the first Manufacture back in 1865. Since then, the brand has become a guiding star for Le Locle and has never changed locations, preserving its history and legacy.
In 2017, Zenith celebrated the 150th anniversary of the El Primero. This was met with the launch of its special edition Zenith El Primero: Chronomaster. This version was only made in 150 pieces and basked in the style codes of the original El Primero. The upgrade included a distinctly modern style, a great example of the adventurous vibe and spirit of the brand.
Zenith Watch Collections
Defy EP21 Carl Cox Edition
This was a reimagining of the original Defy EP21, honoring Carl Cox, renowned musician, DJ, and record producer all over the world. The new edition watch resembled the unique beat and tempo of Cox and was released in only 200 pieces. It comes to life when the night comes, thanks to the glow-in-the-dark bezel made of carbon fiber.
"I am very lucky that I am able to share my love of music all over the world. All of us have the power within us to feel the beat and dance – my job is to bring that energy out and to unite everyone on the dancefloor. In a similar way, Zenith is about elevating the art of watchmaking and sharing its innovations with the world, so collaborating with them on a watch with a high-frequency beat felt very natural" – Carl Cox
Elite Moonphase
This collection is simply inspired by the beauty of the night sky. It symbolizes one of the most poetic bodies in the galaxy in a very minimalist but classic aesthetic: You'll find a midnight blue circle on the bottom half of the dial, which has a sunburst pattern. It has a similar appeal as the moon phase disk, which creates an illusion of having an oversized display of the stars and moon.
Its dial is harmonious despite being asymmetric. The sunburst pattern features tiny running second hands located at the 9 o'clock position. The watch is available in 36 mm and 40.5 mm case diameters, in rose gold or stainless steel, and in an entire array of strap varieties.
You can see more moon phase watches here.
Elite Classic
If you're looking for a modern take on elegance, the Elite Classic is the series for you. It places a lot of stock on aesthetics and timeless looks, drawing inspiration from the years of the past and adding just enough contemporary accents that will stand the test of time. It possesses a lot of 1950s design codes, giving it a retro look.
The dial has a radiant sunburst pattern that resembles rays of light just darting out of the sun. it's a great piece for playing with shadows and highlights.
Pilot Type 20 Rescue
This collection is a revisiting of the brand's applauded Zenith Pilot Watch. Adding contemporary pioneering and fresh eyes, Zenith has created a brand new edition to this modern instrument without leaving the charm of its analog past.
The watch comes in a polished stainless case and a sunburst black dial, complete with yellow accents. The Arabic numerals in the watch are made of solid SuperLuminova, allowing for extreme readability no matter the conditions.
El Primero A384 Revival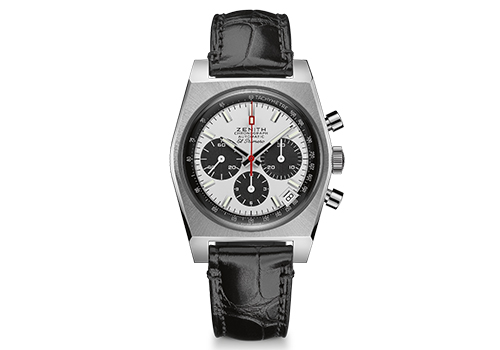 The brand's crown jewel, El Primero, receives a well-deserved and authentic reimagining with the A384 revival. It takes pride in its original look and feels, with an integrated steel bracelet for this collection. The A384 was the first-ever watch to be equipped with the El Primero automatic high-frequency chronograph.
This new version features a precise reproduction of the legendary Gay Frères "ladder" bracelet, which was first launched in 1969 and is an exclusive Zenith component.
Defy Classic Midnight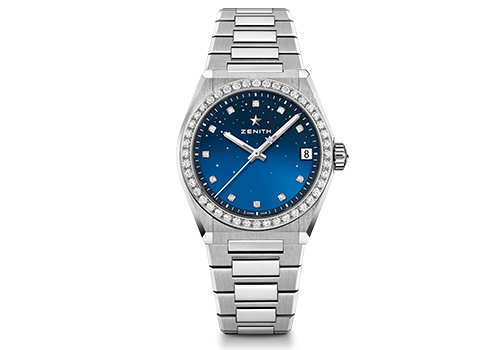 This collection is a great taste of the cosmos. The Defy Midnight was the first-ever model from the DEFY series to be manufactured exclusively for women. It imports a unique but versatile chic and sporty look. Its main attraction is its one-of-a-kind celestial dial.
This feminine reimagining of the already futuristic Defy model is made with stainless steel and adorned with white diamonds. Complete the look with a gradient dial that looks like a night sky filled with stars. It measures 36 mm. And since this vision is all about uniqueness and spontaneity, it is available in a full range of straps and bracelets that you can mix and match easily and quickly.
A. Cairelli Chronograph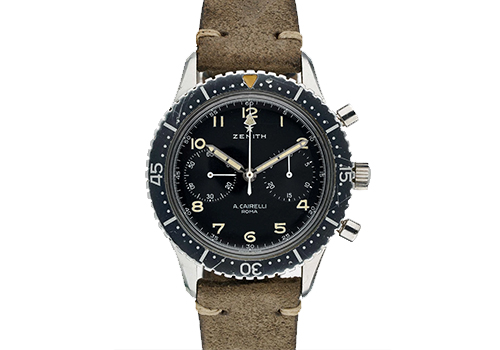 The market still craves vintage pieces, which makes the A. Cairelli chronograph a must-have for many watch enthusiasts. It is geared with Zenith's launching of the reissue of this classic gem recently. Together with other vintage models, it's exciting to see how original watches that haven't made the big break in the market can compare to other modern steel chronographs, especially in the rare and auction markets.
There were no more than 2500 pieces of this limited edition version produced. They were made for the Italian Air Force, and were retailed via A. Carielli, a Rome-based firm. However, only a few of the watches landed service, and the rest found their way to civilians. And even though the production was low, compared to other big-name luxury chronographs, these still perform surprisingly well at auctions. In fact, you'll be lucky to find one below the $10,000 price mark. Some even go up to $20,000 in auctions.
Zenith Brand Reputation
For over 150 years, Zenith has been consistent in producing top-of-the-line luxury watches without changing locations. This is a testament to the brand's exceptional talent and vision. Its founder, Favre-Jacot, was a pioneering watchmaker who made sure that every aspect of the watchmaking process happens under one roof. This is a legacy that only a few Swiss companies still do to this day.
Zenith is widely renowned globally for making classic watches that put a lot of value into each model. It found fame and glory from its units that used the El Primero movement, which still holds unmistakable accuracy today, even if it was first launched five decades ago. In fact, El Primero is so famous and unparalleled that Rolex used to equip its Cosmograph Daytona watches with the El Primero calibers – but this was back in the day when it didn't make its own movements and calibers. As a result, Zenith is forever etched in history as a top brand. It is considered a prestigious and respected brand in the luxury watch market.
If you are a watch enthusiast or collector, you probably already have a watch with an El Primero movement or are at least thinking about doing so. In a rugged survey, collectors were asked if they recommended Zenith. 9 out of 10 said they would recommend it over a Breitling watch. This is quite amazing since Breitling is quite a big brand, too. It is one that has been able to capitalize on a specific crowd in the market, thanks to its specialty watches.
Oh, and one big proof of Zenith's reputation: Mahatma Gandhi (yes – THAT Gandhi) owned a Zenith pocket watch that had an alarm function. This was a gift from the then-Prime Minister of India, Indira Nehru. In 2009, this same watch – together with Gandhi's other personal belongings – was auctioned by Antiquorum in New York. they were able to come up with over $2,000,000.
Is Zenith A Good Watch Brand?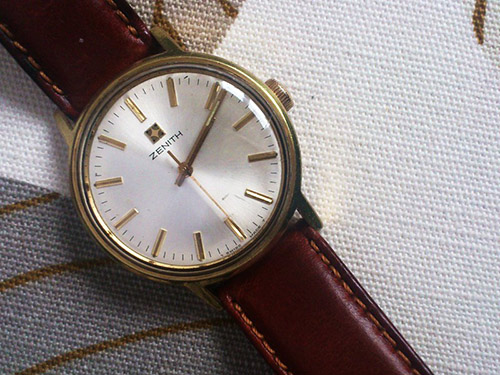 There are many aspects that can be taken into questioning when deciding if a brand is good or not. Zenith creates highly precise mechanical chronographs, again thanks to their high-performance El Primero calibers that oscillate at 36,000 beats per hour. Zenith's mechanical watches are of very high quality.
Many aficionados are surprised to see that Zenith as a brand is often undervalued in the U.S., with the exception of serious watch collectors. Generally speaking, this brand is a great choice for anyone who wants to own a serious timepiece.
Zenith is often compared to brands such as Omega, TAG Heuer, Cartier, IWC and Breitling, based on their history and price ranges as well as the quality of the movements and as the overall finish of the watches.
Specific watches, for example, the Zenith El Primero and Omega Speedmaster are often compared head-head by watch buyers.
The "El Primero" watch is also often compared to the Rolex Daytona, while this may seem strange since the brands are so different, the early versions of these watches and more specifically the movements they used were similar. Rolex's in-house calibre 4030 was a near replica of the El Primero calibre 400 movement (and the 3019PHC automatic chronograph movement that Zenith launched in 1969 and used on early El Primero watches).
Of course, there are many options available, but if you want a timepiece with a movement built in-house that is reliable and aesthetically pleasant, Zenith is a top choice.
If you're thinking of getting your first Zenith piece, make sure to consider models with the El Primero movement.
Where To Buy Zenith Watches?
You can find shops that carry genuine Zenith watches near you. Click here for the shop locator.
To buy online, check out the Zenith watches on Amazon. To bid on auctions or try your luck with rare Zenith models on eBay.
JomaShop also carries Zenith watches and for readers in the UK also check out Goldsmiths.co.uk.
Where Are Zenith Watches Made?
Zenith is a Swiss luxury watchmaker. To this day, it produces all of its components and movements in-house in Switzerland.
Zenith Warranty
It is ideal to always get your repairs, maintenance service, and tune-ups at official Zenith boutiques or authorized resellers. You can also send it to an official service center near you. All purchases come with an international warranty that covers the watch for manufacturing defects, good for two years after the original date of purchase. Learn more about Zenith's warranty, services, and repairs.
Additional Resources:
If you want an even more in-depth look at Zenith, there is a full 328-page hardcover book on the brand's history: Zenith: Swiss Watch Manufacture Since 1865