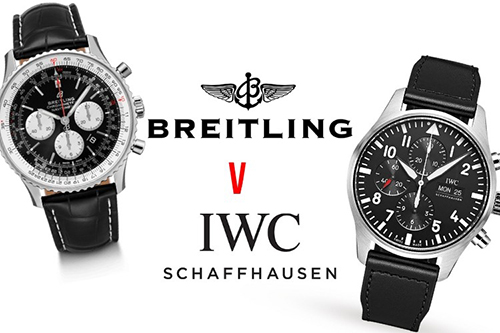 Both Breitling and IWC are known for their highly innovative timepieces and it was only a manner of time until these two go head-to-head in our arena. While the two watch brands are known for their advanced watch technology features, they still manage to retain and showcase their traditional roots. A glance at both brand's catalog of watches can be quite overwhelming for enthusiasts due to the sheer number of stunning timepieces available.
Breitling Brand Overview



Breitling is a Swiss-based company founded by Leon Breitling who was a German immigrant and apprentice watchmaker. Leon Breitling proved to be highly talented in this craft as well as having an entrepreneur mindset. Breitling watches first made a significant mark in the industry with their aviation timepieces that they released back in the 50s and 60s. Their Navitimer series propelled the company to greater heights with its innovative design, features, and functionality.
Breitling is also known for another particular type of watch – chronographs. Ever since the company's early years, Breitling always had an affinity for developing high-quality chronograph. Crafting precise chronographs was already a challenge back then, but Breitling managed to pull it off thanks to the company's undeniable skill in this area. Breitling revolutionized the chronograph watch industry with its introduction of the push-piece functionality. This helped organize chronograph functionality to different mechanisms which enhances convenience.
Over the years, Breitling expanded their repertoire past developing top-notch chronographs and aviation watches and now include a vast array of versatile luxury timepieces. From dive watches to military-type timepieces – Breitling brings premium-grade timepieces with all their watch models.
IWC Brand Overview



The IWC watch company was founded in 1868 which gives it quite a rich history in this industry. Surprisingly enough, while IWC is at its core a highly traditional brand, they are also known in pushing the envelope in regards to watch technologies. This is one of the main reasons IWC managed to keep its footing as one of the top watch brands in the industry to this day – their affinity to innovation and adapting to the ever-changing trends of the watch market.
While IWC is an American owned company, they are based on Switzerland which blends the bold business mindset of America with the refinement of Swiss craftsmanship. A win-win situation, if I ever saw one. IWC's rise to the top was a steady grind and they didn't truly hit their stride up until the 1930s. Once they did manage to find the winning combination, the company held on and never let go.
IWC built upon this momentum by throwing their hat into all six watch categories from dress watches to dive watches and everything in between. Throughout the years, IWC developed a reputation that centers around its innovative timepieces and openness to experiment with tried and tested formulas to push the bar higher.
Nowadays, IWC is a perfect example of a luxury watch brand that provides a versatile selection of timepieces packed with innovation while keeping the spirit of tradition alive and well with each of their models. Remembering and honoring the past while keeping their eyes onto the future – a great mindset for any endeavor, if I say so myself.
Breitling and IWC Watch Comparisons
Pilot Watches
Breitling Transocean Chronograph Watch Review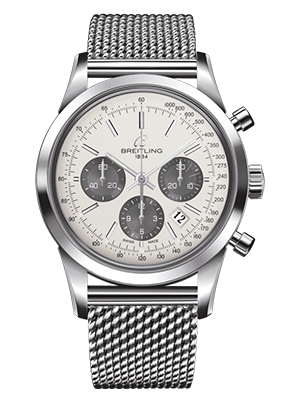 Read Amazon Reviews | See on eBay
Breitling honed their skills in crafting top-tier chronograph watches. The company is well-known for its high-quality chronograph watches and they have never disappointed in this regard. So, expect the Breitling Transocean Chronograph to be one of the finest in the industry – which it is. The Transocean timepiece honors the retro aesthetics of its predecessors, namely the Transocean models released during the 50s. If you are a fan of the classic no-nonsense look navigational timepieces from decades back then you will undoubtedly love what the Breitling Transocean Chronograph watch brings to the table in terms of design.
The Transocean timepiece measures in at 43mm and utilizes polished stainless-steel to craft its hulking case. You will also notice a nifty fixed bezel that also has an elegant flair to it thanks to the detail and use of silver-tone polished stainless steel. Another exterior feature that gives the Transocean watches a more luxury appeal is the use of a domed dial window. Don't fret though as the window uses scratch-resistant sapphire crystal so there is little risk of it getting scratched.
Within the physically imposing Transocean watch is Breitling's own caliber 01 self-winding automatic movement which powers the main dial and three sub-dials. This watch movement also provides that Transocean with a substantial 70-hours of power reserve. Additional features include a tachymeter scale found on the outer dial, a date display that is tightly positioned between the 4 and 5 o'clock hour markers. This watch is also designed to offer up to 100-meters of water resistance.
IWC Chronograph Worldtimer's Pilot Watch Review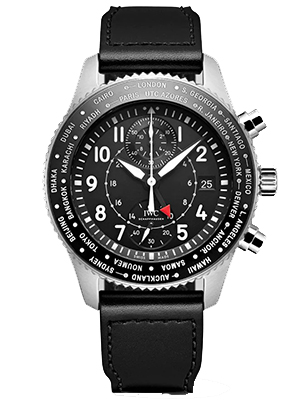 Read Amazon Reviews | See on eBay
The IWC watch brand is synonymous with watch innovations and it is safe to assume that each IWC timepiece packs a lot of functionalities under its hood. Since aviation timepieces should be designed to accommodate the various time zones it will go through, it goes without saying that changing time zones should be as easy as 1-2-3. A pilot watch should also be perfectly legible and the wearer should be able to determine the time with just a glance. In these regards, the IWC Worldtimer meets all expectations with finesse.
This IWC pilot watch is built to impress. It features a durable and high-grade polished stainless-steel case that is paired with a sleek ebony black dial that gives the watch top marks in style. Another prominent feature on the dial is the time zone display indicator that is found on the bezel. This timepiece also utilizes a fly-back feature that helps provide convenience for pilots who will be going back and forth between two time zones.
To maintain consistent timekeeping, the IWC Worldtimer uses an amazing 39-jewel caliber 89760 automatic self-winding movements for its highly detailed analog display. Once fully-wound, the Worldtimer can also provide up to 68-hours of power reserve. This means that even if not worn for a couple of days, the Worldtimer can still operate at maximum accuracy. The Worldtimer is an excellent timepiece for pilots and those who travel around the world a lot.
Dive Watches
Breitling Super Avenger II Watch Review
Read Amazon Reviews | See on eBay
The Breitling Super Avenger II is not only a stunning looking watch, but it is also packed with features and functionalities that pushes the Super Avenger II to the top of the heap in this watch category. The Super Avenger II is quite simply a powerhouse and we will go its impressive qualities down below.
The Breitling Super Avenger II is as tough as they come and is designed to withstand extreme conditions. This highly robust design and construction make the Super Avenger II a great choice for thrill-seekers and adventurers. This is by no means your typical outdoor timepiece as well. With its tank-like appearance and 48mm stainless-steel case, you know this wristwatch means business.
The polished stainless-steel design is once again partnered up with a black dial which is always a nice aesthetic choice that exudes an air of toughness and refinement. As we have noted previously, the Super Avenger II is jam-packed with features. The most prominent one is its chronograph functionality which it manages to keep accurate thanks to the self-winding automatic chronometer movement.
To further diminish your doubts, Super Avenger II is COSC certified which proves its impeccable horological performance. Additionally, this Breitling timepiece also comes with a300-meter water resistance and uses Driver Pro III rubber straps for optimum comfort and security when worn underwater.
IWC Aquatimer Black Rubber Watch Review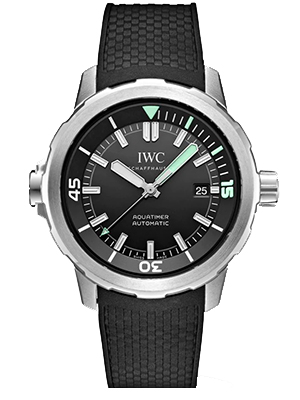 Read Amazon Reviews | See on eBay
The IWC Aquatimer is what you consider as a quintessential IWC timepiece, in that it is impeccably designed using IWC's skill and know-how while infusing it with innovative and advanced technology that further pushes it above its limits.
Before we check out its impressive features – first let's talk about its appearance. You will notice that this timepiece also uses rubber straps. This gives it a sportier charm while the impeccable and stunning case and dial balance it out with its premium-grade flair. The contrast of the ebony black dial and silver-tone hands and marker organically improves the overall legibility of the watch. Add to the fact that the hour markers and hands have a luminous coating and you have yourself a timepiece designed for the low-light environment as well as underwater.
In regards to its underwater capabilities, the Aquatimer is designed to provide up to 300-meters of water resistance which is more than enough to accommodate most water activities such as swimming and scuba diving. This watch also uses accurate automatic movement which packs a power reserve of 42-hours.
Conclusion: Breitling vs IWC – Which is Better?
It's hard to compare the two brands and land on a solid conclusion as to which is the better watch brand. Honestly speaking, both Breitling and IWC are excellent watch brands that deliver impeccable accuracy and excellent reliability. Both are unique in their way. If we are to draw the proverbial line in the sand between the two, it would be this:
Go with Breitling if you want something with brand recognition and if you lean towards chronographs and pilot watches. Breitling watches also provide amazing levels of functionalities and are far from being a 'one-trick pony'. Simply put, you get a top-tier premium-grade luxury watch if you buy a Breitling watch.
As for IWC, if you wish for a premium timepiece that remarkably does the basics while throwing in some innovative design and tech – this is a brand well-worth your time. You will also notice a subtle military-type aesthetic with most of IWCs timepieces as they do have the look and feel.