Laco watches are known for their quality. The workmanship is impressive, and the movement is always precise. Their timepieces also feature outstanding functions and features. There is more to Laco than meets the eye, and we can list all of its characteristics, or we can show you its rich history and legacy instead. We're also going to take a look at some of their best watch collections to give you a better look at what you're in for.
Since 1925, Laco has been manufacturing high-quality watches with intricate detail. Passion for the smallest things has always been a tradition at the Laco headquarters. They have been making watches for a century in Pforzheim. We'll now look back at the company's exciting history. For instance, the original pilot watch from the brand carries such a colorful past. If you think about it, back in the 1940s, only a few companies were given the luxury of producing pilot watches.
Laco Brand History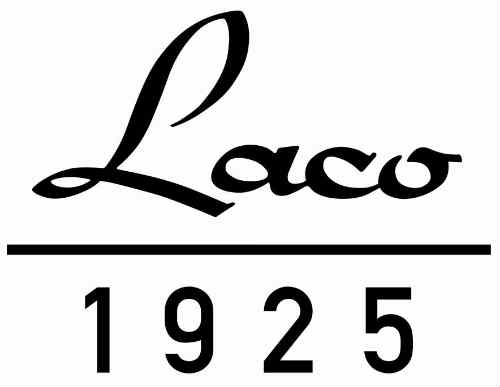 Laco stands for passion, authenticity, and precision. This brand is one that does not back down from the challenge of providing high quality. Its claim to quality is backed by products that have timely – and timeless – design and practical functionality. Since the brand's inception, it has stuck to its oldest traditions while looking towards the future when coming up with marvelous innovations. It is a company that knows no pause and is constantly developing.
The company can look back on its 100 years of history fondly and still be filled with drive and inspiration. Lacher & Co. started the company all those years ago, with the simple goal of creating watches that stand out with reliability and quality. That simple goal has fueled the brand to keep up with accurate craftsmanship for each category of watch that it produces. This has remained true from its first pilot watch to its newer releases.
But no history is without a bump on the road. Laco did not let the disruptions – big or small – that occurred in Pforzheim to stop its manufacturing and selling of watches. It rebuilt successfully – albeit slowly – a few years after. The market continued to be impressed by its creations, whether automatic or manual wind-up in design. They also finally got to add chronometers to their collection.
Lacher & Co. was founded in 1925. Over time, it rose at the forefront of the watch factories in Pforzheim. Together with Durowe, it kept business running even during the Second World War. In fact, it was one of five companies that supplied reliable watches for the pilots and men of the German Luftwaffe. Today, their pilot watches are the biggest symbols of their success story.
And as the new millennium came, these original creations were relaunched and upgraded with better mechanical mechanisms and artistic stylings. Let's take a look at some of Laco's most iconic collections below.
Laco Watch Collections
Frankfurt GMT Set
Read Amazon Reviews | See on eBay
This set is one of Laco's newest collections. It was highly anticipated for a while and was finally released in January of 2020. The GMTs Frankfurt Grau & Schwarz are now available in various retailers. Each watch comes complete and snugly fitted in a beautiful aluminum box. It also includes a second watch strap in a modern, casual, and sporty look. You also get a special tool for changing the straps – for whatever your day holds. And as a bonus, you'll get a keychain in matching colors. If that isn't a complete and perfect gift set, we don't know what is!
They aren't just fancy and pretty. These models are a landmark of strength, dependability, and precision. The 43mm cover and the dark, titanium-blasted surface hover over the face of the watch – adorned by thermally blued hands, luminous indices, and numerals. It is protected by a stainless steel housing, a look that's distinctive nostalgic of their original pilot watches.
PILOT WATCHES SPECIAL MODELS: ULM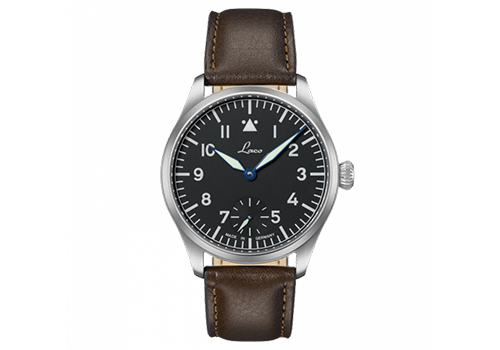 The Ulm special model possesses a strong vintage vibe. But despite its classic appeal, the insides of this watch are totally state-of-the-art. The collection involves two new pilot watches that bask in the elegance of retro designs. They have 11mm high cases that fit snugly onto your wrist. You can easily tuck them under your cuffs as well. Both the Ulm and Würzburg models feature a slim profile and balanced proportions.
These are great accessories not only for going to work but for different occasions, whether for business or pleasure. They both use the Laco 98 movement, hand-wound and extremely precise. The small second hand can be seen at the 6 o'clock position.
TAUPE LIMITED EDITION
Read Amazon Reviews | See on eBay
This collection is very unique because of its subtlety. Sometimes, giving a classic design a hint of austerity can create a whole new kind of appeal. That's what the limited edition Taupe series is all about. It has two models, the Augsburg Taupe and Aachen Taupe. This expands the brand's entry-level basic pilot watch collection. Both carry a taupe face. But you'll be lucky if you get your hands on one – as only 500 pieces of each model will be produced. You can see the serial numbers engraved on the case back, as proof of the model's exclusivity.
These watches aren't just rare. They are also graceful, surprisingly versatile, and timeless. You can pair these accessories with virtually any look and style. The subtle taupe hint is occasionally set off by the sunburst pattern. What you get is a sporty but elegant vibe.
The sunray design matches the taupe dial, the bright white numbers, hands, and indexes. They're held in place by the brown calfskin strap. The luminous Superluminova C1 comes with a blue line, creating an afterglow blue hue that's not just pretty but also helpful in allowing you to see the time even in poor lighting conditions, or at night. This is housed in a 42 mm stainless steel case. It carries the crown that reminds us of the old aesthetics of Laco pilot watches.
You get a second stop function, too. You can view the mechanism of the clock thanks to the sapphire crystal case back. It is powered by the automatic caliber Laco 21, a movement that was inspired by the Miyota 821A.
THE NEW LACO GMT
Read Amazon Reviews | See on eBay
The new Laco GMT collection features modern innovation with these two variants. Both models are made based on their original pilot designs but upgraded with nifty additions. These include a second time zone courtesy of the inner rotating bezel. It's easy to set, and you can rely on its precision at all times.
The overall "dark" look makes it both a thing of the future and classically elegant. It includes a double-domed sapphire glass, thermally blued hands, a titanium sandblasted casing, and an ETA 2893.2 automatic caliber movement. The two crowns serve to set the second time zone, and the time, respectively.
The face of these models are tone-on-tone, matched with the casing. They are recreated based on the original Laco pilot watches, to complete the cycle of the past and present. You will enjoy orange bursts on the nylon strap, which give a casual and sporty contrast with the rather technical look of the rest of the watch. At the bottom, you'll see a plane depicted, making its trip across the globe.
These GMT models are ideal for both casual users and actual pilots who need to display the time in two time zones, especially when working abroad.
Laco Brand Reputation
Laco was relaunched in the 1980s. There was a span of time where Lacher has been surviving with a small company – trying to keep the business running. But in September 1988, Horst Gunther, it's executive manager, bought the brand's logo and name rights. As a result, the company was able to remain afloat, fabricating a contemporary collection of high-quality Laco watches. Today, many of these models are still mechanical but function using Japanese and Swiss movements. In the sixth generation, Andreas Gunther managed the company.
At the 75th anniversary of Laco, they issued 75 of its iconic pilot watch models from the 1940s. However, only 80% of the watch components have been successfully and fully replicated from the originals. The 20% included the wheel plate for the central second pointer (which is indirectly powered) as well as the pinions. These were only made in limited quantities in the 40s, and could not be replicated. The limited-edition watches were a success.
Because of this success, the company resurfaced stronger than ever. The brand decided to launch an entirely new series of watches during the start of the year 2003. Five models were made exclusively available, all of which contained mechanical movements, artful styles, and the iconic Geneva Stripes and blue screws.
In 2010, the company went through an intense restructuring and refocusing. It changed its concentration to be on handcraft instead of industry. With a slow start and new management, their pilot watches have become more impressive and enhanced than ever before. Since then, Laco has become a world-renowned brand and has launched at least two dozen new product lines.
Is Laco A Good Watch Brand?

Laco has been through a lot. Today, its aim is to help pave the way for a better watchmaking future. By creating the first-ever functioning electronic watch in all of Germany, it made a big name for itself early on. This spirit has continued to drive the brand and kept it abreast with modern innovations. Its current collections of Japanese and Swiss mechanisms play a huge role in creating a synergy between timeless design and technology.
The company has gone through a lot of downfalls, buyouts, competition with cheap alternatives, and pop-up brands over the past decades. But we believe that the pioneers of Laco would be proud to see how it has not only survived but also flourished after a number of hiatuses — and today continues the authentic German traditions in watchmaking.
If you value timepieces with a rich history and story, then Laco would be a great brand for you. Each model has something deeper embedded in it, beyond its fancy packaging and price tag.
Where To Buy Laco Watches?
You can shop for Laco watches on its official site. Click here. To go to a brick-and-mortar shop, check out the list of authorized retailers near you.
For convenience, check out the official Laco Amazon store. To try and out-bid others in the search for rare and limited edition models, test your luck over by searching Laco watches on eBay.
For shoppers in the UK, you may want to check out Laco watches on jurawatches.co.uk.
Where Are Laco Made?
The company has a deep respect for history and tradition, and it can be seen not only with their designs but also from their location. To this day, the brand is still headquartered in Pforzheim, the same German city where their watches were first created. And when the city celebrated its 250th anniversary, the company launched a limited edition Jubilee watch that was exclusive, elegant, and reflective of this golden city.
Pforzheim is a symbol of high-quality manufacturing. It is linked in between the metro city of Stuttgart and the technology hub of Karlsruhe. This is part of the secret to the success of Laco's innovative designs and strength. Every Laco watch proudly carries the Made in Germany seal on them.
Laco Watch Warranty
In the Laco offices, customer service does not end after you make a purchase. They believe that that is simply the beginning of the service. Part of this service includes a lasting and trusting relationship between the brand and its customers. If after finding the right watch for you, you find yourself in need of technical help, you can usually find the answers on their FAQs page. If what you're looking for isn't listed, send them a message via the Contact page. This is also where you can inquire regarding warranty claims if you are eligible.
You receive a 24-month guarantee on your Laco from the date of purchase. For more information about the warranty guarantee, coverage, and eligibility of your purchase, head over to their official website. Here, you can also see some practical watch care tips that you can practice to improve the lifespan and health of your watch, as well as repair pointers for some common problems.