IWC Schaffhausen is a Swiss watch brand that has been around for more than 150 years. Below, we'll take a closer look at some of its best models, and provide you with other essential information about the brand—its history, reputation, and where you can shop for your own IWC watches.
IWC Watch Brand History


The official business name of IWC Schaffhausen is IWC International Watch Co. AG. Based in Schaffhausen, Switzerland, the company was founded by American watchmaker Florentine Ariosto Jones in 1868.
Jones was a former director of the E. Howard & Co., which was one of America's leading watch companies at the time. His goal was to make watches for the American market—to create watches that have a combination of Swiss watchmaking expertise and modern watch engineering from the United States.
The company built its first hydroelectric plant in Schaffhausen. According to the IWC website, it combined modern technology and hydropower from the River Rhine to make high-quality watch movements. They were the only watch manufacturers in northeastern Switzerland.
The industrialist family Rauschenbachs from Schaffhausen who took over the company when Jones returned to the US. One of the IWC's first timepieces were the world's first watches with a digital hours/minutes display, also known as the Pallweber system. The brand also created pocket watches and later on, wristwatches—one of the first ones to be released was the small 64-caliber ladies' pocket watch that has a case with lugs for the wristband.
The company has been a subsidiary of Swiss Richemont Group since 2000. To learn more about the company's history and its different owners, you can visit this page.
IWC Watch Collections
IWC is popular for its pilot watches and titanium material. Most of the brand's watches are either re-issues of originals that were released decades ago or re-interpretations of classic models that put IWC on the map. Here are the brand's main collections, and some of its most popular models.
Pilot's Watches Collection
Read Amazon Reviews | See on eBay
Let's start the list with what the IWC is widely known for pilot or aviation watches. The brand has a wide range of pilot's watches, which can be divided into five categories: Classic, Spitfire, Top Gun, Le Petit Prince, and Antoine de Saint Exupery. You can find the entire collection here.
One of the Classic models is the Pilot's Watch Mark XVII, an automatic, self-winding stainless steel watch with a 35111 caliber with a 42-hour power reserve. Because it's a pilot's watch, the dial is large at 40mm.
The watch is pretty straightforward. It has bold, legible Arabic numeral markers, a date display at 3 o'clock and a black luminescent dial. It also has a sapphire convex glass and an anti-reflective coating on both sides. It also has a soft-iron inner case, which protects the watch from magnetic fields.
For more information and examples of anti-magnetic watches, you can check out this article, where we talk about the technologies behind it, as well as the best watches that use it.
If you want something bigger, the collection also has the Big Pilot's Heritage model, a 46.2mm that has a light and durable titanium case (IWC says that it weighs less than 150 grams) and automatic movement. Like the Mark XVII, this also has magnetic field protection, a sapphire glass, and a date display. Inspired by the IWC's famous Big Pilot's Watch caliber 52 T.S.C, this particular model has a vintage look, with the brown calfskin strap.
IWC makes watches inspired by "Le Petit Prince," by Antoine de Saint-Exupéry. One of the watches from the collection is the Big Pilot's Watch Le Petit Prince, a 46.2mm that runs on the 52110 caliber; the Pilot's Chronograph Le Petit Prince with the 79320 caliber with chronograph hours, minutes, and seconds function; and the Pilot's Watch Perpertual Calendar Chronograph with an 18 ct 5N gold case and 89630 caliber, which also has a date, date, month, year, and a perpetual moon phase (this is also one of the most expensive watches on the collection). The first two watches mentioned have an engraved Le Petit Prince, and the third is a see-through sapphire-glass back.
Portugieser Collection
Read Amazon Reviews | See on eBay
The IWC Portugieser is a collection composed of watches featuring chronograph functions, annual calendars, and perpetual calendars.
One of its most popular models is the Portugieser Chronograph, which has a relatively smaller size at 41mm, which means that it would look excellent it different wrist sizes. Some of the most notable features are the Feuille hands and applied Arabic numeral markers, as well as a black alligator strap and an IWC-manufactured 69355 caliber.
The IWC Portugieser Annual Calendar has the calendar with month, date, and day at 12 o'clock. One of the things that makes this watch special is the combination of the annual calendar and a 7-day caliber. The calendar has three separate windows, arranged according to American date format (you can read more about it here). This one is a 44.2mm automatic model with a stainless steel case, sapphire glass, and a silver-plated dial.
There is also the IWC Portugieser Perpetual Calendar, which as a date, day, month, and year display plus a double moon phase display for the northern and southern hemisphere. This is an exquisite timepiece that has a platinum case and a silver-plated dial, developed in the 1980s with 80 individual parts. The IWC promises a precise IWC-manufactured 52615 caliber movement: the watch will function well in 577.5 years, which is the time from now that the moon phase display will need to be adjusted.
Portofino Collection
Read Amazon Reviews | See on eBay
The IWC signature is Portofino collection is composed of watches that are elegant and simple, capturing a laid-back lifestyle. Available in models for men and women, this collection is for those looking for a watch that's uncluttered and slim.
One of the classic models is the IWC Portofino Automatic, a 40mm watch with a stainless steel case, silver-plated dial, and a date display at 3 o'clock. It has an alligator strap and a silver-plated dial, and a 35111 caliber with a 42-hour power reserve. The rounded sides of the case make the watch appear slimmer, making it perfect for those looking for something simple.
In 2019, IWC released new editions of the Portofino line. According to IWC, these women's watches are some of the brand's smallest models (34mm). These reinterpreted watches have straps that can be customized—the watches come with a tool that will allow owners to easily switch straps like leather by leather goods company Santoni, or a Milanese mesh bracelet. Learn more about this new collection here.
Da Vinci Collection
Read Amazon Reviews | See on eBay
The IWC Da Vinci models have a simple and minimalist dial. These watches aim to capture the brand's original Da Vinci models from the 1980s.
One of the most popular models is the striking Da Vinci Automatic. Having bold, legible applied Roman numeral markers, this 40.4 mm is equipped with the 35111 caliber movement with 42 hours of power reserve. The collection features watches with strap horns, which allows the watch to fit perfectly on the wrist.
Those who are looking for something more luxurious, there's also the IWC Da Vinci Automatic 36, a 36mm automatic model with an 18 ct 5N gold case and bracelet, silver-plated dial, and the 3511 movements. On the back of the watch is engraved with "The Flower of Life," a homage to Leonardo Da Vinci's "tireless search for mathematical rules for beauty and proportions."
The Da Vinci Diamond-Set Moon Phase watch was featured on our article on the Best Moon Phase Watches for Women. Check out the other brands here.
Ingenieur Collection
Read Amazon Reviews | See on eBay
The first Ingenieur Automatic watch was released in the 1950s. Today's Ingenieur Automatic still has a classic look of thick index markers, with a silver-plated or black dial and a black alligator strap.
In this Watchuseek discussion, the owner pointed out the strengths of the black dial version such as the comfortable integrated bracelet, its visibility under low light conditions, and the good value.
This collection also has chronographs, like this stainless steel model. The Ingenieur Chronograph runs on the IWC-manufactured 69375-caliber movement with a 46-hour power reserve. This watch also shows the average speed that is achieved over a 1,000m distance. This 42.3 model has hours, minutes, and seconds chronograph function, a date display at 3 o'clock, and a see-through sapphire case back.
As the name implies, this is a perfect watch for an engineer.
Aquatimer Collection
Read Amazon Reviews | See on eBay
This collection only currently has 9 watches (like the previous Ingenieur collection). The Aquatimer, as the name suggests, is the brand's collection of water-resistant watches.
The Aquatimer Automatic Edition "Expedition Jacques-Yves Cousteau" is the collection's smallest model. Inspired by the original Aquatimer that was released in 1967, this watch has a stainless steel case and a blue dial powered by SuperLumiNova, allowing the wearer to still see the watch even in very dark environments. The pressure resistance is 300m, which makes the watch perfect for deep diving. The strap is black rubber with an IWC-patented quick-change system, and the watch is powered by the 30120 caliber, with 42 hours of power reserve.
There is also the Aquatimer Chronograph Edition "Laureus Sport For Good," which has a chronograph movement with a flyback function. This model has a rubber-covered stainless steel case, with hands that have a luminous coating. The back of the case was designed by a winning entry to the art competition that IWC organizes.
Jubilee Collection – Pallweber Tribute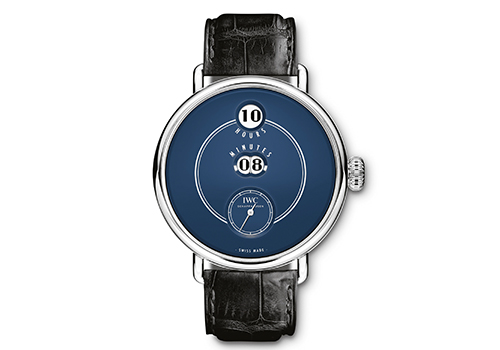 The IWC Jubilee Collection is the brand's tribute to the Pallweber, the brand's first pocket watch that we mentioned in our introduction. First released in 1884, these watches showed in time in a digital format, with large hours and minutes on rotating discs.
For the Pallweber's 150th year anniversary, IWC released limited-edition models (only 500 pieces) of watches inspired by the pocket watch and dedicated to Jones, without whom the brand won't be possible. The IWC Tribute to Pallweber "150 Years" has a lacquered finish on a blue or white dial, with the words "Hours" and "Minutes" marking the digital display.
IWC also released a classic pocket watch design, but are only limited to 50 pieces. This new 52mm pocket watch has an 18-carat 5N gold case and a 94200 caliber with 60 hours of power reserve. The white dial has a lacquered finish, and there is s see-through sapphire-glass back.
IWC Brand Reputation
IWC is a respected watchmaker that has over 150 years of experience. The company is considered by many as a reliable and very high quality—this article by Esquire says that it's one of the best luxury watchmakers in the world. The article covers some of the brand's most important models, such as the Pallweber Pocket Watch, the Portugieser, and the Big Pilot's Watch.
One of the luxury watch brands that is often compared to IWC is Rolex but many aficionados would place IWC one rung above Rolex or Omega – especially the Portuegese and Ingenieur models.
IWC and Jaeger LeCoultre often end up in the same conversation also, while both brands started in the mid-1800s they are both now subsidiaries of the Richmont Group.
JLC generally considered a more exclusive brand than IWC in part because they make their own in-house movements vs. the (modified) ETA movements used in IWC. Both Audemars Piguet and Patek have used some of JLC movements which also gives them extra credibility and repute.
Where To Buy IWC Watches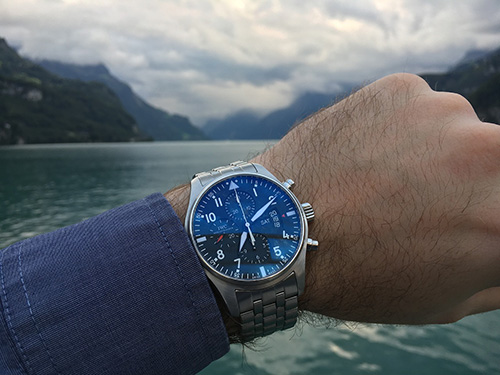 The IWC website provides a link to those who are thinking of buying watches. Simply visit the page of the watch that you'd like to buy, and find the purchase link on the description. A concierge from IWC will assist customers in answering questions or completing purchases. The telephone numbers for different countries are provided on the page, and there is also an online form where one can send a message.
You can also purchase brand new and preowned IWC watches on websites like Jomashop, Bob's Watches, Amazon, and IWC on eBay.
For UK customers, there's also IWC watches on Goldsmiths.
Click on the links to each website to see what the sites have on hand.
Where Are IWC Watches Made?
All IWC watches are made in Switzerland. According to the brand's website, their watches are handcrafted in the company's workshops. According to the brand's website: "Our six watch families combine precision engineering with extraordinary and timeless design and ethically sourced materials."
IWC Watch Warranty
IWC watches have a standard two-year International Limited Warranty. This means that if there are any defective materials or manufacturing, IWC will repair the watch free of charge.
However, IWC allows customers to get a six-year extension. Anyone whose watch is still within the two-year limited warranty period can extend. All you need to do is to register here. In addition to the extension, the member will also receive tips on watch care and news from the company.
For the complete Terms and Conditions of the warranty extension, visit this page.