Junkers is one of the few existing watch companies that started out as independent brands and still is today. Junkers is a German watch brand, which in itself is generally a guarantee of excellence in engineering and craftsmanship. The company started began with Hugo Junkers, with whom the brand is named after.
More innovation took place 33 years ago when Wilhelm Birk founded POINTtec. This family-owned business creates more than 150,000 timepieces each year. Junkers accounts for two-thirds of this production.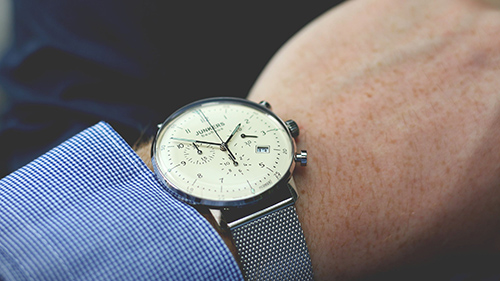 Very recently, POINTtec rebranded the company, dropping the "Junkers" name and going with the new Iron Annie branding. The entire collection is fully reminiscent of the original Junkers' designs. It takes inspiration from the JU52, which is a popular line of aircraft, later renamed Iron Annie. Similar to these renowned aircraft, the Iron Annie watches still stands for reliability, high-quality design, robustness, technical innovation, and striking aesthetic. Each timepiece is crafted in Germany.
Junkers Brand History

The history of Junkers goes back even before the conception of POINTtec. In 1895, a German named Hugo Junkers decided to begin his own company. He named it Junkers, and it dealt with various military and aviation businesses. The company was known for several record-breaking technological innovations in aircraft, sealing in their reputation as a trusted supplier for the German military. They also worked with several aviation companies in the commercial sector. It didn't take long before Junkers became among the most powerful and influential people in German design and engineering. His work, to this day, is respected all around the globe.
Junkers' life took an interesting turn when he got attached to the Bauhaus movement and style. He became one of the original people to sponsor this design movement. He had a lot of influence in getting the art school moved to Dessau district, too. The minimalist design of Bauhaus still lives on to this day, and influences not only aircraft but also home interiors, digital animation, and – of course – watches. In fact, some of the best Junkers watch collections are named after it. We've written more about Bauhaus watches here (spoiler alert – Junkers is mentioned).
Recently, the brand has been purchased and rebranded as Iron Annie. But don't worry – if you are a fan of the original brand, you can rest assured that Junkers watches are still being manufactured in Germany with the original name. It is managed by Hugo Junkers' family. In fact, the Junkers Bauhaus collection remains one of the most popular lines in the market today.
Junkers & Iron Annie Watch Collections
Junkers Bauhaus
Read Amazon Reviews | See on eBay
Pictured above is the Junkers Bauhaus Automatic with its minimalistic dial featuring a power reserve meter at 12:00 and a 24-hour sub-dial at 6:00. As mentioned, the branding has now been changed to "Iron Annie" which you can see below. They are essentially the same watch, just with the new branding.

Read Amazon Reviews | See on eBay
Hugo Junkers, as we mentioned, is a great engineer. But it is also very known that he's a great patron of modern design and expressionist painting. It didn't take long for him to make a creative partnership with the Bauhaus movement artists. This took place in Dessau. He remained loyal to the motto: The good artist works together with the good engineer, as said by Marcel Breuer. As a result, Junkers was able to apply the high aesthetic claims of the artistic movement in creating several airplane models.
Today, Bauhaus design is considered by many as modern myth and an avant-garde style in both free and applied art. Of course, we can see the Bauhaus design clearly in today's watch collections. The fascination for this artistic style is not lost and is given new life with the beautiful Iron Annie Bauhaus watch collection on Amazon.
D-Aqui
Read Amazon Reviews | See on eBay
The D-Aqui watch series is heralded as the centerpiece of the rebranded Iron Annie collection. These watches involve intricately crafted dials that work with a corrugated structure of iconic mechanisms. Just by looking at them, you can tell that these are modern masterpieces of watch design, making it an unmistakable icon in the market of aviation watches.
Classic Line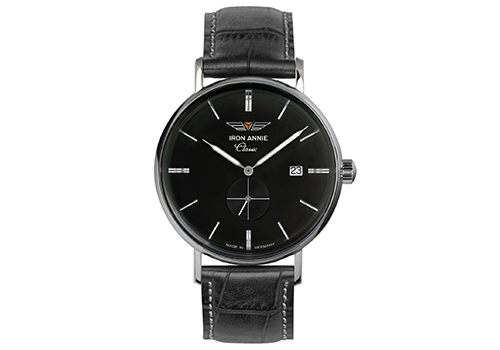 Expect nothing less than stylish elegance and class from the Iron Annie Classic Line. Each watch from this collection radiates smart beauty, calm, and aesthetic that is truly its main statement piece. It pays respect to the laid-back but stylish 60s. It has a simple round case, a curved dial, and a matching curved glass. The lugs are thin but pronounced. The hands are slim and the pointers are long, giving a complete 60s vibe.
Wellblech
Read Amazon Reviews | See on eBay
The Iron Annie Wellblech collection possesses a lot of heart. The dials are constructed in a manner that reflects the signature corrugated sheet structure of the famous D-Aqui planes. This is a true watch design masterpiece, making it a must-have in the pilot watch market.
G38 Dessau
Read Amazon Reviews | See on eBay
The IRON ANNIE G38 Dessau is another Junkers watch fully dedicated to aviation. The Dessau G38 airplane model was built in the 1930s and is hailed as the biggest passenger aircraft with four engines in the whole world. It's simply German engineering at its best. It is a product of determination to go beyond current industry obstacles and boundaries in the pursuit of excellence. Putting together technical innovation and elegant style gave birth to this powerful – yet simple – timepiece.
NATO AWACS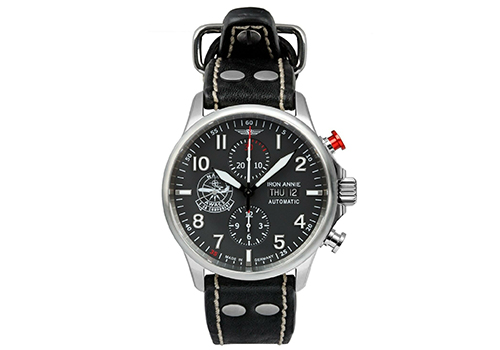 The Iron Annie NATO AWACS comes in an all-new edition, adding a robust and sporty casing. Together with a red push start and a new crown protector, this unique aviator chronograph is a true collector's item. In fact, only 350 pieces of this edition were released by the company. Enjoy hand-finished dials with appliqués. The watch is powered by the superior Valjoux automatic movement 7750.
Amazonas Impression
Read Amazon Reviews | See on eBay
Equador airline Transportes Aereos Orientales used to fly the Iron Annie plane under the name Amazonas from 1957 to 1963. Since then, this plane was used to transport passengers and cargo all across the entire Amazonas area, giving its riders a view of the tropical rainforest. The Amazonas Impression watch series takes inspiration from this beautiful landscape, including the deep blue waters and the sun rays that are reflected over them, with sand dust on the shores. You'll see these elements in the warm colors and fine details on the watch's dials and numbers.
Cockpit
Read Amazon Reviews | See on eBay
The D-AQUI airplanes of the past consider the cockpit as a special part of the vehicle. Its innovative instruments and impressive displays can still take your breath away if experienced today. This same feeling is encapsulated with the Iron Annie Cockpit watch series, as evidenced by the intricate detail of the dials and the very sporty casing.
Junkers Brand Reputation
So we've seen the best that the brand can offer, but what does the rest of the world think about this watchmaker? We can sum it up in a few pointers:
Junkers / Iron Annie is a great brand if you love aviation-inspired timepieces, as it obviously is the main driving influence for their designs. Plus, if you are a fan of comfortable watches without sacrificing style, this brand is right up your alley.
Junkers watches concentrate on simplicity and minimalism, mainly because of the Bauhaus movement, which heavily influenced the design process of the company during its earlier years.
Junkers watches are known for having a retro and vintage look. In fact, many of their collections are marketed as timepieces from the past decades. The aesthetic from the 60s, 70s, and earlier decades defined the overall look of their watches.
The watch dials are often Bauhaus-inspired, while the hands are usually very slim with hour markers that are baton-designed. Coupled with fashion-forward colors and designs, you get seemingly vintage watches that possess a timeless taste.
Junkers is known for creating automatic watches with quartz movement. Paired with German engineering, you can be guaranteed of precise time-telling.
These watches are affordable for their premium quality and are very accessible in today's market.
If you are looking for mid-range watches, you can't go wrong with Junkers watches, as they are built well and use premium parts and technology.
Is Junkers A Good Watch Brand?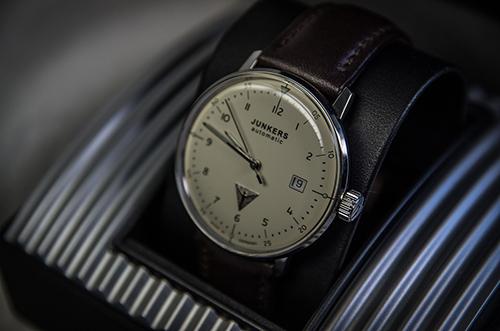 Besides taking a close look at their best offers, we also took into consideration several debates and discussions from enthusiast forums online. While the brand cannot please everyone, there is a major consensus about how the customers feel about this manufacturer – and we agree.
Overall, considering the quality and price point, Junkers is a good watch brand. Their timepieces are built durably. You can expect them to last for a long time. The overall quality of the materials and mechanisms is better than other brands within the same price range (mid-range). They're also easy to maintain. When you put on a Junkers watch, you feel confident and stylish. They do NOT feel cheap at all. Despite the constant joke being made about its name, Junkers is no piece of junk.
They are popular among fans of German watches and affordable pilot watches.
Style-wise, similar brands to consider would be Junghans, Zeppelin or Stowa. If you're a fan of aviation-inspired fliegers you may want to compare them to Laco, Glycine or even AVI-8 watches.
The pricing is not excessively high, and it uses high-grade Miyota movements, which is quite impressive.
Now, of course, we can't say the brand is without flaws. Of course, it has its faults, too. Some customers have commented that the brand often uses a crystal that is scratch-prone. Higher-end watch brands, like Oris, Longines, and Tissot – for instance – use scratch-resistant sapphire crystal. But this is understandable, given the price range difference between those brands and Junkers.
Another issue is the fact that users with smaller wrist sizes have to have the watches custom-fitted. Finally, we have seen reports that the rotor is sometimes louder than normal, which can be noticeable if you are in a really – REALLY – quiet environment.
All of these downsides are quite minor, but if you're aiming for perfection before making a purchase, worth taking note of.
Where To Buy Junkers Watches?
Based in Germany or somewhere near? See their authorized resellers and store locations here.
If you're buying online, check out the official Junkers Shop to shop straight from the manufacturer.
You can also purchase original Junkers and Iron Annie watches on Amazon.
If you are looking for brand new, pre-loved, and used Junkers watches – or if you want to bid on auctions for some rare models not available elsewhere, check out the offerings on eBay.
If you're in the UK, you can also check out Junkers watches on jurawatches.co.uk.
Where Are Junkers Watches Made?
All Junkers watches carry the MADE IN GERMANY stamp. This guarantees that all parts and components used for the watches are created and assembled in Germany. However, some of the movements are imported from Japan and Switzerland, depending on the watch model. The final assembly of parts takes place in Germany, following traditional German watchmaking techniques and standards.
All of the manufacturing steps are overseen by POINTtec, which was founded in 1987 by Wilhelm Birk. The facility churns out over 150,000 watches annually. Junkers watches account for two-thirds of this production.
For any questions you have regarding the manufacturing, assembly, and quality control processes of Junkers watches, you can contact them here. Besides that, they have a Munich office that welcomes all inquiries from customers.
Junkers Watch Warranty
Each Junkers watch comes with a two-year warranty, valid internationally. To qualify for this guarantee, you need to have made the purchase via an authorized retailer. To check if you bought from an authorized seller, check the list of their official partners and stores here.
Make sure to keep all your receipts and other documentation with you when filing a warranty claim. It will also help speed up the process if you know the date of purchase, as well as the name of the vendor from which you made your purchase.
The watch warranty is included in each purchase, as well as on their website. If you encounter any issues with your purchase, the manufacturer encourages contacting them immediately. You can send an email to [email protected], or call them at +49.89.2155.4525 during business hours.