Guess is a global lifestyle brand with a full range of denim, apparel, and accessories offered in more than 80 countries around the world.
As such, Guess is not particularly a watch brand. Rather, it is a fashion brand that makes designer watches. So that should pretty much set your expectations right about the watches from this brand.
Regardless, the brand commits to deliver products and services of uncompromising quality and integrity consistent with the brand and its image. When it comes to denim and apparel, Guess no longer needs to be introduced further. The brand is popular enough to stand on its own.
Guess Watches. on the other hand, are not much of a first choice among timepieces. So here, we'll let you know more about Guess Watches so that you'll be more confident in buying a Guess watch.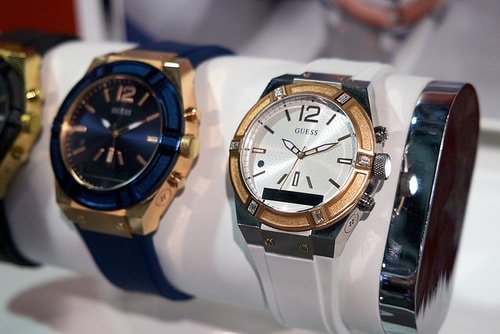 History of Guess Watches
Callanen Internation is the company responsible for the launch of Guess watches.
However, before we go to the history of its watches per se, it is but proper to know the history of Guess as a brand and as a company in general in order to provide sufficient context and proper understanding of its products.
Company History

Guess started in a clothing store in Beverly Hills in 1981 by the Marciano brothers – Georges and Maurice. They were later on joined by brothers Armand and Paul the following year. These brothers were born in Morocco and raised in Marseilles.
Previously, they owned and operated a chain of 12 retail stores in France but they left the country to avoid their tax bill (that was later on settled in 1986). Their first products were jeans designed by Georges Marciano. These jeans were named Guess simply because it was easy for the brothers to pronounce.
These jeans were meant to fit tightly and featured zippers at the ankles. They were stone-washed, giving them a softer feel and lighter colors than typical denim jeans. The first jeans also featured already the distinctive Guess triangle on the back pocket.
By December of the same year, Georges Marciano flew to New York and convinced Bloomingdale's to display on consignment 30 pairs of his European-style jeans in its flagship store in New York. To their surprise, Bloomingdale's sold out every pair within three hours (despite the $60 sales tag)!
The following year, 1982, the sales of Guess jeans were a hit primarily because of Paul Marciano's advertising campaign strategy. He took the models outdoors, wearing his brother's jeans contrary to then-typical studio shoots. By the end of the year, the Marcianos sold around $12 million of their jeans.
Shared Ownership
From this humble beginning, Guess expanded to include a wide variety of men's and women's denim, cotton and knit apparel that are made available in the factory and retail stores in the US and Canada.
Because of the overwhelming demand for their products, the Marcianos searched for capital to expand and access to cheaper foreign labor. As a result, they signed a deal with the Nakash brothers of Jordache in July 1983.
The Marcianos gave Jordache 50 percent of the ownership of Guess in exchange for $4.8 million and use of Jordache's Hong Kong manufacturing plants. Jordache was also licensed to set up a new line of jeans called Gasoline. The said line used parts of Guess designs in a lower-priced line.
From Partnership to Court Battles
Originally, Jordache also manufactured designer jeans from a single store in Brooklyn, New York. However, the company began to slip as the company increasingly became known as a mass merchandise label.
Guess, on the other hand, remained exclusively high-end, with the distribution of its products limited only to upscale department stores and the Marciano's growing chain of MGA (Maurice, Georges, and Armand) retail stores.
The partnership between Marciano and Nakash brothers soured in 1984 to the point that it became the Marcianos' largest legal battle.
The Marcianos sued the Nakash brothers and Jordache charging that company with unfair competition. Marcianos claim that the Nakash brothers used their position as members of the board of directors of Guess and their access to copy Guess designs and produce "knockoffs" of Guess in their Jordache line.
The Marcianos' suit demanded the court to undo the 1983 agreement that gave the Nakashes control over half of Guess. The battle for control continued for the following years with both parties filing charges against each other.
Finally, this legal battle ended in early 1990 when a jury agreed with the Marcianos and returned to them the 100 percent control of Guess. A second trial was supposed to be heard later in May 1990 to determine the damages. However, the Marcianos already announced that they had reached a settlement with the Nakashe brothers for an undisclosed amount.
Guess Watches History

With regards to Guess watches, in particular, Callanen International launched the first watches in 1984. Callanen International is a wholly-owned subsidiary of Timex Corporation. Since then, Callanen has been manufacturing and distributing Guess watches worldwide.
A slight itch happened in 2005 when Guess and Fossil announced that they were close to signing a 10-year agreement that would turn over the manufacturing rights of Guess watches to Fossil. However, less than a month after the announcement, the deal fell through.
Instead, by September 2005, Guess announced that Callanen will continue producing and distributing Guess watches. Said companies signed a 10-year global license agreement commencing on January 1, 2007. Along with Guess watches, Callanen also distributes the licensed brands of Marc Ecko, Nautica and Versace watch brands.
In November 2006, months prior to the effectivity of the renewed license agreement, The Timex Group has reorganized its Callanen International division and added a new worldwide company called Sequel AG.
Sequel is designated to take over from Callanen the global marketing and distribution of Guess and Guess Collection (Gc) fashion watches. Additionally, it will handle the international licenses for Guess and Guess Collection jewelry.
In view of this, by January 1, 2007, Sequel manufactured and distributed Guess and Gc watches and jewelry. Up to the present, the same company is still responsible for the production of Guess watches.
Where are Guess watches made?
Most fashion brands, such as Emporio Armani, issue a license to manufacture watches under their name. Majority of them particularly prefer those watch groups, such as Fossil, that also produce and distribute watches for other brands.
Guess also followed this strategy. Its watches are manufactured by Sequel AG, which is part of the Timex Group. It particularly specializes in low-cost watches, both quartz, and mechanic.
Sequel AG is a Swiss company headquartered in Zug, Switzerland. It signed a 15-year license that started last January 1, 2007. It focuses exclusively on its licensed products under the Guess and Gc watch brands, including its new international license for costume jewelry.
Although its home office is in Switzerland, Sequel also has satellite offices in the UK and Norwalk, and Connecticut in the US. When it comes to manufacturing sites, the Timex Group website provided the list of cities:
North Little Rock, Arkansas, USA
Norwalk, Connecticut, USA
Toronto, Ontario, Canada
Mexico City, Mexico
Northampton, United Kingdom
Coventry, United Kingdom
Besancon, France
Vignate, Italy
Charneca da Caparica, Portugal
Manno, Switzerland
Budapest, Hungary
Warsaw, Poland
Cebu, Philippines
Hong Kong, China
Shenzhen, China
Shanghai, China
Baddi, India
Noida, India
Evidently, the Timex Group's extensive production, assembly, and quality control of its timepieces happen all across the globe.
Guess Watch Reputation

As mentioned earlier, Guess watches are fashion watches. So at the onset, it would be a mistake to expect intricate mechanical movements from these watches.
These watches usually have quartz movement and primarily focus on the overall look and style. In general, watch enthusiasts are not interested in fashion watches. The same rule applies to Guess watches.
They would rather focus on the mechanics, functions, and craftsmanship involved in a particular watch. Serious watch aficionado prefer watch brands with a long watchmaking history and tend to dismiss fashion brands like Guess, Michael Kors, Daniel Wellington and other similar brands.
Aside from this general perception of fashion watches, watch enthusiasts are quite torn about how they feel about Guess watches.
Some would say that they are quite overpriced, especially when you can find other brands in the same price range that use better movements and have a long history of making reputable watches. A few that come to mind as alternatives are Seiko, Orient, Citizen or even Casio watches.
In the same price range, you could also by a Swatch which is fashionable with the added bonus of being Swiss-made. For slightly more, you could look at Tissot, another Swiss brand that makes relatively affordable models.
If you are considering these brands, check out our comparison of Seiko vs Citizen here.
On the other hand, enthusiasts also can't deny that Guess watches are very stylish and their looks give justice to the brand they bear. They are often compared with other fashion watches such as Fossil, ESPRIT, and DKNY.
The quartz movement, materials, and workmanship are also of reasonable quality. Guess watches use movements made by Japanese companies like Shojiri, which is part of the Seiko/Epson Group. Because of this, you can be assured that Guess watches are solid and performing, especially in terms of accuracy and reliability.
However, these movements are quite inexpensive so the retail price they charge for their watches doesn't really align with the cost of manufacturing them, so most of the mark-up is because of brand recognition.
Are Guess watches good quality?
Quality is such a relative concept that there is no definitive answer. However, as mentioned above, serious watch buyers would never call them "good" watches. Many would not even consider buying them since they don't see them as "real watches". However, if your expectations are realistic and you place importance on popular fashion, brand recognition and trends then they may be a good choice. The movements, although low-end quartz, are known to be accurate. The overall look of the watches are appealing and in general, the reviews from buyers are positive.
If you are conscious of the brands that you are wearing. Guess, as a brand, is easily recognizable because of the wide range of fashion items they produce worldwide.
However, if you are more particular about the mechanics, functions, and craftsmanship of watches, obviously Guess watches are not for you.
Just for comparison, take a look at a Seiko 5, Orient Bambino or a Citizen Eco-Drive for about the same price as a Guess but these brands have a long history of making quality watches that could last you a lifetime, something very unlikely with a Guess.
Where to buy Guess Watches
Guess watches are available in over 100 countries worldwide through a network of 60 distributors and 20,000 retail outlets. If you need some help in locating a store nearest you, click here.
You may also shop directly from their website, guesswatches.com, or through the GUESS Watch Store in Amazon.
You can also find new and pre-owned Guess watches on eBay.
Overstock has discounted Guess watches here.
UK/EU shoppers can find Guess watches at the WatchShop.
How to distinguish authentic Guess watches from fake ones?
Since Guess is a very popular fashion brand, its product line is also very popular among counterfeiters. Ordinary buyers may not know that many of the Guess products online are only cheaper imitations.
How would you know if you are buying a counterfeit or an authentic? Here are the steps:
The engraving at the back should be neat, evenly spaced, aligned and features sharp edges.
The model number engraved at the back should match the model number indicated on any paperwork.
Still on the paperwork, carefully check for any errors in spelling, spacing, and dates.
Some new Guess watches include an instruction manual in their packaging.
Check the Guess logo on the watch's dial. It should be consistent in every detail to the official brand logos used by the brand. Also, make sure that the font of the letters is consistent in every detail.
Check the sub-dials, if any. They should be of good quality and functional.
With so many authentic and counterfeit Guess watches, it is best to buy directly from authorized Guess retailers or directly from Guess outlet stores.
Guess Watch Warranty Policy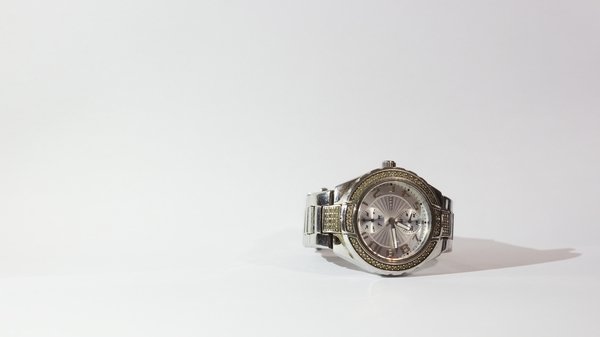 For US Customers, Guess offers a two-year warranty on all purchases made from July 1, 2017. Purchases made prior to July 1, 2017, have a 10-year limited warranty.
Guess may repair or replace your watch in the event of a defect or malfunction, provided that it is within the warranty period and you can present proof of purchase.
On the other hand, the limited warranty does not apply to normal wear and tear, abuse or water damage and excludes batteries, case, strap or bracelet; does not cover costs, parts or labor, shipping, and handling, defects or damage caused by any source other than Guess watches.
For customers outside the US, you may contact your local representative for country-specific warranty information.
If you need some assistance on the repair of your watch, you may visit this link for customer care. Therein, you can also find information on how to contact the local representative if you're from outside the US.
If you want to read how to care about your watch or know more details about its warranty coverage, this link will direct you to the watch care manual and warranty booklet.
Conclusion
Throughout the years, Guess has proven that although its expertise is apparel, they can also produce watches that sell well.
And, as a fashion brand, Guess made sure that their watches stand out and can surely complement whatever your fashion style is.
So if you're looking for stylish watches to match your fashion, Guess watches may be worth considering. If you are looking for a quality timepiece made by a reputable watchmaker we suggest you look elsewhere.