Seiko and Bulova are both well-known consumer watch brands. Both Seiko and Bulova have been around for over a century, which is a testament to the overall quality of their products. But if we look at the intricacies of the best timepieces from each brand, who turns out on top?
Seiko played an important role in the watchmaking industry with the introduction of solar watches in the 1970s and its affordable automatic movements are some of the still best selling on the market. Bulova on the other hand is best known for the development of its unique tuning fork movement.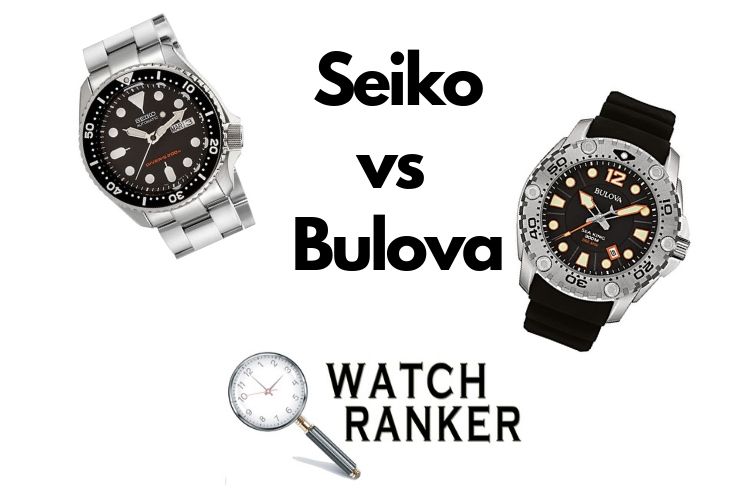 We will be taking a more in-depth look at the unique qualities that both Seiko and Bulova watch offer to determine which one is the better brand.
History of Seiko

Seiko is a Japanese watchmaking company that was founded back in 1881. Seiko began as a jewelry shop in Tokyo, Japan and was owned by Kintaro Hattori. A decade later, Seiko started its foray into manufacturing clocks with their first model, Seikosha.
The first produced and publicly sold watch by Seiko entered the market in 1924. A historic milestone was reached by Seiko when they manufactured and sold the first quartz watch in the world, the Astron, in 1969.
Seiko continued revolutionizing the watch industry as they introduced a solar-powered watch in 1977.
In 1999, Seiko unveiled the first watch to incorporate their patented Spring Drive movement technology. Seiko's Spring Drive movement watches were specifically designed to withstand space travel. Another major competitor is Citizen which is often compared to Seiko.
2012 also saw another milestone for the highly respected watchmaker company when they revived the Astron name for their Seiko Astron GPS Solar watch. This was a huge and bold statement as Astron helped revolutionize the industry when it was first introduced.
The new Astron watch is a true marvel and a work of art. From its numerous features such as its ability to automatically re-adjust depending on which time zone the wearer is at the moment. This was achieved thanks to its GPS capability that syncs automatically to the location's time zone.
Expect more from Seiko in the future, as they seem to have a habit of revolutionizing the industry time and time again.
History of Bulova



Founded in New York by Joseph Bulova in 1875, it was first introduced as J. Bulova Company but began to fully sink their teeth into the market in 1919 when they started mass producing timepieces. The company was officially renamed as the Bulova Watch Company in 1923.
Bulova made waves by partnering with the U.S. government during the '60s and '70s for the "Space Race" era. Bulova started manufacturing timepieces alongside NASA for space travel. NASA used Bulova's Accutron timekeeping technology for its spacecraft. See our detailed article here about the watches worn in space by astronauts.
While Bulova was not officially chosen for the historic moonwalk, (Omega won that privilege), few knew that Buzz Aldrin also used a Bulova Accutron timer to transmit data. A Bulova watch did manage to make it to the lunar surface in 1971 during the Apollo 15 mission was David R. Scott wore it.
Bulova made significant strides in 2008 when they released the Bulova Precisionist, which was called the most accurate Quartz watch in the world. Boast-Worthy praise for a watchmaker company. In 2016, Bulova unveiled the Bulova CURV, which is another impressive feat in watchmaking design as it is the very first curved chronograph wristwatch. See our current list of Top QuartzWatches – including the Bulova Lunar Pilot. 
Seiko and Bulova Watches Compared
Seiko and Bulova are both known for their impeccable craftsmanship and timepiece movement technology. Probably the most impressive is their achievements in space exploration. Both companies managed to craft watches designed to withstand space travel, for example, the Seiko 6139 or the Bulova Moon Watch. So with that in mind; we will be taking a look at their watch's ability to remain reliable even in harsh conditions.
Dive Watch Comparison
Seiko Sports Automatic Diver Watch SKX011J1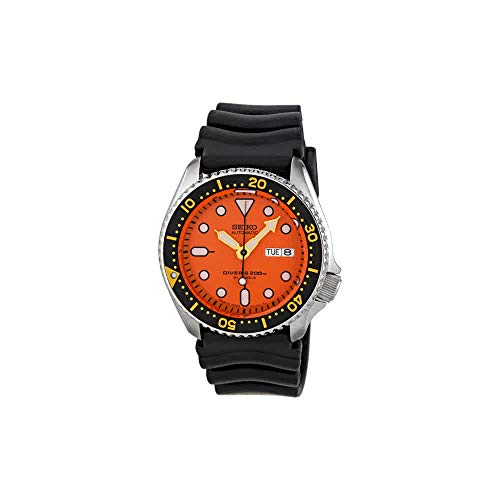 Seiko's Diver watch series are manufactured with the utmost care and with using high-grade material. This is why Seiko Dive watches are known to be one of the most robust timepieces in the consumer market. The Seiko Automatic Diver Watch comes with a power reserve of up to 40 hours, which is quite impressive, to say the least.
This is a Japanese-made model and comes with a unique orange dial design. As this is designed for divers and other outdoor water activities, it is not surprising to know it comes with a water resistance of up to 200m.
The SKX011J1 comes with a unidirectional rotating bezel and a sturdy yet comfortable jubilee black strap bracelet. The hands and markers are coated with "Lumi Brite" which allows it to glow and pierce even the dark depths of the ocean.
With a solid 42mm diameter stainless steel case, this watch is just the right size for both men and women. As for the inner workings of this watch, it incorporates the Japan automatic 21 jewel movement, which is known for precision and reliability.
Design-wise, the metallic orange dial is undoubtedly one of its most appealing features. The window is made from scratch-resistant "Hardlex" crystal. Additional functionality includes a day and date display that you can find located on the three o'clock position.
The Seiko "SKX" line made our list of top dive watches under $500- check it out here.
Bulova Sea King Watch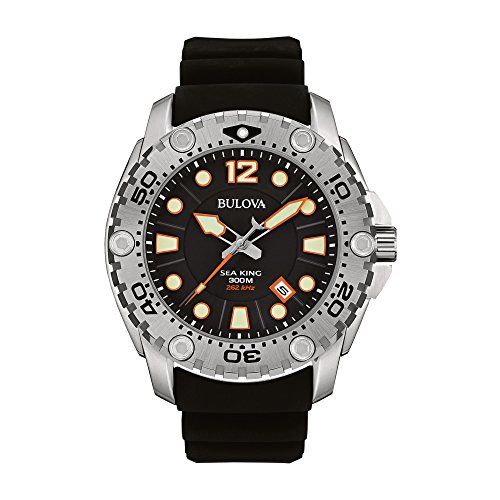 A diver's watch worthy of its title, the Bulova Sea King is among the most reliable and highly recommended divers watch that you can get your hands on today. The Sea King looks and feels extremely durable with its tank-like appearance. Even though it has a rather intimidatingly bulky appearance, it is quite well-balanced on the wrist and is incredibly comfortable.
As a diver's watch, the Bulova Sea King comes with all the essential features. A luminous dial, dial, and markers allow it to be visible even when submerged to depths where light cannot reach. To optimize the luminosity, expose the watch to the sun for at least an hour or two.
An additional and helpful feature that the Bulova Sea King comes with is the strap extension, which is compatible with diving suites. This is best suited for mixed-gas diving activities and is among the best watches for serious divers.
Digital Watch Comparison
Seiko Prospex Fieldmaster Digital Watch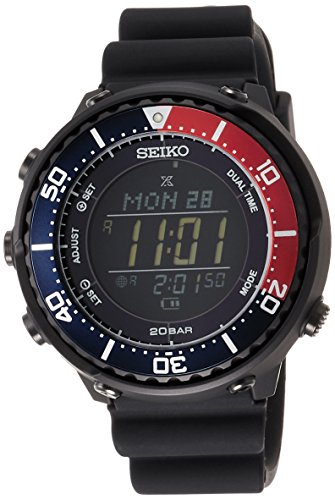 The Seiko Prospex is an all-digital watch that is also suitable for water activities such as diving. For a digital clock, it is quite impressive to know that it is designed to withstand being submerged underwater for up to 200m. The nifty design choice of the blue and red rotating bezel is also excellent eye candy.
Digital movement of the Prospex is solar-powered, which means you won't need to worry about replacing the battery. The watch can last for around five months in one full charge. It features comfortable silicone straps that feel snug without hindering wrist maneuverability.
The negative display is also an excellent choice as it improves visibility both above and underwater. As you would expect, it also features the solar-powered digital quartz movement technology from Seiko. The digital screen does call for a larger design, which is why the Prospex Fieldmaster comes with a 49.5mm in diameter black ion-plated case.
Additional functions you can expect here include a world time (comes with 44 different city time zones), dual-time, alarm, and a timer. This watch from Seiko also has a power-saving mode that can last for 20 months.  
If you are shopping for ladies' watches, check out our list of best women's digital watches here.
Bulova Computron LED Digital Watch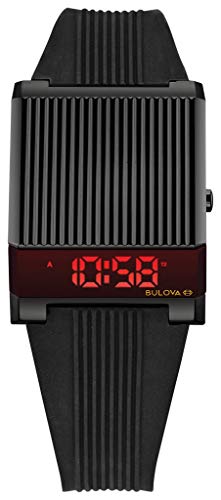 Quite possibly one of the most unique looking digital watches to date, the Bulova Computron follows the same blueprint as the original 1970's Computron digital watch. However, Bulova provided essential upgrades that pushed the new Computron watch series further than its predecessor.
The Computron is part of the Bulova Archive series of watches. You can easily distinguish its primary defining feature at first glance. This is, of course, the trapezoid shape of the case which improves visibility and of the digital display.
Its futuristic retro vibe is one of its strong suits. It certainly feels like the 70's vision of the future. Of course, the Computron is not just flash and no substance. This sci-fi retro digital watch uses a bright LED display, which is extremely energy efficient and does not generate heat.
This digital watch comes in three variations: silver, gold, and black. Each is equally stunning as the next. Computron comes with dual time zone capabilities. It can also display the day and date with a press of a button.
The trapezoid case comes in at 31.1 x 40.3mm and feels quite comfortable on the wrist. It is also slim enough to provide maximum mobility of the wearer's hand. Also, important to note is that the quartz movement within has an impressive two-year battery life, but could last longer depending on how often you activate the LED display. 
The fact that Bulova carefully chose which features to include to optimize Computron's performance is a testament to its goal of providing the best possible products. They could have easily packed this watch with a bunch of bells and whistles but decided to go for practicality and reliability. That is all you need if you already have a uniquely designed watch.
See our picks for the best men's digital watches here.
Seiko vs Bulova: Which Watches are Better?
Seiko and Bulova both offer high-quality watches but when it comes to the buying decision between the two brands much will depend on personal taste. 
There's no denying the quality and classic design of Seiko watches, from the brand best-selling SKX line of affordable watches to the latest GPS Astron technology, the brand consistently delivers. even though much of their technology over the decades has been cutting edge, they are, however, generally very traditional looking watches,
Bulova on the other hand may not have the wide brand recognition that Seiko enjoys but where they do excel is their innovative and modern designs. Whether you look at a Bulova Accutron Spaceview from the 1960s, a 1970's Computron digital watch or one of the current reiterations of their iconic watches – the thread that holds them together is their modern take on watch design. While some aficionados think they are too loud, people that appreciate vintage design love Bulova watches.
Do you prefer reliability and traditional design when it comes to your watches?  Seiko has proven time and time again to be one of the leading names in this regard. See our list of best Seiko watches here.
For a more contemporary appeal with flexible prices, Bulova is an excellent choice. Check out our favorite Bulova watches here.