Digital watches offer more than just telling time, they offer lots of other benefits.  In just a compact device at our wrist, we are able to utilize multiple functions. 
Digital watches are some of the most accurate in the market since they almost all use quartz movements. Digital watches also often have handy functions, from the basic alarm; calendar; stopwatch; and countdown timer to the more complex GMT and fitness tracking.
Top Picks

While they were once just considered a watch style for geeky girls, in recent years watch brands have put a lot of effort into digital and there are many fashionable options available on the market now. And some even use atomic timekeeping which it 
With the wide variety of digital watches available, you're sure to find an awesome digital watch for you. To make it easier for you, we've narrowed down the choices into this list of our favorite digital watches for women. Here they are, roughly in order of price starting with some budget options working our way up to a few higher-end watches. 
Best Digital Watches For Women
Timex Unisex Expedition Classic Digital Chrono 
Check Price on Amazon | See on Timex
Cheap doesn't always mean poor quality. The Timex Unisex Expedition Classic Chrono Alarm Time Mid-Size Resin And Nylon Watch is a very affordable timepiece that's also very durable and reliable with an outdoorsy charm in a nice black and red motif.
Waterproof to a 100-meter resin case and a nylon strap, this watch is indestructible. This watch is easy to put on, as the strap is in a fast wrap velcro style. It also allows visibility of the digital display in the dark, as it features Timex's patented Indiglo light-up watch dial for night use.
Casio Vintage Rose Gold-Tone Digital Watch
What is a list of the best digital watches without a digital watch from Casio? From the innovative electronics company, the Casio Vintage Rose Gold-Tone Resin And Stainless Steel Watch is a nifty timepiece with an equally impressive aesthetic.
Casio is known to produce some of the most efficient timepieces that come at an affordable price. And this timepiece is both multifunctional and elegant.
It comes in a lovely rose gold tone and is made with a resin case and stainless steel bracelet, which makes it a durable timepiece. Waterproof to 50 meters, making it safe to wear during showering and bathing as tested according to ISO 22810.
Apart from timekeeping, this watch includes functions such as the multi-function alarm, auto calendar, 1/100-second stopwatch, and countdown timer.
For clearer readability of the digital display, especially in the dark, this watch comes with Casio's Super Illuminator LED backlight for use at night or in low light. 
Timex Ironman Classic 30-Lap Digital Sports Watch
Check Price on Amazon | See on Timex
If you're looking for a sleek-looking sports watch, the Timex Ironman Classic 30-Lap Mid-Size Resin Watch could fit the bill.
Its design of black and silver tone with orange details makes a tasteful look for the watch that'll go well with any outfit.
It has a rugged construction composed of a resin case and rubber strap.  The sporty features of this watch include its sports stopwatch with 30-lap memory, 100-hour chronograph with 99-lap counter, recall of laps and a total time of latest workout in Chrono.
With its Indiglo illuminated watch dial, you can see the contents of its digital display clearly even in the dark. 24-hour countdown timer and 100-meter water resistance suitable for swimming and snorkeling.
Other functions of this watch include a calendar and three customizable alarms.
Timex Ironman Sleek 50-Lap Mid-Size Digital Sports Watch
Check Price on Amazon | See on Timex
We have another sleek-looking sport watch from Timex. This time, with a pop of purple, and it comes with 50-lap memory, the Timex Ironman Sleek 50-Lap Mid-Size Resin Watch.
It's a durable watch made of resin in a nice color combination of purple and gray that is equipped with features for the athletic person. It also comes in other color combinations including Mint Blue and Plum. 
Athletic women will love this sports stopwatch with a 50-lap memory; 100-hour chronograph with a 99-lap counter; recall of laps and the total time of latest workout in Chrono; recall by date with a summary of best lap and average lap of multiple workouts saved in Chrono, 24-hour countdown timer with the ability to repeat up to 99 times, one Interval workout sessions, two interval timers per session and 100-meter water resistance makes this watch suitable for swimming and snorkeling.
Providing light for night use on the digital display is Timex's Indiglo feature.
Casio G-Shock Breezy Rasta Color Digital Watch
From G-Shock's Special Color Models series boasting bright colors of red yellow and green, the Casio G-Shock Breezy Rasta Color Resin Watch is a Rasta-inspired timepiece.
Not only is it designed with multiple colors but also with multiple functions, such as a 1/100-second stopwatch; a countdown timer; a multi-function alarm; an hourly time signal; a  flash alert for alarms and hourly time signals; and a full auto-calendar till 2039.
The display of the time in this watch can either be in a 12 or 24-hour format. To enhance this watch's readability, it comes with an EL backlight with an afterglow.
This is a robust watch made of resin and scratch-resistant mineral crystal and 200-meter water resistance.
Casio G-Shock Baby-G Databank Digital Watch
Basically having the same DNA as the unbreakable G-Shock marketed towards men, Baby-G is just as tough as G-Shock with active women in mind.  An excellent example of that is the Casio G-Shock Baby-G Data Bank Resin Watch with its fashionable, feminine presentation.
With a gorgeous glittery and shiny design with champagne and rose gold tones, it's a rather striking stylish timepiece for women. It's packed with handy features, such as a 25-page databank for storing contacts; five daily alarms; a full auto-calendar pre-programmed till 2099.
Other features include a day counter that automatically counts to a target date, an hourly time signal, a 1/100th-second stopwatch, a countdown timer, and world time including 29 time zones with 30 cities, a city code display, and daylight saving, 12 or 24-hour format. It comes with an EL backlight with afterglow for illumination.
If this particular style doesn't convince you, check out our full list of G-shock watches for women here.
Swatch Unisex Petrozero2 Bluetooth Alarm Chronograph Watch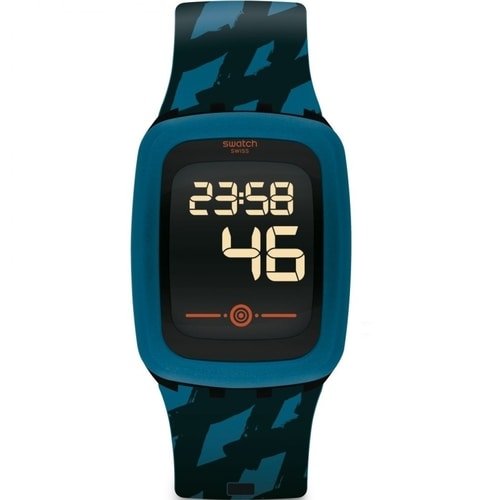 The Swatch Unisex Petrozero2 Bluetooth Alarm Chronograph Watch is a nifty timepiece that apart from keeping you on time, can also keep you fit as well as in style.
This fashionable watch boasts a cool design in black and blue, which features a black digital display with chrome numbers and red segments. Other functions of this watch are the Chrono, alarm, calendar, timer, personal data, steps, and calories burned.  As it's made of plastic and silicone, it's pretty comfortable and lightweight. Reinforcing it is 30-meter water resistance.
Nixon Siren SS Rose Gold-Tone Stainless Steel Digital Watch
Check Price on Amazon | See on Nixon.com
The Nixon Siren SS Rose Gold-Tone Stainless Steel And Silicone Watch is a sturdy timepiece that's classy and beach-ready.
It has a sleek and durable design of an octagon-shaped rose gold-tone stainless steel case and a black tapered custom injection molded ultra-soft silicone band with patented locking looper, which also makes for comfortable wear. Added to that is its 100-meter water resistance as well as basic tide and future tide functions, making it fully equipped to hit the waves.
Calendar till 2099, backlight; chronograph and customizable countdown timer, 12 or 24-hour format. You can choose to set it to display either time and date or time and tide. For enhancing the digital display's readability, especially in the dark is its EL backlight. 
Suunto M2 HRM Training Watch
Fitness is what the M2 HRM Training Watch smartwatch from Suunto is all about. It's designed conveniently for an efficient workout as well as aesthetically with a white case and pink strap with an embossed pattern.
This is a nifty timepiece that can help you reach your fitness goals. It can measure your heart rate as well as calories burned and even provide training guidance in real-time.
An additional instrument that comes with the watch is the soft textile heart rate belt for fitness tracking. It can measure heart rate in three heart rate zones, and it automatically switches among three heart rate zones.  
It's a robust watch made with a composite case and elastomer strap that's water-resistant to 30 meters according to ISO 6425.
Fitbit Versa
Have the convenience of fitness and health tracking, a workout coach, GPS, mobile phone notifications, music, access to all sorts of apps, and more at your wrist in a durable and fashionable design made of rose gold-tone aluminum and peach elastomer with the Fitbit Versa.
It's equipped with features for keeping fit.  This watch can automatically track steps, distance, calories, floors climbed, and active minutes. It provides more than 15 exercise modes, real-time pace, and distance with the aid of its GPS. It can also serve as your workout coach with its on-screen workouts that guide you throughout your workout session.
Sleep tracking function that can record time in the light, deep, and REM sleep.
The PurePulse allows real-time heart tracking during workouts and even continuously throughout your day, which can determine your cardio fitness level. Just as important as your cardiovascular health is your female health, so this watch also comes with female health-tracking, which allows you to log your periods as well as determine your ovulation and patterns in your menstrual cycle.
Get call and text notifications, listen to music or use it for contactless payments.
Casio Pro Trek Tough Solar Triple Sensor Resin Watch
Rather feminine but definitely tough, the Casio Pro Trek Tough Solar Triple Sensor Resin Watch is a watch made for women that love the outdoors.
Along with its tough exterior are handy features for outdoor adventures, making it perfect for the outdoorsy lady. Moreover, it's powered by Casio's Tough Solar Technology.
This timepiece styled with a robust aesthetic is composed of a composite ABS plastic case and composite strap in light pink. Scratch-resistant mineral crystal makes up its dial window.
Its functions practical for the great outdoors are its altimeter data memory, barometer, digital compass, thermometer, sunrise and sunset display, low-temperature resistance, and 100-meter water resistance. A full-auto LED light is set up in its digital display for enhancing readability, especially in the dark-a twist of the wrist will automatically light up the digital display.
Fitbit Alta HR
The Fitbit Alta HR can help women maintain a healthy, balanced life in style. This sleek-looking, durable, and slender timepiece designed with a stainless steel case and a textured elastomer strap featuring an OLED tap display is equipped with a plethora of features suitable for an active woman. It can get you covered with functions for maintaining fit, observing your health, keeping in touch, and being organized.
With this watch, you can monitor your heart rate continuously with Fitbit's PurePulse heart rate technology. Moreover, this watch also allows you to know your cardio fitness level and how to improve it.
It even automatically tracks any kind of workout with Fitbit's proprietary SmartTrack feature as well as steps, calories, and distance.
Track your time in the light; deep, and REM stages or automatically with its auto sleep tracking function. Call, text, and calendar alerts are also available in this watch.
Garmin Forerunner 235 GPS Smartwatch
The Garmin Forerunner 235 GPS Running Smartwatch is a bold timepiece both in wrist presence and in performance with its capabilities that can keep up with active women, designed with runners in mind, this watch has a plethora of great features for running as well as features that can help maintain your fitness and health.
It has an activity tracker that counts daily steps, distance, pace, and calories. Its GPS and GLONASS functions help to indicate your location during your runs. And a breathable perforated silicone strap makes for a comfortable, less sweaty run.
In addition, this watch is 50-meter water-resistant, which means you can wear this watch during swimming. Keep up to date with email, text messages, call alerts, calendar reminders.
Sleep is also another important factor in your health, which this watch can track as well.  This is also capable of measuring your heart rate 24/7 with Garmin's Elevate heart rate technology.
This smartwatch gives motivational status announcements including laps and lap times through its audio prompt function as well as a reminder for you to move after more than an hour of being immobile. With this watch, you also get access to Garmin's online fitness community, Garmin Connect, including live tracking, automatic uploads, and download advanced workouts and training plans. Social media sharing can also be done with this watch.
See full specs of the Forerunner 235 on Garmin.com
You can personalize your watch by customizing data fields and downloading watch faces, widgets, and applications at the Connect IQ.
Suunto Spartan Sport Wrist HR
With a sleek, robust aesthetic and geared with sporty features, the Suunto Spartan Sport Wrist HR is the perfect watch choice for the active woman who has as much passion for fashion as she does for sports.
Its plethora of convenient features come in a durable; comfortable; and cool design good for all-day wear—"from trails to the office and for dinner," as stated on Suunto's website. Composing this sporty, chic watch is a stainless steel bezel; mineral crystal dial window; glass fiber reinforced polyamide case; and silicone strap. And it's water-resistant to 100 meters according to ISO 6425.
It's a multisport GPS watch designed to endure demanding and diverse conditions that an active woman encounters. This amazing watch has so many awesome features in store. It comes with over 80 pre-installed sports modes including running, cycling, swimming, triathlon, and even outdoor sports like hiking and skiing.
And whatever sports you are engaging in, you can have the progress of your activities monitored through the Suunto app, Suunto's new digital service and companion for the Spartan Watch that they have coined the mobile adventure enabler. 
This watch can measure pace; speed; distance; altitude; swolf; heart rate; and calories. It can also provide support for running and cycling power and cadence with the aid of external power or bike sensors.
Along with its route navigation are the POI's, breadcrumb view, and digital compass. And equipped with both GPS and GLONASS, its navigation is very accurate. Apart from sports activities, it can also track your heart rate throughout the day, which helps in accurately tracking activities, sleep, and calories burned.
Features for timekeeping are dual time, automatic daylight saving time, sunrise and sunset times, stopwatch, and countdown timer.
This watch is compatible with online sports communities, such as Strava, TrainingPeaks, and Endomondo as well as the Suunto Movescount App. 
Tissot T-Touch II Analog- Digital Mother of Pearl Dial Titanium Watch
For a strikingly elegant timepiece, the Tissot T-Touch II Analog- Digital Mother of Pearl is designed for adventurous women,
Along with its gorgeous aesthetic are its toughness in build and multiple functions including tools for outdoor adventures. This is a watch that could add class to your outfits as well as take on the great outdoors.
It's built with a titanium case, scratch-resistant sapphire crystal, and white leather strap. It boasts a tactile mother of pearl analog-digital dial that's enhanced by the diamond embellishments that also serve as index hour markers for the even hour positions. Moreover, it's reinforced with 100-meter water resistance and the long and well-respected brand history and reputation of Tissot watches.
Tissot's meteo function (barometer), altimeter, compass, and thermometer make it practical for outdoor adventures. It also comes with an alarm, a perpetual calendar, a chronograph, GMT and a second time zone.
What Makes Digital Watches So Great?
Digital Watches are heaven-sent for women who lead active lifestyles. They're also loved for their quirky style.
They're some of the most durable watches on the market. As you can see on our list, some of these watches boast rugged construction and come with reinforcements like shock resistance, water resistance, and even low-temperature resistance.
They're also some of the most accurate. As compared to the very first digital watch believed to be sold in the 1920s that made use of a mechanical movement, our modern digital watches run with the more precise quartz movement. There are even some that tell time with atomic timekeeping, which is more precise.
And they're the most convenient timepieces, with the information they have readily available with just a push of a button or simply at a glance. They're even easier to read than analog watches.
So that's what makes these digital watches great, and digital watch users can agree with that. If you've had a digital watch before and are looking for a replacement or an addition to your collection, may you find a watch that is just as good as your old ones or even better? But if you haven't tried a digital watch before and are considering buying one for yourself, then you've made a wise decision.