Growing up in Minnesota, hockey was the go-to winter sport. Like most of my friends, I started young and loved the game. But, my dad was not a fan of the hard-hitting and recurring injuries and was always trying to get me to dive into the pool rather than lace up my skates.
As I got older I realized that swimming was a great sport that would be easy on my joints and keep me in shape but just never could get into it and doing laps just seemed boring.
It wasn't until I was 40 that I had a total turn around after listening to a podcast episode by Tim Ferris where he talked about this total immersion swimming method by Terry Laughlin.
I tried it and got totally obsessed with swimming. I now go to the swimming pool to do laps 4-5 days a week.
Two pieces of equipment made a huge difference for me, the first was being able to listen to my favorite music using this waterproof case by H20 Audio for my iPod Shuffle (honestly without music I get bored doing laps) and the Garmin Swim 2 watch for tracking my workouts and progress.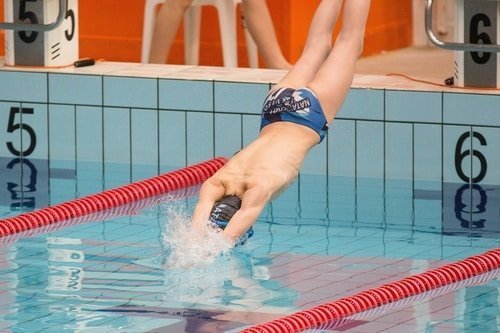 Best Watches For Swimming

Before You Buy:
Before you start your search, it helps to think about how you'll really use the watch. Do you just need a simple, waterproof watch to count laps and or would you the features of an advanced multisport watch?  Do you want a swim-centric device that focuses mainly on your pool workout or a more versatile watch that can track data from different sports (i.e. do you do triathlons or other sports where having a high-end sports watch would be useful?)
A multisport smartwatch usually tracks your swim distance and speed, while the simpler swimming-specific watches can do more  (ie. counting strokes, tracking pace and distance).
Below, we'll feature both–take a closer look at their features and maybe try them on if you get the chance (this is especially important to those who are very particular about the weight of the device). We've also provided some videos of the watches in action.
Here are some of the best swimming watches and trackers that will help you count laps and optimize your workout.
Garmin Swim 2 – Best Overall For Pool & Open Swim
Read Amazon Reviews | See on Garmin.com
One of the biggest sports watch brands today, Garmin continues to design exceptional hardware with practical and user-friendly features for athletes and hobbyists alike. While they have many models to choose from, if you're looking specifically for a watch for swimming, the Garmin Swim (2) is one of your best bets. 
*In Oct 2019, Garmin released the new upgraded Garmin Swim 2 (See full specs on the Garmin website) or See on Amazon.
**Please note – If you are researching this watch, or decide to buy it,  be sure to look at the new, improved version "2" not the original as this one was plagued by water leakage and mediocre reviews.
The new version also includes underwater wrist-based, underwater heart rate monitoring, and GPS for open swim modes. 
Made with swimmers in mind, this water-resistant (50 meters) watch records the basics: distance, strokes, and pace. It also has features for logging drills and timed sets, and can detect what stroke you are doing. The interface is not complicated–there are a total of six buttons, so every function can be accessed easily with a press of a button.
To review, share, and analyze your workout, you can also upload everything on the Garmin Connect App.
This feature helps you stay motivated, providing details of your training and the distance that you have accomplished during the day or week.
The best part about this is you don't need to go through any complicated setup after unboxing. You can strap it on and use it right away–all you need to do is input the size of the pool you're using and you're good to go.
The simple design will allow you to change the batteries yourself and they should last about a year.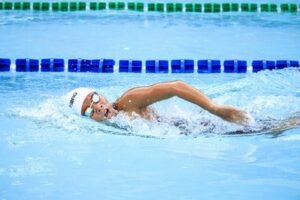 We'll provide you with two top picks for this article: a smartwatch that is excellent for swimming but can also be used in other sports, and a simpler, more straightforward fitness tracker that is focused on swimming.
For the former, we highly recommend the Suunto Spartan Trainer Wrist HR. It is the most expensive item on this list, but it's also the most versatile. The multisport function is great for swimmers who are also into other sports and fitness activities such as cycling, running, and climbing (there are 80 pre-installed sports modes features).
For the latter, we recommend Swimmo, a swimming-focused device that is perfect for those who focus solely on their pool training. The Rotate&Tap™ Technology is especially useful for swimmers who won't always have time to start the watch once they're in the water. The technology of this simple device is promising, and the price tag is extremely affordable, too.
Garmin Forerunner 935 GPS – Multi-Sport Value
Read Amazon Reviews | See on Garmin.com
Although the "Garmin Swim 2" above is marketed as the dedicated Garmin watch for swimming and is our top pick for a swim-specific watch. However many athletes actually prefer the newer Forerunner 935 for its versatility.
When it comes to dry land for running and multisport features, the 935 excels. The 935 is rated to 5 ATM (water-resistant up to 165 feet) and has the benefit of being an ABC watch (altimeter, barometer, compass) which is great if you are also using it for outdoor activities, whether that be hiking or open water swimming where knowing your direction is key.
The 935 has built-in sporting data for tracking everything from cycling to cross-country skiing. When it comes to swimming, the watch is compatible with the swim.com app. See the full specs of the Forerunner 935 on Garmin.com
There are some complaints from buyers on Amazon that the 935 does not accurately track pool laps, especially when changing swimming strokes during your workout.
Another complaint is that the wrist base Heart Rate monitor does not work so you would need to purchase on separately such as the Garmin HRM-Tri Heart Rate Monitor or similar HR strap.
On the plus side, some say the Forerunner does better on water resistance than the original Swim model which got a lot of reviewer complaints of leakage – which is surprising considering it was specifically designed for swimmers.
Garmin Fenix 6X Pro Solar – Premium Multi-Sport Pick

Unlike the Garmin Swim above that is specifically designed for the sport and our top pick, if you are an all-around athlete or triathlete (and have the budget for it) you may want to consider the top-of-the-line fēnix® 6 – Pro Solar Edition which came out in 2020.
This is an impressive and versatile smartwatch which is why we've selected it as the top overall pick on many of our sports-specific watch lists including our list of best watches for triathlons.
The watch is packed with features that make the Fenix line one of the top sports smartwatches on the market. Apart from tracking your workouts, runs, and swims, this watch includes detailed TOPO maps which are great for biking, trail running or any other outdoor activity where detailed maps are a huge benefit. Health and fitness tracking include heart rate and Pulse Ox as well as cutting edge features such as Garmin's PacePro for pace guidance and VO2 max and training status/recovery estimates that adjust for your environment (i.e. temperature and altitude.
The icing on the cakes is the new Garmin Power Glass solar charging that gives it 14-day battery life. Apart from sports features, it's a practical all-in-one smartwatch that has contactless payments, music streaming and advanced sleep tracking.
As you can see, this watch is head and shoulders above your average sports watch, however it also comes with a price tag to match. While you might not find it commonly recommended for swimming, we thought we should bring it to your attention if you're a serious athlete looking to seriously up your wrist game.
---
For open water swimmers, this video from YouTuber DC rainmakers is a good overview of the functionality and at the end offers a useful comparison of the 935 vs the Fenix 5 (since replaced by the new gen 6).

Click here for an explanation of watch water-resistance ratings.
---
Suunto Spartan Trainer Wrist HR

The Suunto Spartan Collection is an array of multi-sport watches built for different sports and outdoor activities. One of the models in this collection is the Spartan Trainer Wrist HR, a GPS watch that supports a wide array of sports, including running, hiking, cycling, and swimming.
Some of the main features of the Spartan Trainer Wrist include GPS that tracks your speed/distance/pace, a heart rate monitor, an outdoor-grade touch screen, and a battery life of 10 hours in training mode (over 30 hours if you use Power Save), and for swimmers–100 meters of water resistance.
One of the things that makes this watch perfect for those who train in swimming is the lightness and comfort. This is slimmer than the rest of the models, weighing only 56 grams, which is perfect for swimmers.
Its versatility also extends to its design. The watch is undeniably stylish, with a lot of different colors to choose from Gold, Steel, Amber, Sandstone, Ocean, Blue, and the classic Black.
Check out the official Suunto page to explore the different designs.
If you're doing other sports with your swimming training, this watch will definitely deliver. It has a whopping 80 pre-installed sports modes, so you're sure that you will be provided with all the training data you will need.
Moov Now – Budget Pick

Moov Now™  fitness tracker is one of the most creative items on this list because of its audio guidance as you do your exercise–an AI that does what a human coach can do and more.
This unique product has a "personal fitness coach" feature, which guides you throughout your workout. It covers a wide array of exercises, which include running, swimming, cycling, HIIT, and boxing.
This changes the way that we exercise–the AI "coach" feature is a great thing to have, especially if you do not have a trainer.
While you wear the Moov band, your virtual coach will let you in on some of the essentials, like the calories you've burned, your impact, your heart rate analysis. You will be able to view your progress and other materials for analysis using the Moov app, which tracks all of your exercise activities and gives you suggestions on how to improve your training.
If you're taking it swimming, it will count your laps and record your time, as well as track your pace, distance, and strokes. You will also be able to improve your endurance–the AI will give you the information on your longest swim and push you to beat it. At the same time, you can also review the time you're NOT swimming–you can go over your rests and see if they improve your endurance or set you back. 
One of the most evident downsides of this item is that it's not actually a watch. While it can tell the time in audio, you will most probably not wear it if you're not working out. The battery, which is replaceable, lasts up to six months. If you'd like to have your heart rate monitored and recorded, the Moov HR Sweat is something that you can consider getting. See on Moov.com
Samsung Gear Fit2 Pro – Budget Waterproof Tracker

Samsung's smart fitness band Gear Fit2 Pro is water-resistant up to 50 meters, making it excellent for swimming.
The app is integrated with the Speedo On App, which tracks your activity and provides you with a summary and review of your swim.
Samsung uses a number of sports and fitness apps for optimal performance. These include UA Record, a health and fitness app by Under Armor that helps you track your fitness activity and help you set goals; and Spotify, which you can use even if you don't have your phone with you, thanks to the WiFi feature and an Offline Mode.
What sets this apart from most devices on this list is its ability to be used in open water. Just see to it that you rinse it in fresh water and dry thoroughly after use, and you're all set to do another workout.
This multi-function watch is perfect for people who constantly need to be on their phones. The Bluetooth feature allows you to answer calls and texts even if you don't have the actual phone with you. This model is available in two colors (black, red, and black), and is compatible with both iOs (7) and Android. See full details on Samsung.com.
Fitbit Versa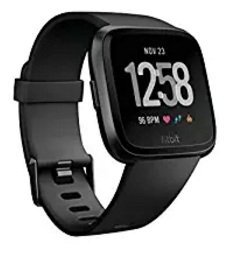 One of the most popular fitness smartwatches today, Fitbit continues to improve its products with new accessories and better analysis.
The new Fitbit Versa is excellent for tracking laps and–it's water-resistant up to 50 meters, and it can also count the calories you've burned during a workout.
Aside from tracking swim activity, the Fitbit Versa has dozens of other features that you can use for your workout. There are more than 15 exercise modes, all of which will help you monitor, record, and analyze your fitness activities. You can also integrate your favorite apps (including social media) and store hundreds of songs via Pandora or Deezer. The battery can last for up to four days.
One of the most unique features of this watch is its design versatility. Because Fitbit has a wide array of accessories, you can do some customization. For instance, there are different types of straps and bands (leather, steel links), wireless headphones, and scale. The brand recently collaborated with the Council of Fashion Designers of America–the brand PH5–for knitted bands.
The price tag is evidently one of the main concerns that one might have. The Fitbit Versa is not cheap–it's one of the more expensive watches on this list. If you, however, would like a watch that can be customized with different accessories, can handle a wide array of sports and workouts, and can serve as an extension of your smartphone, then this could be a good investment.
---
Other Resources:
Devices that are compatible with the swim.com app.
Shop swimming watches at SwimOutlet.com
Swimovate: Affordable swim tracker (UK)
Swiminn.com
Swim.com App
See all Garmin Swimming Watches on Garmin.com