The Seiko SKX (or SKX007) is one of Seiko's most popular watches, and often referred to as one of the most popular dive watches in the world.
The watch is considered an affordable dive watch—a great value considering its high quality and water resistance (ISO 6425 and a 200m water-resistance, which makes it qualify as a diver's watch). Released by the Japanese brand in 1996, the watch followed the Seiko 7002, which it resembled in look and features.
It looks like Seiko has discontinued the production of the SKX (although the company has not officially announced it yet). The watch is still currently available in the secondary market, but if you're looking for similar models, read on. Below, we'll provide some of the best alternatives to the SKX007 (or SKX009, which has the same features, but a different bezel—blue and red, or "Pepsi" bezel).
Best Seiko SKX Alternatives (SKX007 & SKX009)
In writing this list, we took note of the main selling points of the SKX: at least 200m water resistance, around 42.5mm in diameter, and the affordable price tag (one could find a $200 SKX, but prices have increased to around $300 since Seiko stopped production)—a good deal considering the dive watch features. Not all watches below will have the exact measurements and features, but they all have close similarities with the SKX.
The Seiko Prospex SRP777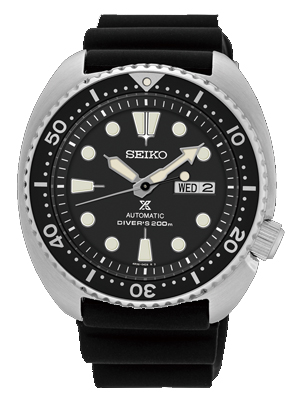 See on Seiko | Read Amazon Reviews
Since Seiko has many types of diver watches, the list will include a number of models by the brand. First off is the Seiko SRP777, a stainless steel automatic dive watch that has a similar look to the SKX007.
This 45mm model runs on caliber 4R36 and has features like Lumibrite on the hands and indexes, a durable Hardlex crystal, a stop second-hand function, and a unidirectional rotating bezel. This watch has a sporty silicone band and a day/date display at 3 o'clock. Like the Seiko SKX007, this model is water-resistant to 200m.
This watch is nicknamed "Turtle," because of its cushion-shaped case. This watch continues to be praised for its value, durability, and timeless design. It was inspired by vintage Seiko dive watches—the reference 6309, which was very popular in the late 70s to the late 80s.
Seiko Prospex Samurai SRPB51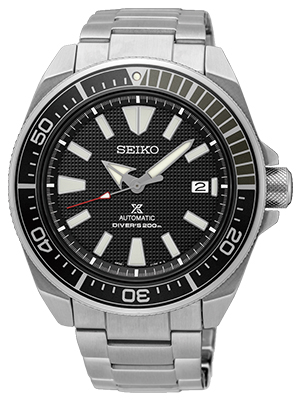 Then there's the Prospex Samurai SRPB5, which does not really have the same look as the SKX but is similar to it in terms of relative affordability. The Seiko Prospex Samurai SRPB51 was inspired by the brand's 2004 release, the Seiko Samurai (the named after the watch hands, which are shaped like swords).
This model is a bit bulkier and runs on the Seiko 4R35 movement. The watch is stainless steel and has a unidirectional bezel, screw-down offset crown, and a 41-hour power reserve.
The watch also has a checkered dial, which creates a textured look and provides a good reflection of light. The hands and markers have Lumibrite for legibility, and the red seconds hand provides a pop of color to the watch. To learn more about the watch, you can check out this review, which takes a closer look at the design and features.
Seiko Prospex SLA021 (MM300)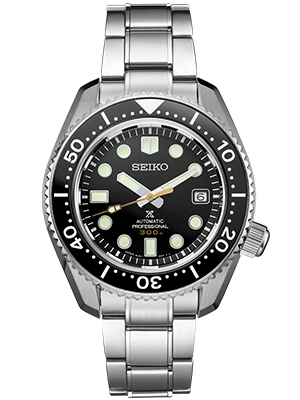 The Seiko SLA021 is on the pricier end of the Seiko spectrum. While it does look similar to the SKX007, its features are far more superior, and so the price is also a bit steep (priced at 3100 on the Seiko website)
This watch, which is a successor of the MM300 SBDX017, has a different depth rating than the SKX007—300m, which makes it a good watch for diving and saturation diving.
Running on Seiko's caliber 8L35, this watch has a stainless steel case and bezel, sapphire crystal, and anti-reflective crystal coating. The hands and indexed have the Lumibrite feature. One notable feature is the finish, which is done using the brand's traditional Zaratsu polishing method that is used on the Grand Seiko line.
Take a closer look at the features in this review by Fratello Magazine.
Seiko SRPC35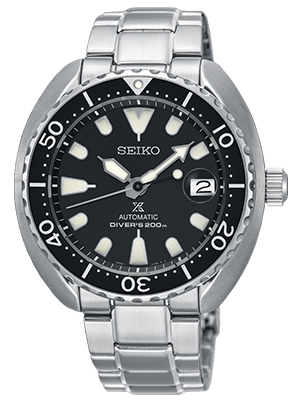 The Seiko Prospex SRPC35K1, which has Seiko's caliber 4R35, is a stainless steel watch with a 200m water resistance, Hardlex crystal, and Lumibrite features on hands and indexes.
This watch is from the Seiko release usually referred to by fans as "mini turtle" watches, which are smaller than the SRP77x, the reissue of the ref. 6309 dive watches, released in the late 70s and again in 2016. The "Turtle" is 45mm, and these line of "Mini Turtle" watches, which include this SRPC35K1, is 42.3mm.
To see the comparison between the two, you can check out this review by Worn and Wound.
The SKX007 and the mini turtle watches are similar, "Close siblings" and they sell in a similar price range as teh SKX007 did when in production..
St. Mortiz Momentum M1 Deep 6 Dive watch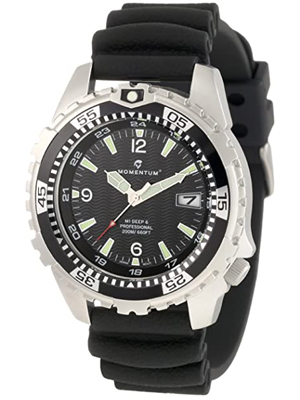 See on Momentum | Read Amazon Reviews
This one is by Momentum by St. Moritz Watch Corp., a watch company that assembles its watches in Canada and the US. The brand, which has been around since the 90s, specializes in durable, waterproof dive and outdoor watches.
One of these watches is the St. Moritz Momentum 1M-DV06B1B, a 48.7 stainless steel quartz watch with water resistance to 200m. The hands and indexes are Superluminous and are charged in sunlight. This has a date window at 3 o'clock and a unidirectional bezel. The band is made of polyurethane, and there's a date window at 3 o'clock.
Orient Ray II FAA02005D9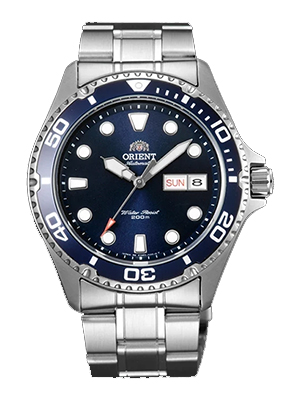 See on Orient | Read Amazon Reviews
This dive watch is by Orient, another Japanese brand. Having the same price range as the SKX007, this is another good alternative to the Seiko watch.
The successor of the Orient Ray, the Orient Ray II (FAA02005D9) is a 41.5mm model that runs on the Orient caliber F6922 automatic movement, with a power reserve of up to 40 hours. The latest model has been upgraded to a more robust 120-click bezel. This watch is considered by many as a top affordable dive watch.
One of the features that many Orient fans love about this model (aside from its relatively affordable price for a dive watch) is the bright lume on the index markers.
Citizen Promaster Diver BN0190-07E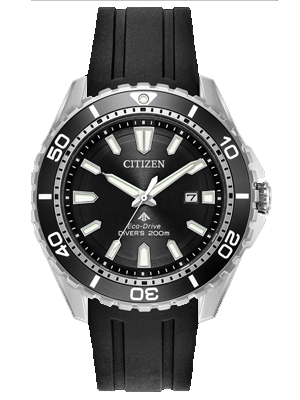 See on Citizen | Check Availablity on Amazon
This watch is under Japanese watchmaker Citizen's Promaster line. The Promaster Diver is an ISO-compliant model powered by the brand's Eco-Drive technology (does not need batteries as the watch can be powered by any light).
This is a low-cost dive watch that has received many good reviews, with customers praising the high quality and technology, as well as the relatively affordable price tag. This discussion even mentions that the watch has a better built than the SKX.
This is a 45mm stainless steel with a black aluminum bezel and a sleek black dial. The strap is made of polyurethane, and the dial has luminous hands and markers. The water resistance is up to 200m, and the watch is powered by caliber E168.
Orient Kamasu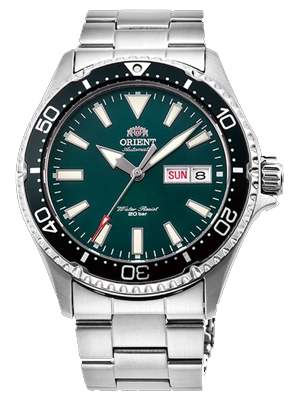 See on Orient | Read Amazon Reviews
This Orient watch is popular for its excellent design and affordability. The Orient Kamasu ("barracuda" in Japanese) has a triangular hour marker, which resembles teeth.
The Orient Kamasu has a solid oyster-steel bracelet and a stainless steel case and has a day and date complication. Running on caliber F6922 Automatic, this model has a power reserve of up to 40 hours, a sapphire crystal, and a screw-down crown. It also has a unidirectional bezel (120 click), and a 200m water resistance.
The watch is available in blue and green dials. Some of the most notable featured include the indexes with strong lume that has been compared to Seiko's LumiBrite.
This watch is another model that is often compared to the SKX, as both are relatively affordable sports watches. You can check out this video, which takes a closer look at both watches.
Victorinox I.N.O.X. Professional Diver Titanium 241813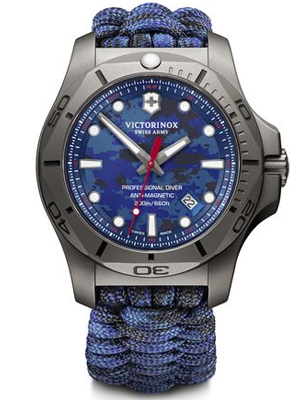 See on Victorinox | Read Amazon Reviews
The Swiss Victorinox I.N.O.X. Professional Diver Titanium watch is an ISO 6425-certified watch and the only Swiss watch that has been certified to withstand a total of 130 extreme endurance homologation tests. The watch is shock-proof and is water-resistant to 200m.
One of the main highlights of this 45mm quartz watch is the hypoallergenic, lightweight, and hand-woven survival paracord strap that can also be worn over a wetsuit. The package also includes a rubber strap and a protective bumper with a removable magnifying glass.
Some of the main features include a titanium case, a unidirectional bezel, screw-down crown, and an end of life indicator. It's also water-resistant to 200m. This model has a number of color options, like a black, green, and red strap and dial—find all of them here.
Steinhart Ocean One 39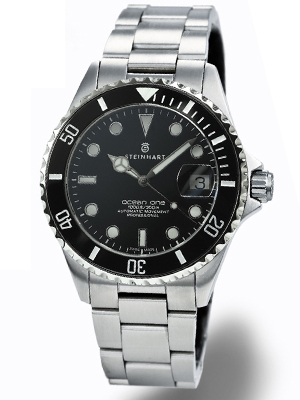 The Steinhart Ocean One 39 is a dive watch in black ceramic and a stainless steel case and strap. This one is a smaller watch compared to most of the models featured in this article—which makes it great for those with smaller wrists or those who find standard dive watches too big.
This Swiss-made watch is waterproof to 300m and has a Super Luminova feature. It's powered by ETA 2824-2. Other features include a screw-down crown, a flat sapphire crystal with a date magnifier, and a ceramic bezel insert.
Learn more about Steinhart in our Watch Review article about the brand, where we talk about its history and some of its most important models.
Certina DS Action Diver Precidrive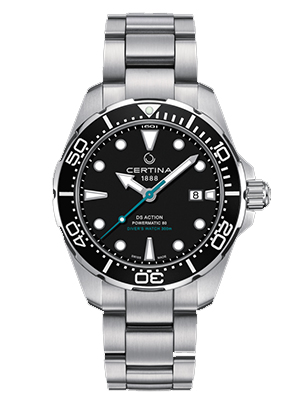 See on Certina | Read Amazon Reviews
Certina is a Swiss watch company that has been around since 1888. The Certina DS Action Diver Sea Turtle is a special edition watch by the brand, fulfilling ISO 6425 standard.
Waterproof up to 300m, this watch has a stainless steel case and bezel, with an antireflective sapphire crystal glass. This model has an automatic movement with a power reserve of up to 80 hours. The fold-over clasp has two push buttons that allow the buckle to be adjusted by a couple of millimeters, which makes it ideal for those wearing wetsuits.
This special edition model is also released in partnership with the Sea Turtle Conservancy, an organization that aims to conserve habitats of sea turtles in the Caribbean.
Read more about Certina in our watch brand review.
Citizen NY0040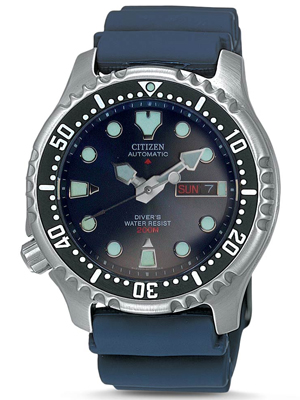 See on Citizen | Read Amazon Reviews
The Citizen NY0040 has a very similar look to Seiko's SKX007. Like the Seiko watch, it is around 42mm in diameter and is water-resistant to 200m.
This Citizen watch has a stainless steel case and a blue rubber strap. The dot markers and hands are luminous and the crystal is mineral glass. Powered by a Miyota 8200 movement, the watch also has a 60-click unidirectional bezel.
Like the SKX007 this Citizen model has a day and date function. They, however, differ in the crown placement—Seiko's is placed at 4 o'clock, while this Citizen is at 8 o'clock.
These two models are often placed side by side. Check out this review by Fratello Magazine, which takes a closer look at both of them.