Most people believe that Swiss Made watches are the best timepieces. When it comes to Swiss watches, Rolex, Omega, and Patek Philippe usually come to mind. How about Certina? Have you heard of it? Some people think that Swiss watches are all super expensive. That is not the case. Some Swiss watch brands make timepieces that cater to the middle class. One such brand is Certina. In this post, we will be providing a Certina watch brand overview.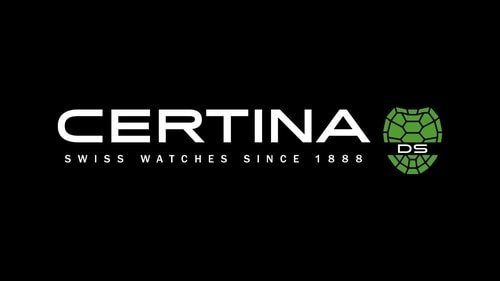 History of Certina Watches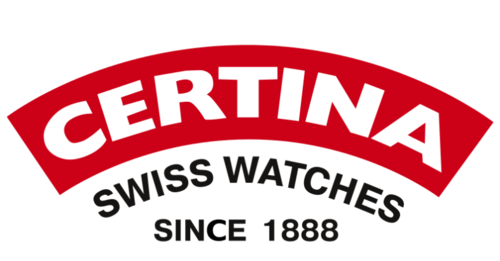 Certina was founded by Adolf and Alfred Kurth way back in 1888 when they opened their first movement and supplies factory in Grenchen, Switzerland. Kurth brothers called their watches "Grana", short for "Granatus", the Latin name for the city.
In the beginning, there were only three employees working in a workshop connected to the family home. Certina didn't begin manufacturing complete watches for a few years, which eventually they did while producing movements for other companies.
In 1906, the Certina brand name was used for the first time. In 1938, the company changed the name to "Certina" (from the Latin "certus", meaning certain or assured) as their trademark for exporting and marketing their watches. That same year, the company expanded to 250 employees and celebrated its 50th anniversary.
By 1955, Certina had 500 employees producing 1,000 timepieces every day. Certina came up with a new business plan that allowed it to expand its operations. In 1960, Certina used the turtle logo. They design their watches to last and survive hard knocks. Hence, a turtle was the perfect fit to symbolize their brand. Certina is a partner with the Sea Turtle Conservancy, an American non-profit organization dedicated to sea turtle conservation.
The association with water was also proper, as the brand's watches accompanied various underwater research missions. These include Sealab II and the Tektite habitat, where DS-2 watches showed their durability and toughness.
By 1972, the number of employees grew to 900 people, producing 600,000 watches every year. In 1983, Certina became a member of the Swatch Group alongside Omega, Breguet, Longines, Hamilton, Tissot, Rado, Calvin Klein, and Swatch.
Where Are Certina Watches Made?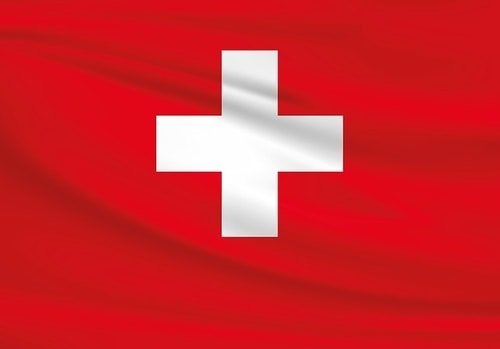 Certina watches are made in Switzerland, the place where the company was founded by the Kurth brothers in 1888. So when you buy a Certina timepiece, you'll see that Swiss Made label on the watch. This is important for many watch lovers because they believe that Swiss Made watches are the finest and most exquisite timepieces that money can buy.
Certina is a brand with a long history of Swiss watchmaking. All Certina timepieces bear the "Swiss Made" seal of quality, confirming that they are authentic representatives of the fine art of watchmaking. Certina has been based in Switzerland since 1888 and it remains deeply committed to its roots.
Are Certina Watches Good Quality?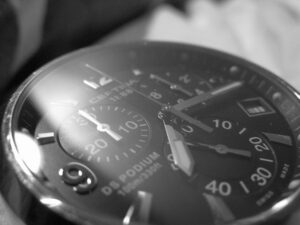 It's important to note that Certina is a Swiss watchmaker with more than 130 years of history. The brand is famous for its precision, reliability, and sporty character. Certina watches have been complimented because of their excellent quality, with a combination of modern and classic features.
Most of Certina's designs can be described as classic. They focus more on selling watches that feature precision, durability, and a "Swiss made" label that many watch lovers are looking for.
It's worthwhile to at least have a look at Certina and their watches. You can choose from four different collections – Heritage, Urban, Aqua, and Sport. If you haven't encountered this brand before, check it out as they have nice, high-quality timepieces being sold at a reasonable price.
To ensure that they live up to high standards, all Certina watches are subject to strict quality criteria. The brand is probably best known for its watches that feature DS (Double Security) technology. The DS was conceptualized in 1959 and allowed Certina to cement its reputation as a sports brand. You may be wondering what DS exactly is. It is a design with elaborate security features such as scratch-resistant sapphire crystal glass, reinforced case back, and a system of seals that protect the stem and crown.
Certina's chronometers come with a Contrôle Officiel Suisse des Chronomètres (COSC) Chronometer Certification. COSC is the Official Swiss Chronometer Testing Institute which is responsible for certifying the precision and accuracy of Swiss watches. Generally, COSC testing applies to watches manufactured or assembled in Switzerland. What is a chronometer?
A chronometer is a type of mechanical timepiece that is tested and certified to meet precision standards. In Switzerland, only watches certified by the COSC may use the word chronometer.
So, are Certina watches good quality? Yes. They are well-built watches with high-quality parts and Swiss craftsmanship to boot.
Certina Watch Reputation
Certina has been a member of the Swatch Group since 1983. But admittedly, they are not as popular as other brands in the Swatch Group such as Omega, Longines, Rado, Tissot, and Swatch. They are also not as popular in the United States as they are in Europe.
One possible reason for this is their small marketing budget. And when you don't spend too much on marketing, fewer people will be aware of your products. What Certina did instead was to involve itself in sports, especially in motor racing.
The brand is positioned in the middle-range market segment. They provide high-quality timepieces at an affordable price. However, these may not be enough to surpass more famous and established brands, especially now when the competition is really tight.
Certina Watch Models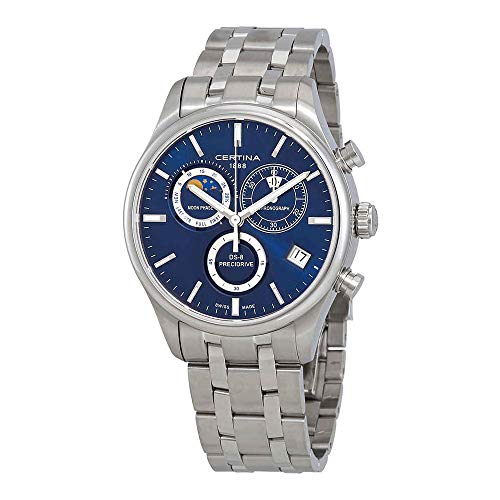 Certina Men's DS-8 Moon Phase Chronograph
The Certina DS-8 Moon Phase Chronograph has a stainless steel case and a genuine brown leather strap. It has a brown dial with luminous rose gold-tone hands and index hour markers. The date is at the 4 o'clock position. This chronograph has three sub-dials displaying second, minute, moon phase, and hour.
This DS-8 watch has a quartz movement, scratch-resistant sapphire crystal, and solid case back. The case size is 42 mm, while the case thickness is 11 mm.
Water-resistant up to 100 meters (330 feet), this watch is suitable for swimming and snorkeling but not for diving. This timepiece has that Swiss Made label many watch lovers are looking for. It looks elegant and is sure to get you compliments.
See our favorite women's moon phase watches here.
Certina DS Podium GMT Black and Silver Dial Men's Quartz Watch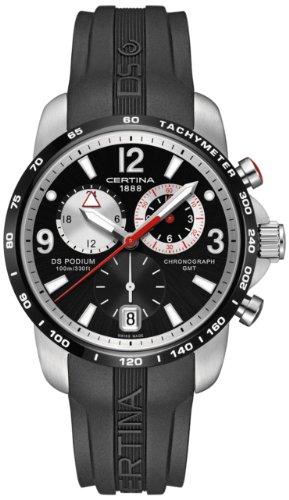 The DS Podium GMT is a watch that belongs to Certina's Sport Collection. It has a 42 mm stainless steel case. The bezel is made of polished stainless steel and has a tachymeter function.
The watch glass is made of sapphire crystal, a material that is known to be scratch-resistant.
The display features hours, minutes, seconds, weekdays, and date. This is a GMT watch so it also has a 24-hour indicator.
GMT watches are useful for people who travel frequently across different time zones. The black and silver color combination looks nice and is ideal for sports activities. The Certina DS Podium GMT is water-resistant up to 100 meters (330 feet), so you can wear it while swimming in a pool or while doing fun water activities in a beach.
Certina DS Action Blue Dial Automatic Men's Watch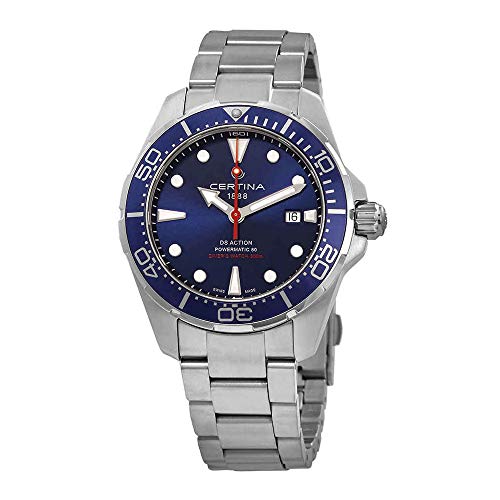 The DS Action is an automatic watch with a stainless steel case and bracelet. This watch is ideal for people who are into diving and other water activities. (Click here to see our list of best dive watches).
With a blue dial, luminous silver-tone hands, and dot hour markers, it is easy to read time in various conditions. The Swiss automatic movement has an 80-hour power reserve, so you don't need to worry if you're not able to wear it every day.
This Swiss Made watch has hour, minute, second, and date functions. It has a scratch-resistant sapphire crystal glass, stainless steel band, and a fold-over clasp with a push-button release. The case size is 43 mm case size, while the case thickness is 12 mm. As you may expect from a diver's watch, the DS Action is water-resistant up to 300 meters (1000 feet). It is suitable for diving, water sports, and professional marine activity.
Certina DS-1 Powermatic 80 Automatic Men's Watch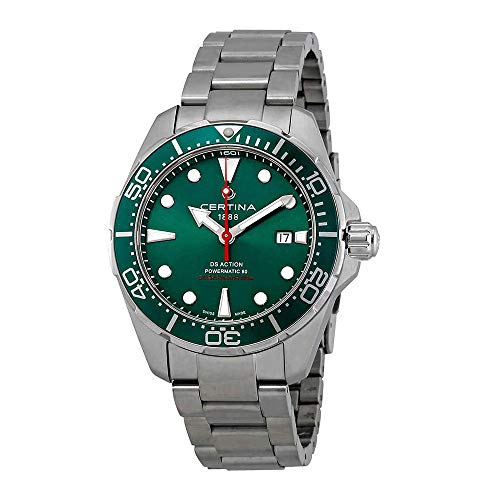 If you're looking for a nice looking and elegant watch, this may be the right Certina timepiece for you. With a stainless steel case and a brown leather strap, the DS-1 is the perfect watch for intimate dinners and formal events.
It has a silver dial, rose gold-tone watch hands, and index hour markers. The Swiss Powermatic 80 automatic movement has an 80-hour power reserve (hence the name).
No need for batteries; arm movement powers automatic watches such as this one.
(Click here to discover the best affordable automatic watches).
This timepiece has a scratch-resistant sapphire crystal, 40 mm case size, and 11 mm case thickness. Part of Certina's Heritage Collection, the DS-1 has a classic yet stylish design.
Certina Women's Quartz Watch C021-210-11-116-00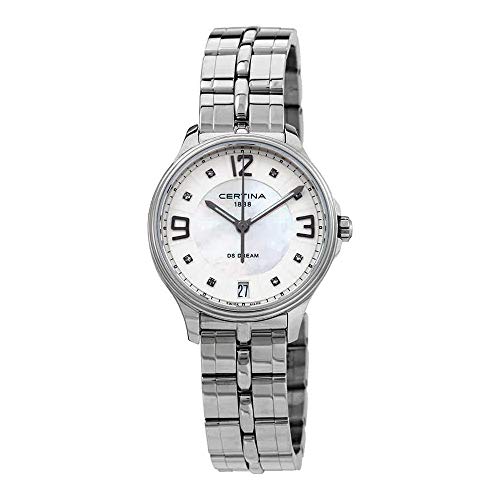 For women who love diamonds, the Certina DS Dream women's quartz watch is a great option. As listed in the specification, this timepiece has a white dial with genuine diamonds. Paired with a stainless steel case and band, the color combination is quite stunning.
Surprisingly, the price is very reasonable considering this is a Swiss Made watch. Beautiful and elegant, this watch is the perfect gift for yourself. For the gents out there, this would be the perfect present for that special woman in your life.
Where to Buy Certina Watches
Certina sells its watches primarily through its worldwide network of retail stores. If you want to find a store in your area, you can use the store locator on Certina's website. Additionally, you can get information on Certina watches that belong to four different collections – Aqua, Heritage, Sport, and Urban.
You can also buy Certina watches on Amazon. You can see different models, along with their features and specifications and read customer reviews.
If you're looking to buy a pre-loved, second-hand, or new Certina watch, you can try eBay.
Certina Warranty Policy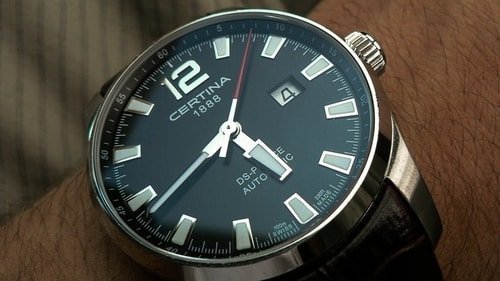 Certina watches are backed by a 24-month guarantee from the date of purchase, in accordance with the warranty terms and conditions. The international guarantee covers material and manufacturing defects from the time of delivery of the purchased watch. The guarantee only applies if the guarantee certificate is fully accomplished with the following information – purchase date, watch reference, and serial number, and stamped by an official Certina dealer. Within the 24-month guarantee period and by presenting a valid guarantee certificate, you can have any defect repaired free of charge.
In the event the watch becomes unrepairable, the manufacturer guarantees its replacement by an identical Certina watch model or a watch with similar characteristics. The replacement guarantee ends 24 months after the date of purchase. The manufacturer's guarantee doesn't cover the life of the battery, normal wear and tear, aging, (e.g. scratched crystal, peeling of the plating), any damage resulting from abnormal or abusive use, negligence, accidents (knocks, dents, crushing), incorrect use, and failure to observe usage directions provided by Certina SA
Conclusion
As discussed in this Certina watch brand overview, Certina watches are known for their reliability and precision. This brand has demonstrated high-quality Swiss workmanship over its 130-year history. They make classic, stylish timepieces that collectors would probably love to have. Watches from this brand are exclusive in a sense (how many people you know own a Certina) and are of good build quality. Prices are also reasonable, all the more reason why you should consider buying a Certina Swiss Made timepiece.