Television or movie merchandise, like clothing and watches, draw both old and new fans and get more and more exciting every year. Watches, in particular, continue to evolve and improve—more watch companies, for instance, are creating highly sophisticated pieces that promote not only a pop culture character but also the watchmaker's skills.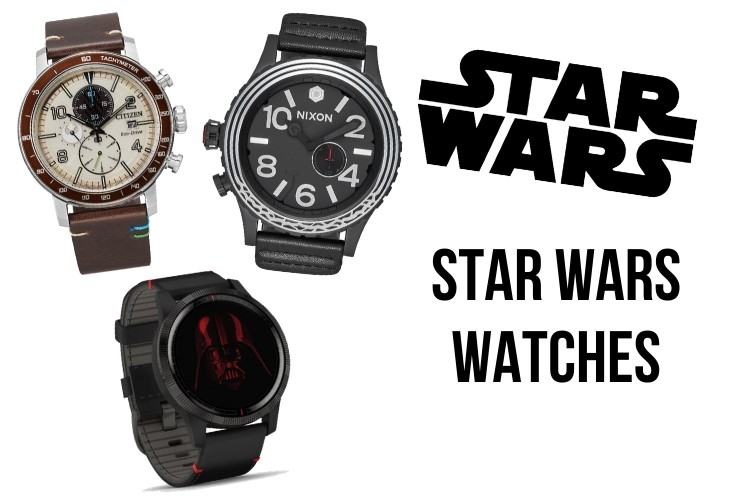 Here on Watchranker, We have done features on watches inspired by beloved pop culture characters like Peanuts/Snoopy and Micky Mouse. In this article, we'll take a closer look at timepieces inspired by another iconic creation: Star Wars.
Star Wars Watches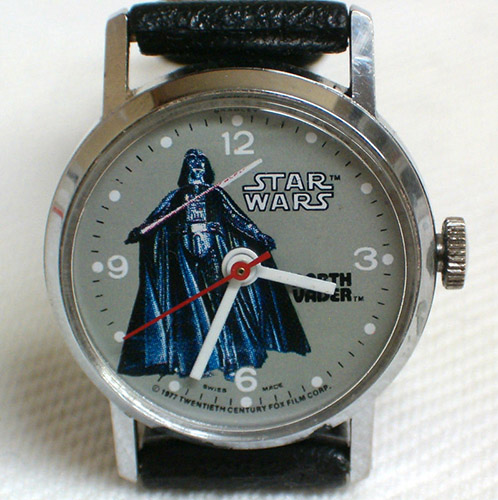 Created by George Lucas, Star Wars is one of the biggest film franchises of all time,  a pop culture phenomenon that started out as a film franchise, beginning in 1977 with Episode IV: A New Hope, and then continued to expand with more films and other media such as comic books, TV series, video games, and more recently, a theme park attraction.
Of course, there is also merchandise like clothing, watches, and accessories—it holds the Guinness World Record for "most successful film merchandising franchise." The film series' watch merchandise and collaborations with watchmakers continue to enjoy popularity today, especially after the releases of the new Star Wars movies in recent years.
Below, we're featuring some of today's best Star Wars-inspired watches. This will be composed mostly of watches for adults, but we'll link to some models for kids as well.  We're including different price points, and link each watch to their official pages.
Best Star Wars Watches
Garmin's Rey and Darth Vader Smartwatches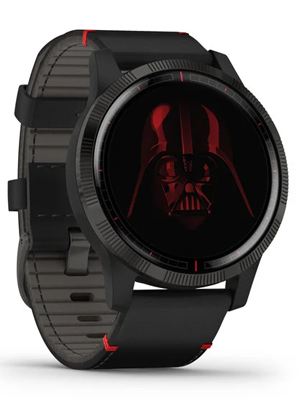 Garmin's line of Star Wars-themed sports smartwatches is devoted to two characters: Rey and Darth Vader. The watches were introduced before the release of Star Wars: The Rise of Skywalker.
The Rey™ Legacy Saga Series watch is inspired by the main protagonist of the sequel film trilogy. The smartwatch has a design modeled after the character, from her look to her lightsaber. Available in two sizes (40mm and 45mm), it has the standard smartwatch features like fitness tracking tools, smart notifications, and music. What makes this special is the elevated Rey-themed design, like a Jedi insignia and a silver bezel, and a case back that has Rey's inspirational quote: "Nothing's Impossible."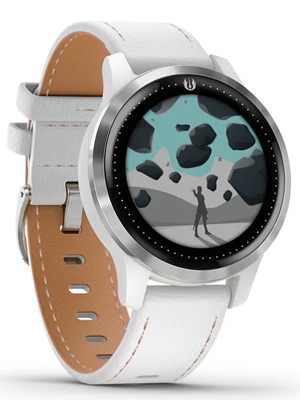 The watch has a battery life of up to seven days (smartwatch mode), and features such as an alarm clock, timer, stopwatch, GPS sensors, heart rate monitors, altimeter, compass, and so on. For a full list of the dozens of specs, visit this page.
Another Star Wars-themed smartwatch released the same time as the Rey watch, is the Darth Vader™ Legacy Saga Series watch, which has the same specs we mentioned above. Inspired by Sith Lord, this smartwatch is designed with a durasteel bezel texture details, that was inspired by his TIE Advanced X1 cockpit. If you compete in fitness activities, you will also get a special Darth Vader badge on the Garmin Connect app. On the case back of the watch is one of his most famous lines: "Rule the galaxy."  Learn more about the watch here.
Citizen Star Wars Smartwatches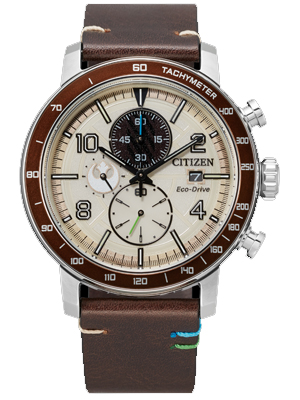 Japanese watchmaker Citizen has a wide range of Star Wars-inspired watches, focused on the beloved characters like Luke Skywalker, Princess Leia, Han Solo. Darth Vader, Boba Fett, and R2-D2.
One popular model is the Citizen Luke Skywalker watch, which has a stainless steel case, a brown aluminum bezel, and a sleek brown leather strap. On the beige dial are subtle features that pay homage to the character: an embossed stamp of the Imperial Window, a Rebel Alliance symbol, and blue and green colors on the hands and stitches on the strap, representing Luke's lightsaber. This is powered by Citizen's Eco-Drive technology, so it does not require charging or batteries.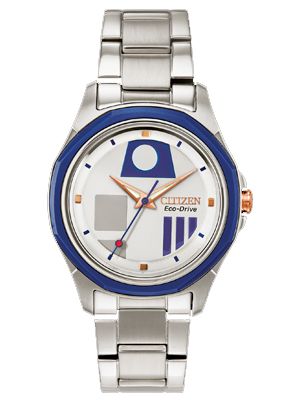 The R2-D2 Citizen watch is a limited edition release. A watch that has a good balance of sophistication and playfulness, this 35mm stainless steel model is only limited to 1,977 pieces (the year that Star Wars was introduced. This is an analog watch with the familiar colors of the beloved droid (blue, silver, and a splash of red).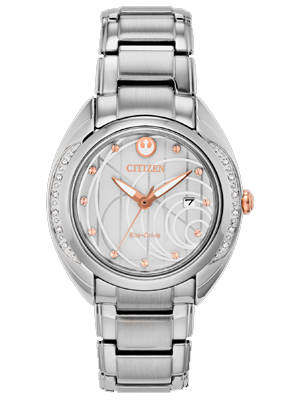 Those looking for a more feminine design can also check out the Citizen Princess Leia watch. This one's a 32mm stainless steel watch with a silver-tone dial and gold-tone accents. One of the main highlights of the watch is at 12 o'clock, which has the Rebel Alliance symbol. This, too, is a limited edition model, with only 1,977 pieces available worldwide.
Check out the rest of Citizen's Star Wars watches here. Read more about Citizen in our Watch Review article here.
Nixon Star Wars Watches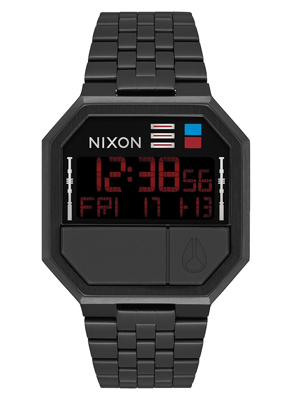 American watch brand Nixon partnered with Lucasfilm to create Star Wars inspired watches. There are many models to choose from—check out this page to see all available models.
The collection includes watches inspired by both old and new characters. There's a Darth Vader-inspired model—the Vader Black Re-Run SW watch, a digital vintage-style watch with features like dual time, countdown timer, and calendar. This one's a 38mm watch with a stainless steel case and jewelry-style bracelet. On the dial is a custom LCD with a negative or positive display.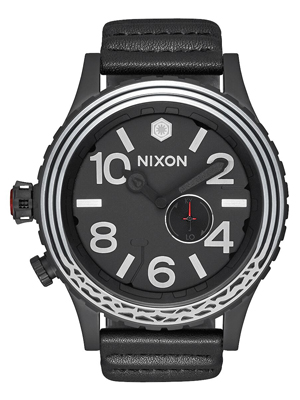 The Kylo Black Leather Star Wars Watch is inspired by Kylo Ren. This one's a 51mm stainless steel watch with a subdial hand inspired by Kylo Ren's lightsaber and a 12 o'clock marker with the First Order symbol. The bezel, in addition, is inspired by Kylo Ren's helmet.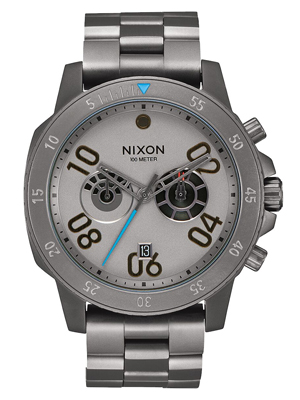 This line also includes a Millennium Falcon-inspired model, the Ranger Chrono Star Wars watch. This is a robust, dual-eye chronograph inspired by the design of the famous starship. Some of the details that the Millennium Falcon inspired to include the seconds hand, which was inspired by the hyperdrive, the chronograph inspired by the cockpit window.
Because Nixon also makes bags, clothing, and accessories, the brand also released watch straps, wallets, and bags that have the Star Wars theme. You can check out all the options here.
You can also purchase Star Wars-themed watches by Nixon on Watchshop, a United Kingdom-based website. Check out the available models here.
Invicta Quartz Star Wars Watches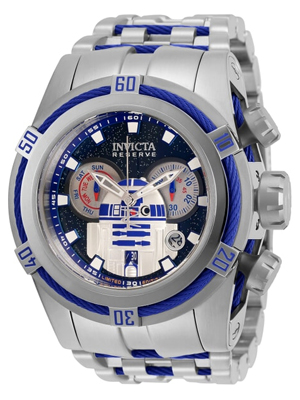 Invicta incorporates different pop culture designs on its watches, such as characters from Disney and Peanuts, which we have included in past articles on the site.
Its Star Wars collection is composed of limited-edition models, four designs inspired by R2-D2, Boba Fett, Stormtroopers.
There are two R2-D2 designs, both of which are quartz watches. There's the 53mm stainless steel model with an R2-D2 illustration on the center and has a blue, silver, and gunmetal dial and a unidirectional bezel. Another model, a smaller one at 48mm, has a silver, blue, and red dial and a stainless steel case.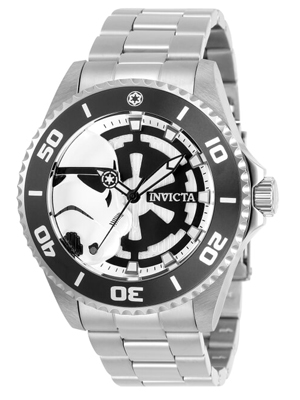 The Invicta Star Wars Stromtrooper model is a 44mm, limited edition watch with a stainless steel case, a silver, and black dial, and a unidirectional bezel. This, too, is a quartz watch with a stainless steel band.
Oris Automatic Star Wars Watches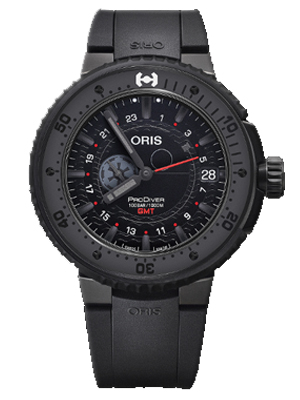 Swiss watchmaker Oris is known for its mechanical watches. The band released two limited-edition Star Wars watches, featuring two characters: Darth Vader and a Stormtrooper.
The Oris Star Wars Darth Vader watch is a 49mm titanium, black plated watch with an automatic winding GMT movement, and a power reserve of 38 hours. On the black dial are luminous hands and markers, and the strap is black rubber with a titanium folding clasp. The case back has a Star Wars logo with the famous quote: "The force is strong with this one."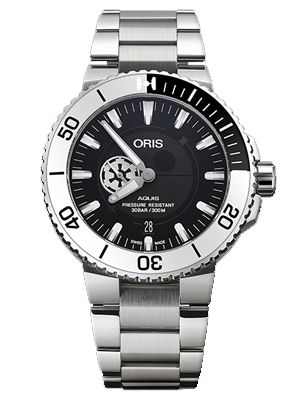 This watch, if purchased on the Oris website, is only available in a set with the Stormtrooper limited edition model, a 43.5mm stainless steel watch with an automatic winding small second movement with a power reserve of 38 hours. The dial has a simple black and white theme—a black dial with white parts on the bezel. See the rest of the specs here.
You can read more about the watches here.
These watches were only officially sold in China, Hong Kong, Taiwan, and the United States, but there are some pieces available on websites like Jomashop and eBay.
Options to Buy Star Wars Watches Online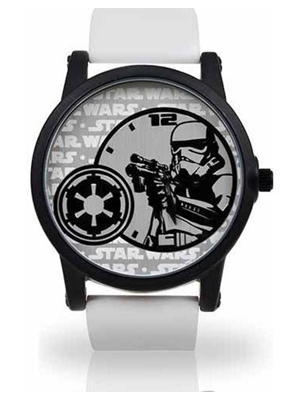 More Star Wars-themed watches are available in the following websites:
United States – You can check out Walmart's website for a wide array of Star Wars watches for all ages. These are mostly relatively more affordable than the brands we mentioned above (there are some Invicta models here too)—you can purchase a watch for as low as $10.
Amazon also has a wide range of Star Wars watches. 
Jomashop also has Star Wars watches here.
See new and pre-owned watches on eBay – including some hard to find vintage models.
United Kingdom – The UK-based website H Samuel also has a number of Star Wars-theme watches, including Citizen. Check out the different models here.