In this article we are going to be looking at some of the best options for Batman watches, this is not to be confused with Rolex Batman.
We will be looking at Gotham's caped crusader, not the infamously named Rolex style. Bruce Wayne has come a long way from his first major portrayal in the 60s TV show with Adam West. The show was known for being over the top, comedic, and very cartoony.
Although it won audiences over and became a pop culture phenomenon, the later portrayals of Batman were much grittier and captured a new side to the masked vigilante.  Batman, as we know him today, is much more in keeping with the original DC Comics.
Part of his appeal is that despite being a 'superhero' he doesn't actually have any powers. He uses his keen detective skills, high IQ, and an array of gadgets to dispose of his enemies.
This is one of the reasons he has become so popular, as he famously said in the Nolan trilogy, anyone can be Batman, he is a symbol.
The below watches manage to encapsulate the essence of The Dark Knight and showcase the iconic bat symbol that is instantly recognizable.
Best Batman Watches
UNDONE Batman: Caped Crusader Watch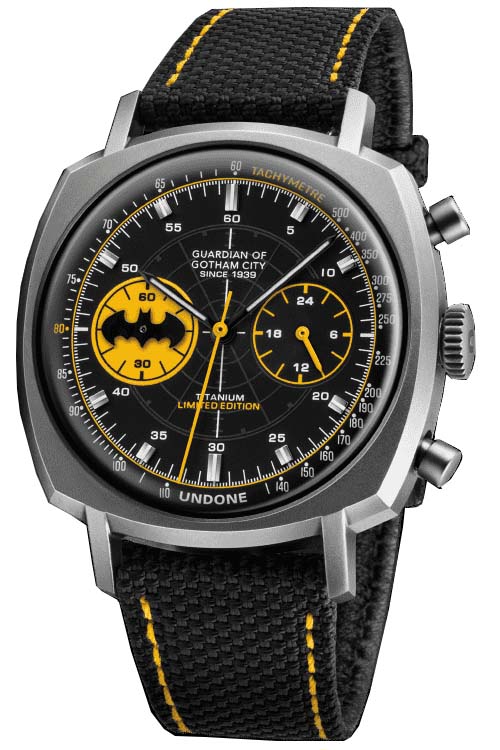 The UNDONE range highlights some of the best parts of the Bat, and you can tell they are made by the fans for the fans. This watch is a brilliant tribute to Bruce Wayne showcased by the Batman 80th Anniversary badge on the back.
The Caped Crusader watch is a perfect mix of formal and casual watch styles. The titanium watch has a modern and sleek finish that screams premium.
Any DC fan would love having this timepiece in their collection, the more you look at this watch, the more you can see the intricate detailing that makes it such a special piece.
The words 'Guardian of Gotham City Since 1939' is written across the center of the face and if that's not the coolest thing to be on a watch, we don't know what is!
Playing off of the classic Batman colors of black, silver, and yellow, this watch just looks incredible and iconic.
The addition of luminous green and blue accents gives a hidden level of detail and style that isn't apparent when you first look at the watch.
UNDONE Batman: Quantum & Quantum Black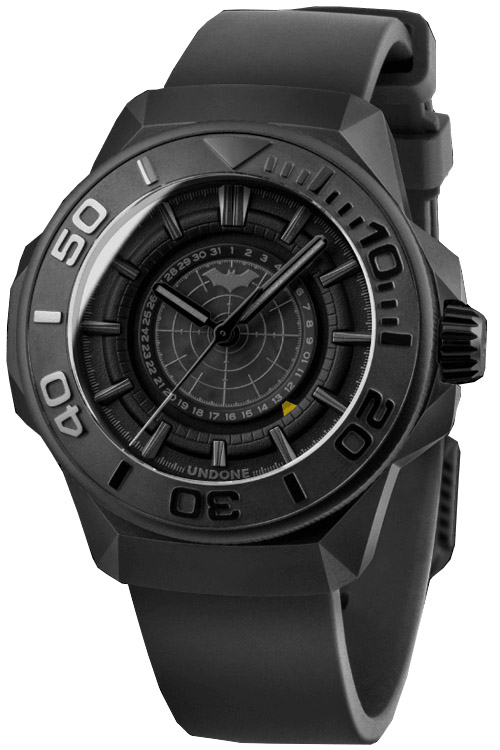 Batman Quantum clearly takes inspiration from Wayne tech gadgets and looks like something a spy would wear. In fact, the UNDONE mentions that the Quantum Radar is the basis for this design, and it does not disappoint
This is the pinnacle of this DC range and UNDONE has created another fantastic collaboration to add to its repertoire.
The tagline 'A hero could be anyone' ties into the importance of Batman as a symbol and anyone can be behind the mask, and in turn, anyone can look great in this watch. It really is a symbol in itself and looks awesome in both gray and the black limited edition.
The subtle nuances of this watch really showcase what a premium pop culture timepiece should look like; From the Bat symbol on the crown to the black with yellow stitching on the watch case, to the embossed logo on the back.
Even the strap is modeled on Batman's armor and is an important part of the overall aesthetics. The Quantum watches boast a 200m water resistance and the Japanese movement creates a high-quality interior to the impressive exterior.
No element of the design has been overlooked in creating this watch, it's definitely a status symbol, and as our favorite caped crusader says to his faithful butler, 'a symbol can be everlasting'
UNDONE Batman: Dark Knight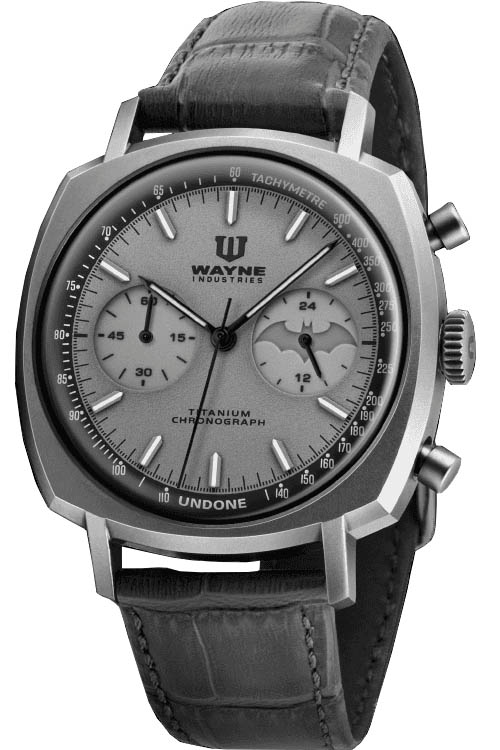 This watch encapsulates the gritty style of the Nolan trilogy and is a much more covert Batman watch that could be worn on almost any occasion. This looks like something Bruce Wayne would wear to a business meeting and simultaneously out fighting crime.
This mostly silver watch pays homage to the origins of Batman but manages to appeal to a newer audience, steering away from the Adam West Batman and leaning into Christian Bale's dark and visceral outing as the Bat.
The use of the Bat symbol will always be an important part of any Batman merchandise, and the subtle placement of it on this watch makes it an incredibly stylish and understated timepiece.
'Wayne Industries' is written on the face giving an additional level to the fandom, again focusing on the backstory and less in your face approach to the character.
One of the coolest bits about the watch is the Wayne tech-looking blue luminous glow of the hands, hour marks, and two dials. The base watch does not look like it would have these features which is a welcome surprise.
Batman "Justice" Stealth (BAT8084)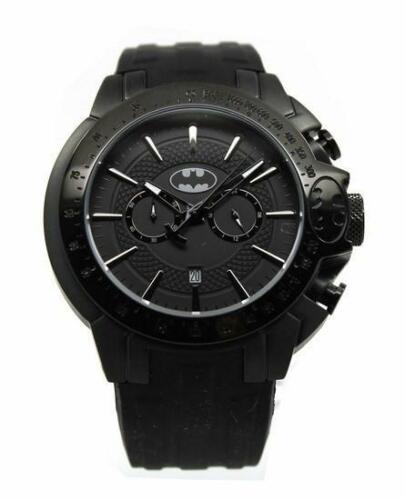 Justice Stealth is a robust and serious-looking watch that really captures the style and power of Batman. As the name suggests, Stealth is a subtle and understated watch that would be at home paired with a tuxedo or your gym attire.
The intricacies of this watch are really nice to look at, with a Batman logo in the center of the watch, the "Two Eyes" chronograph below it, and a hidden logo by the 3-hour mark. This is an elite-looking timepiece for die-hard fans of Gotham's anti-hero.
This timepiece has clearly been designed with not only the fans in mind but also an interest in practicality, with everything from the date at the 6-hour mark, to the word 'Batman' engraved on the clasp.
Limited to 500 pieces, this is not only a collector's edition but a great addition to your watch collection. If you are looking for a decent Batman watch, this one will do justice to your search (no pun intended).
Batman Invicta Limited Edition Gold (32190)
You would be in the majority of people if you did not expect to see a gold watch on a Batman list, but it would be a shame to leave out one of the more unique styles on this list.
Invicta has a track record of making iconic-looking watch adaptations of pop culture and cinema, which is where this limited edition gold Batman watch comes in.
This isn't the first time they have knocked it out of the park with a stunning gold design, their take on Star Wars' C3PO is another example of a great cult timepiece.
There is no denying this watch is a little 'decadent', as Tom Hardy's Bane might say, but it definitely is a statement timepiece that is sure to catch people's eye.
Needless to say, everyone should have a gold watch to hand, as there is always an occasion where you will want to be a little more dressed up or just get some attention. The gold watch is and always will be an important accessory to anyone's fashion choices.
Batman Silvertone (Bat8043)
This watch feels like a bridge between the classic Adam West gray-suited Batman and the more modern black-clad hero, with elements of both styles shining through.
The combination of a minimalist silver watch, a black face, and the classic bat logo make for a simple but effective timepiece. The use of only 12 and 6 in written form helps to not distract from the centerpiece of the watch, the Bat Symbol.
Eagle-eyed fans might even see the resemblance to the classic Bat-a-rang with the use of silver and black which makes for a great addition to your Bat-cessory.
The Silvertone watch could easily be worn for almost any occasion with the clean look and the smart-looking strap, this watch would look as comfortable with a suit or in your favorite Hawaiian shirt.
Batman V Superman"Dawn of Justice" (BVS9062)
Although this watch is technically defined as a 'Superman' watch, this is definitely more of a Batman-looking timepiece. The all-black watch resembles Batman's suit and the Bat Symbol is the prominent thing you see when you look at this watch.
This limited edition watch was released in conjunction with the Batman V Superman 'Dawn of Justice' film and encompasses elements from two of the most recognizable heroes in all of comic book history.
The minimalist approach to the watch face makes for a stunning and interesting-looking timepiece that will delight fans and friends alike. This Japanese Quartz movement watch looks beautiful and functions smoothly.
A great addition to any comic book fan's watch collection or just a semi-casual sporty watch you can wear with pretty much anything. This authentic watch is licensed by DC and you can tell by the expert craftsmanship.
Batman Invicta DC Comics (32193)
Another watch from the Invicta range and another brilliant and intricately designed timepiece. This watch is more in keeping with the traditional themed colors of the Bat, with the combination of black and yellow.
Invicta spares no expense when creating iconic timepieces, whether it's the little Batman Symbol on the second hand, or the awesome DC box the watches in this range come in.
The luminous black hands against the yellow and black face not only look dynamic but create a stunning set piece. This automatic watch is guaranteed to get an instant reaction from almost anyone with the classic look and feel.
Because of how long Bruce Wayne's hero has been in the spotlight, people of all ages can appreciate and recognize this Bat Symbol centric watch. You would struggle to find someone who couldn't identify that logo, and for good reason.
So whether you are cruising the streets of Gotham, fighting the Joker, at work, or on your way to getting your grocery shopping, this watch will be your best sidekick.
Batman 75th Year Silver-Toned (BAT8057)
To celebrate the 75th year anniversary of the Caped Crusader this stunning watch was released, and it separates itself from the others on our list with its white and black face.
Silver strapped watches will always look good and regardless of what they are paired with they come out looking slick. This is no exception to the rule.
This limited edition watch does not disappoint, everything from the unique date placement at the top, to the small Batman logo, to the box it comes in. Every part has been made with the fans in mind even down to the 'Batman' inscription on the clasp.
Due to this being a special edition watch, there are actually two layers to the packaging. The outer box is brightly designed with a series of classic comic books stitched together. The inner box is a more muted black and gray, with the logo and Batman donning his cowl.
Batman Wayne Industries (DCW2UK003)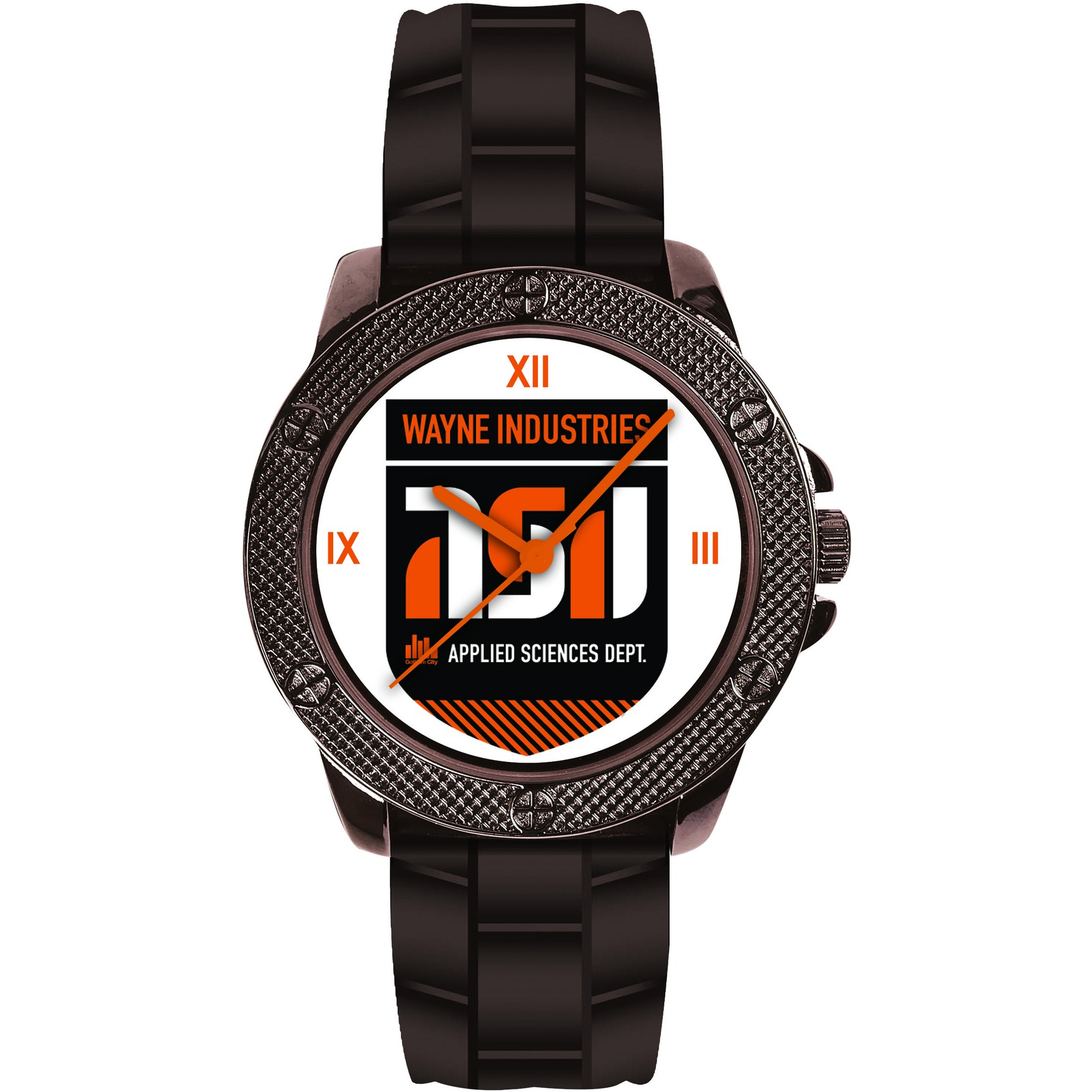 If you are looking for a more covert comic book watch, then you have found the right place. This watch is a lot more subtle than the others on our list.
The unique-looking Wayne Industries watch is certain to catch people's eye and spark up a conversation. The white face with the bright orange and black detailing creates a great and fun-looking timepiece.
The initials ASD (Applied Sciences Dept.) are written across the center of the watch and make the watch very different from the rest on our list. The orange accents, roman numerals, and hands give a real pop to this dark strapped watch.
The Applied Sciences Department is one of the many areas within Wayne's company but is kept off the books, headed up by Lucius Fox, it is where Bruce gets his gadgets from.
In the Nolan trilogy, Morgan Freeman masterfully plays the iconic role of Fox, and if that's not reason enough to consider this watch, what is?
Eaglemoss has an extensive collection of watches for the DC Universe which are all inspired by the timeless and iconic heroes within the expansive DC repertoire.
Batman DC Comics Kid's Touchscreen (BA T4740)
There is no age limit on who can be a fan of Batman, and it is undeniable that kid's merchandise always has the Bat Symbol and iconic Batman colors on it.
With this being said, it felt unjust to not include at least one watch aimed at the younger market on our Batman watches list.
This official Batman kid's smartwatch has everything you would need in a kid's watch and more. With the pedometer, stopwatch, calculator, alarm, voice recorder, games, and camera, it is jam-packed with features and sure to be a great investment.
With around 10 different interchangeable faces your kids will love this watch and can change it to suit their mood. It is easy to operate and designed with young children in mind.
More Comic Book Watches
There are a wide variety of watches available in the wider DC universe, so if you did not find the watch you were looking for here, check out this list of DC Comic watches.
If you are more interested in Marvel then look no further for your Avengers watches and MCU timepieces. There is a huge range of options available within the Marvel Cinematic Universe, and we won't judge you for checking out DC's competition.