We have previously covered themed watches on the site (such as Star Wars, Mickey Mouse, and Peanuts) and for this article, we're going to feature different watch brands inspired by characters from another beloved pop culture brand: Marvel.
Marvel Comics, an American brand that was introduced over 80 years ago, is a publisher of comic books and other media, has thousands of characters created by writers Stan Lee, Steve Ditko, Jack Kirby, and many others. Dozens of characters have been part of successful movie adaptations in the past decade and gained more fans, which led to a huge merch industry: clothing, costumes, accessories, watches.
If you're a fan of Marvel's long-term rival- DC Comics – check out these watches.
Best Marvel Watches
Below, we'll divide the Marvel-themed watches by brand, and provide links on where you can check the specs or purchase them.
Citizen Marvel Watches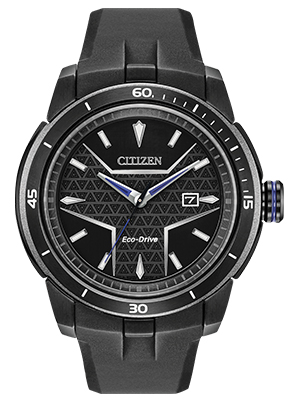 Japanese watch brand Citizen partnered with Marvel to produce timepieces inspired by its superheroes. All of the watches feature Citizens Eco-Drive technology, which does not require any batteries, as they're powered by any light.
The characters featured in the collection include Black Panther, Captain America, Captain Marvel, Spider-Man, The Hulk, and Tony Stark. There are also models devoted to The Avengers, Marvel Heroes, and a special watch dedicated to creator Stan Lee.
The Black Panther watch is inspired by the movie's aesthetic: Wakandan tribal patterns are on the dial, with silver-tone index markers. The watch has an ion-plated stainless steel case with a black silicone strap and a mineral crystal. Violet accents can be seen on the three hands, as well as the crown. This model is water-resistant up to 100m.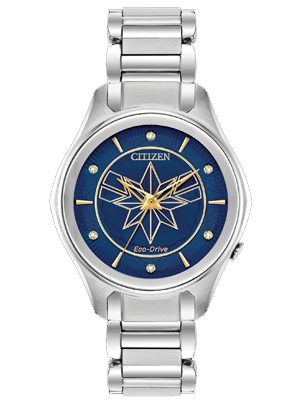 A smaller model is the 37mm Citizen Captain Marvel watch, with a stainless steel case and the character's gold star. The dial has blue and gold-tone accents with Swarovski crystals.
One of the new models is dedicated to the man who started it all: Stan Lee. This limited-edition commemorative POW! Entertainment® Stan Lee® watch is a stainless steel watch with gold-tone accents and comic book-style fonts. There are only 1,922 pieces of this available (the year Lee was born).
You can learn more about the brand on our Citizen Watch Brand Review article.
Garmin Marvel Watches -Captain Marvel & Captain America
Read Amazon Reviews | See on Garmin
Smartwatch company Garmin has Marvel-themed watches for its Garmin Connect and vivofit® watches.
The Garmin Connect is a popular smartwatch/sports watch that has dozens of functions for fitness and outdoor activities. The brand partnered up with Marvel to produce a special-edition smartwatch inspired by two characters: Captain Marvel and Captain America.
Both watches have activity tracking features such as step counter, traveled distance, burned calories, and sleep monitoring. It can also be connected to the brand's official app, available both for iPhone and Android users. The Captain Marvel Legacy Hero Series watch has a blue leather strap and the Kree insignia on the bezel. The back of the bezel features Carol Danvers' famous quote: ''Higher, further, faster."
Garmin Captain America – First Avenger
Read Amazon Reviews | See on Garmin
The Captain America/First Avenger Legacy Hero Series watch has a dial design inspired by Captain America's suit and Vibranium shield, and a leather band modeled after Steve Rogers' vintage military gear.
The back of the case reads: "I can do this all day." Both watches are available in 40mm and 45mm size options. See both of the watches here.
There's also the Garmin vivofit® fitness tracker for kids. Available in designs inspired by Spider-Man and the Avenger, this device is made for kids can track steps and sleep, and provides task timers and reminders. It also features icons and games inspired by the characters featured in the design. This can also be connected to Garmin Connect.
This has a number of band designs, featuring other famous characters in brands like Disney and Star Wars.
You can learn more about Garmin and other smartwatches in our Best High-End Smartwatches article.
Invicta Marvel Watches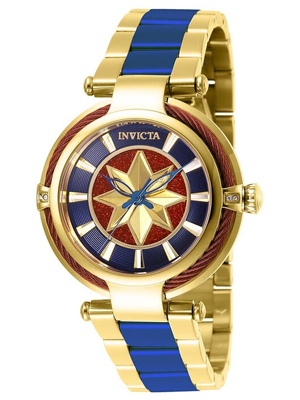 Invicta has a wide range of Marvel-themed watches, featuring characters like Captain Marvel, Black Panther, Tony Stary, Captain America, Spider-Man, Venom, Deadpool, and the Hulk.
One of the brand's Captain Marvel watches is the limited-edition quartz watch, a 40mm model with a blue, red, and gold theme. This one has a stainless steel case and band, with a stationary bezel. On the center of the dial is the superhero's star logo.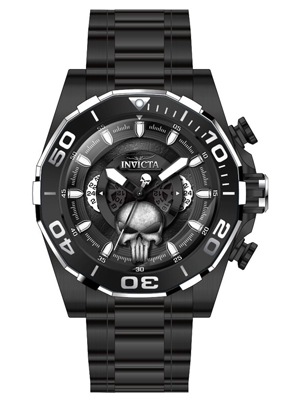 The brand's watches also go beyond superhero creations by Stan Lee. There's a watch inspired by The Punisher, a Marvel character created by writer Gerry Conway and artists John Romita Sr. and Ross Andru, that first made his appearance in The Amazing Spider-Man comics.
The Invicta Punisher quartz watch has a stainless steel case and strap, with dial colors inspired by the character: gunmetal, silver, and black.
Another anti-hero Marvel character featured is Venom. The Invicta Venom quartz watch is a large (53.7mm) timepiece with a more simple color scheme (black, gray, white) than other Invicta models, which usually featured more colorful designs. This one is also a limited-edition model with a stainless steel case and band, with a uni-directional bezel.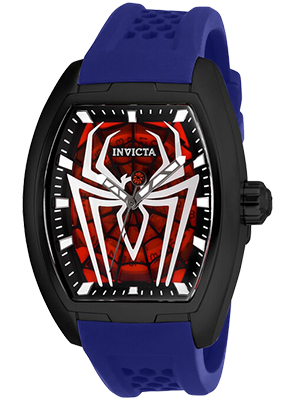 Tonneau-shaped watches are also available, such as the 42mm Invicta Spider-Man watch, which has a stainless steel case and a silicone band. There are also versions for characters like Tony Stark, The Punisher, and Captain Marvel. Visit the Invicta site to see all available watches.
To learn more about Invicta, you can check out our article on Invicta Watch here.
Marvel Shop Watches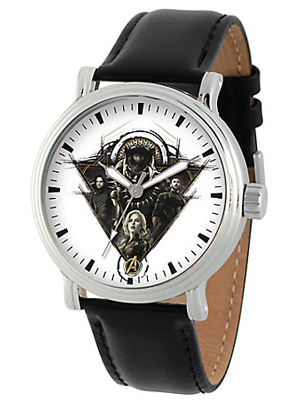 The official Marvel shop, which sells different Merchandise, also has a number of watches and smartwatches. There's the Avengers: Infinity War watch for adults, an analog watch featuring a dial artwork of Captain America, Black Panther, Black Widow, and the Winter Soldier. The 44mm watch has an alloy case and a stainless steel case back, with a black leather strap.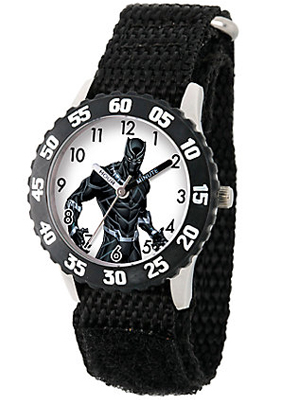 For the kids, there's the stainless steel Black Panther Time Teacher watch, which has an easy-to-read hour and minute markers and labeled hour/minute hands. On the dial is an illustration of the Black Panther, and the strap is made of adjustable nylon.
The Garmin smartwatches and fitness trackers (including kids Vivofit) are available for purchase here as well.
See all of the available Marvel watches on the brand's official website.
There's also eBay for both new and pre-owned Marvel models.
---
In 2009, Walt Disney Company acquired Marvel Comics, so you'll also find a few additional marvel watches (including another Black Pather model and a Spider-Man watch) on our list of best Men's Disney-themed watches.