Known as one of the world's most recognizable and beloved cartoon characters, Mickey Mouse was created by Walt Disney and animator Ub Iwerks. Mickey, who replaced Oswald the Lucky Rabbit, started to appear in Disney cartoons in 1928, and later on in comic strips and movies.
It was in the same year that the fictional Mickey Mouse universe (also known as Mickey & Friends or Mickey & the Gang) was introduced to the Disney audience, with the company releasing comics, short films, and animated series that also included characters like Minnie Mouse, Goofy, and Pluto. The rest, as they say, is history—Mickey and the Gang have been a part of both children's and adults' lives since and continues to do so today.
We've written an article in Snoopy and Peanuts inspired watches, and now we're doing a feature on those that have Mickey Mouse designs—some collectors' editions that you may still find online, others readily available in shops, the brands' official websites, and websites like Amazon and eBay.

Mickey Mouse Watches
Ingersoll Mickey Watches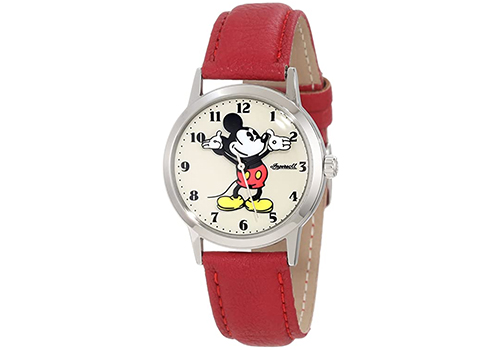 American watch brand Ingersoll was established in 1892 and popularized the "Dollar Watch," which were affordable, mass-produced timepieces which included a Mickey Mouse design.
The Mickey Mouse Dollar Watches were available in two versions: a pocket watch or a wristwatch. These watches were very successful and made the brand extremely popular (a Minnie Mouse version was also released in the 1960s). Over the years, the brand created different Mickey Mouse designs and incorporated technologies such as water-resistant and battery-powered models.
It was in 1971 that the company stopped making the Mickey watches, but some of them are still available online today. Because they've become collector's items, the prices have increased (around $200 to over $1,000). Check out this eBay page for available models.
Mickey Mouse Gérald Genta Watches
Gérald Genta was a Swiss watch designer known for creating high-end watches, both for his own brand and for some of the biggest watch companies in the world like Omega, IWC, and Patek Philippe.
An article by Fratello Magazine tells the interesting story behind the watch. Genta, who is a favorite watch designer of the rich and the famous, had a client who ordered to have a watch with a Mickey Mouse design on the dial (it was rumored that this client was the sultan of Brunei). For this watch and other models, Genta obtained rights from Disney and created Mickey Mouse and other Disney characters like Minnie, Goofy, and Donald Duck watches with retrograde movements. Because his products are made to order for VIPs, the watches are some of the most expensive Mickey Mouse watches ever made.
Some of these watches are still available online, such as this vintage Retro Fantasy Mickey Mouse watch, with a green dial and black leather. This watch, as of posting time, costs $8,800.
Seiko Mickey Mouse Steamboat Willie Watches
Japanese watchmaker Seiko commemorated Mickey Mouse short film Steamboat Willie, which was introduced in 1928. The film, which was directed by Walt Disney and UB Iwerks, was Mickey's and Minnie's official debut appearance.
This limited-edition watch (5,000 pieces) by Seiko has sold out from its stores, but there are still some sellers that remain online, such as this one in Amazon. The 36mm watch has a three-hand Japanese quartz movement, a black leather strap, and an analog display against a gold-tone dial.
Another Seiko model with a Mickey Mouse design is the Mechanical Mickey Mouse 5000-7000 watch, which is from the 1970s. These vintage models are available online as well, such as this one on eBay.
Citizen Disney/Mickey Mouse Watch Collection
Citizen has a Disney watch collection featuring mostly Mickey Mouse designs. One of these is the 40mm Men's Mickey Mouse watch with a black ion-plated stainless steel case and a black dial. A silver-tone Mickey is placed below the date window at 3 o'clock. The markers are indexes at 12, 3, 6, and 9 o'clock.
There's also the Citizen Ladies' Mickey Mouse watch, which has a 29.5mm rose gold-tone stainless steel case and bracelets, a black dial, and diamond markers. The Mickey design is placed at 8 o'clock. where the diamond marker falls on Mickey's left ear.
These watches are powered by Citizen's Eco-Drive technology, so it can easily be powered by any light source and does not need batteries. To learn more about this feature, as well as the brand's history and collections, you can check out our article on Citizen here.
Invicta Disney Watch Collection
Invicta has a wide range of Mickey Mouse watches. The Swiss company has many limited edition designs with its signature large sizes, which include the Disney Limited Edition Mickey Mouse Men's quartz watch (model 23765), which is a 48mm watch with a stainless steel case and a silicone band.
This model is one of the less flashy Invicta Mickey models (others have bolder colors like golds and reds), with a simple black and white design on the dial, bezel, and strap. This has a caliber VJ43 quartz movement, with a water resistance of 200m.
Learn more about Invicta in our article here.
Timex x Beams Mickey Mouse Collaboration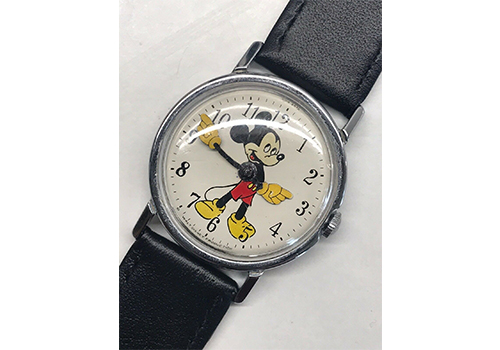 Timex and Japanese Brand Beams collaborated on a bespoke watch to celebrate Mickey's 90th birthday. There are two types of styles and colorways: one has white, yellow and black; and another is red, white, and black. Both have nylon wristbands.
This watch is no longer available on the official websites, but some pre-owned models are still available on eBay, such as this one.
If you're looking for a vintage Timex with a Mickey Mouse design, however, there are a couple of pre-owned models available on eBay today. This vintage watch is from the 1960s, with Mickey's gloves as hands that point to the Arabic numeral markers.
Nixon x Disney 90th Anniversary Mickey Mouse collection
American watch company Nixon released a watch collaboration with Disney, celebrating Mickey's 90th anniversary.
The collection is composed of different styles: there's the simple white dial with a combination of Arabic and index markers and Mickey on the center; the Corporal SS Disney watch, which only have Mickey's iconic gloves as the hour and minute hands; and a stainless steel bracelet with a black dial with index markers that surround the custom "Mickey Fight Cloud" design on the center.
In an interview on the Surf Stitch website, Joseph Babcock, the Director of Product at Nixon, said that the Mickey Mouse project has a total of seven watches (as well as three bags): four men's sizes, two women's sizes, and one unisex. He added that Nixon's product team, their industrial design team, and Disney's creative team collaborated to create the designs. Read the rest of the interview here.
Swatch and Damien Hirst Mickey Mouse Watch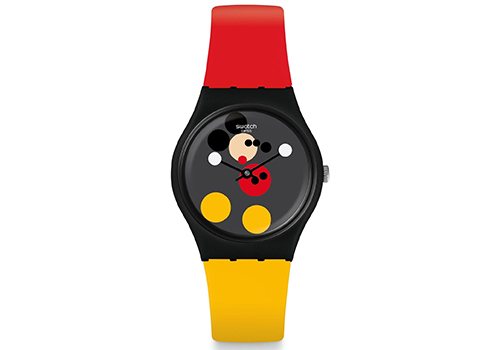 The reason why this watch sold out quickly is that it was designed by British designer Damien Hirst. For this special edition release, Hirst designed two different versions: the Spot Mickey and the Mirror Spot Mickey.
This Swatch Art Special Spot Mickey, which has a color combination of the character's iconic red, black, and yellow, is a limited edition of only 1,999 pieces. This watch which was only available in November 2018 for 24 hours, celebrates Mickey's 90th anniversary.
The watches have the Swatch signature silicone strap, plastic clasp, and a quartz movement. The value has increased because of its rarity—and is not a collectors item – this model available on eBay.
Apple Watch – Mickey Mouse Faces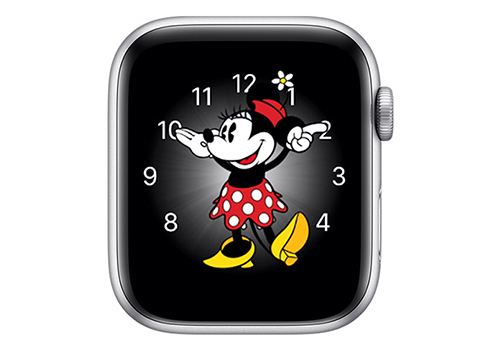 Apple Watch owners can also set Mickey and Minnie Mouse as watch faces—the characters will even speak the time.
Setting the watch face is simple: using the watch or an iPhone, go to the Face Gallery tab and add the character of your choice. To activate the voices of the characters, simply go the My Watch tab and then tap on Clock—set the Speak Time to on, and then you can select which one of the two characters' voices will be used.
See the complete instructions by Apple Support here. You can also find step-by-step instructions with pictures here.
You can also read more about Apple Watch on our site. We have a feature that talks about its evolution, and another piece on its pros and cons.
Disney Mickey Mouse Watches
Because Disney also sells its own merchandise, it's to be expected that the brand has a wide range of watches featuring its most popular character.
One of these watches is the analog quartz leather watch, a 34mm (so it's perfect for women or anyone with smaller wrists). Mickey is on the white dial, with his hands pointing at the hours and minutes. There's also this Amazon-exclusive watch with a vintage design and sweep seconds hands and a brown leather strap.
There are also a lot of children's' watches to choose from, like this affordable plastic watch with a digital display, or this smartwatch for kids, which has features like a selfie cam, games, a voice recorder, and a stopwatch.
These two, as well as the dozens of other Mickey designs, are licensed under Ewatchfactory Corp., which has been the company's authorized watch manufacturer for more than 20 years.