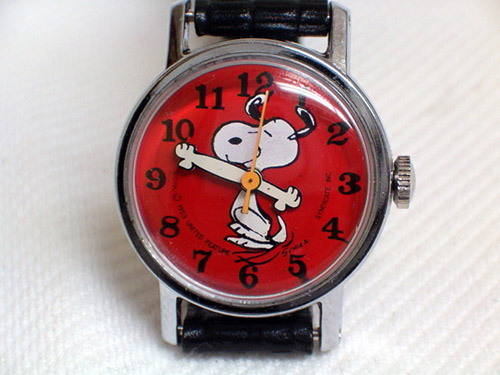 Charles M. Schulz created the Peanuts comics, which is considered as one of the most influential comics in history, in the 1950s. During its run, it was published in over 2,600 newspapers, had award-winning TV specials, films, movies, books, earning Schulz more than $1 billion.
Peanuts officially ended in 2000, the year that Schulz died, but the story of the gang— Snoopy, Charlie Brown, Woodstock, Lucy, Linus, Franklin, Peppermint Patty, Sally—continues to live on in tributes in different forms of art, fashion, and music.
The iconic group is widely present in the watch designs. Over the years watchmakers have incorporated Peanuts in their designs, creating nostalgic and playful pieces, which this article will take a closer look at. If you're looking for a Peanuts or Snoopy watch design to buy, this is for you. We'll feature some of the best models available today, as well as link some pieces that are no longer in production.
Peanuts & Snoopy Watches By Brand
Armitron Peanuts Watches
Read Amazon Reviews | See on eBay
Armitron is an American watch brand founded in the late 1950s. Around the same time that the brand was launched, they released watches with Peanuts designs.
The brand has not released any new Peanuts-inspired watches, but a lot of these watches—some of which are now considered rare—can be found on sites like eBay. Most of these are relatively affordable too, like this Armitron Peanuts watch with Snoopy and Woodstock on the dial is priced at $49.99, and this vintage green Snoopy watch is $29.95.
See more vintage Armitron Peanuts watches available for sale here.
Timex Snoopy & Peanuts Watches
Timex has a long history of watches devoted to Snoopy and the rest of the Peanuts characters.
Timex Marlin
The Timex Marlin is the brand's popular collection of simple and elegant watches that first came out in the 1960s. The classic Marlin design has a natural leather strap and a domed acrylic crystal. The Marlin Automatic is naturally wound, moving as the wearer moves.
Timex released a special Snoopy Space Traveler leather watch, celebrating the 50th anniversary of the lunar landing. The watches have the same features as the classic Marlin, still moving as the wearer moves, and have the sleek leather strap, and the domed crystal.
There are three models: one has a minimalist design that features the Snoopy Space Traveler at 6 o'clock, and another with Charlie Brown flying a kite. There's also the Snoopy as Flying Ace design, which is currently sold out on the Timex website.
Timex X Peanuts
Read Amazon Reviews | See on Timex
The Timex x Peanuts collection has watches that have the featured character's arms as watch hands. There's one with Charlie Brown with a black two-piece stitched leather strap; and another of Snoopy, which has a brown strap. Both watches have not only legible Arabic hour and minute markers, but also made clear by the Indiglo Light-Up watch dial.
Timex X Space Snoopy
Read Amazon Reviews | See on Timex
There's also the Timex x Space Snoopy watch, which also celebrates the lunar landing. This one's a limited edition, website-exclusive watch that has a retro design: a silhouette of Snoopy on a multi-colored Timex Indiglo Light-Up dial. This 40mm model has a stainless steel case, a quartz analog movement, and an acrylic crystal. The water resistance is up to 50m.
Space Snoopy is available in kids' sizes, too. Both 28mm, these watches are designed with Snoopy and Woodstock: one is Astronaut Snoopy and Woodstock on a pink dial, and another is just an Astronaut Woodstock on a blue dial. Both straps are made of elastic fabric, providing comfort.
Timex Peanuts For Todd Snyder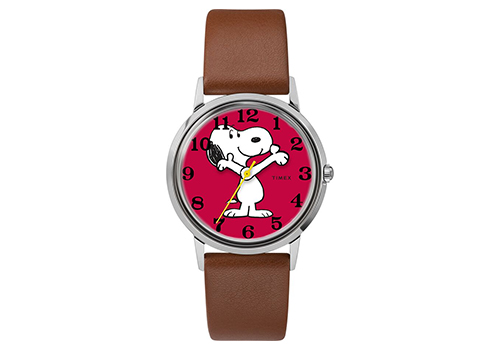 In 2018, Timex released four Peanuts watches for Todd Snyder, an American fashion brand. All four designs have one thing in common: the characters' arms as an hour and minute hands.
In this collection, there are three Peanuts characters included: Snoopy (two watches, on a white and red dial), Charlie Brown (on a white dial), and Linus (on blue dial. All watches are sized 34mm with leather straps, a domed acrylic crystal, and a water resistance of up to 30m.
See the rest of the brand's Peanuts watches here.
To learn more about Timex, you can also check out our Timex Brand Review as well as the best of the brand's watches for Men and Women.
Invicta Character Collection – Snoopy & Woodstock
Read Amazon Reviews | See on eBay
Invicta released a limited edition Character Collection, which features beloved characters from classic shows. One of the designs features Snoopy and Woodstock on the dial.
One model is a 36mm watch that has a stainless steel band with a rose gold tone. The dial is a white mother of pearl with the characters positioned at 2 o'clock and 9 o'clock. It has a unidirectional bezel and a date window at 3 o'clock. Another 36mm option is a blue metal sunray dial with a two-tone stainless steel strap. There's is also a bigger model at 40mm, with a stainless steel silver strap.
Invicta's Character Collection also includes characters like Garfield and Popeye. If you'd like to learn about Invicta, you can also check out the Watch Review article that we wrote about the brand, where we discuss its history, most popular collections, and links to Invicta stores.
Fossil Limited Edition Snoopy Watch
Read Amazon Reviews | See on eBay
American brand Fossil has a limited edition Snoopy watch with a stainless steel case and bracelet with a white dial designed with a smiling Snoopy on the face. This was a limited-edition release and is no longer in production, but some pieces were still available on Amazon.
This Fossil Snoopy watch is a limited-edition model with a leather band that came in a wooden box occasionally comes up for sale on eBay, the watch celebrates the 50th anniversary of Peanuts. Another model is this collector's watch that was sold by Fossil in the 90s. The watch came with the iconic red dog house.
Undone Peanuts Watch Designs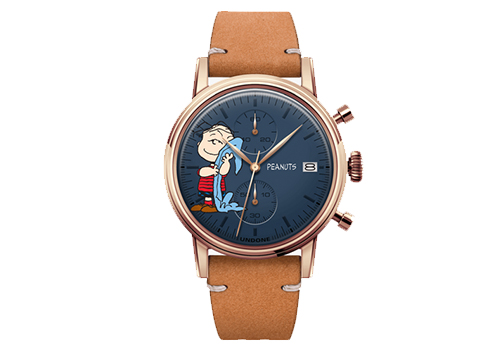 Undone is a company the personalizes and customizes watches for customers all over the world. The revolutionary Hong Kong-based brand has the unique concept of allowing its customers to fully customize their watches, letting them choose materials such as cases, dials, hands, bezel, strap, and so on.
Founder Michael Young, who has an excellent reputation with watchmakers and fellow enthusiasts, says that the goal of the brand is to allow its customers to be part of a collaboration with the watchmakers. The customer leads, and the watchmakers create a high-quality watch using modern technologies, with prices that range from $250–$500.
You can read more about the company from this feature.
The company collaborated with Peanuts in its URBAN One World Chronograph collection, which pays homage to the Peanuts characters. The collection has a total of six models, with a limited-edition piece (currently sold out), and another that is fully customizable. The watches feature the beloved Peanuts characters: Snoopy, Charlie Brown, Woodstock, Linus, Lucy, and Peppermint Patty. Check out the different models here.
Last year, the brand released its Peanuts: Lunar Mission collaboration, which celebrated the 50th anniversary of Apollo 11.
Read more on Undone.com about the story of NASA's collaboration with Charles M. Schulz here.
The Lunar Mission collaboration has a wide range of designs (21 different styles with the Peanuts characters), with the gang dressed up in Advanced Crew Escape Suits (ACES). The ACES has a special shade of orange, which is used in the aerospace industry for maximum visibility. Other features include a stainless steel case, hardened domed K1 crystal, and water resistance of 30m. The watch is also powered by a Seiko Instruments Inc. VK61 / VK64 Mechanical-Quartz Hybrid Flyback Chronograph movement.
Omega Speedmaster Snoopy Watch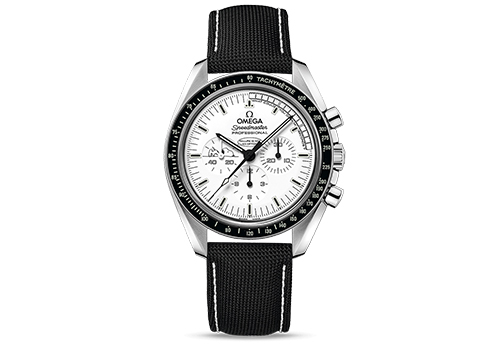 We'll cap off the list with a Snoopy design by Omega—the iconic Speedmaster. The watch is a tribute to the 45th anniversary of the legendary Apollo 13 mission and the Silver Snoopy Award that OMEGA received from the astronauts upon their safe return to Earth, this timepiece tells a story of the brand's role in space exploration and highlights NASA's connection to Snoopy and the rest of the Peanuts gang.
This 42mm watch celebrates the 45th anniversary of the Apollo 13 mission, as well as the Silver Snoopy Award that was given to Omega by astronauts after their return to Earth (the mission's crew used Omega Speedmasters during the mission).
The Snoopy "Moonwatch" design is a white dial with a Super-Luminova Snoopy at 9 o'clock, saying "Failure is not an option." On the right side of the dial is the line "What could you do in 14 seconds?" which represents the 14 squares on the comics. The watch is made more elegant with a classic black and white color combination, which pays tribute to newspaper comics.
On the back of the watch is a 925 silver Snoopy medallion with a striking dark blue enamel. The special thing about the case back is that each was crafted by hand, which means that every watch is unique. To learn more about the production process, you can check out this page.
Some of the main features of the watch include a stainless steel case, a coated nylon fabric strap, chronograph, small seconds, and tachymeter, and a water resistance to 50m. The crystal is a scratch‑resistant sapphire, and the black ceramic bezel has a SuperLuminova on the tachymeter.
Because this model is limited and is an Omega Speedmaster, it's not cheap—the watch costs $7,350 on the brand's official website.